Yi Home Camera is a great security device for your home with a frustrating Windows app
This Chinese brand you might not be familiar with has some quality home security products that are both affordable and compatible with Windows (mostly).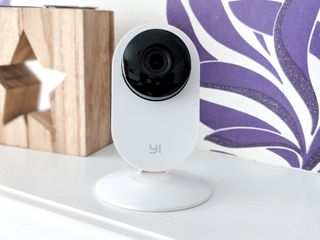 Yi (the consumer brand name of the less punchy and harder to pronounce Xiaoyi) is a Chinese company that makes a number of connected camera products. Alongside the M1 mirrorless and range of action cameras, Yi has a few different home cameras, and it's the entry level one I recently picked up in Amazon's holiday sales.
Normally it costs $28.99, which makes it astonishing value. The range is also compatible with Windows, though to get the most you'll still need a companion iPhone or Android device.
See at Amazon (opens in new tab)
Easy setup, but use a phone
To use the Yi Home Camera you need an account, which you can either create from scratch or use a Facebook login. The Yi Home products come with an optional cloud storage subscription service, but needing an account for a connected product is hardly new. I used Facebook login and was ready to go in seconds.
Setting up the camera is really easy. However, using the Windows desktop app before I'd added any cameras to my account didn't seem to provide any option to do this on my PC. So it was over to an Android phone.
And honestly, unless you're still clinging to a Windows phone, you'll want to have the mobile app installed anyway. More on that later, but you won't get full functionality without it.
Setup takes only a couple of minutes and involves choosing the Wi-Fi network for your camera and pointing it at a QR code that is displayed on the screen. Audible messages come from the camera to tell you when each step has been achieved.
Solid hardware and design
The Yi Home Camera is a decent looking little thing, fairly understated in design and will easily disappear into the background in any room. It's designed to sit upright, but will fold basically flat in both directions, so you could mount it to a wall or window. There's nothing in the box to do this with, but something simple like 3M tape would probably suffice.
Power is delivered over microUSB and there's an included power adapter. On the side you get a microSD card slot for local recordings, round back a speaker and somewhere there's a microphone, too.
Sound quality is decent considering how cheap the camera is, and whether you're listening in from the companion app or you're talking to someone through the camera, sound is perfectly clear enough so there are no miscommunications.
The camera itself is only 720p for video, though Yi does have an upgraded (and more expensive) model with 1080p. The lens has a 111-degree field of view, which isn't as wide as something like Ring's external cameras, but in my house I've found it ample to cover most rooms.
Despite only being 720p and a fairly budget camera, video quality is decent. It shows faces perfectly well, colors are OK and even with kids running around, the images have always been perfectly legible.
The only issue you may encounter is a little network lag. The camera only connects to 2.4GHz Wi-Fi and if it's a long way from the router you may get some lag. I've a mesh network at home so it's been fairly solid in any room, but even then, the initial connections sometimes take a little time to establish. Once you're watching though, it seems solid and the feed on screen is maybe a second or so behind real time.
But overall it's a very impressive little thing.
A good, but ultimately frustrating Windows experience
The Yi Home app for Windows PCs (opens in new tab) is good and bad in equal measures. The good is that it looks pretty decent, is easy to use and, seemingly once you've added a camera through a phone, you can add more cameras through the Windows app.
It gives you basic interaction with cloud videos or those on an SD card on the camera, as well as the ability to view one or multiple cameras live in SD or HD. You'll also be able to see motion alert notifications and view the clips as well as download them to your PC. Sadly the notifications won't appear in the Windows 10 notification area.
So, even without the cloud subscription, the Yi Home Camera is pretty useful. If you're in a position to monitor and react quickly to motion alerts, you get a lot from it. With a microSD card in the camera, you'll also get local recordings, too.
Where the Windows PC app is truly appalling is that it seems to log you out every time you close it. Without fail during the few days I've spent with this camera, I've had to log back in with my Facebook account every single time I've opened the app having previously closed it. That's just bad.
You also lose a lot of functionality if you're relying on the Windows PC app. It's great to use if you're in front of a PC all day and want to check on the house or see what the kids are up to in another room, but you can't set up any of the advanced features.
Motion alerts are the big one. You can't use these at all without going through a mobile app. You can't update the firmware of the camera, either, nor can you even do something as simple as turn off the status light.
Hopefully, this will all change over time. But right now, Windows compatibility is an added bonus to having an Android phone or an iPhone in your pocket.
The bottom line
The Yi Home Camera is the first connected home security camera I've tried, and I'm pleasantly surprised. My expectations were pretty low, but they've easily been exceeded. It's a nice looking little thing, is packed with features and at the price, I've no complaints about the hardware.
720p video is perfectly fine (to me at least) for a little device such as this, but there's always the upgraded model if you need or want higher res video. I also appreciate that there's a ton of functionality without the need to fork out for the cloud subscription service.
The only achilles heel is the Windows PC app. What it does, it does well, but it doesn't do nearly enough. Regardless of whether you need to use a phone initially, there's no real excuse not to be able to manage settings the same as the mobile app. If you're using this remotely (and why wouldn't you) on a PC, why shouldn't you be able to adjust your motion detection settings?
Hopefully, Yi will continue to build that out, as well as fixing the horrible bug that logs you out every time you close it. But niggles with the Windows app aside, it's a great little home camera for not much money.
See at Amazon (opens in new tab)
Richard Devine is an Editor at Windows Central. A former Project Manager and long-term tech addict, he joined Mobile Nations in 2011 and has been found on Android Central and iMore as well as Windows Central. Currently you'll find him covering all manner of PC hardware and gaming, and you can follow him on Twitter and Instagram.
I think the fine print of the user agreement says that yi can do anything they want with your video, so if you don't mind the Chinese watching you then sure they are safe. I have 6 of them and point them out windows but not inside at us.

I trust Chinese more than nsa...

I've had one of these at home (living room) for the last six months, got it from China for around €30. It really is a great camera. Image quality is amazing even in total darkness. The Android app works great, very easy to use, great UI and fast performance. I don't use cloud recording, just a micro-sd card so network performance is not a problem. I never have trouble connecting to the cam, very stable connection. Please note that this cam doesn't work with Synology's Surveillance Station app for NAS images recording.

Seems like another Chinese trash! Stay away...alternative: WyzeCam. A solid compact ip cam with 1080p, night vision, free cloud for $19.99!!!

In true 'Murica fashion I see zero availability of these over here. Meanwhile Chinese 'trash' companies (Yi certainly isn't trash) are happy to sell globally, including here in Europe without the need for imports.

Pro: AWS Cloud via end-to-end encryption and are accessible for 14 days – no subscription plan required
Contra: Can't see a Windows App (desktop or mobile) for Wyze Cam ...

Got both this cam and the 720p Yi dome cam for $50 total on cyber Monday. Looking forward to setting them up. Thanks for the review! This will save me time and frustration:)

These don't integrate with my smart home (powered by SmartThings). These are no go for me.

Just like the WyzeCam, I will never buy a camera that requires me to register a account. It has to have the admin page.

Such an incredible invention I need desperately these types of gadgets for my business purpose because it helps to give protection for my clients who booked hotels for neelum valley tour packages to enjoy holidays.For the help of this, they don't need to worries about security issue on hotels but I am confused related to OS.If it works well with OS so it will beneficial for me.

i have an similar camera of an generic Chinese vendor that look alike the yi camera

Thank you for the review. Are you sure that registering the 1st cam does not work with Windows PC app? As far I can remember I did this successfully ... Meanwhile using 6 cams (4 indoor, 2 outdoor). Using the Windows PC App and also an (cheap) Android tablet (mounted on a wall for an "overview") and a old Samsung S2 (old device of my girl friend). But on the Android Tabled the YI Home app often crashes... The Windows App never crashed. Also the Android App on a Android Smartphone seems to be stable. Also hope that the Windows App will be improved (in my opinion the feature-set of the windows App is ridiculous - e.g. FW update, or just setting status LED is not possible without Android App). For those who are interested, latest FW versions:
Indoor, 1080p: 2.1.0.0C_201803161855
Indoor, 720p: 1.8.7.0D_201708091510
Outdoor, 1080p: 3.0.0B_201712111936 Strange that, even the cams are very similar, each has such an own/different(?) firmware.... YI Home for Windows PC: Version 1.0.0.0_201712251000Intl YI Home for Android: Version 2.20.20.4_20180508 Since the version of the Windows PC App is 1.0.0.0 I hope that we get further features to it as promised by tge App (when no cam is selected then there is a text: "Welcome to YI Home PC Version! More features coming soon ...") One drawback: One of the cams we're using as "Babyphone". Works well. But one night the Android Smartphone App was not able to connect. Next day I found out that it was a "server problem at YI" - told YI support of the problem. To put this in other words, it is not possible to use the cams, when "YI servers" are down or not reachable ... - no "Wi-Fi only mode" seems to exist ... Really like the cams but the "product support" is really, really bad. They're only interested in closing support tickets as fast as possible regardless if the customer question/problem is answered/solved or not. "YI Support" blocked/suspended my user account ...

On the YI Camera phone app there is an option to speak (use my mic) from the camera. On the Windows app, I see a speaker to listen but I can not find any way to speak/talk. If there is a way, how can I use my PC mic to speak and the sound comes from the camera?
Windows Central Newsletter
Get the best of Windows Central in in your inbox, every day!
Thank you for signing up to Windows Central. You will receive a verification email shortly.
There was a problem. Please refresh the page and try again.