You can give an audiobook to a friend for free with Audible's new recommendation feature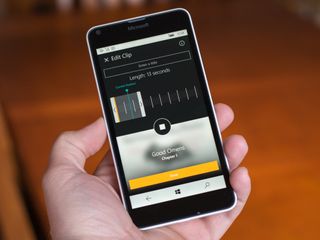 Amazon-based Audible has added a new feature that allows users of the audiobook store and service to send titles from their personal library to friends and family via their Android, iOS or Windows 10 app. Each person can receive their first audiobook for free.
Audible stated:
Download Audible from the Windows Store (opens in new tab)
Who wants to give me a book? BioResearch & Games.

Area 51 BioResearch & Games.

Annie Jacobsen BioResearch & Games.

Oh yeah I've got that one. I can send it if you want.

Narrated it by herself too

Oops getting on my pc now, link is not clickable or copy able here...LOL, will get back to you. BioResearch & Games.

Got one saying "To Kill a Mocking Bird" from you.

Sorry about that. I'm listening to TKAM right now, and must have hit the wrong button. Welp, there's a free copy of TKAM for anyone who wants it :P

Woohooo got it, thanks man, I APPRECIATE THIS A LOT BRO! BTW whats TKAM about?

Haha np. It's about a family after the Civil War and some of the racial issues, etc. A Google search will probably get you a better description than I can give :P Sent from Narnia

Well since you got a free copy, I want it then....tha's only if you can still recommend it. You just made my ears happy :)

Haha you can see if the link I posted works, but you're *supposed* to only be able to get one free recommendation. I'm glad! :)

Yeah tried earlier on; a recommendation from you alright but with a reduced Price tag now...lol. Anyways thanks again man. Guess someone else can take TKAM :)

I love audible! But A new audible user always gets a new book for free. This feature is just free advertisement for them and actually restrict the free offer to a specific book. I got into that trap with my free book back in 2011. I got the book even though I did not want it. The only difference is that the user does not have to sign on for a free trial.

Looks like it may have changed, as now you get a free credit to get any book you want. I got The Martian, by Andy Weir and RC Bray is just an amazing narrator. He totally draws you in to the book and adds another dimension to story telling imo.

Woohooo got it, thanks man, I APPRECIATE THIS A LOT BRO! BTW whats TKAM? lol To kill a mocking bird, hahaha

Can't we delete comments on here windows central?

At present you will need to use the old app or the website.

Using the website now but don't see any delete icon.

Try refreshing the page or creating a new tab :)
Windows Central Newsletter
Get the best of Windows Central in in your inbox, every day!
Thank you for signing up to Windows Central. You will receive a verification email shortly.
There was a problem. Please refresh the page and try again.