Play on your PlayStation 4 remotely from your Windows PC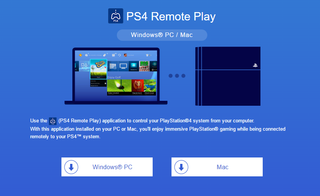 Sony has finally released PS4 Remote Play for Windows. This handy software allows owners of Sony's console to enjoy their collection of PlayStation 4 titles from the comfort of their PC. While the connection will be limited to a maximum of just 720p (at 60fps if you can handle that level of quality), it's neat to see the company offer something similar to that of the official Xbox app.
Remote Play is part of the 3.50 update, which also introduced some new features like the ability to appear offline, notifications when friends come online, user scheduled events, as well as making it easier to connect to and join friends in-game. Do you own a PlayStation 4? Let us know how you get on in the comments!
Download the PS4 Remote Play client from Sony
Rich Edmonds is Senior Editor of PC hardware at Windows Central, covering everything related to PC components and NAS. He's been involved in technology for more than a decade and knows a thing or two about the magic inside a PC chassis. You can follow him over on Twitter at @RichEdmonds.
Off goes another USP of the Xbox One.

unique selling proposition ;)

Unbelievable Smurf Propaganda?

Selling point ? Seriously ? If I will ever buy a console be sure I`ll be playing on my 40" TV, not on my 24" soon to be 27" PC monitor. It`s a neat thing to have but I wouldn`t call it a selling point.

Well yeah if it doesn't suit you then it definitely won't suit anyone else <shrug>

He said it's a nice to have and not a selling point. He didn't say it didn't suit him, neither that it is useless.

It's a selling point when they support Macs and Xbox does not. Makes me happy I got a PS4 and returned the XBOne I got beforehand for it. I tried it, it has virtually no latency - at least on my network. Not everyone has their own 40"+ 1080p display to play their games on, whenever they want, regardless of whomever else in the household may want to use that television to *gasp* watch a movie or something. It's a selling point. It was a selling point of XBOne. It isn't anymore, and Sony kind of one-upped them by doing OS X in addition to Windows (so people with Macs may very well choose a PS4 over an XBOne because of this).

Yea but, when the wife or the kids are watching the big screen TV, I would be able to play Xbox one or PS4 with out touching the TV....nice perk but, still 720p, meh....

I think you're missing the point. You can have your PS4 in standby (the normal off setting of it), and remote in on a laptop, turn it on, load up an app/music/game, and have it streamed from your PS4 to wherever you are with your laptop or computer. It makes a laptop into a PS4 streamed device, without needing to leave the PS4 "on" fully in the chance you might want to remote into it and use it. It's a fantastic idea for those of us with ultrabooks that would never be able to run these games on a laptop, in the pc version. Also, the screen size is irrelevant if it's right up close. I have a 52", 24" 144hz, and 27" IPS, all connected to my cable, PC, and PS4, and use whichever I find convenient at the time (generally 27" for the PS4 if I'm also using the computer for work, and the 52" on cable, but swap between all 3 of them for the same tasks as desired).

I got ps4 just because R&C. :)

Because PS4 adds a feature 1,5 years later that both looks and works worse? Yeah... Okay. Posted from Windows Central for XL

Well so long as it doesn't drop it all the time like Xbox Remote Play then it'll be an improvement.

I've never had Xbox Remote Play drop my connection...

It was first on PS4 to Vita and later PSTV before Xbox did it to PC

Before that it was PS3 to PSP... but people seem to former about it...

People seem to forget alot of things... Remember all the features Xbox360 had at launch... Ps3,ps4 and xbox one didn't have even half of those features at launch

Not really. It's still unique since it can play games at full resolution and not at a gimped max of 720.

But most Xbox One games are 720p anyway.

When you can back up your comment with any facts, feel free do to so. Otherwise, troll elsewhere.

Does my computer need to be a high end pc? Posted from Windows Central for Windows 10 on a
Nokia Lumia 730

Nope. Just about average.

No, not really. According to their specs requirement page -
Windows® PC A computer with either of the following operating systems.
Windows® 8.1 (32-bit or 64-bit) Windows® 10 (32-bit or 64-bit) Intel Core i5-560M Processor 2.67 GHz or faster 100 MB or more of available storage 2 GB or more of RAM 1024 x 768 or higher display resolution Sound card USB port Mac A computer with either of the following operating systems.
OS X Yosemite OS X El Capitan Intel Core i5-520M Processor 2.40 GHz or faster 40 MB or more of available storage 2 GB or more of RAM USB port

Perfect for the Surface Pro.

What's the legitimate use of this? Can't think of something really useful.

Say your Xbox/PS4 is connected to a shared TV. This way, you can play your games through your PC while someone watches TV. For me, my Xbox is in my room which can be awkward to play in (small room!) so I prefer to play from my PC.

So basically some sort of virtualization. The game runs on a different hardware while it is displayed on your pc monitor. Usually this ends in input lag afaik.

Not noticeable in Xbox's implementation at least.

I had major lag when connecting via Wifi. I got fed up and now use a wired connection and works perfectly. And yes Florin_Anghel, exactly that.

Yeah, you're best to have at least one end connected via LAN. And most routers provided by your ISP will only handle lower quality settings. However a quality high speed router will do the highest streaming quality over Wi-Fi without a hitch.

Mine is on Very High settings on a 27" monitor. I turn on the network thruput display, and I have *Never* gone beyond 20Mbps. Usually it's between 10 and 12 Mbps. Wired network is always better no matter what; wireless is simply not mission critical capable, at least on the consumer level. At any rate, any decent switch from past 2003 should handle it wired just fine. It's more about the packets routing than the speed of your network ... again, I cannot get mine to go over 20Mbps with a dozen cars exploding on the screen in GTA V

No lag whatsoever on my WiFi. Been using it since it dropped on the preview program. Average laptop. Works like a champ.

With most games running sub-30 fps on these consoles, you won't notice a bit of additional input lag.

With the Xbox, can you now play on a PC and watch TV at the same time? The last time I tried this feature, I think the TV was stuck on a splash screen for the game. It seemed pointless to me to tie up my TV and playnon a smaller screen with worse sound.

Really? I think it works but then again I've never been by my TV while streaming so can't confirm. My PC has equally good screen and better sound :)

No, you cannot as of right now. The Xbox literally shows on screen what the pc shows. Not a splash screen, actual gameplay.
They did say they want to implement TV in the future though.
-
-
With that though. I do use it often. My wife will use the TV apps or OTA tv while I use the Xbox on my surface. I love this feature.

This. You need the ability to to switch inputs on the tv to be able to do this at the same time. My wife found out the hard way. I was stoked about the feature and when it came time to use it after talking it up, I had to concede control of the television since I misunderstood the feature. It works out for us now since she especially likes one of the OTA channels that we get. We just can't use the Xbox to tune it, have to use the built in receiver on the TV if I want to play games (I do).

This (along with my Astro A40s) lets me keep gaming and not piss off my GF and she and her friends are using the nice TV for a show or something. Posted via the Windows Central App for Android

I use it regularly. When I'm in my office and I want to play an xbox game, and the wife is watching TV. Boom, no fights.

That's how you keep the peace. One picture at a time -- LG V10

I can finally use my xbox controller for playststion? Or do I have to plug in a PS4 Controller to play?

LOL sony will never allow that. You must keep your cramped thumbstick, 1995 designed POS controller. Or there is like a $90 adapter I heard that does it.

Why would I play a console game on my PC? And in 720p?

Bro do you even multitask?

Cause grandma has the TV remote and you aint getting back

Only the same as playing your Xbox one on the tv. Burn. Posted from my o2 joggler.

Because some people may not have a gaming PC with a discrete graphics card I guess ;)

Um universal gaming hopefully no more wars.. Gamers are more violent behaved than any other group I believe lol.. Games are supposed to brings us together not split us apart. One universal platform and it looks like it might be windows 10 and Microsoft knows this.

Yes Mr. Ninja, so violent I saw a group of kids acting out Megan vs. Mortal Kombat vs. Call of Duty with real styrofoam swords and paintball guns. Truly, terrifying.

The advantage being you don't need Windows 10 to have the software. This therefore will have a larger audience unfortunately.

Not by much, you have to have windows 10, 8, or Mac OS, so it's a very small percentage increase. maybe 2%-3% less if you factor in how many of them have a PS4.

I wonder why they didn't release it for Windows 7?

Gotta be something limiting it. Wouldn't make sense to cut out that group unless they have to.

Might download it later and try it on 7....see if it can be hacked in..

No reason for Microsoft to not offer xbox one streaming on android on other platforms now.

Agreed, but MS is becoming the company that it originally hated. It's developing for everyone else and leaving Windows Mobile users in the cold. First make it available on Windows Mobile, then Android/iOS. I'm not sure how it would work on mobile without a controller. Guess you could watch a Blu Ray through your phone that way...

How old is your phone? What model? Please answer. I want to see if you have a reason to be a whining little baby or not. Because, I was mad too when my 2006 Dell Celeron laptop ran Windows server 2012 like crap last week. Even after MICROSOFT PROMISED THAT I COULD RUN EXCHANGE WITH 4GB OF RAM.... WHAT JERKS!!!

Of course not. Why on Earth would Sony do that? Posted via the Windows Central App for Android

Should be a UWP app, then become available for Xbox One. BOOM, play PS4 games on your Xbox One ;-)

Does streaming games to a pc use the ps4 for the graphics and processing or does my computer do all that? Not really sure how this stuff works

The PS4 does all the work. Your PC just needs to handle the ability to receive the stream. Posted via the Windows Central App for Android

Ahhh ok, I thought so. Thanks for the clarification though

It's basically wasting energy. Running two computers to play one game, unless your TV connected to your console is less efficient than your PC.

720p kinda s*cks but it's not like all XBone games run at 1080p anyway so I guess Sony opted for performance over resolution (besides, a PC monitor is always considerably smaller than a TV). That said I don't see much use for this feature to me. I tried the XBone streaming to my PC and it was cool but just a one time experiment. Posted via the Windows Central App for Android

It's perfect for streaming to an ultrabook. Especially one that only has an integrated gpu. Surface 3, 1.2 lbs, streaming to a PS4 remotely, with the ability to awaken it from rest mode, means you can play things like GTA V, the division, and other moderately high requirement games, on something that is quite literally a fanless tablet that that weighs almost about the same amount as the controller. /Edit: OK, the surface 3 (non-pro) isn't really a true ultrabook, but the pro version is and isn't much heavier.

All these cool features for PS4 and XBO that is like to experience. But adulthood has stolen my time for games.lol I think this is the year though. I'm a Sony guy since the original PlayStation so I'd probably get the 4 but I like what I see from both systems. Uncharted is a must play for me. One picture at a time -- LG V10

Wait to see if the PS4.5 does come out.
But I feel yah. When I was a kid I had the time but my parents wouldn't give me the money for games. Now that I'm an adult and can buy all the games my heart desires... I don't have the time. God d*mn it. Posted via the Windows Central App for Android

Yes.lol I remember when I could waste away a whole weekend on gaming and not have any responsibilities staring me in the face right after. Kids enjoy these days. I think this summer I should be able to have a few "free" days for gaming though. I haven't even finished Tomb Raider yet. One picture at a time -- LG V10

works sweet as anything, only thing they need to implement is remote wake via pc, crazy that i have to take a trip downstairs in the middle of the night to power on the ps4 for some nocturnal play back up in my bedroom!

If the PS4 is in Sleep Mode, it should wake automatically.

mybad, indeed it does, i read today an article which said something to the effect of that remote wake for PC wasnt implemented yet, i know it was for vita etc, but yeah, heh, it works - great job sony.

PlayStation = iOS, Android
Xbox = Windows Mobile 6

Not really. It's more PlayStation = Android and Xbox = iOS.
The Xbox may not be as popular as the PlayStation but unlike WP it's far from dead ;) Posted via the Windows Central App for Android

I said Windows Mobile 6.0, not Windows Phone 7, 8, or 10.

All the same. They're all pretty much dead.

Wow, you sure a very good explainer of stuff. ????

How does this work. Does that mean I can play my PS4 on my computer when I'm on break at my office? Posted via the Windows Central App for Android

This would be a sweet selling point.

Yes you can man! :) it suck Xbox can't do that! :(

If you have the DS4 controller and a USB-to-MicroUSB with you and the PS4 is set up to allow Remote Play then yes, exactly.

Come on Xbox don't make me switch to playstation!

Why would you switch to PS4 over this? The Xbox has been able to do this for a while now and at higher quality. I mean, yeah, you can do it over the web but doesn't that require you to leave your PS4 on all day while you're away?

Which device can play natively, console only, with higher quality? ;)

Since the question is in relation to streaming, I'm not sure why you asked that. However, if you are asking which console plays games with marginally better quality (which is still dependent on the developer since some games run more smoothly on the weaker console than the "powerhouse" one), I'd have to say the PlayStation wins there. That said, if he already owns an Xbox, I'm not sure how much it's worth it to shell out almost $400 for a negligible performance difference and the inability to plug in external hard drives. They both have decent game libraries though.

The PS4 can use external drives. I keep a high speed thumb drive connected in at all times (for backups of saves), upgraded the HDD in it to a 2 TB drive, and never worry about space. I don't think you can install a game to an external drive, but the upgrade was so easy and cheap that I never even thought about bothering with an external.

You might be able to turn the PS4 on remotely like you can with the Xbox.

If that's so then that's good since all I could see was this feature burning out the life of your console just so you can play it away from home.

Either that or I would assume you'd be able to wake the console from sleep to start playing.

You can. I tested it out and it turned on from stand by (the normal "off") with no issues, and ran very smoothly on maximum settings. I did it side by side with another monitor that I used the direct connection on, and it was darn smooth and looked quite decent. Just remember to turn off your monitors if they auto on from a signal, unless you don't mind a bit of extra electrical cost. Mine auto on's when I turn on the PS4, and does so when I remotely turn the PS4 on via remote play, as well. Not a big deal, because I usually shut that monitor off completely when not in use, but something to remember.

.. and playing Over the Web at high quality is nigh impossible without a solid 10 - 20Mbps UPSPEED connection. Most Time Warner (very popular in the USA) caps at 5Mbps even with Extreme. However, in the next week or so that is all supposed to change; Time Warner Raodrunner is going up to 200Mbps down/ 100Mbps UP

So, you can play from a surface, but not a Mac. LOL

Can you read? It say's "Mac" three times in the big blue jpg.

Windows 8.1 and Windows 10 only. So much for my cheap Windows 7 machine (Not willing to upgrade it to 10)...

Also Mac compatible, so it's beating the Xbox in that regard, is it not?

My PS4 and computer are hooked up to the same television so this feature isn't really for me. I also don't have the luxury of playing video games at work lol. I can maybe see this being handy while traveling.

Figures. I traded in my PS4 this past Sunday for an Xbox One with remote play being the second biggest reason why. The first, which thankfully PS4 didn't add, is the ability to stream and view the movie collection I have on my SP3 and/or in my Microsoft Store movie collection.

Does This use local network(like xbox) or the internet?
it's not clearly mentioned

PlayStation Remote is using Internet, not local network

Well then it's not the same thing
for people with low caps or slow internet it's not going to work like Xbox streaming and it'll have more lag for sure

But I'll be able to play from my surface when I'm on the road, that's awesome.

That is possible if you use vpn or something like hamachi with XBOX one but it's just useless to me since my internet neither has speed or enough data cap to use it with ps4 i was really hoping it would work with local network data just like my xbox

Can I play it over a VPN connected at home ? Now that would be cool....

I tried it on my windows 10 laptop with a 60 up / 17Mb down connection. It was choppy and not a good experience even when lowering the frame rate and resolution! Ps4 remote play sucks. Posted via the Windows Central App for Android

I'm not sure I'd bother to play in 720p, if you have another TV or monitor in the house then one of the good things about the PS4 is you don't need a powerbrick like the XBOX One just a cheap power lead and you don't have to mess around unplugging lots of things behind your TV, just pull out the PS4 and plug it in somewhere else.

Except this allows me to play when I'm not at home, that is significantly better than what the One offers, although that is still also beneficial when my room mates want the TV.

I own both consoles and I'm excited to use this feature on the PS4!
Windows Central Newsletter
Get the best of Windows Central in in your inbox, every day!
Thank you for signing up to Windows Central. You will receive a verification email shortly.
There was a problem. Please refresh the page and try again.