Plague Inc. beta infects Windows Phone, signups open now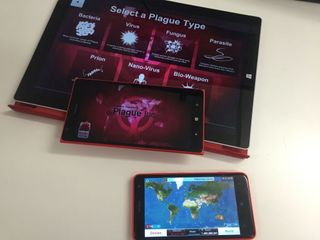 Need a little more world-collapsing plague simulation in your life? Ndemic Creations, the developers behind the popular Android and iOS hit Plague Inc., recently informed us that they have started accepting beta applications for the game on Windows Phone.
Plague Inc. is a pretty unique game that tasks you with destroying mankind by infecting humans with a pathogen and then controlling its subsequent evolution. Here's how Ndemic Creations describes the experience:
If you're excited to be a part of the game's journey to Windows Phone, hit up that source link below where you'll be able to sign up to participate in the beta. Good luck!
Source: Plague Inc. beta signup
Windows Central Newsletter
Get the best of Windows Central in your inbox, every day!
Dan Thorp-Lancaster is the former Editor-in-Chief of Windows Central. He began working with Windows Central, Android Central, and iMore as a news writer in 2014 and is obsessed with tech of all sorts. You can follow Dan on Twitter @DthorpL and Instagram @heyitsdtl.
Yea I've been waiting for so long!

Lol game on disease.... Crazy dev...

I got scared for a sec... LOL

Why is everything (okay, not everything, but a lot) beta on WP? Or at least it is for many months...

Well, do you want more apps/games on WP? Let the developer know it. If more people sign in on beta, they will know that we want their apps/games.

Because that's how a beta works.... Lol

Yes I know, but sometimes the developer releases an app like Instagram Beta, they leave it in beta like forever. I'm just worried this will be the case after this beta.

Also, why aren't my email notifications working? They haven't been working for months :(

All software is beta-tested... But WP-apps are usually beta-tested by the people who will actually use the apps... It's better for us.

Because that's how app development works. You can't just trow untested apps to the public. Some are open, some are closed. But all apps are tested.

Signed, hope I'll be picked up.

Bought it when I was on Android... Really fun game... Signed up even though it was through a Google doc

Yes! I applied. I play this game all the time from Steam.

Damn that is a sort of thorough beta signup form. Well it pays if you have played the game on past platforms

That's a no brainer. Signed up immediately.

This game was great when it first hit iOS. So easy to simulate real world scenarios, and by real world I mean turn the Plague Inc world into the majority of Internet users.

The one thing I miss about my quick affair with the nexus 7... Love this game. I annihilated the world's population once... No upgrades :D. So funny how would get so happy being evil.

this game was disturbinly fun on my galaxy tab as well. Pure evil, but still so much fun.

Finally for WP, love this game :)

Amazing game... Purchased on ios, actually started playing with my daughter again this week. Helped explain viruses and why people are freaked out about Ebola. On a side note her virus killed 99% of the planet lol Greenland had about 200 people left.

I found that as well on Android, either Greenland or Poland would refuse to get infected.

If you've got barely anyone left, just make the disease less deadly. At that point, its impossible for humanity to find a cure, so you're free to do what you want.

Wait, so you have to make it less deadly when there are almost no people left?? Please explain. I'm still relatively new to this game.

If your disease is going to kill the infected people before it can infect the rest of the healthy population, make the disease less deadly, let the disease infect everyone else, then make it deadly again. At a certain point, humanity will devolve into anarchy and won't be able to fund a cure, so it doesn't hurt you to wait for the disease to infect everyone else.

Also noticed more isolated countries are much harder to infect. Like islands in the pacific, Greenland, Madagascar... They are impossible to infect once travel and trade restrictions are in full effect.

That's why you infect the birds (;

I signed for tester but do I have to pay for it for testing?

No they should be paying you if that was the case. It would be nice though lol

Thanks for the heads up! Keen to give this a go.

I signed up. I hope I get in.

Love this game. So addicting.

Yes! Hoping I can get in on this action! I've been waiting far too long for this to be on my WP!

Signed up and waiting for them..

Registered and waiting. Anyone have any idea how many beta testers they need for testing a game such as this?. Thanks

Good for Windows Phone! They finally get in on world destruction after years in other platforms Posted via the Windows Central App for Android

Super stoked, hopefully I get picked

In most games we have to save mankind from destruction, but this one is completely different

​Is it playable on SP3? It is a steam app, and not a universal app.

This article is about the Windows Phone app. What is available on Steam is different. You can purchase and play that one on your SP3.

Ndemic Creative are like the Umbrella Corporation of Resident Evil. Their going to infect is all! Run! Run for your lives!

Lol. My favorite disease is a parasite which feeds on peoples' unused brain cells. It would produce no symptoms until everyone suddenly goes insane.

Think I'll wait for full release right now... Love this game though.

If you have played the game before, please do sign up. They ask a lot of questions. Not all of us know the answers :P

Well, alot.... They ask two questions you can only answer if you played it before: What type of infection do you like most and What is your strategy ingame

I hope it comes with Xbox live.

Yessss!! No more shall my Android buddies gloat :-)

i just realized it's been on iOS and android since 2012. that's fcking 2 years ago! just like candy crush, isn't it? anyway, it's here now at least. hurrah! lol

but compared to candy crush, this does not have a gazillion smilar games avialble on windows phone. The gameplay concept is unique and I can't wait to have it. Apparently, I was not picked for the beta, though.

Anyone receiving emails on this yet?