You can now stream your Audible audiobooks on Windows 10 and Mobile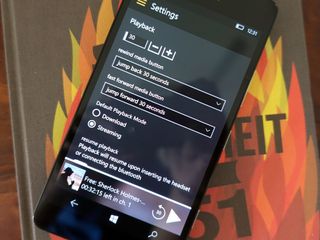 Audible has picked up an update to 10.2.7.0, bringing the ability to stream audiobooks instead of downloading them to your device. The option comes in handy if you're running low on internal storage.
The app also offers background playback, and the update brings UI tweaks to the Playing Now section, with the cover art used as the background. For those not familiar with the service, Audible is Amazon's audiobook platform, delivering over 180,000 titles that include audio versions of magazines and newspapers, novels, TV shows, and so much more. Membership costs $14.95 a month, which includes one free audiobook every month.
Download Audible from the Windows Store (opens in new tab)
Thanks for the tip, Mustafa Al Ibrahim!
Windows Central Newsletter
Get the best of Windows Central in in your inbox, every day!
Harish Jonnalagadda is a Senior Editor overseeing Asia for Android Central, Windows Central's sister site. When not reviewing phones, he's testing PC hardware, including video cards, motherboards, gaming accessories, and keyboards.
Off topic: Weather and news updated and now news has a dark theme!

I also said that to Daniel but there has been no response from him since 2 and ½ hour has been passed till now...

@RamitKoul. 1)Time Zones. 2)They can't individually reply to every single tip and email they get lol.

I know that but he should write an article about that..

@RamitKoul. I understand what you are saying. However what Daniel does or doesn't do that's his prerogative. There maybe an article in the works by himself or the other writers, they do have alot going on and not to mention everyone has a personal life to attend to as well :).

how about article for joe belfiore using iphone?

Jeez let the guy have some sleep. Stop spamming him!

Maybe you should open up an article and right about it if you think weather and news app update and a dark theme is worth an article within the hour.. jesus.. do you guys have no lives to care about

At the time you wrote this, it was almost 3 AM in his time zone. You are aware of time zones, right?

And he is supposed to respond immediately to your every email?

That update going no where :o

Dark theme looks rubbish as just the article. Rest is light. Have stuck with light as dark ugly

I love Audible and their Windows 10 mobile app worked great before the update. Glad to see they are continuing to add features.

Still working..will come 2050..February 24

+Here Maps and Here Drive+ Scores updates

Already reported on that.

Great news! I love books and now I can listen to these. Question: Can I download the audio books? It says "instead of downloading", so I assume that it will. I'd like a definitive answer though. Thanks in advance. Posted via the Windows Central App for Android

It's there in the screenshot - Download option.

That's true. Thanks. I don't know about the 15 a month subscription though. That seems like a little much. For all that trouble I could just read the book. I will think about it though. Posted via the Windows Central App for Android

Depends on your preference. I prefer to listen to books because I can do that while traveling, cleaning the house or exercising. If you get the two book a month plan its cheaper per book at $22. They also run member sales quite often when you can buy books really cheap. Compare that to the $30+ audio books usually cost and its a pretty good deal.

Well you could only download before ;-)

Was wondering the same or for that matter have they compromised on audio quality

When in iOS...? Wait Audible is not by Microsoft right....?

Seriously...give it a rest

Welcome news for those with low storage, personally I prefer to just download them and listen to them off line on the train.

SWEEEEEEEEEEEEEET!!!! Was tired of having to wait for the whole books to download. This is a welcome change.

So Audible gets updates, but Kindle hasn't been touched and is terrible compared to the other platforms. Makes sense.

Kindle works...it just hasn't been updated. Regular Amazon store app has had updates.
How is it so much more terrible? It works fine for me. It's functional.
Had to find something to complain about even when its a good news article about an Official app getting updated with new features?

Since downloading the app on my Lumia 950XL, haven't had any luck playing a downloaded title. It worked quite well on my Lumia 1520 (WP8.1). I was giving up hope until I saw streaming as an option added yesterday, but a las, I get a "Unable to get streaming license for this title." :( Have only had my 950XL for a week, I just don't know if this is an isolated issue or experience shared by other 950XL users.

I have the exact same issue. In fact, I haven't been able to play any books on my new 950XL. At least I get an error now ;-)

I have the same sort of troubles on my 950 with this release. Previous releases worked fine. I now can't play downloaded or streamed titles and also sometimes get the "Unable to get streaming license" error for downloaded titles. Usually I hit play and the button switches to pause and back to play. Hit it again and playback is essentially locked up. Very frustrating...

I reported this issue to Audible as I have had the same issue since the update (Unable to get streaming license for this title). The issue as I perceived it was that when I was in a area with little or no cell coverage, I would get the streaming license message or the playback would pause even though I download all my titles. I received an email response this morning and confirmed with them on the phone that they have identified the bug and will be releasing an fix within 24 hours.

New update has been posted to Windows store (v10.2.8) that is supposed to fix the playback issue. Downloading it now. Will know for sure if it fixes it on the drive home.
Windows Central Newsletter
Thank you for signing up to Windows Central. You will receive a verification email shortly.
There was a problem. Please refresh the page and try again.