You-Doo is a location based to-do list app for Windows Phone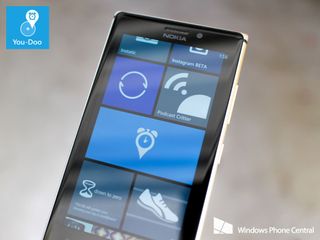 Humans can be pretty forgetful creatures. Which is why eons ago some brilliant man invented the to-do list. This allowed man to prioritize and execute important tasks. Thankfully our smartphones have now given rise to 'smartlists'. And that's exactly what You-Doo for Windows Phone is. It's a very smart to-do list, task scheduler and reminder app that uses your location to help you get stuff done. Let's check it out.
We've seen a handful of very great to-do and task apps on Windows Phone before. You-Doo takes those concept one step further by attaching location data to a given task or item. We've also seen some similar apps like that on Windows Phone, but You-Doo looks really polished and feature packed.
Here's what you get with the first release of You-Doo for Windows Phone:
Proximity triggered alerts for tasks
Live Timeline View
Live tiles for individual tasks and live timeline
Configurable GPS location groups for categorizing tasks
Location information with mapping integration to Bing Maps and Foursquare
Reminders and Notifications
Multi Language Options
Calendar view with daily detail
We're digging the app so far. You can add items, give them due dates and then add a location to trigger the reminder of that task. You also have some pretty good flexibility in the properties for a location. You can add a location by selecting a spot on the map. You can then add a radius for that location to trigger the reminder. Very cool stuff.
Once you've added a handful of tasks you have a few options on how to view it. There's a live timeline that displays your tasks and to-do items in chronological order. You can then swipe over and view active tasks, tasks with no due dates, and GPS groups. When viewing your GPS groups you can look at tasks by location.
There's also a 'pro' version of You-Doo coming soon. This pro version will introduce features like friend share, device syncing, cloud saves, recurring tasks, the ability to import from Outlook and more. We're very excited to check out the pro version when it comes.
We've been playing around with the app for a few minutes and have added a handful of tasks with locations. We'll be checking it out over the coming days and will give a report on how it actually performs at reminding us to do stuff. We're also curious to see if the app is updated to take advantage of some of the geofencing monitor support that comes as one of many new features in Windows Phone 8.1.
Let us know what you think of the app if you've already used it. Or maybe you're using something similar? Sound off anyway.
You download You-Doo for free from the Windows Phone Store. We did find two in-app purchases. It'll cost $0.99 to unlock more icons or $0.99 for more color options.
Get the Windows Central Newsletter
All the latest news, reviews, and guides for Windows and Xbox diehards.