In 2016 you'll have to pay up to keep editing Office files when using Continuum on Windows 10 Mobile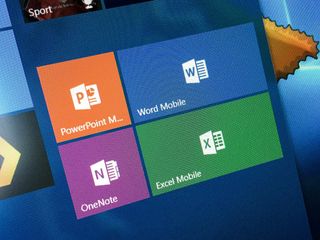 Windows 10 Mobile users who download and use the free Word, Excel and PowerPoint Office apps will have to pay for editing privileges if those apps are used in Continuum mode. The company says that will go into effect starting on April 1, 2016.
In a post on Microsoft's official Office blog, the company stated:
In other words, if you own a Lumia 950 or Lumia 950 XL and connect the optional Display Dock to use the phone like a PC on a big screen monitor, you won't be able to edit documents on Word, Excel or PowerPoint without a paid Office 365 subscription starting on April 1. While this may seem odd, it is also reflective of Microsoft's current policy that editing on Office apps with screens larger than 8 inches will need a paid Office 365 subscription.
Source: Microsoft (opens in new tab); Via: Neowin
I don't get it, W10M on mobile already refuses to edit documents without a 365 subscription.

Reset your phone maybe, I am able to fully edit in each of the apps.

Works fine for me. No surprise on this new requirement either.

I hope it includes a new version that supports excel macros. Then it would seem worth the cost.

Logout and again login with your ms account inside the office apps.

Thanks I reinstalled the app and it worked! I wish we could use it for free forever though. Then we can have at least one advantage for using an OS made by MS (considering many MS apps apparently run better on iOS and Android), and it would be a nice way to compensate for the app gap. I know the app gap isn't MS's fault, but we need every advantage we can get, and clearly there aren't that many.

You can use it for free forever...on Mobile natively. Continuum increases your screen size so their rule of being free under 8.9 inches or whatever , still remains true

If your business or university uses O365, you should be able to keep using it even after you leave the establishment. At least, that's been my experience.

Still, that's stupid. If you have it on your phone and it works fine, connecting to an external screen shouldn't matter. Yet another example of Microsoft shooting themselves in the foot. This should be no charge on Windows Phone, charge on iPhone and Android. Then again, they've pretty well killed Windows Phone anyway, so this won't affect many people.

Not a right step. Why would ppl then go for continum .. We are running on mobile it should be free?

Me too. Microsoft just lost a sale. I was going to get a phone running Continuum in the new year because I have always been interested in the idea of having a phone that could dock with a monitor to give a full PC experience. Now I will be keeping my 735 and running the mobile version of Office by Miracast even though the experience is not as good. I am not going to pay to subscribe to office 365 when I have the full version of Office 10 professional on my laptop and Office 11 for Mac on my desktop. Both of these have more features than I will probably ever need in an office suite. I have no intention of moving to a subscription model. If Microsoft want to monetise these apps they should charge a reasonable amount for the app such as the £6.99 Apple charged for its iWork apps before it gave them away with new phones and iPads.
Posted via the Windows Central App for Android

Apps are dumb down version of full software

In your opinion. To me there is no difference between an app and a program. They may not have all the features but they are still powerful programs. For instance Pages on the iPad can insert pictures, tables, text boxes, columns, 3D and interactive graphs etc. Not too many years ago, even desktop PCs didn't have all these features. Posted via the Windows Central app

Me too! I was so annoyed about that. If that's actually the case, I think anyone who buys a Lumia (especially a high end) deserves at least a year of free 365.

I agree,I bought my kids a £50 windows tablet that came with a year of O365 and my £450 phone doesn't include it?!?

Smaller Windows 8.1 tablets generally came with an Office 365 subscription, as did some WP8.1 phones (some variants of the 640 and 640 XL for example). Windows 10 tablets generally don't come with an Office 365 subscription. So the direction is away from Office 365 being included with devices.

I saw that today when I was showing continuum to a coworker.

Edit on big screen with continuum. When done, unplug from dock, and save. :) I wonder if that would work.

@AccentAE86. Well, you've just set the cat amongst the pigeons lol...

I'm willing to bet editing is disabled once the adaptive UI goes beyond 8.1in. I guess one could always buy a 7in display if they exists

You didn't get edit curser on document on continnum mode how can you modify on big screen, you can edit on phone but when you switche edit it will be locked, but via miracast it will be done : )

You can't. Ever try Office Online? You'll be presented a read only document at first and need to click on edit icon to edit the document on the web. It's similar to that.

I had to subscribe from day 1 on my 950XL in order to edit....

If I'm waiting in front of a computer and my stuff is synched to OneDrive, why wouldn't I just use the free Word web app to edit?

Disconnect your Outlook account from all Office apps, restart your device and reconnect your Outlook account. That fixed it for me.

Reinstall the apps. It works, no need to pay

Dont you have to do that now - even on the phone? When I first got my phone, there was a fluke with getting logged in and Word wouldnt let me create a document. It said I needed a subscription to create docs.

Reinstall the apps. It's a common issue

I got it fixed, but that message led me to believe it was a requirement to have a subscription. I have a subscription, so I assumed thats why it started working.

The $650+ we're paying for the device aren't enough :-/

I mean how much do you want for free? If you pay a few hundred grand for a home, should the utilities be free? It's a paid system already for everyone else, why should you be special because you bought a phone?

Because that money for the phone is going directly to the company providing the service. When you buy a house the electricity/gas company doesn't get any of that money. It's not unreasonable for someone to want a little bit extra for their investment. Of course Microsoft aren't obliged to provide said benefit, but it would be a better incentive for potential buyers, and also if they just give a year for free then one people are accustomed they are more inclined to keep the service going.

Actually it is pretty unreasonable. How many other products are the same? When you buy a PC with Windows you don't get permanent use of Office 365, you still have to pay for the sub. You buy the phone, you can use the mobile app for free, if you want to use the desktop version, you have to pay. When you buy an Xbox, you don't get a lifetime sub to LIVE. Your investment is the product that you purchased, never was it advertised that you would get a free sub to Office, so why would you just assume that's added?

Your argument falls flat in that often when you buy a computer you get windows for free, which technically is a separate service (yes, it is required, but someone could purchase an OS seperately). Also I assumed nothing, I pointed out why people might wish the service is provided when they have bought an expensive device from the same company, I didn't say they have to provide it, simply made an observation as to why they could and also the potential for increased income in doing so.

Windows is MOST DEFINITELY included in the price of a brand new device. OEMs of Windows based devices pay Microsoft good money to bulk license Windows. They install the software on hundreds of thousands of devices each year. They aren't just suddenly going to deduct that per-license amount when selling you a PC, tablet or phone. Would you do it if you were in their shoes? No, because you'd lose money that way. You may not realise it upon checking out, but Windows is definitely included in the price

Ok, wrong choice of words, drop the *free* and my point still stands. You are getting an extra service included when you purchase a computer. Oh, and while not in the case of windows but I'm the case of Office I would 100% advertise one year free Continuum access to 365. After that people will pay their subscription and likely be more inclined to do so. It's a very common marketing technique.

Ok so you buy a phone and you get up to 6 months free use of the service.

Except it was never advertised as that, how are people not getting this?

No. Windows is always included in the price of a new computer. You can get a machine without an OS on it and you will have to pay less.

Does that mean that Its free on Tablets of upto 10 inches... But if its connected to External display, The Modern Office Apps will refuse you to edit the files?? Thats bullshit and MS is ******* on WIndows Fans... Will they also stop People to AirPlay their screen to bigger screens when using apps??

So if you buy one Microsoft product, you should get another product or service for free? What kind of logic is that?

Didn't they throw the bone of free Office365 Personal with low-end Tablets with Win8.1?? Why not do the same here especially when they have non-existent share in mobile.... I don't think they actually want to succeed in mobile. They are pushing people towards iOS/Android so that they have 1 less platform to support...

Completely agree that, at least as long as Windows mobile remains completely unloved, it would be a very nice bone to throw to their loyal customers to let them use things like Office for free on their device. Right now, Microsoft needs to be kissing Windows Phone users butts.

LOL the self entitlement is real

I hope you're taking about MS' self entitlement. The 950 phones are hundreds of dollars. Quite literally the only feature they have that competitors don't is Continuum, and the features they do have are buggy and lacking. That means that pretty much anyone that bought the phone bought it for Continuum, and pretty much the only thing that's really useful about Continuum is that it's a way to quickly turn your phone into a productive work station. Now, without any notice, MS are going to start to charge extra for what was the main selling point in the first place. I happen to have a 365 subscription through work, but if I didn't, this would really, really hurt my experience. I think a class action suit might be in order.

No, I mean YOUR self entitlement. Do you really thing MS has any obligation to "kiss your ****" News flash, they are making a ton of money off the office program, and many of their other programs. If they shut down Windows Phone and got out of the mobile game, it's not going to kill them. So there is NO need for them to kiss your ****. And a class action suit? for what?

Of course they have no obligation to do any such thing. That said, I, of course, have no obligation as a user of their products to say nice things about them. Since they aren't going to treat my satisfaction like a priority, I'm not going to mince any words about the lack of quality of their products. And their mobile products are, unequivocally, awful. And I explained what a class action for. They offered a phone with the primary selling-point of being able to use your device to work in Office with a mouse, keyboard, and big screen. And now, out of the blue, they have decided to charge extra for what was a core feature. That's bait and switch. Imagine if I sold you a car which I advertised as one of the safest on the market and then, a few weeks after you brought it home and drove it around, told you that the windshield wipers would only keep working if you bought a subscription to my "Wiper 365" plan. You'd be pretty ****** and probably entitled to compensation. Lastly, Office may be the golden goose, but the world is quickly going mobile. The entire Universal app system depends on there being a universe outside of PCs. Thus, success in mobile is absolutely essential to the future of the company. They will not succeed unless they throw Windows Mobile users some bones. Why would anyone use their products if they offer no compelling advantages over their competitors'? They wouldn't and, guess what, they don't! A poster below said it just right: MS knows the price of everything but the value of nothing. Happy customers are what has made Apple the biggest tech company in the world. Nadella seems to know this: he has said he wants people to love using Windows. Well, Windows is pretty garbage, right now, especially on mobile. One way he can make people feel a little better about their MS purchases is to stop nickel and diming them.

The problem is they didn't specify that when the phone released. My wife will be livid. That should have been 100% clear before purchasing the phone.

I do not know the usecase of your wife but for any non-professional user office online should be more than enough when using continuum. If she is using it professionally, well it should be ok to invest some money in it. And the app description actually always said that it was free only for phone screens and small tablets, just saying...

Actually it is free for DEVICES with a screen up to 10". What you do with Continuum is using Office from your phone not from, again, a DEVICE with a screen bigger than 10" ; personally I do not care because I have Office 32 bit and I have no interest in Continuum but stretching the logic of "what matters is the screen" it could also mean that if you use a multiple monitors system you should have the same number of OS licenses.

I think that in continuum mode all the functionalities of the PC mode are enabled so that's why, it is not a dumbed down version of the product.

No what matters is the software that is being used. On a device with a screen less than 10" you are getting the mobile version of the app, which is free, when you enable continuum, you are getting PC functionality, which is the paid version of the app. I don't get why people can't understand this.

Honest question from a non-950 user. Is the version that is used the full PC version? Like, does it have all the macro functionality that are stripped out of the mobile version?

@Axmantim, that was a poor analogy. Utility companies do not get a slice of the home sale pie. That would be just absurd.

So, should the real state agent give you free utilities? This is absurd. What did you people not complain that MS didn't give you office for free when they provided (sold or through OEMs) you with the OS.

I agree considering its not free on ios/Android why not charge your users who use containeum

Because Google and Apple's respective office suites are free on their devices. Considering how small a market share Windows Phone/Mobile has, one would have thought MS would do all they could to increase it, even if the Office subscription was only free for a limited period. Posted via the Windows Central App for Android

Office on your phone is free. To use office on big screen itch continuum you have to pay? Doesn't make sense bruh?

Editing priviledges are already free through Word Online. I don't understand the point Microsoft is trying to make here.

Even if you buy the most expensive computer/laptop you have to pay.

The device is separate from the software. They charge for desktop Office. Its not a free product. Is it free on a Surface?

Um actually, a real desktop version of Office 2013 is completely free on the Surface RT/2. And you can attach a monitor, keyboard and mouse to it and still use it for free.
Paying a subscription for using some half-assed mobile version doesn't sound that attractive now, does it?

RT is dead Posted via the Windows Central App for Android

It was only free on the now long dead Windows RT line. On the Surface Pro line it has always been paid.

It's free to use on your phone.

If use it in Continuum you are essentially use the desktop experience which you have to pay anyway so office 365 all the way.

But with a few less options.

Yes. This will really make a difference for MS' sales.

You don't get it free with the Surface Book either, and you pay a LOT more for a Surface Book. The price of the phone is for the hardware, not extra software.

MS had done a promotion bundle with L640 + 1-yr O365 sub. And the price was cheap enough. Should MS want to leverage Continuum, I think it's good to do the same bundle with L950/XL. Maybe MS changes the strategy with 'trial' for free Continuum experience until March. But then, MS should tell this beforehand. Some people might feel deceived.

Wrong analogy my friends... I buy a blender, I buy fruits... But I don't pay every time I want to make juice in my kitchen? Simply put: this pure greed M$! We've paid a lotta money for both a phone and a display dock, why should we pay for making documents... In my kitchen :)

In your kitchen yes but you have to buy still the fruits. Get it? :) your analogy said it all. Microsoft is a Software company. If you buy the Acer Jade with Continuum what has Microsoft from it?! Don't look at Microsoft as it owns you something if you buy a Lumia. Just think of it that there are others that will have Continuum too and Office is a service and not a function in the OS, its not like its the start screen or the settings, its a seperate service. Pay for it if you want to use it on a bigger screen.

Good thing I have a subscription but I'll probably use this maybe once or twice in my phone's life.

Soooo... I might have got this wrong, but if I mirror my screen, instead of put it in continuum mode, I can still edit for free?

Let's wait for it until 1 April. MS loves keep people hanging & makes awkward surprises.

Mirror and continuum are two different things...continuum allows you to use desktop version of that mobile app,(universal apps) Posted via the Windows Central App for Android

Yeah I understand that... That's why I said it... Effectively you have two different modes of connecting to an external screen; mirroring and continuum. If I understand it correctly, you would have to subscribe to use Office in continuum, whereas switch to mirroring mode and Office reverts to being free again, even on the very same large-screen tv/monitor... Kind of makes a mockery of the whole greater than 10-inch pay threshold don't you think?

Isn't office on the web free to use or am I wrong?

Exactly. Microsoft should let you use the version that does not contain all the features, but allows editing an creating basic documents, as a free app forever. If you want the full version, then yes you can subscribe to the 365 version. With Google and Apple both offering free versions of their own office suites, this is going to kill continuum before it even gets started. Posted via the Windows Central App for Android

Exactly. I can use Word for free on my phone and PC so buying a sub for occasional continuum use is ridiculous.

LOL comment fiasco 2.0 . This is only logical be happy that it is free on mobile for editing too.

So a small windows tablet for 50€ can get a free year subscribtion to a office 365 and a 650€ phone can't ? Dont even get me started!

What's there to get started on? Promotions aren't on every device and there isn't much allure for a low powered windows tablet. I didn't buy my phone so I could use it for office, and anyone that did, should really be paying for 365 anyway. So many people want something for nothing and it's really sad.

Disagree. I was going to buy one of these phones purely for continuum. Most people upgrade their phones on a two year cycle, would it have hurt MS to allow these users to use the cut down version of Office for this period of time, knowing that they would probably stay with Windows phones whilst this feature was available. I can't understand why MS can't see the value in attracting customers to the mobile phone. Steve Jobs understood it when he said Apple actually had iOS on an iPad before the iPhone, but he put the iPad on hold because he realised the future would be in mobile phones. A mobile phone costs more than a PC and almost as much as a Surface tablet, but probably costs much less to manufacture. Posted via the Windows Central App for Android

I agree, it's a bad idea. Windows phone is already at like 3%. What would it hurt? Being that Office is available now on other mobile platforms, that could be a good differentiator if only for a year or two.

It would make more sense for them to make this feature free to help promoting their phones...oh wait they are not trying to promote their phones. Nevermind.

i understand they wanna charge for using Office on a bigger screen, but it'd be nice if they gave like a one-time-buy Office version for mobile.
and it'd be even nicer if that came bundled with a Display Dock.
now that gives customers satisfaction and MS the money.

+735 Posted via the Windows Central App for Android

Well, I know that they have to make money, but this news just killed off the allure of buying one their high-end phones inorder to use Continuum.

Right, because office was the ONLY reason to use it... =[

How do you use office now? 365 is for 3 devices pc lappy/tab phone if you use it now you will already have a licence for the 950.

I have the offline office variety. It can edit docs in the cloud as well. Also I can use the free web apps if necessary. While I don't expect to use continuum much, it most likely would be office based.

Actually no, there are other use cases for it. And as pointed out, if your ONLY use is office, you really should have been paying for 365. Quit trying to get something for nothing when it isn't offered. You're already getting a temporary free use, be happy with that.

More I think about it, it kinda is. xD Not many Continuum apps AFAIK, can't run win32 apps, and it's currently running an RT mode, so nothing like steam can be accessed. That pretty much leaves Edge, Office, and maybe an app or two like Netflix. LOL.

Of course. It's not like you can use the desktop apps in Continuum, and office is really the only productivity related UWP app that makes sense to be used in continuum.

Not sure if they want people to adopt continium or not.

They cannot sell the same product to desktop users and mobile users and have two different prices. Same service same price. We should be happy to get the downgraded mobile experience for free.

You say that but it has been the norm since Windows mobile 6.x or so that mobile office is free to use and edit with.

And it is still so what's your point? It becomes paid when your phone becomes the case of a PC, it is not mobile anymore is just a smaller case. I mean I would like everything free, I'm all for it but I do not complain too much when and if I have to pay for something. I mean now with your phone you will be able to: -view and edit docs for FREE -show docs on a bigger screen for an audience for FREE -edit docs on a bigger screen for FREE using Office online -do advanced editing on a big screen with PAID subscription

Yeah let's see how well they're able to market Continuum now.

I didn't know that the strong point of continuum was getting the same product PC users are paying for but for free. It would have been smart to have a longer trial period on that I agree, at least till windows phone gains some market. I hate the subscription model too anyway...

@Paolo Ferrazza. My point is most people will still see it as a phone not a PC. Since it is running off a phone.
Perception, here is key :).

That's the exact problem. MS wants you to look at it as a PC, which is what they said during the reveal event.

On the other hand if consumers get the perception that they can have an almost complete office version for free they will never pay again for it. They ain't going to sacrifice office revenue for mobile revenue, mobile has to grow on its own or die trying :)

TechFreak1 hit the nail on the head. Perception is key. This is just another example of poor PR. Microsoft expects people to pay $100 for a Display Dock. Right now the Office apps--not even the full-featured applications--are the main use of this accessory device. There is no reason whatsoever that owners of a Display Dock not be given the equivalent of one year of Office365 for free to help promote this device. This device goes nowhere if even the fans feel like Microsoft is intent on making it not worth it. I get it. Microsoft is a business, and as a business needs to make money. That said, before this move I was leaning toward going for a 950/XL and a Dock. With this move, I'm kinda leaning toward keeping the money I would have given to Microsoft.

Just go to OneDrive.com and create Word, Excel or ppt documents for free. Sure they are pretty basic but good enough for me

That's what I was thinking...

Real world problem has been solved!

I predict someone will just develop a bare bones document editor that we can use in continuum anyway.

Well if their phones aren't premium(950-950xl compared to competition) they should just include this in price... Damnit they should include it with high end phones...

In other words you are saying that this should be paid since their phones are as high specced as other premium devices if not more, and they have an already competitive price at release? :P They pack a lot more hardware than an iphone 6s for example for a far better price.

Only thing is, there's not a whole lot of continuum content out there: No Win32, no DL like Krita, Steam, or FL studio, and almost no apps apart from a few great devs. When you think about it, you have Some of your phone apps, and that's about it. Kind of a turn-off. If I were MS, I'd offer a better O365 deal via the Lumia (or other continuum phone) app for newly purchased WPs for a year or 3.

Continuum should not have been released until all apps supported it. That should work out well. Or they can release it and add apps later. Too many free lunch people around here.

If they are gonna cripple one major feature behind a paywall, at least let the users uninstall the continuum feature for more space on that 32 (29 actual) phone. Because its not exactly compelling to a large portion of the L950/XL base when you need an extra piece of equipment (dock, miracast, from $25-99) + mouse, keyboard, and monitor, with only a few apps, one of which being a major piece of productivity software. and that's after buying a $650 phone. I know MS has to make money, but surely there is a better way to implement it. Or do it like Tesla and hold the feature until its actually developed and competitive, then release it. ****, even Apple's original iPhone came with an app store, and even though it was small, only a phone was needed. This is adding at least another $250 for periphials, then layering the cost of O365 on top of that, after the purchase of that flagship device.

Let me understand your reasoning. You are getting a top specc'ed phone at android level of prices if not a bit lower (and lower prices than apple). Then you complain that to use it like a PC (something that can't be done with the comptetions same priced phones) you have to have all the things you should buy for a PC ( a monitor a keyboard and a mouse and a cable to connect the case=phone to the monitor). Then you complain that you have to pay for a product you've always had to pay for (office was never free, actually now you have a free version web based and a free version on small screens). The only mature complaint you can have is that more apps should support continuum, and I need to inform you that the phone was out only for like 10 days. Support after ten days (I guess there are more): [Games]
- Trivial Pursuit with friends works.
- Crossy Road
- Microsoft Solitaire
- Prune
- Mirrors of Albion [Remote control]
- Teamviewer [Video, Music, pictures, entertainment]
- Audible
- Streaming video
- Netflix (via Edge)
- DevianArt
- Figure (Awesome beats creation software by propellerhead software) [Social]
- Aeries (twitter client)
- Fenice for twitter (twitter client)
- Tweetium (twitter client)
- Baconit (readit client)
- Readit (readit client)
- Facebook Beta
- Line (chat app)
- Truecaller [Microsoft]
- Outlook
- Office
- OneNote
- OneDrive
- Edge
- Maps
- Photos
- Settings
- Weather
- Msn News
- News
- Store
- Alarms & Clock
- Cortana [Others]
- Dropbox
- Regenmeter (dutch weather app I think)
- AppRaisin (It's an app that lets users vote on different store apps/games so you have a better idea of what to try from the store)
- Yummly (A recipe app)
- AIDA64 (App that gives you enhanced system information)
- Uber (We know what this is)
- Fitbit
- Freda (an ebook reader)
- token2shell/WP (an ssh terminal)
- Kobo eBooks
- Citrix Web Access over Edge
- Hotspot shield

See, the problem is that Windows Phones aren't selling all too well. Things like this are not helping to move units. Also they are taking away about half of the apps you can use with continuum right now ...

Look at response above, office is one app, you can expand it to 4 apps.

Ok, since you keep comparing the Lumia 950 to other Android or iOS powered phones I will say this: People normally do not choose a windows phone, because it comes with a lot of hassles in the sense of you having to pass on certain apps and broader app-support. So many people already will not buy it. Now Microsoft would have the chance to simply use their services as an incentive to buy one of their phones. However they choose not to do so. Not only that, but they are taking away existing advantages. Why should anyone else really start supporting continuum when Microsoft themselves does not? But it is not only office. A lot of apps coming from Microsoft do work better on competing platforms and headlines / actions like these do not bring any confidence to the table not do they make sense in my opinion. These office apps are not as full fledged as their Desktop counterparts, already making it a somewhat debatable when there are free offerings like google docs. Sooo ...

Comparing to apple is useless because apple has always been a case for itself. If Xiaomi can build a sd820, 2k screen, 4gb ram, metal phone for 350$, so can Microsoft for 650$ ;) also if 50$ tablets can get a free year of office 365 subscription there is no reason why top of the line phones couldn't. Or even better, if they are going to sell the display dock for 99$( remember DIY variant cost around 25$) bundle the office with it, and have a compelling reason to buy it...

On the other hand comparing an US based enterprise to another US based enterprise might be less useless than comparing it to a Chinese Enterprise. While the three of them produce phone by enslaving people in the east, all the other costs are quite different. Apple and MS have a bit of R&D to do for example :)
​Did some research and the mi note pro costs as much as the 950XL in Italy so.....

This is annoying . I have office on my desktop, laptop, and there's no way to install it on the phone without paying for this subscription? This is just ridiculous...

No, silly...ugh. You can get the apps on your phone, they ARE free. you can use them and everything, but when you use any office program on screens larger than 8" you need Office 365 to EDIT (caps just for emphasis not volume). So to recap, you don't want to pay anything? Do what editing you need anywhere else, or on the phone when its not connected and then if you want to connect it to a larger screen than do so for free as long as you don't change anything or make a new thing. Its not that hard or terrible...anyway, if you're really using office, to use it you're likely a subscriber anyway. Is that still the most horrible thing ever on this earth? =\

my point is that if I already own several copies, I shouldn't have to pay for a subscription to use it. I'd like for there to be a way to use my actual copy's cd key and not pay a subscription. I just don't like the idea of subscriptions.

Subscriptions is how it is going to be get used to it... CD licence are toast... This is not just Microsoft it is every company. Autodesk are the best case in point they have forced by means of yearly upgrades that are not backwards compatible(which is gangster business) virtually all their customers onto a subscription template. It is made very clear at the point of sale that the cd key route will not allow you to use the 365 benefits. You also get 1TB of one drive space and a hour a month on skype included in 365...

You can use apps on your phone's screen for free. You need to pay to use them in Continuum mode, projected to external screen.

Good point, if we've bought office for desktop, it should be available for phones

Well actually you just need one copy: Office 365. With that you can use your Office anywhere, too bad you only bought a PC license.

Working like a broke boss...

Be almost productive like the assistant to the regional manager.

Hahahaha! Gareth Keenan, get back to work! :P

They really know the price of everything and the value of nothing. Imagine the attraction Windows 10 mobile could have had for office users without this restriction.

Bullshit! first we need to buy the 99$ dock and now we need an office365 subscription

Nobody forces you to buy the dock, or pay for the 365 subscription.

But nobody said it would be required until now either. Bait. And. Switch.

Miracast dongle, or simple usb to hdmi cable? they are about 20$ . You are welcome.

Or the built-in Miracast functionality in smart tvs?

Or built in to certain smart TVs.

wow, that's lame... i thought that they will make at least one perk pf having a windows mobile... now it's the same as if you have any other mobile OS.

Not sure it's a good idea, you would need to buy a dock and a phone to use it properly. Should have kept it free or at least device activation free for 12 months or something. Maybe give 12 months with each continuum device .

Wow Microsoft spit too much on Windows fans... I really don't get it. How can they imagine keeping the actual community and fans (Which represents less than 5% over the world...) with this kind of statements ??
It turns me crazy. I support WP from start, but I'm really considering to try another OS, and I haven't talked about the App gap yet...

I completely agree!! Microsoft should be trying to woo new customers and treating existing customers like they value them and want to keep them. Microsoft is acting like they own the mobile market and could care less about whether an existing customer leaves or stays. I have been a die hard WP supporter since the 920 launched. My wife has had her 950XL for less than 30 days and I haven't bought my 950 yet. This may be the straw that broke the camel's back for me. My friends are going to completely freak out when they see me with an iPhone!!!

Can't believe they don't include a big discount on 365 for phone users, for a two yr deal. More incentive to purchase another phone at the end of the 2yr phone contract.

I feel like some phones and devices get a year free, no..?

Used to. But I haven't heard about any deals for quite awhile now.

Maybe in continuum it should just grey out the apps without 365, is that how it works..? Maybe the article needs to explain it better, a lot of people don't get the whole office 365 thing...Still. =\

You can use Office with Continuum but if you want to EDIT files, then you need a subscription, that was always the case to big screens.

Are they trying to keep people from using Continuum? Cause thats how you get people to drop it like a ****. Why MS, why? You made something to differenciate yourself from competitors and throw it away for some easy moneygrab. Its stupid. Continuum needs support, not negative news.

four star words...really? lol =p

They implemented a censor. Words like damñ become ****. Kinda funny though, there are still ways around it, it's Bullshit.

Drop it like an ugly baby.

what if i use continuum to project to a 7.9" screen?

Even if there is 0.1screen you will need the subscription, it's about the continuum not the screen (technically)

This is a nice question :)
"REQUIREMENTS This version of Word is built for phones and tablets (with a screen size of 10.1 inches or smaller). On those devices, you can view, create, and edit Word documents for free. You need a qualifying Office 365 subscription to use advanced features. Learn more at www.office.com/information. On larger tablets, laptops, and desktops, you can view documents for free. "​ I guess the size of the screen is referred to tablets. I guess they are saying that mobile is a desktop when used with continuum so the screen size does not apply. A desktop with a tiny screen would pay by what is written above.

What's wrong with this microsoft, who asked you to give win10 for free and charge for each and everything...free apps for apple....but we choose ugly yet powerful phone to support win 10 mobile....and what we get is all bad news

I didn't realize iOS had a full desktop mode. All MS is doing is charging for office like they do on a PC when you are using your phone like a PC. If you use it as a phone you get the same free functionality as the other platforms.

Would we get the same experience as from a laptop or a desktop, people have been very excited to buy a new 950 inspite of its ugly design only because they respect the os and its capabilities .....windows 8.1 got office as a package.....people are slowly tending towards windows 10 mobile, they started acting up yet again..... Who would release a windows new phone with a half baked os.....please Microsoft......still people believed and bought it .....its not cheap one to try out...its costly.over 500$..... So they would try continum n win hello.....who will use win mobile to watch hd movies through contium.....they always prefer editing docs and using email or pictures....so why to charge them for that......? For sure the universal apps cannot give the full pc experience...charge for pc users ....but why mobile users...they prefer win os only for office and camera....why to spoil your own image...by doing this.....note- its not about 50 or 100$ subscription......it is about loyal customers...uff

iPad with a bluetooth keyboard ? that would fit here...

Never got how you have to pay the same amount to use both the full Office apps and the stripped-down mobile versions. Office Mobile should be free and the full versions should require a 365 subscription.

There is no office Mobile, any windows 10 device runs the same version of Office. Office Universal App run on a screen of 8 inch or bigger is not free.. That was announced months ago.

How come? Is it true...but the installation file size is different for pc n mobile version? Isnt it

Paulheu, you are wrong. The version of Office displayed through the phone with continuum is NOT the same as the desktop version of Office. It is a much weaker version that is missing advanced functionality available in the PC version.

Typical. Microsoft just cant help themselves. Thats like Netflix asking for additional fees to use their app projected to a bigger screen. Always finding a way to take victory from defeat, thats Microsoft.

Another idiotic decision from ms. Nadella really hates wp.

Why is this presented as news? This was known for months as Office is not free for any screen size 8 inch or bigger.

Then why we need continum?.....who would watch a movie or browse stuff.we all need to edit documents or use email mainly.....would it handle first of all heavy apps......no i guess.....ms going crap.....

Your phone screen is not over 8 inches, shouldnt apply here when you are projecting to a dumb monitor. And unless you are getting extra features in continuum mode there really isnt a reason to charge for anything

The mobile versions of Office are pretty light in their functionality/features are they not? It would be nice if MS had a reduced rate option for these stripped down versions. I just see their current strategy driving more ppl to Google's services.

Never going back to Google for personal use. I hate, no, LOATHE it for work. In fact, my entire team does. We filed for an exception and kept 365.

with screens larger than 8 inches... What if I'm docked to a monitor less than 8 inches? :P

You can dock it but if you want to use it to edit office documents you need to pay.

What would be the point in that?

That's what she didn't want to say.

Microsoft only cares about apps in Android and iOS sadly

It's chicken or egg. If you can drum up 100 million Windows Phone users, I'm sure the strategy would look quite different. Not an excuse, but there are reasons for these things no matter how ridiculous they seem. Furthermore, they need to make some kind of money somewhere. It can't always be at a loss like with Xbox, Surface, and Windows Phone.

You can connect an iOS or Android device to a larger screen and get a desktop version of office apps? News to me.

You don't get a desktop version of office with continuum either.

Do you have access to a larger screen? Keyboard? mouse? File System? Sounds like a desktop version (not mobile version) to me. There's no real 3rd version to classify it.

The version of Office Apps on iOS/Android is same as the Desktop version of Modern Office Apps... So technically they are same... And MS is not stopping them to connect/Mirror their screen to a bigger screen... Screw the WIndows Faithfuls again...

This seems consistent. Editing in Continuum is a desktop experience so makes sense. I wonder what percentage of non-Office subscription holders would want to edit documents AND would use Continuum.

I guess thats why they removed office package as a inbuilt native app in win 10mobile....i would love to flew back to win 7 which was stable atleast for listening music n browsing and basic calls and whatsapp....or i would love to switch over to some other os.

I have got to say it. Can I edit them for free, if I promise to only use Continuum on screens smaller than 8 inches?

And there goes the last advantage Windows phone has over its competitors. If I am to pay 600$ for a Continuum-enabled phone, why can't that price count as a two year subscription? The phone will be obsolete by then.

If you buy the most expensive SB you also need to pay so what is your point?

The point is that "additional fees apply" isn't a nice subheading for Continuum if they want it to take off.

You have to pay 600$ (well less in many countries) to get a phone with crazy good specs that is priced in line with other brands competition (better pricing than apple actually).

Actually, in this case, it makes perfect sense. Using an office app on the monitor with the feature activated is basically using the app on a desktop environment, which adds up to the mobile use and it's only allowed by Office 365 (unless I'm wrong). Continuum will be available on cheaper phones as technology progresses on, it's better to set the rules straight from the beginning to avoid another OneDrive fiasco.

But they're losing a WP advantage I think. A large opportunity to capitalise on the mobile market by allowing people with Windows Phones to use Office for free wherever they are. They may lose some cash in Office licenses but they'd bring more people to the WP environment. I'm selling my free display dock so I'm not too fussed (Despite having free Office 365 with my Open University course) but just seems like a stupid move on Microsofts part (again).

But that's the point. If they give people free use now when the market is down and you only can use the top expensive phones with the feature, and then when cheaper phones can be used with Continuum, people won't bother with the subscription, a cheap phone will do, since the app is free to use that way. Then Microsoft will have to stop that, with all the bad PR and uproar. Better nip it in the bud from the beginning, as I said.

I don't think MS is interested in bringing more people to their phones.

Really? Microsoft 700€ isn't enough.

Found a gold plated model?

Good thing my useless Display Dock is going straight on to eBay!

Open a case on UserVoice and vote this up like with the OneDrive thing - eventually MS backed out of it.

They didn't did they....its OneDrive for business that's still getting unlimited storage (5TB)

Ohhh they got em. I didn't see that coming. Well they got to make money somehow.

Wow Microsoft. I love you guys but this is the most frustrating thing you've done in a long time. I'm ashamed I got my mom a Lumia 950.

So you only bought your mother a 950 (and dock) so she could edit office documents for free with continuum?

Yes, that was a big selling point. I wanted her to replace her laptop with it.

They should be giving Lumia 950/XL buyers a free year of Office 365.

So, can you like create and edit them on phone screens, like I do? Fingers crossed for losing this privilege too in near future in favour of office365 subscription. Although I get that Microsoft is a business and it needs to make money, why do I get this feeling that this is another OneDrive esque fiasco where early adopters may not be properly aware of these terms changing after some time as well as people who buy it through sales of these phones until April. I also know that terms of use are permissible(user agreement) to change but still I feel that early adopters should not be suddenly forced to pay up for a functionality they have been spoiled with. It would be more fair to be upfront about business policies like anyone buying a windows mobile continuum or non continuum enabled device after April 2016 will have to subscribe to office 365 to create and edit documents. Really they shouldn't even be free on mobile form factor, may it be windows, android or iOS. But as a special appreciation to windows phone loyalbase, people who bought continuum enabled lumias 950 and 950XL before April 2016 and the existing Lumia owners getting upgraded to Windows 10 should be able to create and edit documents on phone and phone continuum alike. For life time. How about that Microsoft? I thought you were changing your business practices.

I've got office 365 anyway so it doesn't affect me, but I can't help but think they are shooting themselves in the foot a little.
For one, it's going to confuse some people that may pickup a Windows Phone with Continuum. Maybe they shouldn't have announced this so soon, or just make it a requirement to pay for business use. If office isn't free on phones then they would cause less confusion for the average user if they just made it not free at all on phones.

Well, this just killed continuum. Maybe they should have waited until people actually were using it on a kind of large scale first? This just made me decide to not get a dock and give it a try.

No it didn't kill continuum. I can't believe all of the "hardcore" Microsoft fans in this thread that don't have an Office 365 subscription. Like, are you seriously THAT broke? The fact that you cry every time you are asked to spend money is what's keeping developers away.

Surely you realise how absurd it is to expect people to pay for month after month of Office just in case they happen to want to plug their phone into Continuum once in a while? I mean, I can edit documents on my PC for free and edit them on my phone for free, so I don't see any reason for it to arbitrarily have a subscription fee for something I'm barely going to use and now will probably never use at all.

Need to inform you that you can still modify your documents in office online. I mean if you are a casual user that's more than enough. If you are an heavy user then it reasonable to pay for it.

That's very much part of my point. Why does every version have a different set of Free features? Word Online and Desktop let you do most things without paying, Word Mobile keeps you from doing stuff like Page Breaks without paying, and Continuum/Tablet Word keeps you from typing the letter 'A' until you've paid your dues. It leads you into a very confusing riddle of exactly whether Microsoft intends for the service to be without charge or not. Why not have consistency in feature limitations across the platforms, or just paywall the entire thing?

lol so the first reason to buy the dock was because of Office?

Exactly the same reason....we 7 of our colleagues bought for docs

No, the reason why I'm not going to buy the dock is that MS is not a trustworthy supplier and that they change the rules halfway through the game. If they had communicated this before they started selling continuum it would not have bothered me at all. But I have convinced customers of mine to get the 950. And they wont be pleased to find out they are stuck with an app-less phone and a on top of that handicaped continuum functionality.

If your customers are not pleased about an app-less phone, they should blame the person who told them to get an app-less phone. Oh, that's you. Good job!

I Haha, you just don't want to get my point. People were willing to give windows phone a try because of continuum, despite the lack of apps. They are not amused to find out that they have to buy another office licence on top of the one they have running on their laptop. It's just bad communication by MS. This also means I will stop selling windows phones for them, what surprise will they pull out of their hat next?

Your point is "Microsoft is not a trustworthy supplier". I disagree based on principle. You don't have a trust-based relationship with suppliers, you have a business-based relationship with them. Also, there is no "handicapped" functionality. You have to have a subscription; not having a subscription isn't a handicap, it's a choice. Concludingly, I "get your point" but I don't agree.

Microsoft have never claimed they were going to give you a $100/annum licence for free for the rest of your life? What made you think that? They have already given everybody in the world a free to use app on their phones there is nothing to stop then miracasting and connecting a bluetooth mouse and keyboard to the phone(this experience the same as all phones is not great) but it is free. Continuum turns the Office apps into a professional experience( i can confirm this to be true) so customers who need the app on a profesional basis will have to pay if they already havn't been covered by their existing Licence...

In a world where Microsoft wants to get away from a stand alone Office Suite, it makes sense to get people to pay for an Office 365 subscription. Lets look at some perks: 1) Full Office on your PC that is constantly updated 2) 1 TB of Cloud space 3) Ability to edit on your phone in Continuum 4) Office apps for your tablet For those still complaining about the reduction in the Unlimited OneDrive space (which I agree sucks) look at this, Google charges 9.99 for the same 1 TB of cloud storage, but with Office 365 you also get access to a FULL Microsoft Office Suite. Is paying for O365 subscription really that bad? If you use the programs enough to have this upset you, then you would probably use them enough to warrant the price, plus the storage is actually still a pretty good deal.

Paying isn't that bad (and I do, both home and business subs) but I think they need to make it clearer by either requiring office 365 or not on phones period, regardless of continuum or on the phone screen itself

I actually agree about 90% with what you said regarding the price for office 365. All your points are good except one thing I now disagree with a little. The whole constantly updated office excuse. Office 2010 still works fine for most people so I don't think that is valid. Everything else is though and office 365 is worth it. Having to buy it to use with continuum which is the only selling feature your phone is supposed to have is not and is greedy to say the least. Good ol MS.

Well, phone dose not have screen bigger than 8 inch. Why will Microsoft demand payment for them? I mean, on android it's free to work and edit in Word. Microsoft maybe try to tell as something on for them usually subtle way. First you pay phone. At the end you pay for Windows itself. Here piggy, piggy...

Please read the article (again)

Again? What makes you think he read the article at all? What is it with these people? Oh I will go on WC not read an article and post a comment that makes me look like a complete Clown infront of the World... Is this some kind of Self harming?

I recently bought a laptop and it came with 1 yr subsc for Office 365 personal (1 PC). After I updated my siblings to windows 10 on their laptops and phones, they couldn't use Microsoft office anymore. So I upgraded my free office subsc to Office 365 Home (up to 5 users' PCs tablets and mobile) and they can now use it, even though I don't get to pay the $9.99 monthly fee until my current initial office 365 personal subsc ends a year from now. My point is there's a cheaper way to get subscribed to office 365 home

The more concerning thing is the pattern we are starting to see with every decision they make. They are getting greedy, and leaning more and more towards the same mindset Apple has. One where they rape their customers for every dollar they can while laughing at them behind their back. Think of every single decision they have made in just the last 6 months. Whether it is one drive, the pricing of the phones, charging for the dock, forced updates, this office in continuum thing. Not one decision they have made was meant to benefit us, reward us for our loyalty or even throw us a little bone. We mean less to them now than we ever have and yet we are paying them more and more than we ever have. Pathetic, greedy and frankly, makes them as bad as the company's I used to defend them against. It's all just a sign of things to come because once people, or business start viewing us this way, it gains momentum and becomes an influence in every decision they make.

Maybe true or even really true but iPhones are sold a lot more then windows phones. So whatever Apple does they sell phones and have apps.

I just read your list of complaints and, to be honest, all I see is someone who simply feels they shouldn't have to spend money. I'll agree that MS should have grandfathered in existing OneDrive customers from the get go but are you seriously complaining about the price of the phone, which is inline with other flagships? Then you are complaining about the price of the OPTIONAL dock when you could do it via cheaper Miracast options. The forced updates are a matter of opinion as well and this thing with Office is such a minor thing when you consider that musical people who don't need the heavy version of Office can simply use the free web app. For some reason, you seem to think you are owed something for buying a luxury item.

First of all, if u saw my post just above that you would have seen that I said Office 365 is worth paying for. Second, you completely missed what I am saying. When you are desperate to gain market share in mobile, specifically phones, the price matters. The prices for these phones, while not an issue for you or me, is an issue when you are trying to get people who up to this point wouldn't try Windows phone, to give it a shot. Same for this office 365 thing, no problem for us, but when you are marketing continuum to prospective new customers, having them pay 600, then 100 for a dock, and then 70 for 365, isn't the best way to convince them to give you a chance.
As far as windows 10, I personally love it, but There is one computer I have that I am unable to install it on because it fries the displays of those computers. However, I personally know a half dozen of normal casual users who will not upgrade because they have heard about the auto updates and the privacy "issues". None of the decisions they have made are going to help them increase market share and gain more loyal customers like us.
Lastly, I currently have 11 pretty high end MS products running in my house and having someone tell me, a person that has spent over 20k on MS products so far in my life that I have a problem spending money is offensive and shows how quick you are to look for something to attack instead of trying to think about and understand what I was trying to say. Maybe, just maybe, I wasn't saying things as a crybaby but instead was saying those things as a MS fan who wants them to get things right so they can gain the market share their products deserve.

MS doesnt want us to be loyal, it wants us all to leave so it may peacefully shutdown mobile business and full time work on ios and android apps.

£6 a month gives me 1tb and full office... I can live with that.

Well, you could just mirror your phone screen (not continuum) and hook up a Bluetooth keyboard and mouse I guess. Granted it won't be as good as when in continuum, but I'll be free (hopefully).

Here's a phone with these useful apps on it. Heres a cool new way to interact with this phone using these apps. Now pay us for the privilege of doing so. Man, Microsoft never learns. If the apps are on the device and you project that device to a larger screen using an accesory that MS is trying to push as the future, you'd think MS would try and screw it up by forcing another subscription payment down your throat. These guys just continue to fail.

Fun fact -> Microsoft Office on Windows 10 Mobile can't open or edit .txt files. Good Game Microsoft - keep up the good work.

Two fun facts: copy and paste.

Third fun fact: A word processor that can't open a text file.

I remember when we paid $400-600 for Microsoft Office for EVERY desktop in the company. And nobody felt that they were being robbed. They wish it was cheaper, of course, but they understood that Office wasn't free. Now you rent Office for a small annual $fee (about the same as taking the family for Mexican Food) and they throw in a cloud to store HUGE amounts of data, you get the latest version of software, and you can load it on multiple devices. It's stunning how much more we get for the $dollar today. Sorry, but I'm just not ignoring the value equation no matter how much I find myself on an island.

Idk peoples priorities are all wrong nowadays.

I don't think Windows Business or Enterprise users are the demographic complaining here. It's the kids who could use Continuum on the go or the person who updates their resume once every few years. The Google and Apple software equivalents might be weak but they're good enough for home users. Microsoft is abandoning this crowd with this type of decision.

Fair argument, except I doubt the demographic you defined will even be relying on Continuum for getting their (home)work done. So, technically, unaffected. Regardless, worst case scenario anyone could still edit their homework at onedrive.com and not have to spend a dime. Tolerance for pain is so low that we claim pain when we aren't even affected.

You're not a cheap *** like most people in this thread though.

MSFT are nuts on this one. Buy an overpriced phone with a currently deficient ecosystem and then pay for the privilege of using features they're trying to say are usps that are meant to entice buyers into paying for an overpriced phone with a currently deficient ecosystem... April 1st 2016.
.
I assume this is a joke. A foolish joke designed to scupper interest in the windows mobile platform.

This is fickle. Microsoft is redacting the few benefits that could assist in Windows Phone and Continuum adaptation. This is a cash grab and short-sighted. The Office Mobile apps on Windows 10 Mobile ARE NOT up to par with their other releases of this software on other platforms. Until there's more feature parity, this shouldn't even be a discussion, let alone already having a firm date. This is a huge disappointment.

I'm going to use it because I enjoy O365 and I'm a SysAdmin for a few school districts. I don't mind paying for it. The problem Microsoft has to overcome is getting user adaptation and in turn, making their products more valuable. Penny pinching for a simple editing feature on a single device that they can't keep supply correctly really isn't hurting Microsoft but it is hurting fans and potential customers who may have seen this as a benefit.

I'm not. Screw MS and its windows phone. iPhone here I come!!

Wouldn't matter for me. Students get free office 365 :D

I also have a discounted Office 365 student subscription, but I don't let that cut back on my empathy towards anyone who doesn't have the same opportunity to pay less (or nothing) for Office 365.

While MS has been making some good decisions lately, they're still making some dumb ones like this. It's a **** shame thy aren't trying to promote the phones or continuum like that. My question is, can I use my existing Office 365 subscription or do I need another one since it's another device?

Mobile devices don't count against your device tally, which is pretty confusing, the more that I think about it.

Uh, what? Why? THERE IS NO NEED for this! Why pay to edit Word documents on Continuum when you can edit them on the phone and actual PC for free? It makes no sense at all. But, if you had an Office 365 subscription, then there is nothing to worry about. I guess when I get myself a 950XL, Display Dock etc, I'm getting an Office 365 subscription.

I've been a fan of windows phones now for a number of years and I gotta say, I am really starting to dislike microsoft. Myself, wife, daughter and 4 employees all have windows phones, I purchased two bands (1st edition) one for both me and my better half, I purchased office 360 not realising that it was a subscription now and not like it used to be where I owned the software for however many number of years until the next version came out then I upgrade to that, I've just got a new laptop with windows 10 installed, it will not play my games on I purchased only last year, it won't play dvds via media player, both the microsoft bands are so badly made that after only three months use the rubber on the strap has all come off both of them and the metal under it im allergic to so I cant wear it now so its going back, the camera on my lumia 1020 although amazing has made a squealing noise since he second week of owning it and although they replaced the phone after a few weeks that started it too. Its not as though their hardware is cheap, its quite expensive but not good quality anymore. Now to learn that they want more money for editing documents...nah ta luv! july I have 7 new phones coming and they are not going to be windows phones. Looking like my staff and family are all getting apple or android. Microsoft, your playing a game that's only going to put you on your a**!

So you are saying at one time you bought full Office for $hundreds (and owned it for years) and later bought office 365 (not 360) for what.....$60(?), and thought it was the same thing? It's ok to be mistaken, but feeling like you were cheated is strange.

Well, this is proof again, that nothing in life is free. 'free' Win 10 eh? Needs to be paid for somehow, and by any means possible. I have a phone licence for 365 as part of my surface 3 subs, but my son has a 950. Wonder if I can 'share' my sub with him lol

Good luck to them in 2016. They will need it.

Why announce this after the release of the 950 (XL)? Posted via the Windows Central App for Android

so the "advantage" of windowsmobile is now down to "Live tiles"?

So, you show off that feature every time you show the new Lumias, get people to buy it assuming they'll be able to use that feature and only after they buy your very expensive phone you let them know they'll have to pay more to use that feature. Classic Microsoft...

Fortunately MS is not a monopoly in the mobile space, we could be in big trouble...

So, my Surface RT came with Office and I've been able to plug it into my TV via HDMI since I bought it--what, three years ago? Got a Logitech unifying mouse and keyboard for it, and more recently a Lumia 640 because I don't really need a fancy phone. Overall it cost less than one of these new phones, especially with the extra you pay for the dock and Office 365, but even more, it's old technology with similar functionality to the new high end devices they are trying to sell us on now. Frankly I don't see the point.

Windows RT is the odd man out in this scenario. However, it is in your favor! I too have a Lumia 2520 with the free version of Office that was built especially for RT. It has far more features than Office "Apps". And was\is a fantastic value$!!! Long live my 2520. :)

I really can't believe the comments I'm reading here..... This is a no brainer. Use your phone like a phone and office is free like all other phone platforms. Use your phone as a PC getting full office functionality and you pay for Office like all other PCs. This is not shocking or crazy.

You sure we are using a FULL OFFICE functionality here?? We cannot even snap Word and Excel side by side like on a desktop. Neither could we run macros and VBA are not even available on these mobile office suit. Since Office is available free on the phone, why do we need to pay for Continuum, which is not even a service, just because we are display output onto the bigger display screen??! Stop taking what MS throwing to you. Think for yourself for once.

Err four months free office is not good enough? I get the feeling all the people who says it will put them off buying a 950 are talking bo****x If you use office you will already have a licence for the phone as it includes 3 devices 1 pc & 2 x mobile devices ie lappy tablet phone... So really these people are talking rubbish they have no intention of buying a 950 they just like to preach doom on microsoft whilst rocking a $7 Huwei g5500...

I believe Office is free for devices with 8" and smaller. 950s is in that category why then ask customers to pay extra for a service which is free and just being used on one of the main selling featuress of the product.. Just make no sense.. #justmy2cent

Yes it will be but not if you're Continuumizing ;) it to 1080 on say a 40' screen so your really getting a deal as it still counts as a mobile device within your licence. In the Uk for 70/annum. you get office for 1 pc and 1 tablet and 1 phone, 1 tb one drive, 60 mins/ month Skype time ​and a signed photo of Bill gates...

"continuumizing" I love it!!

Another what the ****.. Thought people paid enough for the right to use office on continuum...

What if you have a 7 inch external display?

Wasn't that said about 10inches? I have Asus t100 and it works fine just now. I hope to not lose this feature. As a student I can't afford subscription and office 2013 just looks weird comparing to mobile

Why should we have to pay for word on a windows phone when it came pre installed. Yes charge iPhone & android users that's seems fair to me as they aren't supporting the platform.

Read the article properly 'with CONTINUUM'....

Big deal! Is Continuum a service?? No! It is only a built-in FEATURE. Why do we need to pay for a feature which comes with the phone?! Stop acting like an expert here please.

This article is about using OFFICE in continuum.. which is a SERVICE....

Not surprised at all. It costs a lot to develope and support IP as good as MS Office. I was surprised more so when we got it free for win mobile at all. I can continue to create and edit sans continuum.

You can edit for free right along with iOS and Android users, except they probably have a more polished app and better user experience. The one thing that was going to set W10 mobile apart from the others now has an added subscription fee that must be paid. That completely eliminates the "look at us, we're better than you" impact that continuum could have had for W10 mobile. I want to support the W10 mobile platform, but Microsoft makes it hard when they keep kicking their FEW loyal customers in the nads (i.e. OneDrive fiasco).

What free stuff people get when they buy Android or iPhone?

Pages, Numbers and Keynote on iOS and Docs, Sheets and Slides on Android. All are good enough for most peoples use. I sit on the business transformation team for a local authority that has been rolling out iPads to mobile workers. I have been pushing you replace the with windows devices but it looks like I am going to lose the argument now. People are surprised at your good the free office apps on the iPads are.

I don't understand this strategy and I think MS is making a poor choice with limiting this to just 365 customers. I paid over $400.00 for Office 2016 Professional. Why should I have to also buy a 365 subscription in order to use (i.e. full editing capability in) Office mobile? I would think it would make more sense that in order to use Office Mobile (in Continuum mode), you either need to have a 365 subscription or a validated Office 2016 key... I have no problem paying MS for applications I use.... but they've been paid.


You will have a licence for a phone with 2016 office package i have no doubt...

Actually, Microsoft states "Office as a one-time purchase does not include any of the services included in Office 365" I understand that to mean no 1 terabyte of OneDrive, as well Microsoft is doing everything they can to make Office 365 the best value. And although it took me a while, as the corporate decision maker to agree, they have succeeded. Kind of stings in this case, I admit. But still, just a few $bucks solves the issue. OneDrive, by itself costs as much as Office 365. (and stacks up plenty well against competitor cloud offerings) Folks around here would lynch me if they could.

What happens with my office.com account? Right now I can edit documents (through the web-browser)... Will this function go away (or will I have to pay for that as well) in the near future?

Nothing, no you will not have to pay...

No point then to having expensive continuum dock....

Guys, instead of putting your frustration here go and leave feedback and upvote: Windows-Feedback:?contextid=554&feedbackid=944f1133-60e6-4f22-8f99-a9df0be5aa8e&form=2&src=2

Occasionally it seems that Microsoft actually wishes to increase its share of the mobile market from 3%. Then I read stuff like this article, and it seems very hard to believe...

For weeks my Office apps on my 930 gave that warning despite being a subscriber and that they worked on my 920. Eventually, after an update, they started working again. Look for difficulties in April.

I need something that would use win32 exe!
When will I pay for office online? I feel thats where we trajectory is pointing to...... April fools, good one MS

I think, if Office for Lumia is so identically that Office for pc, it would be worth to pay for a suscription. However, Office for phones is limited.

I wouldn't mind paying for ms office but those mobile devices only have basic editing functionality. Ms office is vba, writing plugins in c# and hundreds of other things. So asking to pay for the priviledge of editing a cell on a 42 inch screen on a toy app after having payed a few hundred dollars for phone and dock is a joke.

worst step ever ... so many people buy it for editing documents ...

Windows 10 Mobile is already struggling hard with numbers. There was this one thing which I could have told to my friends in order to migrate them to W10M and its gone too! Great job Microsoft! Whats next? You need Xbox Live Gold subscription to play Xbox Live Enabled games on W10M???

Continuum dock was exciting if ms does not let you use office it's as dead as Zune. Windows phone is always getting nails in its coffin lately.

Don't read the article! Fly off the handle! fly off the handle! Microsoft is bad! Microsoft is bad! Sent from Huwei g5500 instamail...

Pretty sure you've got to have Continuum on more than 2 phone models before you can start charging people to use it. Not exactly strong market penetration when .01% of your 3% market hold is using the product in question.

Microsoft Office is in 100% of the workplace not 0.1% of 3%, a clue about the software comes in its name 'Office" it is a Productivety tool for a Office which are generally attached to a business which makes money all these companies and true home users will have a licence for the phone anyway it is only the chancers who are looking for another Microsoft freebie that are Whining..

My comment doesn't denounce the value of Office...or the fact that it is THE go to productivity suite. My comment is directed at the point that a tiny fraction of Windows phones are capable of running Office the way this article says (via Continuum) thusly a tiny fraction of a tiny market share are going to be affected by the proposed changes this article covers.

Wasn't that long ago 99% of the "Windows fans" said Continuum is a waste and they would never use it.

Cooll...naa, just joking...

Look at Amazon. When their Fire phone would not sell, they started giving free Amazon Prime with Fire phone/tablets. I am sure if MSFT start giving free Office 365 with Windows 10 Mobile, it would definitely bring up our userbase numbers by at least 1%!

Hahahahahaha..... MS you are a joke!!!! Might as well just tell us to stop using WM 10

How does this make any sense? Is it not the phone version that gets displayed on the big screen through continuum? It doesn't magically become the full desktop version of office just by running through continuum....? Phone app is still the phone app.....

That's correct. The appeal of continuum just diminished.

I figured I'd need to subscribe sooner or later. No big deal.

I can see the by-the-book appeal, but thats just stupid.

I agree. This is the same bonehead move by Microsoft. When you're trying to gain market share, you don't put up road blocks for entry. Continuum should be free for at least a year. They don't even know if it is going to be successful yet and they are already giving people a reason to not try it. Just stupid.

Lol. The free microsoft office for windows mobile is the only thing that makes me want to use windows phone. Guess it's time to switch if that's the case.

Bait and switch. Once again, this is Microsoft's way. Sell you a bill of goods and then give you the shaft later. So, now those of you who are actually duped into believing Continuum is useful will have to "rent" using Continuum. That's brilliant.

Ehm, no. You can still use other apps. They aren't locked behind a pay wall. Your presumption about "renting" continuum would be true if all apps were locked behind a sub pay wall.

They should have made Office license perpetual on the 950/950XL simply by their cost of acquisition.

All you people ******** about paying and finding ways to get around it. You know the subscriptions is less then ten bucks a mo th right and comes with skype time and 1tb of one drive? In other words it's extremely cheap and you get an amazing value and you should be willing to pay for it.

Mike, I don't mind paying for a worthy product and Office 365 may fall into that category. What I don't like is a company that attempts to blatantly manipulate me into spending money for something that used to be free. That's what the OneDrive fiasco was all about. Take away our storage to a point that it is useless in order to require people to pay for Office 365 to get the 1TB storage (obviously the best deal. Obviously what they wanted). Now they want to require W10 mobile users to subscribe to Office 365 in order to use Office on their phone (which is free) with continuum.
It's the principle Mike. WP users have put up with a lot of crap for a lot of years. Many of us feel like we've partnered with Microsoft and grabbed a hold of the vision of where things are going and do what we can to support the platform. More and more though, Microsoft is making a lot of us feel like the partnership is one way. There is no love given to the few who have ridden through the multiple OS reboots, the resulting immature platform, and the noticeable app gap. Are we entitled to free stuff? No. But it would be nice after years of supporting the platform to have something to point to that validates why I've supported an immature platform for so long. Microsoft keeps taking those things I should be able to point to away.

WOW, good way for Microsoft to screw their customers.... The advanage to Windows Phone, is Microsoft based products and Windows Phone always had office on it. So you have a feature on a Windows Phone device and they are going to CHARGE you to use it ? Screw Continuum, good way for you to really screw it up Microsoft... I guess we should buy a iOS or Android device as editing office files on the FREE office is FREE....

Please put your Brain into Gear before engaging Mouth... ie read the article 'all devices under 7" are free!'

Its All Devices under 10 inches which most of the Apple/Android devices are... iOS/Android can mirror their screen to bigger Displays/TVs and MS is not stopping them... So its clear that MS intendes to screw their faithful customers/fans only

10" i stand corrected.... You can miracast to your tv on your 950 it has nothing to do with Continuum...

Another shot in the foot MS..... Posted via the Windows Central App for Android

One can't even edit on small screens without paying. Smt. I would pay but only for a one time purchase. I want to own the app come on Microsoft make your platform competitive.

You should be able to edit on phones without a sub.

for shame, those apps are not even close to full office expirience...

Last time I checked Continuum was for ALL UAPs. Everyone keeps behaving like Office is the only thing Continuum is good for. I'm pretty sure Netflix just released a UAP so my productivity was going in the toilet anyway.

So, I can edit word/excel when not using Continuum, but will have to pay if I try to edit when connected to big screen?

Trust Microsoft to already be working towards killing off it's best features just weeks after launch.

Sigh, another FAIL for Windows Phone.... Great job Microsoft... Oh, neat feature of a new phone...and oh, you have to PAY EXTRA to use it...

Yeah, AFTER having to pay for an accessory to handle the feature in the first place.

This is an opportunity for Microsoft to differentiate their mobile OS from IOS/Android by offering Office apps via Continuum for free and they shoot themselves in the foot like this? How incredibly disappointing...

This policy is makes no sense and is a bit funny.

What about those of us who have PAID for Office and load it onto our office machines from ISOs? Do we just get screwed or what?

Given the way Microsoft typically handles things, yes, you're screwed.

Well, now I might skip getting a Display Dock. Doing stuff in Excel with my phone was the primary reason for me to get it. I'm not spending $100 on a Dock, $30+ on a mouse and keyboard, AND $100/year to use Excel. Total crapfest.

I'm impressed that the dock or continuum can even tell what size screen is being used. I'm glad I'm using continuum with a 7" monitor, so this won't affect me.

Seems to me your monitor screen size does not matter. As long as you are using Continuum, you will have to pay.

Come on Microsoft, what are you playing at, first OneDrive accounts are nearly taken away or diminished quite substantially and now this!!!! I thought one of the unique selling points was Universal Apps, and I thought universal apps was meant to be a buy once, use across all system deal, but now you saying office is free on your phone, but not when you use it with Continuum (another selling feature of the phone) it's all good and well giving away continuum docks with the phone but now you want to charge people to use it when using certain apps!!!! I think, and I'm sure a lot of people commenting here think this is such a bad idea, they are meant to be trying to make sales with their unique features!!! They can't say oh yes you can buy universal apps, and use them on the PC, laptop, surface, surface book and your phone, oh but were going to charge you if you use continuum for an app that we make ourselves in house!!!! Hopefully, just like OneDrive they reconsider, do yourself a Favour Microsoft and keep your current and maybe future customers Happy!!!! Don't make them go for IOS or Android!!!! Stand out from the crowd already!!!! From the reviews I've read they all say it's a nicely specced phone, but Windows 10 is the decider here, can you live with Windows 10, Microsoft need to give people incentive to buy their products!!!! Here's hoping they do U turn!!!!

Well the 8 inch crap, please dont give us that. The PHONE is being projected in a desktop way. So paying for that after all the marketing crap. Is utter bullshit.

i would have left it free for continuum on w10m. right now, its only available on high end but its an incentive to get w10m. you'll make money from selling more phones and docks. as the tech trickles down, you'll sell more phones and docks, increasing market share and bringing more into the ecosystem. even if the competitors create their version of continuum, let the apps be free in phone and charge them when using continuum. its the same plan you have now, except its where more users are, while also bringing incentives to grow your market share and to sell more docks. this also is a new way to reapply a low end strategy that's self-propelling as the tech trickles down. this ties users to the hardware ecosystem and suggests reoccurring buyers while also rewarding loyal customers of your hardware purchases.

This makes sense to me. Continuum allows the user to use their device as a desktop PC. Every desktop PC user pays for the subscription. I feel this also has something to do with Office 365 subscriptions being required on devices with screen sizes 10.6" and above (or 10.8", I forget). I think it would be safe to assume that any person using their phone via Continuum would have it connected to a screen bearing the size of at least 20" and above. When using just the phone, you can use it for free, however when using via Continuum, it becomes a desktop PC.

Aaaaaand RIP Continuum and half of the sales Windows 10 Mobile was going to make in the casual market. Sure, some people can argue Office isn't a free product and yada yada yada, but the truth is people who own an iPhone or Android phone and were looking to get into a new Windows phone now have one less reason to do so.

Would be right if i must pay for the Office. But if want a Lumia 950XL and your function Continnum, I have to buy a cell phone for U$ 759,00, a Office 365 License, a Dock Station, a Keyboard, a Mouse, a HDMI cable.
THIS IS INSANE!
I can buy a SurfaceBook with this money... Or a High-End from another manufacturer equipped with a better hardware.
Sometimes I think that Microsoft practice terrorism with itself... Crazy!

And Buying Surface Book will also not get you full Office editing capabilities... You will need Office365 Best is to buy iOS/Android Tablet/iPad and mirror the screen to big TV and keep editing for free

wow first that onedrive hoopla and then this Ona ROLL are we MS, i would like to see the genius brains behind these announcements! Dont worry fellas, will soon recive a signup pag e to keep existing WPusers one year free offcie subscrition or something! Its hardenough for WP to get new customers, Keep this up existing ones will run off tearing heir hair!

This is bullshit Microsoft, I bought office; now I have to by a 360 subscription to edit a document?!

I was looking forward to buying the 950 xl because of the rumored Stylus compatibility. However, the rumor came to nought. Nonetheless, I thought I should give it a go next year, but as it is right now, I don't give a rat *** about Microsoft Mobile platform. These idiots never learned. They seem to always come up with an idea that upsets and drives away their dwindling mobile customers. I understand Microsoft has to make money, but why must you guys come up with this idea now? Good idea, wrong time. I won't be surprised if you loose even more mobile customers. Idiots!

Why does microsoft keep ******* up?? How is this even possible??

Haha, the only thing that differentiates Microsoft from the rest (Office via Continuum), is now a subscription service...wasn't enough reason for me purchase a Windows Phone, but now, there's absolutely no rational reason for me to buy one...oh well, W10M can go perrish, wouldn't miss it a bit.

This is too early , this suppose to be a selling point for windows phone , this is not helping in any way

bad idea Microsoft is in a position where it should try to attract user to windows10 , this will just make them run...
Keeping it free gives user an advantage offer ios and android, what is the point for them moving to windows 10 now...

This is really disappointing and short sighted. Was about to get dual SIM XL with display dock. I will wait for now and see what other additional costs they are going to pile up here. Not even question of cash, but terrible attitude to loyal customer base. Do they want us to leave the platform with the surprises like reductions and additional costs on OneDrive, then this, I am really now inclined to take a look at other options now after all these decades with Nokia and now Microsoft. Paid for Office already, now - pay up more. No way.

Who is running PR at Microsoft these days? I mean, seriously, how many Office 365 Subscriptions is Microsoft planning to sell and make a profit out of this announcement? Think about it. Any company that is even remotely going to consider a Lumia 950/950XL fleet for their employees is bound to have some sort of Microsoft package already (i.e. a reliance/loyalty/preference towards Microsoft)--everyone on board with that logic so far? I mean, why would any IT head be all on board with Google Apps and then suggest Lumia devices? So...if Microsoft is just trying to cover itself on the enterprise contract level, any company that would even entertain the idea of purchasing Lumia's is likely going to have some sort of Office 365 subscription model in place (I don't think that's far-fetched considering the cost of Lumia devices themselves). That leaves average consumers, who if they're not all about Office 365, this leaves only them in this dilemma. Now, since Lumia consumers are the definition of a minority, is the bad press that is going to misconstrue the 8" screen size requirement that's been in place for a while going to be worth it? How many consumer Office 365 subscription sales make the PR cost worth it? Does this mean Microsoft expects a huge boom in consumer Lumia appeal and wants to capitalize on the millions of future Lumia owners? Is every major app coming to the platform and we just don't know this? Come on.

Subscription is needed from 10,1 inches, not 8 inches https://products.office.com/en-us/office-resources

Well... It's so obvious. The Office apps we see on the big screen monitor is the exact app we have on the phone, which is Office Mobile. And since the begining, Office Mobile only offer free basic editing for 10.1" or lower display. Once we move onto bigger screen, we need to purchase Office 360 subscription for document editing. The question is... Is there any 10.1" or lower monitor out there? As far as I remember, HDMI supported monitor start at 18".... :3

But why is Microsoft charging subscription based on display sizes??? Technically, what we are seeing on the external display is powered from a 8" and lower mobile phone. The display is not even a computer or smart device by itself! So, do we need to pay extras if we are using a PC which are running with 2 or more external displays??? Is just ridiculous!

Wow.... So, fans of Windows phone, still having high hopes for this platform??? Sad to say it seems like Microsoft is becoming more and more greedy now. Soon, you will be charged for every app you are trying display onto a external display. Good luck guys!

Microsoft should simply take notes on any Windows central with over 200 comments. I suppose my 2 cents are what is the incentive for buying a windows phone ultimately? If I connect via the dock but cannot edit theoretically, it seems to suggest I could buy a 365 sub and not use windows phone and edit in the browser.

Microsoft are idiots! They really have no clue! They want more than premium price for a beta phone and then ask people to pay for something all others get for free..... And that's beyond their igorance in regards to the current stability of both W10 and WM10, the onedrive storage issues, the app gap etc etc. They're in denial!!!!!!!!!!!!!!! They don't deserve playing the big leagues!

The 950 and 950XL are priced at the lower end of the bandwidth for premium. When compared to Samsung's Galaxy S6/Edge/Plus and the iPhone 6S/Plus, the Lumias are cheaper.

I agree shame on you MS. You sell me a lumia 950 xl which is still in beta, Yet you will expect me to pay for office!!! I am growing tired of supporting you when all you seem to want to do is reward loyalty with a slap in the face. Why not wait until you actually have deisrable products then you can behave like Apple

Sounds like the right move, but completely wrong timing. Office right now is pretty much the only thing that continuum has going for it. What's different after three months from now ? Marketing wise sounds like a very bad decision. They should let the universal app ecosystem mature a bit longer.

Two questions: 1. Does this mean that editing with continuum requires an internet connection so the office apps can verify you (still) have a valid subscription? Because that would preclude me from using this feature precisely where I imagine I'd like to use it most (basement lab without reliable WiFi). 2. I don't recall this being mentioned before, even though they've been selling the Lumia 950 (XL) for a while now. Have I missed something? Because otherwise it doesn't seem fair to me to suddenly start charging for a feature used to promote these phones.

Lol. Mastermind. Posted via the Windows Central App for Android

Oh crap !! So that ONE 'cherry on the top thing for Windows Mobile' is gone now!
They are fools !!! Ugh! :/
This could have been a nice selling point.

so its better for someone to invest in a pc stick windows 10 then keep on buying a yearly subscription for using continuum

Well, that kind of defeats the purpose of bringing Continuum to emerging markets and budget devices, doesn't it?

Because a cheap Android plus a PC-stick is at least as usefull and cost less?

Who said anything about an Android device? Microsoft claims that the point of bringing Continuum to emerging markets is because most people in these markets usually don't have the money to get another PC besides the phone. Therefore, bringing Continuum to them could solve that problem (not now, as Continuum is still in its infancy). My question is: How does Microsoft expect certain people in these markets to shell out more money for this feature? Unless they don't mind doing so on the phone, which is not a problem since Office works great on Windows 10 Mobile anyway.

This is only works if the cost of the single service is less than the cost of two devices. At this point in time it is still possible to buy the two separate devices for me than the cost of the 950/950xl.

Yes, because emerging markets are all about editing Word documents.

I'm not getting their subscription because I don't need it. Hopefully you can use Office Online or maybe there will be a LibreOffice or OpenOffice app.

Ya, thats friggin weak!! I knew they were gunna do this. When I was phone with MS preordering my 950 xl, I asked if office would need a subcription while using those apps via continnuum. She didnt know, but **** it, I did!

#ProductivityDeniedLikeABoss!

Welcome to Three screens and a Cloud! ;-)

Lol then even fewer people will use continuum

This is how you use Office on you Continuum phone projected to your TV for FREE!!!!!!!!!!!!!!!!!!!!!!!!!!!!!!!!!!!!!!!!!!!!!!!!!!!!!!!!!!

To disable continuum when not using the dock.....
connect tv
Start continuum app on the phone
Hit ...display settings
In display drop down change to connected tv
Scroll to bottom--- advanced display options
Select project...

It will be interesting to see how many Apologies are posted by the ignorant people who have been running their mouths off chatting a load of Bo***x...

So l can buy a 950/950xl, continuum dock, monitor and office 365 subscription or just get a cheap Lumia such as the 550/650, cheap laptop/desktop and office 365 for a better experience. I wonder which option most people are going to take?

Seems they don't want to sell much phones!!!

Thought that is obvious all along.

Is there any way to change they ******* decision??

Yes, keep complaining. When MS launched Office on iPad it did not support editing. Users quickly gave it poor reviews and installed it from their iPads. It wasn't long before MS allowed editing, albeit with a restricted set of features. Thus is what MS needs to do with office on continuum, allow continuum users to keep editing features free but with the reduced set of features. Posted via the Windows Central app

Agreed, you are absolutely right. Hope they change this crazy decision

Microsoft are insane. One of the reasons I tried to justify buying a 950xl was that it would come with a copy of office I could hook up via continuum if ever needed. Chances are I would only ever use it a few times or maybe even not at all but it would have been nice to know its there if I needed. One major selling point of windows phone has just been taken away, my order has been cancelled as I'm sure many other people will, makes me think I may as well stick with android which now I likely will... Or at least I will hold on to my g2 for another six months and see what is about then, maybe pick up a xl then at a reduced price, certainly no motivation now to order for a free continuum dock. Posted via the Windows Central App for Android

As a supporter and user of Microsoft both in PC and Mobile, I must say I am very disappointed with this decision. For those who think they can use Office Mobile for free without Office 365 by connecting to an external display WITHOUT using Continuum, they are also wrong (see the part "Can I use the Office apps for Windows 10 phone with an external display?"): https://support.office.com/en-us/article/Office-Apps-for-Windows-10-phone-FAQ-b612e6a7-3b04-4b20-839d-6006d09287f5

My new laptop arrived several days ago and the operating system is windows 8. When I was trying to install the system, I was required to enter the product key. At that time, I was a totally confused and didn't know how to proceed. Then I had no idea just asked help via yahoo. I searched the answer and got that I only need to buy one from the site www.Microsoftkeystores.com . I had no other solution but just to have a try. Surprise happened! Within the 20 minutes after I placed the order, the email with the genuine product key was sent to me. I immediately had my system activated! The whole process is much easier and more convenient than I thought before.

In order to activate your Windows 8.1 activation key, you just need to get a product key from the site http://www.MicrosoftStoreinc.com . It's the legal copy and you will experience a good after-sale service. The site not only provides product key for Windows 8.1 activation key, but also windows 8 and so on. If you have any technical problem, you also can contact the service department online. Don't worry. Any such problem, just contact them and you will get support.
Windows Central Newsletter
Get the best of Windows Central in in your inbox, every day!
Thank you for signing up to Windows Central. You will receive a verification email shortly.
There was a problem. Please refresh the page and try again.