Your Phone for Windows 10 and Android review: Can you really keep your phone in your pocket?
Microsoft is trying to connect all of your devices, and Your Phone is the next big step.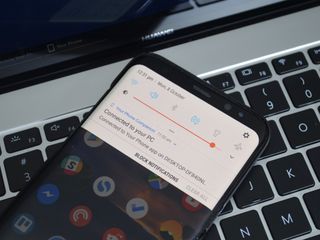 (Image credit: Windows Central)
Microsoft has been pushing the mobility of experiences across devices for years and the vision is finally coming to fruition. Your Phone allows you to send SMS messages on your PC and view your Android phone's recent photos by connecting your phone and PC.
It's the next major step in being able to do all of your work through your PC. The first release of the app works with SMS messaging and photos, and Microsoft has discussed app mirroring coming in future updates.
Your Phone comes as part of the most recent update to Windows 10, the October 2018 Update. That update has been pulled at the time of this article's publication due to a file deletion bug, but will presumably be available again soon.
Your Phone requires the Your Phone Companion Android app which is free on the Google Play Store.
See in Microsoft Store (opens in new tab)
Easy connection to your phone
Setting up Your Phone is incredibly easy. You just get the companion app on your phone and follow its instructions. Once your phone is connected, your PC and your phone reconnect every time you open the Your Phone app on PC.
Microsoft has had a few different approaches to sending text messages through your PC and I think Your Phone is probably the best one so far. It works relatively quickly, though in my testing wasn't instant, and the app's interface is clean and attractive. I think the team behind Your Phone's design should get some more work across other Microsoft apps. It's reminiscent of the Messaging app from Windows 10 Mobile that also had a PC equivalent that used to send Skype messages.
The photo syncing functionality probably won't be discussed as much as SMS messaging. People haven't been clamoring for a phone syncing app for years as they have for an iMessage competitor. There are also already some other options like OneDrive syncing that do similar functions. But I'm impressed with Your Phone's photo syncing. You can see the last 25 photos that you've taken with your phone and can drag and drop them to your desktop. It's a feature that many will sleep on, but I think it does a good job building the connection between your phone and your PC.
Can it really keep your phone in your pocket?
Microsoft advertises Your Phone as a way to keep your phone in your pocket while still being able to get things done. I think the first iteration of Your Phone does this well. SMS messaging is the main draw. You could argue that modern smartphones are used more for messaging than calling and the ability to sync SMS messages is the most important connection between these two types of devices.
For my workflow, Your Phone almost completely closes the gap between phone and PC. Many of my apps are available on both and sync across my devices and SMS messaging was one of the last gaps. But for some people, the lack of phone call relay and app mirroring will be more noticeable. Microsoft has discussed app mirroring coming to Your Phone and that will be a great addition. I'd also like phone calls to be able to be relayed.
For now, Your Phone is a handy way to respond to messages from your PC with a full keyboard that also allows you to keep focused on your PC instead of pulling out your phone. Photo syncing is also a nice bonus.
Overall thoughts on Your Phone
Your Phone is the next step in Microsoft's vision to bring the Windows experience to more devices and to allow people to get things done everywhere. It's easy to set up and SMS syncing and photo syncing works well.
The only major knock on Your Phone is that it doesn't allow you to mirror apps to your PC yet and that it doesn't relay phone calls. This means that you'll still need to pull your phone out of your pocket to get some things done.
Pros
Easily connects phone and PC.
Clean and attractive design.
Cons
No call support.
Unable to mirror Android apps yet.
See at Google Play (opens in new tab)
Windows Central Newsletter
Get the best of Windows Central in in your inbox, every day!
News Writer and apps editor
Sean Endicott brings nearly a decade of experience covering Microsoft and Windows news to Windows Central. He joined our team in 2017 as an app reviewer and now heads up our day-to-day news coverage. If you have a news tip or an app to review, hit him up at sean.endicott@futurenet.com (opens in new tab).
While I did roll back to 1803 for fear of bugs in 1809, Your Phone worked extremely well for the brief time that I used it. And it was light years faster at sending text messages than the previous messaging app.

I'm debating on rolling back too. Lot's of bugs and my Surface Go is seeing massive battery drain.

Does your surface go turn on when u open the keyboard? Mine started doing that after the 1809 update and I wanted to know if I'm the only one...

Yes it does, I didn't even notice. I've been shutting it down overnight because it is dead by morning if not. Glad that has been changed though, as long as that isn't the cause of the drain.

Yes im thinking the same now!!! Thanks for the answer :)

Are you seeing the same battery issues too?

I did t used it that much yet but I have another issue since the beginning. If I'm in o é app and i open another one the first app closes after seconds... It's really annoying

Oh wow, I bet that is super annoying. Luckily I do not have that issue. Hope both get sorted out soon.

Yes.. Im trying to get it replaced!! Because even hard reset didn't fix it!! And to ight I'll check for the battery issue

Hi there. I checked my tablet yesterday and the battery looked ok. I didn't turn it off at night and in the morning the battery was at the same %

I've had my Go boot straight to the desktop, skipping the lock screen. I don't remember that ever happening until I was on 1809.

Oh wow. Do you have pin/password, hello shut off? Can you shut those off on a non local account? Odd...

I use pin but not hello because it doesn't work well with my glasses

That's too bad, Hello works great with my glasses. I wear a hat too often, so I trained hello numerous times.

I'm not on 1809 yet (waiting for the scheduled update, and never was an Insider) but Your Phone works fine for me. So by all means roll back, you should still be able to SMS from your PC.

The biggest problem with the app is that it only works with WiFi and will not work your phone's cellular signal.

Already have these features on my Lumia 950.

Have or had? Does the current skype support it like before? Continuumed my 950xl to my tv and checked out photos and outlook email seamlessly today. Still don't get why they stopped at 99%

Yes it does. It's works really nice. Plus I get notifications through Cortana. It even allows us to reply from action centre itself.

I miss that most from my Lumia. Was smoother than anything out there now

If MS just wouldn't have screw up marketing that bad.

@Free-Spirit, the new Skype on Windows no longer offers SMS support for Windows Phone for me (change in PC Skype, not Windows Phone). And as far as I can tell, the new Skype is the only option with Windows 1809. How do you link messaging to your Windows Phone in the latest version? I was sad to lose SMS messaging in the past few weeks, which I've been using in Skype across Windows and Windows Phone for years.

That's my question, how do you get the same function for those remaining few of us with a Windows phone? Funny it's so easy with Android but nothing for us Windows
phone users.

Windows Phone is no longer being developed. All you will get are security updates. People really need to start getting over WP. Time to move on.

What about us using Symbian?

The guy working on My Phone replied to me explicitly saying they won't work on enabling this for W10M. They could do it, but they won't. That's a bit crappy.

If you had your own company, you would develop for the majority of users too. Not the minority.

This app isn't being developed by a third-party, it's being developed by the same company that makes the operating system. Its called pride in ownership. It would be like Ford saying it's not going to make any replacement parts for its cars because more people drive cars other then a Ford.

It is like Ford stopping production of replacement components for a model they haven't sold for a long time. It is normal.

W10M already has this feature I guess and it does not requires devices to be on same WiFi or Bluetooth. It syncs message through Cortana if same Microsoft account is used in either devices.

But it stopped working with the latest Skype update on PC (forced if you upgrade to 1809), unless there's some other way to sync SMS to Windows Phone that I don't know about.

We already have that functionality. I respond to texts via my PC that's linked to my Lumia all the time. And It's ridiculously redundant to use another app to access pictures on my phone when everything is already linked to OneDrive. As soon as I take a picture I can access it on any device I choose. And there are no services on my phone that aren't also on my PC, so accessing my phone from my PC makes no sense.

@ScubaDog, can you do still do the SMS sync with Windows 1809? For me, this forced a Skype update, which no longer supports SMS pairing with a phone (so the Phone still supports it, but the PC won't). Is there another way, or are you still on 1803?

It also requires android 7 which disappointed me because my phone is on 6.0.1 and can't be upgraded.

Meanwhile, druid is heading for V9 aka "P"

WOW!! That's an Android, Right? LMAO!!!!!

Why not mention about Android Nougat+ version as mandatory requirement for using this Your Phone app in the beginning of development? People get confused over this including me... Sad.

Why I would need this app? It works only if your phone is on wifi? This is ridiculous. The Dell connect app need only a Bluetooth connection and it works great!!!

I wonder about that too. Bluetooth is kinda more secure in comparison because you have to be closer to the device.

Yes. And in my case I use my phone as wifi so I could use my tablet but with that limitation of Microsoft it's unuseful

The current Dell App drains the Phones battery quite fast. Haven't noticed that with yourphone.

I know it's in beta but the SMS mirroring feature is so slow it is unusable for me right now...

Interested to see this whenever I get the 1809 update. I've been using Google's messages.android.com for a couple months though, and it already meets the need for SMS from the PC. Since I don't have Your Phone yet, how do its SMS features compare to the Google offering?

It refreshes slow because it's in Beta still over time I'll will improve. I feel like Marty going back in time to 1955 with futuristic stuff and it's slow, time to jump in the time machine to go to 2015 so I can Hydrate a pizza I'm starving lol.

It's very limited. As far as I can tell there it lacks support for photos/MMS and emojis etc.

Not to mention you can't delete messages in My Phone.

Photo transfer is a bit redundant since it can be done via OneDrive already.
My top wish would be sync of all notifications, just like the Cortana app does (or did?).

Did, for me. So flaky. Yeah, I agree, that's top usability issue for me.

Aye ive noticed that has vanished too

Personally i dont want it to mirror my apps, would rather just have respondable toast notifications. Never liked on screen mirrors really.

I am less than impressed with the Microsoft Your Phone app. First of all, it doesn't work when I'm on my company's VPN. Which makes it pretty much useless to me during weekdays. Second, apps like Join and Pushbullet offer a lot more functionality AND do this whether I am on the same wi-fi or a VPN. Even Samsung offers way more functionality with their Flow app (but does have the same limitation with wifi and VPN)! Come on Microsoft! Step up to the plate and give us something comparable to what 3rd party apps have given us for the past few years! Looking forward to the next iteration of Your Phone app to provide more functionality and less restrictions (ie. required to be on the same wi-fi and not connected to a VPN)!

So, in other words, Microsoft should be doing more to put third-party app developers out of business whilst simultaneously claiming to be trying to encourage more developers to support the Windows platform?

I honestly don't care who creates the app. I just want one that works reliably. Also, what's wrong with a little competition? It inspires creativity!

Just great. Now more distractions to keep me from actually getting any work done, lol.

Pulse app on Android does the texting very well. The real innovation will be to use other apps via a mirror.

Wow. October of 2018 and finally Windows can do on Android what I've been doing on my Windows Mobile phone for the past two years. Gee... see and respond to text messages... got it. Pictures appear on OneDrive... my phone already does that since 2013 or so.

It needs to work with the phone and computer not being on the same network. My PC is wired during the day and my phone on a mobile carrier.

I hope Microsoft goes down the path of SCRCPY style screen mirroring, just using WiFi instead of a cable. It would be amazing to be able to just click an icon on the desktop that would bring up your mobile on screen, then start using it as you would your phone. I'm sure it's not even all that hard for them to incorporate. The link is for anyone who doesn't exactly know what SCRCPY is and does. Mind you the newer version of it is much easier to set up than the version in the video... https://www.youtube.com/watch?v=HAJaNuFIvnU&t=1s

I set this up, or I should say that I tried. On both my desktop and laptop. The app on the phone says it's finished setup, but the one on the computers sits on the screen saying something like "connect to phone now". I'll keep trying but I think they need to work out kinks still. Otherwise 1809 had been working great for me on all devices.

Lucky for me, I don't have this space waster, performance eater and widely spread virus called Windows 10 (don't have OS X either, you Apple haters, I see you coming). I've been living for almost 2 years under Linux OS, such a happiness not being a guinea pig for Microsoft.

Hi ,i receive and update on my Lumia 950XL on October 11,2018 but don't know if is the update everybody is talking about .

This could be replicated by using Google's Android Messages, which has a Web App, and the built into Windows 10 OneDrive synchronising capabilities.
Windows Central Newsletter
Thank you for signing up to Windows Central. You will receive a verification email shortly.
There was a problem. Please refresh the page and try again.