Phone mirroring is coming to the 'Your Phone' app for Windows 10
You'll soon be able to use your phone right from Windows 10 with the "Your Phone" app.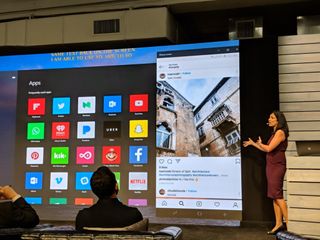 During its Surface event today, Microsoft offered a bit of a peek into the future of the Your Phone app on Windows 10: screen mirroring. The feature essentially allows you to mirror your entire phone in a Windows on your Windows 10 machine, allowing you to open apps, respond to notifications, and, well, anything else you'd typically do with your phone in the palm of your hand.
Though Your Phone is shipping as part of the October 2018 Update, the screen mirroring feature won't be available right away. Microsoft didn't provide a timeline for when it plans to launch screen mirroring, but it's safe to say that the full functionality will likely be restricted to Android devices because of the locked-down nature of Apple's iPhones.
If you're interested in getting familiar with the Your Phone app sans screen mirroring, you can get your hands on the app starting today with the launch of the October 2018 Update for Windows 10. Currently, it can be used to drag and drop files to your phone, send texts, and view your photos.
Everything Microsoft announced at its October 2 Surface event
Windows Central Newsletter
Get the best of Windows Central in in your inbox, every day!
Dan Thorp-Lancaster is the former Editor-in-Chief of Windows Central. He began working with Windows Central, Android Central, and iMore as a news writer in 2014 and is obsessed with tech of all sorts. You can follow Dan on Twitter @DthorpL and Instagram @heyitsdtl.
This is a good way to make an Android powered Surface Phone.......... Maybe Microsoft has something up their sleeves with this, perhaps their own Fork of android, that bypasses Google Play, and allows tighter integration with W10..... On a surface designed phone.....or maybe not.

Or it's a good way to use your android phone from the only kind of device Microsoft will make running Windows = a pc. How having an android mirroring feature on Windows is related with 'Android powered Surface Phone'? Hint: it's not.

Leave your Android in your backpack and tether? But don't think I'll ever need it...

I hope and believe that Microsoft would never make an Android phone.

An Android phone that bypasses Google Play might as well be Windows 10 M but with Linux instead of Windows 🤦‍♂️

" but it's safe to say that the full functionality will likely be restricted to Android devices because of the locked-down nature of Apple's iPhones."
What about Windows Phones? They are not locked-down!

My Lumia 1520 I'm currently using to read this and reply disagrees with you. 😉

Yeah, your 5 year old phone really proves that Windows phone is thriving lol.

My five year old phone shows how GREAT it is that I don't NEED another phone! :-P

Awww. The 1520....still love that one. Have 2 of them ;)

Still have one working decently in addition to my 950xl

And where did I ever imply that 1. Windows phone/mobile is alive, and 2. anyone other than MYSELF doesn't need or want a different phone!?! Why do so MANY people feel the NEED to project nonsense into what others say, when they clearly NEVER said it? Get a life, people. I'm more than happy with what I have, and I couldn't care less what anyone else has or wants. To each their own. My reply was to the statement that Windows phones "are no more." Clearly, they ARE! Not everyone needs or wants the latest greatest and some people, like myself, found a Windows phone (e.g. - Lumia 1520) that does everything I want and need it to, so I'm happy with it. I also drive a 16 year old car. It gets me from point A to point B. It doesn't have all the newest bells and whistles, but I don't feel the "need" for them and my car is paid for and fully functional for its purpose, so I'm happy. I also still LOVE playing the original 'Quake'. Just because it's "old" doesn't make it obsolete or dead - it's CLASSIC! :-)

Windows phone screen mirroring was broken by 1803 and never fixed. Reported by many people, myself included, but I guess Microsoft is in a hurry to forget it had a phone.

Go to "Projecting Settings" in settings on any Windows 10 PC. Been there a long time.

So, basically like Windows phones had been able to do for years prior now. Great.

You mean "prior to 1803"... that's when Microsoft broke it.

I am serioulsy interested to see where they can take this. I like this idea a lot.

Cool. It's about time they did something to actually make it worth opening the phone app and connecting your phone. I'll give it a try at the least.

Does this require Microsoft Launcher to work? As long as MLauncher doesn't offer the option of tiles I shall continue to use Square Home on my Android phone.

Think this is tied to Your Phone, not Launcher.

MS did not indicate a time? Well colour me surprised. When has MS EVER delivered on time? How about never.

If they don't indicate a time, how can they miss it?

Unfortunately , not for iPhone.

I don't think it's possible due to iOS API's restriction.

Mine has stopped working completely. I reset/uninstalled both the Android and Windows apps, I link my phone by getting a text message, but the Your Phone app won't connect, my phone just says 'waiting for permission' but doesn't give me an 'Allow' to activate the functions.

Anyone know if this will work with Windows 10 S? That could be big for S.
Windows Central Newsletter
Thank you for signing up to Windows Central. You will receive a verification email shortly.
There was a problem. Please refresh the page and try again.