Everything Microsoft announced at its October 2 Surface event
The Surface lineup got a new color and a whole lot more power today. Here's a look at everything Microsoft announced.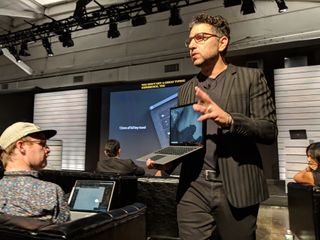 Outside of a couple of rumors and obvious expectations, there wasn't much to go off of going into today's Surface event. But Microsoft had quite the packed lineup in store, including refreshes to three Surfaces, the launch of the October 2018 Update, and a new accessory that no one saw coming. Here's a look at everything Microsoft announced.
Surface Pro 6
To kick things off, Microsoft unveiled its latest Surface Pro refresh, the Surface Pro 6. The biggest outward change here is that the Surface Pro 6 comes in new white and black models. But the device has amped up in terms of power as well, picking up Intel's latest 8th Gen processors.
And yes, despite the brief flirtation with ditching numbers on its last model, Microsoft has cozied back up to numerals with the Surface Pro 6.
Surface Pro 6 is available to preorder now (opens in new tab) starting at $899 and is expected to launch on October 16.
Surface Laptop 2
Switching gears to the more traditional laptop crowd, Microsoft unveiled the Surface Laptop 2. Like the Surface Pro 6, the Surface Laptop 2 is also available in a sleek black finish, and it has cranked up the power as well.
Surface Laptop 2 is significantly speedier than its predecessor, with Microsoft claiming it's up to 85 percent faster than the original Surface Laptop. That's largely thanks to new 8th Gen Intel processors, no doubt. Other than the speed boost, the Surface Laptop 2 also packs a 1,500:1 contrast ratio, and the typing experience should now be quieter thanks to an improved keyboard.
Surface Laptop 2 is available to preorder now (opens in new tab) starting at $999 and is expected to launch on October 16.
Surface Studio 2
Going into today's event, a refreshed Surface Studio wasn't necessarily expected, but it seemed likely. And for fans of the unique all-in-one, Microsoft didn't disappoint in announcingthe Surface Studio 2.
All of the updates here are for the internals, with the Studio 2 keepingthe same design that was introduced with its prior incarnation. Graphics have seen a step up to NVIDIA's GTX 1070 chip, which is a big step up from the original's GTX 980M. The device's processing game has also seen a bump to Intel's 7th Gen 7820HQ processor.
According to Microsoft, the screen has been upgraded with a "new liquid crystal material" that should provide deeper blacks. Around back, you'll also find the addition of a USB-C port, but it's unclear as of now if it supports Thunderbolt 3.
Surface Studio 2 is available to preorder now (opens in new tab) starting at $3,499 and is expected to launch by November 15.
See at Microsoft (opens in new tab)
Surface Headphones
While one could resonably guess everything else Microsoft announced today, this one came totally out of left field. Complementing Microsoft's growing lineup of Surface accessories is a new pair of wireless Bluetooth headphones simply dubbed "Surface Headphones."
Though they look a little chunky, the headphones unmistakably fit into the Surface lineup. And they're packing some smarts, too, with Cortana integration, 4-beam forming mics, and different levels of noise cancellation that you can tweak as needed.
There's no release date yet for Surface Headphones, but, with the price set at $350, you'll be shelling out a pretty penny once they do arrive.
Surface All Access
If you're looking for a way to pay for all of this new Surface gear, Microsoft also introduced the new Surface All Access program. The financing program replaces the Surface Plus, which was abruptly retired in August, but it operates in a similar manner.
With prices starting at $25 per month, you can finance a Surface device over 24 months with a two-year subscription to Office 365. Unlike Surface Plus, it doesn't look like there's an option to upgrade to a new device after 18 months for accounts in good standing, but it's still a solid way to spread out your purchase over time.
And more
Today also marked the official launch of the Windows 10 October 2018 Update, with Microsoft now allowing anyone who wants it to update now. The update will automatically begin rolling out for everyone starting on October 9.
Finally, Microsoft also teased a major new feature coming to the Your Phone app in a future update: phone mirroring. As the name implies, you'll soon be able to use Your Phone to mirror your phone's screen on a Windows 10 PC, letting you open and interact with apps and, well, do anything else you'd normally do with your phone in your hands.
Windows Central Newsletter
Get the best of Windows Central in in your inbox, every day!
Dan Thorp-Lancaster is the former Editor-in-Chief of Windows Central. He began working with Windows Central, Android Central, and iMore as a news writer in 2014 and is obsessed with tech of all sorts. You can follow Dan on Twitter @DthorpL and Instagram @heyitsdtl.
LOL at the 7th gen processors in the Surface Studio 2 and no thunderbolt 3 on a $3500 plus machine.

My first thought too... "Old hardware again?!?"

I know, right? Why would anyone jump into the Windows ecosystem right now? Microsoft can't even confirm they have a mobile vision for Windows.

Funny the article says the Surface Studio refresh "wasn't expected, but seemed likely".

It wasn't not going to happen, but it don't so... Yes.

What about a black Surface Book 2?

Are you not satisfied with tan Zac Bowden😂

Why not offer it in all the colors? White, Black, Burgundy, Cyan, Red, Yellow.. Come on MS! Get hip!

I WANT THOSE HEADPHONES....

good thing they have a Surface All Access plan now lol

Hell, I may even need financing for those! =P

They're not anymore expensive than comparable Bose headphones.

Wow, headphones. Trying to appeal to a market or is the demand there?

If it can't compete with the Sony XM3 then it's DOA

hmm I dreamed of an Andromeda device with a Cortana blue tooth headset
that does just what these do. My Concept of the Andromeda devices is there
would be 3 types Type 1= would look folding 2- 6.5 inch screen smart phone.
Type 2 would look like bigger version of Type 1 but would have 2 folding- 8 inch
Tablet screens it would not fit into your Pocket. It's a Business Tablet. Type 3
would be a Surface "Go" with an Intel Core M3 fanless CPU & a built in 4/5 G
Cell Phone just like the Andromeda Type 1 and 2 have but would be sold with a
Cortana Blue tooth headset that does the same things & more the Surface
Headphones do. Type 1 and 2 would probably use ARMs CPU's but Type 3
would run full Windows 10 Pro. It's Cell Phone would a Simple plain Jane model
it's just there to send & receive Voice calls. Microsoft would of course allow
developers to add Apps to the Cell phone to make it more useful

one day I will buy surface laptop and surface headphone lol

Meh, underwhelming to say the least. But not surprised. Andromeda was obviously intended to be the big news but once it was delayed, this seems about right: iterative updates which are needed but don't generate buzz.

It would've been a good day for MS if Andromeda headlined all these announcements... But, next year all these same products will be refreshed, and maybe there will be an Andromeda unveiling.... Maybe. It's still possible it may never leave prototype status.

The profit margins on those headphones must be ridiculous.

Not when they start getting dumped for $99 a few months from now.

Nah I bet they just produce a small amount of those

That's why Apple bought Beats.

Why will anyone buy any Surface device when Dell XPS and HP Elite offers much better computing experience at a reasonable price?

The same reason people buy a Mac when there are other cheaper alternatives. At work, not a single Dell computer works well. My Surface Pro 3 is running without issues, and it'll get upgraded to a Book 2 hopefully soon.

If you are into iOS or (lol) Mac app development you do not have a choice 😭

Not really true statement here. HP still does not use Precision touchpad. Dell XPS does not support pen and touch unless you skimp on CPU.
The price for Surface is higher in the top tier; however, the starting price of Surface is really competitive.

This is a fanboy site, you will only get fanboy answers here. Microsoft wants to become Apple - charge more for less. Microsoft fanboys want to finally be like Apple fanboys - be proud of getting less and spending more

actionresult Surface products are expensive premium products with a middling value proposition because the point isn't to sweep the market, it's to demonstrate what the software can do and inspire OEM's to create more and better products. The Surface line is profitable, but if MS wanted short-term profits they'd just pile all their money and efforts into the cloud and Office and call it a day. They'd be even more profitable than now. But the long-term game is to cultivate the ecosystem.

Ironically, your answer is the only one with obvious bias...

For me, I went with the Surface Pro 2017 (or I guess, "5") because the battery life, thermals and inking were superior to all competitors at the time (Summer 2017). I bought it outright on my own.

Surface Studio has potential. It has the potential to damage your eyes 👀.

Surface headphones - Why is it not over the ears back neck style? Because Microsoft lacks imagination!

Lol, they have so little imagination that they weren't able to create the Surface line and have the market copy them instead of Apple. Before the Surface line we had chunky laptops that we're power hogs and under powered. Microsoft wanted to show what the PC could be, and that spurred innvoation by others.

Surface All-Access: What about people who already have Office365?

Two years added to what you currently have?

Gotta say, I've been wondering for a while why those new totally wireless earbuds, like the Jabra Elite 35, don't use the same control layer shown in the Surface headphones video instead of buttons on their devices. Also, I kind of saw the headphones coming for a while as I have seen them throughout Microsoft's website with Surface users wearing them while using the products. I actually contacted them once to ask what they were and got no answer. So I figured the headphones were either fake or a future product, with the latter being more likely.

These pictures make it look like all of 14 people were there.

Have you watched the Surface Laptop 2 video? Sure didn't look like 14 people to me ...

No, I said by looking at these pictures.

So, what was it with "A moment of your time"...?

Wasted.
And I'm a Surface fan here.

I was thinking the same thing. Microsoft's marketing team has to go.

Considering the Surface Headphones, "Lend us your ear" would have been more fitting...

Headphones look cool, but no Cortana around here, so meh...

Surface Headphones: Next years cancelled product.

So true! Anything Cortana related is made for US only. Cause even in other supported countries it doesn't really work...

Are the headphones plastic?

All looks good. Only 3 things struck me:
1. No USB-C
2. Surface Studio spec high enough?
3. Cortana!? I thought she was dead? Used to use it all the time on WP. I don't use an assistant now because one (android) doesn't know about the other world (windows) and vice-versa.

Its dead to the world. Its undead in US...

Actually, Microsoft have been very slow to implement functions and features isolated to the US to other regions.

So there's no Core m3 option for Surface Pro now? That makes the decision not to use it for Surface Go even stranger.

Hmm. It's been almost a full day I don't see any doom and gloom posts. You're slipping, trolls.

I think with the headphones, you're paying for (besides the fancy-pants Surface branding) the interface, which as far as I can tell is totally unique. Again, this is the Surface line: inspiring OEM's to do more within the Surface ecosystem. As for me, I'll be keeping my wired NAD Viso HP50. And I'm not holding my breath for consumer Cortana anytime soon, even here in the States.

Consumer Cortana... Which other Cortana is there? Certainly not corporate; what use would a business have for a personal AI assistant?

ZZZZzzzzzZZZZZZzzzzzzzzZZZZZZZZZZ......................ZZZZZZZZZZzzzzzzzzZZZZZZZZZzzzzzz Waste of an event.

I think back to the 2015 and 2014 MS events and all the announcements, updates, and visions, spanning Lumia, Windows, Xbox, Hololens, Groove, OneDrive, Cortana, Project Spartan, Project Spark, Display Dock, etc....
....and then I think back to the event yesterday. :( As a consumption user of all things software and hardware, the new MS just doesn't have that flash.

I agree the announcements were much more exciting, but seeing as hardly any of them came to be, or at least received any love in their short lives, at least these seem more realistic, and are not as likely to result in such an emotionally ladden response from disappointed fans...

This is good timing for me, as I have a 2015 Surface 3 (yep Atom processor, 2gig RAM), which I really really like, in spite of the meager specs. For the 6 months or so I've been contemplating getting a big spec bump on a new Surface - either the Surface Pro or the Surface laptop. And I decided to wait until the fall, when new products come out from many of the major brands. And here were are with the latest Surface releases. While these new Surface devices are not whiz bang exiting (it's an iterative, spec bump, release), I'm quite pleased with the new Surface offerings. Some things I like -
Minimum specs are 8th gen core i5 (which has been tested at having near performance as 7th gen core i7),
and 8gigs of RAM. I always thought that if I went with Surface Pro or Laptop, I'd want minimum 8gigs of RAM. Last years started with 4 gigs, and if you wanted 8, it cost much more. Now the starting devices come with 8gig. That's a win. The Surface Laptop comes with Windows Home, instead of S mode. True, it's trivial (and free) to remove S Mode, but pretty much everyone got rid of S mode anyway, so there was no point in having it in flagship, $1000 device (S mode is intended for smaller, lesser spec'd, cheaper devices - it makes more sense in the Surface Go). Also, putting Windows Home on the starting version of Surface Pro probably makes sense, since most consumers don't even remotely need Windows Pro. But the version with Pro is only $100 more. Same awesome design on both devices. While the rumors say there will be a major refresh in 2019 for the Surface Pro, for now there is no need to mess with a fantastic design for both the Pro and the Laptop. I have zero need for USB-C. I suppose I wouldn't mind having it, so long as the other ports are still there. But I have no devices that use C, and no need. And I'm sure that's the case for 99% of the market at this juncture. I really don't get why so many reviewers and posters are getting so worked up about lacking USB-C. It's irrelevant now, and having it now means hello to the dongle life (like with MacBooks). No thanks. Sure, the market of devices will eventually switch over, but I think it won't happen as fast as many think it will. It's a chicken and egg situation. So, for now, who cares! I have no desire for the new matte black color (on both devices), but I'm glad they added it as an option, because a lot of people like it. If I go Pro, I'll get the standard white, then either the platinum or blue type cover. If I go Laptop, it will probably be the platinum (I like the blue, but that's only available in the next spec bump, and $300 more - I'm not willing to pay $300 extra for blue, and I don't really need the extra storage ;) ). And since I still use and like my 2015 Surface 3, it's probably still satisfying my 2-in-1 needs, and I'd really like to get a traditional clam shell laptop. And I really like the Surface laptop speakers, the instant on, and the stellar battery life, not to mention the outstanding build quality and gorgeous design. So I'm likely going with the Surface Laptop 2, Platinum, 8th gen core i5, 8gig RAM, 128gig SSD. I can't wait. :) I'd finally like to add that it seems a lot of people are underwhelmed. But I think that's only because people are unrealistically expecting revolutionary releases every year, and sorry, that ain't gonna happen. And frankly I don't want revolutionary, "exciting" releases every year. Quite often, that just means more bugs, more bloat, more problems (at least, initially). I'm all for continual refinement, with occasional new wiz-bang features. Yesterday's Surface releases were all about refinement of existing GREAT products. So, good on MS.

I really liked the upgrades for Surface Pro 6 and Surface Laptop 2, the black color is amazing on both the 2 in 1 and the laptop however I found something 1 didn't like
Both Surface Pro 6 and Laptop 2 come with Windows 10 Home, instead of Windows 10 Pro Creators Update 64-bit which comes with the Surface Book 2.
Apple customers don't have this issue on MacBooks, they always get the high end OS which can run apps like Docker.
Docker for those who don't know what it is, is a container technology which lets developers port their apps into containers which can run on Azure cloud or Amazon cloud.

No pre-recorded stream? Edit: few questions - as I've just watched the videos.
Surface headphones: -
1) what's the battery life
2) what version of bluetooth is it using
3) charge time for a full charge?
4) How many devices can it be paired with?
5) Most importantly will it be sold in other regions? (I hope it's not another US only product).
6) Does it have NFC for easy pairing?
7) Can it be charged wirelessly or has to be charged via the Type-C connector I am disappointed that the Surface Pro 6 and the Surface Laptop don't have Type-C... a rather massive omission imo at this stage. Especially since the Surface Go has Type-C along with the Surface Studio 2 and Surface headphones... I'm surprised they haven't gone for a Ryzen CPU with vega graphics or used the custom SOC in the Xbox One X as then the omission of thunderbolt in the Surface Studio 2 would have made sense (a missed opportunity to showcase interoperability between different areas of the company). I don't want to even want to even think about the issues that we will get the marvell Wifi chipset, I am hoping they have ironed out all the issues since they have stuck with it again.

What happened to the third model of the Surface Go LTE w/256 GB storage for the October announcements?

So is it officially called the Surface Pro 6? I remember for the Surface Pro 5 they weirdly insisted it was just called the "Surface Pro" and everyone called it "Surface Pro (2017)" instead. Enumeration makes way more sense.
Windows Central Newsletter
Thank you for signing up to Windows Central. You will receive a verification email shortly.
There was a problem. Please refresh the page and try again.