Your Windows 10 PC or smartphone could stream to your car's dashboard in the future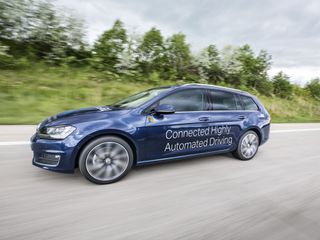 In the future, your car's dashboard could connect to your Windows 10 PC, tablet or smartphone. That's one of the things that is being shown during CES 2016 by Microsoft, in partnership with a company called IAV.
The press release states:
IAV and Microsoft will also show off some automated car technology that will be powered by Windows 10 and Microsoft Azure cloud services;
IAV says its technology has been used in automated cars that have already traveled 43,000 miles in the U.S. and Europe.
Source: IAV
Windows Central Newsletter
Get the best of Windows Central in in your inbox, every day!
I'd like to see this in my car

Who wouldn't like it in their car? But since the car makers don't even want to port trivial apps they provide for Android and iPhone users to Windows, I'm not holding my breath for them to do anything with this.

Ford already doing it using Apple Play. 2017 cars will be running it already. Microsoft needs to get going and bring it.

Already? Still, use Video IN. Done.

Ford is using NXT, that can link with CarPlay or Android Auto for a more open platform agnostic (YAY) system. So maybe that can also connect with the IAV/Microsoft software too?!

This is where I envision personal technology going in the next few years... One device powers everything. Move from spot to spot and all of your data/applications come with you.

I think car dashboards should really just be an external screen that extends our phone capabilities (like maps, music, contacts, etc) I have a Kia Optima, and even though I love the fact that it has a back up camera, i can't stand how I can't just connect my phone and use the maps and traffic information that the phone is able to see/process. Also being able to select the navigation app of your choice to be displayed in the dashboard. It's silly that it needs to be "Windows | Android | Apple" powered. I just want a display that allows me to extend my phone capabilities to the car regardless of my hardware choice. :(

Car Play and Android Auto are both available now. Posted via the Windows Central App for Android

Like in noob terms? Also in selected cars and HUs. And not wirelessly connected. Really..just use your current HU and use video in to mirror the phones screen. Wirelessly. Even better then a separate OS in the HU ;)

The problem is that each car manufacture seems to be picking one or the other. I don't want to have my car choices limited by what friggin PHONE I have. Cars need to be platform agnostic.

One step closer to Skynet. Someone better be working on a time machine, preferably one that let's you keep your clothes on

One day windows will be genisys

Never mind SkyNet. Dial F for Frankenstein.

On Windows Mobile 10? Not likely. We never get the cool stuff.

Did you read the article? It is using continuum.

Yes, but I still don't understand continuum.

I can help you with that! Super cool and quite powerful. In short: Continuum allows a W10 device to connect to an external display (in this case a car) and create a custom user interface for that device you are connecting to. As an example, right now if you plug a Lumia 950 into the dock or connect wirelessly to a TV/Display you are given a Windows Desktop as the user interface and not just the Phone Start Screen projected on a display. Continnum on the PC as of now is a little different, but I assume the same ideal still holds. Right now continuum on the PC allows for seamless switching from PC to Tablet Mode. Again though, I assume the same principals are there. Connect to a display and have a custom interface for the specific function you are using it for. Hope that helps!

So you can get a super laggy Groove Music experience right in your car's dash!

@NIST Is there a Groove Music for Android?

Yes. Posted via the Windows Central App for Android

Go check out the Volvo stuff. Works also with a Band. Pretty cool stuff.

Too late, as usual...At CES all the Automotive stuff regards ios/android... I ve recently rented a Mustang 2015 and its "Microsoft Synk" did not work with my 930, but was perfect with an iphone... :(

True, but Google and apple have significant limitations. Their great for streaming music/movies and simple games but in a true autonomous future, people will want to conduct business in their vehicles using real versions of office etc... They will want a real computer experience. Posted via the Windows Central App for Android because I am unfortunately with Sprint

LoL, that is going to drive dozens of sales! No one is going to buy an iPhone if they can't use macros on their car's display! Posted via the Windows Central App for Android

You're missing the point. Business is more then just macro's. ROFL ;)

Yet another massively uphill battle already lost by Ballmer...

Even the Windows embedded scene is moving to Android.

No, even BB is bigger in Automotive.

It's Sync with a C. I rented a Focus with Sync and it was perfect with my Lumia. So perhaps it was the driver...

The problem isn't so much with the phone, it's with Windows 10 Mobile. I have had nothing but issues with bluetooth in my 2011 F150 ever since I updated to 10. It worked flawlessly on 8.1. However, it does not display track info, whereas an iphone does. It also will not work with the USB, whereas an iphone does and neither of those two things worked with 8.1 either. It is pretty sad to see two products from the same company be so incompatible.

I dunno about this. I've rented a couple of Fords over the past year and I didn't have a single issue using Sync with my 925.

Actually this will be the future..

Yes, yes, yes, just what I wanted to see!

This solution sounds VERY next gen. To put it another way, it sounds like they are ceding today's field to CarPlay and Android Auto. This is probably b/c (1) they dont have a solution ready and (2) they can't get any automakers to play nice with them (given the dominance of other mobile platforms). This is unfortunate since this is one of those connected experiences that consumers will eventually just expect to have and if you elect to use Window mobile, then you won't be able to utilize a convenience/luxury that everyone else on the planet would hardly think twice about. Maybe I am misunderstanding the solution currently available, so I will still be very excited to see what they have to show off at CES. That said, I'm more curious to see what auto partners (if any) they actually have lined up for 2016.

Not sure what you're talking about. Microsoft has been providing car entertainment for a while now. Truthfully, as usual, the others are "late". They just haven't been doing it in a way that THEY stand out. It's branded for the auto makers. Them and Blackberry have been doin this. Do your research.

So "Windows for the Car" is not going to be releases to the public is guess

Why not? It's still not conclusive how it will look like.

Now I don't understand why Microsoft joined Mirrorlink. Will they abandon Mirrorlink or not?

Options for manufactures. Go with continuum or Mirror and you're set.

Wish they'd start by the much simpler task of enabling Mirrorlink as something. No its not the super future but it works and its on plenty of cars now, especially those telling porkie pies about diesel emissions....

What happened to Windows in the Car?

Just like what they mostly doing with phones themselves, they're just riding it out until they are able to deliver that's going to jump past iOS/Android rather than play catch up. A continuum based system has the potential for being so much more capable than Carplay or Android Auto so it's probably for the best they're going this route.

this is what I have been wanting in my car since continuum was 1st announced. Could you imagine a Continuum Car Mode? You get a Windows interface with car approved apps, and with the latest miracast implementation (or wired) your touchscreen is useful!

You mean the experience that has been available on other platforms for at least the past year? Microsoft is so behind, why bother with them any longer? Posted via the Windows Central App for Android

I don't use iPhone and Android so the fact that they have it means nothing to me.

Microsoft has been in the car business for about 10 years now. So....?

That would be gg, connect hololens to your car

Imagine this. Car + HoloLens + Maps.

Hopefully it wont be to codependent on azure given how quickly they've convinced people to adopt this sever farm platform yet dont seem to know how to handle traffic

You obviously have not seen the new 1000 horsepower Faraday Future FFZERO1 car video which does not use a Windows phone in it's ad.

By the way. Anyone can allready have Mirrorlink/Miracast/Continuum in his/her car.Just connect it to Video IN (and overide the handbrake signal) Easy job.

I can already screen cast my phone to my cars deck...

Exactly. The moment Continuum supports touchscreen, my Double Din head unit comes out of my truck. Then a Double-Din touchscreen monitor gets put in its place. Then any of my W10M phones will be my head unit. (I have a few. I like them all. 640, 1520, 950XL) Cortana is my friend. Groove is my friend. Maps is my friend. Remote Desktop is even my friend if I pull over. :) A completely agnostic unbranded automobile front end with all my amps, speakers, screens being driven by Continuum. That silly new General Motors "You can get LTE in your truck" commercial is so late. I am the hub! lol

As soon as there is a car with decent Microsoft integration I'm going to actually learn how to drive, unless of course that car can drive itself then it will be even more perfect! I'm not keen on their idea of using connected devices and network to spot hidden dangers, if the entire country / world was smart and connected and everyone had a device that was always connected to this smart world then it would be great but that's simply not going to happen any time soon. I think putting that kind of tech in too soon so it only works with some people and some places will make drivers lazy and cause more accidents than it saves, just like seat belts.

I want this in my future car. I am not expecting Kia would take this as it is made in Korea. So maybe, I would change my car when it comes out.

My VW already HAS dashboard integration with Apple & Android apps. Once AGAIN, Microsoft shows up to the party after it's already over and everyone has left! Microsoft is falling apart. They've already laid off hundreds of thousands, and just announced they will be forcing a large segment of their remaining workforce to take a months-long mandatory leave. The current disastrous CEO, thinks he can save the company by asking consumers to WAIT for products he THINKS will leapfrog over the competition. Does he actually believe that Apple and Android are just going to STAND STILL while Microsoft tries to get it's $#*% together??? No, they're going to be innovating TOO, while already having a phone platform that people are actually buying. By the time Microsoft introduces it's"next Gen" stuff, Apple and Android will already be there. The consumer tech industry has become phone-centric. If Naydella (sp?) doesn't get windowsphone caught up (marketshare wise) IMMEDIATELY, windowsphone wont EXIST by the time they get this latest inexcusably late entry ready for market. And if Windowsphone dies, Windows --everywhere outside work--will die with it. (people on work PCs don't NEED apps--which are almost entirely leisure related) No, I fear Naydella killed Microsoft when he killed windowsphone 8.0, killed Metro and killed hubs. He destroyed everything that made windowsphone beautiful, unique and special. He SHOULD have invested whatever it took to make the deep integration of 8.0 work -- even if that meant Microsoft PAYING Facebook Twitter, etc, to keep their windowsphone integration up to date. Instead, in a world where the smartphone is THE center of consumers worlds, he decided to KILL what made Microsoft better...and to become an Apple/Android copycat instead. Don't hold your breath for Windows in your car...without windowsphone there is NO need and NO demand for it. Nobody needs their PC integrated with their car--they need their PHONES integrated with their cars. Look for more layoffs at Microsoft instead, & the death of the consumer division of windows. A company cannot survive on a product it is giving away for free.

Wow, this is such BS. You are literall clueless... go away.

For goodness sake ... just get Mirrorlink working now. The lack of Mirrorlink in my 950 to link to my new car has me seriously considering purchasing Android.
Windows Central Newsletter
Thank you for signing up to Windows Central. You will receive a verification email shortly.
There was a problem. Please refresh the page and try again.