YouTube is now a PWA, but don't get too excited yet
By Sean Endicott published
Google continues to swap its services to progressive web apps.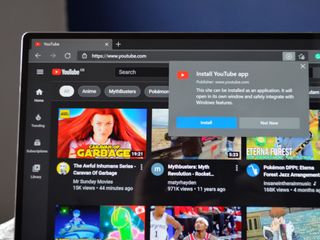 (Image credit: Windows Central)
What you need to know
YouTube is now a progressive web app.
At this time, there aren't any meaningful new features that come from the swap to a progressive web app.
Progressive web apps support downloading content for offline use, but the YouTube progressive web app does not support that at this time.
YouTube is now a progressive web app (PWA), making it easier to "install" on your computer. The change was first spotted by 9to5Google and is a small improvement to the YouTube experience within a browser. At this time, the change to a PWA doesn't include any meaningful features, apart from the ability to "install" YouTube with the click of a button. While there aren't many meaningful features that come with the swap, there are other benefits of switching to a PWA.
While the swap to a PWA doesn't bring any new meaningful features at this time, that doesn't mean there won't be additions to YouTube in the future. PWAs support features such as downloading content, which could come at a later date.
Chrome Unboxed highlights that Google wants developers to have offline support for PWAs. In fact, the company states that in the future PWAs without a "basic offline experience" won't show the install prompt within Chrome that we now see for the YouTube PWA:
It's unclear if these plans and the fact that YouTube shows an install prompt mean anything related to offline support. At this time, there's no support for downloading content through the PWA.
PWAs are also one of the key ways that the web is moving forward. They're first-class citizens on the upcoming Windows 10X and are increasingly popular among developers and companies due to their ability to work well across platforms and form factors.
If you're using Google Chrome, you'll now see a plus icon within a circle in the browser's Omnibox. Clicking that icon will "install" the app on your computer. If you're using the new Microsoft Edge, you'll see a similar experience within the address bar.
As a quick note, you can "install" any website that you'd like onto a computer. For example, you can Install Disney+ as a Windows 10 app if you'd like.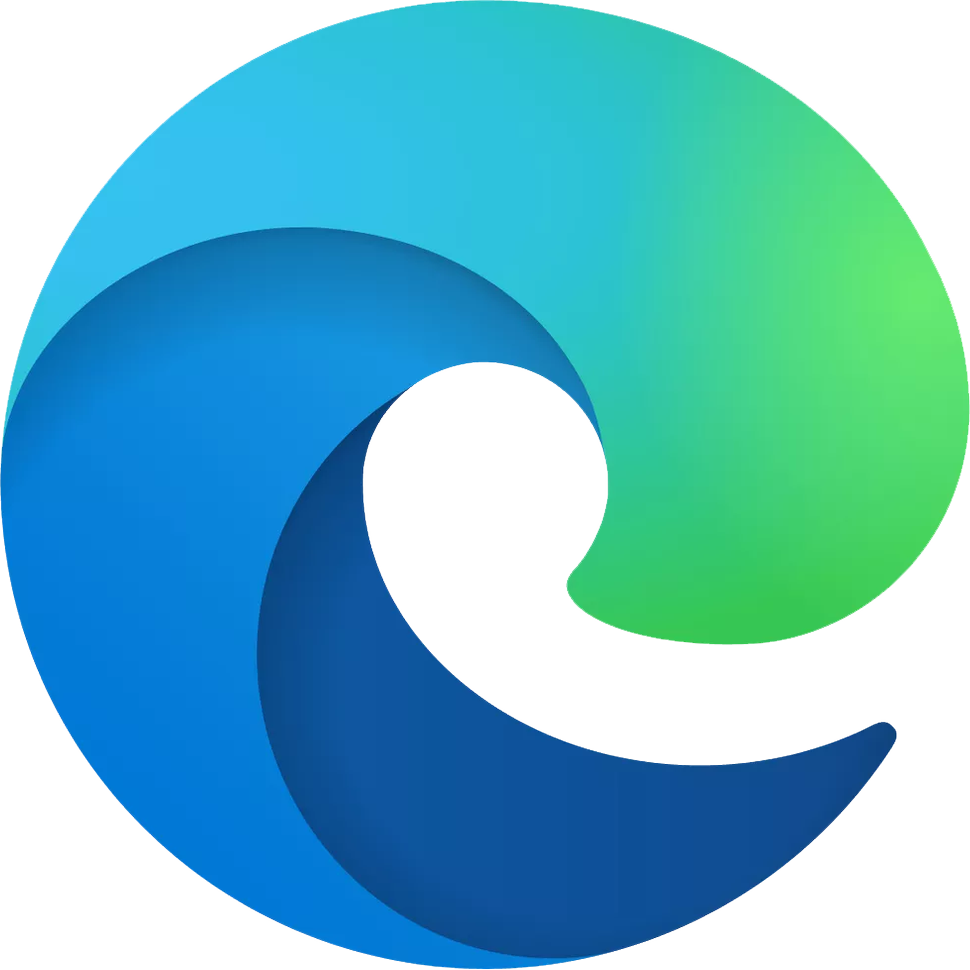 Download it now
Microsoft Edge
A worthy browser.

The new Microsoft Edge runs on Chromium, supports popular extensions, and regularly gets new features from Microsoft. The Canary version of Edge gets new features to test and try out regularly as well.
Sean Endicott is the news writer for Windows Central. If it runs Windows, is made by Microsoft, or has anything to do with either, he's on it. Sean's been with Windows Central since 2017 and is also our resident app expert. If you have a news tip or an app to review, hit him up at sean.endicott@futurenet.com.
For the time being these are basically just shortcuts to websites. I think the only decent one I've used in the past is Netflix from Edge.

Still better than the broken comments and likes and mediocre UI of myTube. And at least you know all the videos will run. If myTube didn't also block ads, I'd switch to the PWA in a heartbeat.

You can get an extension to block ads on YouTube either through ms edge or Chrome Web stores.

Was wondering about that - thanks.

I don't agree with that being a Medicare UI, it's just different and actually better to use with touch and more leaner that it focused more on the contents such as video. Thus it is bigger than what normal YouTube does. Though the comment is fine, but may lack few things like upvote. And will not always be reliable not because the myTube developer is bad, but because YouTube constantly make changes that breaks any 3rd-party YouTube apps such as myTube. The fact that there is always a constant update to the app means the developer actually works hard to catch up with YouTube API changes. While the UI is actually more polished than MS own UWP apps taking advantage of Acrylic, Pivot navigation, connected animations, Picture-in-Picture, Xbox controller support which is perfect for Xbox and touch.

I don't want to knock the myTube developer. That said, an objective comparison between the experiences in the website and in the myTube app makes you want to use the website/PWA (unless you didn't realize you could block ads in the PWA).

I much prefer the myTube UI over the regular website

Netflix has it's own UWP app, which is better than using a browser version

Is it, though? The app is slow. To me, the only good thing about it is that you can download stuff.

UI isn't as good as the browser but it's good enough and I still use the app 100% if the time. Also the app can do 5.1 surround sound too, which I'm pretty sure the browser can't.

I don't find it slow at all personally. I really like the Netflix app. I'm on a high-end last-gen ultrabook.

I use YouTube TV, Twitter, and Slack as PWAs all the time. Even OWA is often better than the app due to being faster. Using Edge on macOS has the same benefit. I installed YouTube TV and it's nearly impossible to differentiate it from a standalone app.

You're probably doing all this on a Surface Pro X? PWAs are the way to go on ARM platforms because of compatibility and battery life issues with installed apps.

Why would you do this when there's a proper Netflix Windows 10 app?

Not sure as well, is there a better advantage on using the Netflix website when the proper app do just fine? It's also pretty snappy to use as well.

which is why Microsoft failed in the phone area. All their apps tend to be nothing but horrible web wraps that are terrible at best.

You can do the same with YouTube T.V. I've had it for several weeks now. It's works great just like the web site, of course.!!

Yeah, YouTube TV is great. In fact, you can do this with Google Maps and Google Photos too, which is a great solution on Windows. Maps even has GPS support, so if your Windows device has LTE you know have Google Maps too.

YouTube TV yet another of Google's USA only services :-/

I do this with Maps, Photos and Sites. They work awesome! Flawlessly in Edgium.

Maybe this is the reason then why yesterday the YouTube pinned web application icon in the start menu stopped responding completely until I uninstalled the app and reinstalled it today. Apparently nothing has changed other than the seek control finally working when hovering on the progress bar of the video instead of having to scroll down and hovering it 30 pixel below. But now that myTube! 4 is out and is finally handling limited availability videos correctly, I may still get back to using it rather than the PWA.

myTube 4 seems to run more videos reliably, but otherwise the UI changes are more visual than anything. The comments, suggestions tuning, non-video content, upvoting ... all still either broken or missing.

Sadly recent YouTube API changes break these 3rd-party apps. MyTube used to be super reliable on this. The dev is constantly making updates, but the bugs caused by YouTube affects it, even playback at times. Shame since I like its overall UX. It may not necessarily follows standard Windows UI, but still follows the Fluent Design approach as a whole and way better that Microsoft owned apps. It's got connected animations, tasteful Acrylic, works well with both touch and mouse use, have good picture and picture support, scales very well even on very small window while snapped (due to intentionally still supporting W10M), good Live Tiles support, and still remains very snappy if it wasn't due to bugs.

Yeah, again, I don't want to knock the developer. I am a paying customer and I'm happy to support the dev. I know that at least some of the issues are really just YouTube messing with their side of the code and making it hard to develop on Windows. But that doesn't make the experience in Windows better. It took me months to realize that my upvotes for comments never materialized in YouTube, for example. And YouTube has turned into much more than just a video platform in recent years, and that's not reflected in myTube.

Yes, Google-end API support os terrible and makes me switch between mytube and the PWA, but myTube gives a 100% ad-free version which YouTube fails to provide even on children's channels what it said to be aiming for in the first place with its ad overhaul. And on top of being esthetically more appealing, the download feature of it is seamless. Also, it is still running flawlessly on my Lumia 950, as the only option.

Yeah, the exact same thing happened to me, too.

In Edge, maybe Chrome too, there's also a tick box to open the app on login.

It all looks good for Windows 10X on WP phones. I hope that more developers jump on it to make it possible sooner.

Would love this working on my 950 xl

I still don't see the point in them, may as well open a browser, anyway I thought there was a YouTube app on the Windows store, I could be wrong as I don't use the Windows store, but I am sure someone said there was.
Windows Central Newsletter
Get the best of Windows Central in in your inbox, every day!
Thank you for signing up to Windows Central. You will receive a verification email shortly.
There was a problem. Please refresh the page and try again.