Zendesk help desk software launches WP7 app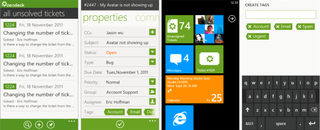 Cloud-based help desk provider Zendesk has released a version of their mobile app for WP7, complete with live tiles and Mango support. Zendesk is a service that allows companies to host, log and track support tickets, be it for IT, customer service, or internal business. With the mobile app, support representatives easily view and modify their tickets, as well as respond to them. Simply download the app and log in to your account. The full feature list is as follows:
Access all your support ticket views
View and update comments, CCs, tags, and ticket fields
Apply predefined responses, or macros, to tickets with frequently asked questions
View all support ticket events and notifications
Pin ticket views and specific tickets to the start screen as Live Tiles for easy access
Easily bookmark a ticket for future reference
Search support tickets
Upload and view attachments on tickets
Take a photo and attach it to a ticket
If you use Zendesk already you can get the mobile app for free here. Not a user yet? Sign up for a 30-day trial.
This is great news for me I use Zen desk and hadnt really expected them to release anything for WP at least not yet. A nice surprise to see this!

Awesome! I also use ZenDesk and I would have NEVER expected an app from them. Too bad they haven't updated their site to say they have the app.

Help deskWow, it's about time, it was getting increasingly difficult to integrate mobile platform into existing servicedesk & helpdesk clients. Hopefully this remains stable throughout time and versions.
Romain DESMOINES, Paris
Windows Central Newsletter
Get the best of Windows Central in in your inbox, every day!
Thank you for signing up to Windows Central. You will receive a verification email shortly.
There was a problem. Please refresh the page and try again.