Zinio app headed to Nokia Windows Phone 8 devices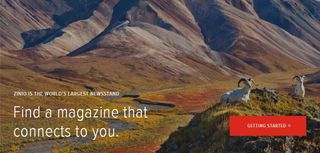 Zinio (opens in new tab), a popular digital newstand service, has announced they will launch a Windows Phone 8 app that will be an exclusive for Nokia Windows Phones.
Zinio already has apps for Android, iOS and Windows 8 platforms. The Windows Phone 8 version of the app is expected to debut a new look and feel that is optimized for the smartphone experience.
New features include:
Reading List – a seamless, up to the minute stream of select articles from trending magazines and full issues from user libraries, available offline and online
Background downloading – Reading Lists update automatically while on wireless, fetching new articles and magazines
Personalization features – new preference picker allows users to define the article stream in their Reading List by area of interest
Windows Phone 8 live tile support, bookmarks, pinning, and more
Improved text mode support for easy reading on smartphone screens
There was no date mentioned on when the Zinio Windows Phone 8 app will be released. The press release did mention that the app will "be exclusive to Nokia Lumia customers at launch" so hopefully Zinio will be available for all Windows Phone 8 devices shortly after release. It looks like a promising app and service for the Windows Phone platform.
Source: prnewswire (opens in new tab) via: MobileSyrup (opens in new tab); Thank, Bern-nutz, for the tip!
George is the Reviews Editor at Windows Central, concentrating on Windows 10 PC and Mobile apps. He's been a supporter of the platform since the days of Windows CE and uses his current Windows 10 Mobile phone daily to keep up with life and enjoy a game during down time.
Cool, the more the merrier but, what about Nook? That other one that just came out for Windows 8? Where are the ports?

Nook Media is owned by B&N and Microsoft, where is your inner fanboy!?

I own a nook, I don't want only Amazon and Apple!

Nook hardware cannot compete with Apple and Amazon but, as I understand it, their ebook sales are not bad. I think Barnes and Noble made a huge mistake by not allowing access to the Android app store on their Nook devices. I know nothing about business but I assumed Microsoft was going to use Barnes and Noble's online library as it's designated ebook store for Windows 8/RT and Windows Phone, similar to Apple and iBooks, Amazon and Kindle. I also suspected Microsoft might consolidate with Barnes and Noble and put Microsoft Stores inside Barnes and Noble retail space the way Apple has done at Best Buy. I prefer Barnes and Noble to Amazon and hate the thought of Amazon as the only major retailer for books.

Excited for this one...I actually have a few magazines that I read on Zinio, so it would be great not to have to use the iPad for it all the time.

I have no idea why I still have magazine subscriptions, I never read them. Think I have about 12 active at the moment.

See if your local library has a zinio subscription. You might be able to cancel those subscriptions and view the magazines on zinio via your local library.

It runs HORRIBLY on the Surface RT.

Sadly, NextIssue has a far better selection of magazines, but that runs even worse.

Zinio on Win 8 was so buggy it was unusable.

I agree, it is complete rubbish. Only thing that keeps me coming back is all the free credits they give me to buy nudie magazines.

Nokia only!?
This software fragmentation is starting to look like s hit.


Coz Nokia paid for the development .. Tell that to HTC and Samsung who are more interested in Android

True, but this app will be released for all of the other phones within a month or two

I agree that it sucks, but this is kind-of the result of the laziness of HTC and Samsung, perhaps even Microsoft. Nokia is the one probably putting in the hours and money into etting these apps here, so it doesn't do them much good to give it to the competition. That'd basically mean Nokia was paying for the competition to succeed, while hurting its own status in the marketplace.

If it wasn't for Nokia, this article would be nonexistent because the app would not be coming to begin with.

I am so tired of this argument. Non Nokia owners are gonna be pissed. Us Nokia owners are going to be happy. There is no need to keep explaining why it will be exclusive to Nokia. You know why, but you don't want to accept it. Your in denial for choosing a non-Nokia phone. Why did you not buy a Nokia in the first place? This isn't new. Guess what...there will be more apps in the future that are Nokia exclusives. Will you still be surprised then? Will it still make you upset? Sell your HTC/Samsung and get a Nokia. I'm so tired of this argument

Walter1832 you speak the truth, and they can't handle the truth!

@SAYS this Nokia bashing thing has to stop and I am in line with you on that. Everytime a Nokia exclusive app shows up the whole argument begins. Nokia paid for it and got it. How is that fragmentation?

Sell a premium Nokia handset on carriers other than ATT, and people would buy it. I don't want to settle for a third tier device.

I totally agree! And all these people that is talking @#$% needs too shut up and blame Nokia for making their big time phone exclusive to only AT&T!!!

Okay.... Not good... This is a 3 rd party paid service and should be available for all windows phone... Nothing against Nokia but this is not good for platform... What if instagram only comes for Nokia?

Then you'd probably consider a Nokia...

Not everyone has the option of Nokia. AT&T gets zero reception in some areas. So you either have no Nokia with Sprint or the sh*t Nokia's with TMobile.

Nokia paid the developer for this. Why don't you complain to HTC and Samsung directly? Dude?

FINALLY. I've been waiting so long for this app.

Not a big fan of the Zinio format. It's the lazy way for magazine makers to go digital. Nothing really authentic to the digital medium. Not really the fault of Zinio. Mainly just magazine makers failing in this department.

I hope Next Issue makes an app for Windows Phone 8. Their new app for Win 8/RT works great.

Sweet, I have this on my android tablet and I got a few free subscriptions there

Is this available in other languages or is it a English app and magazines? Anybody tested it?

Check their site. There appears to at least be some Swedish magazines, but the vast majority seem to be in English.

this is pretty cool, saw it on windows 8. my biggest complaint though is you have to rebuy digital subscriptions to magazines you're already subscribed to in print form.. really not cool. wish there was a way to verify my current subscriptions to unlock them on this app, otherwise really don't see much value in it..

Nice! Glad I picked up my 920 last weekend. Now maybe I can ditch lugging the iPad to lunch if they do a good enough job. Btw, the Win8 version got somewhat less rubbishy over time. I still use it on the desktop.

WP8 is quickly becoming an ATT exclusive for people who want a premium device since the 8x gets no support and nobody else carries a flagship.

Yes. Thanks Nokia. Now I can read my subscriptions on my Lumia as well.

It even has a India specific site and collection. Awesome

This is super exciting. Now, when will the app be released?! :)

It's live! http://www.windowsphone.com/s?appid=236cc9f0-a250-4f1a-8f3a-b532d7a60b23

One of my fav apps! Looks and runs top-notch on my NL920.
Windows Central Newsletter
Get the best of Windows Central in in your inbox, every day!
Thank you for signing up to Windows Central. You will receive a verification email shortly.
There was a problem. Please refresh the page and try again.