Zoho Books app makes its Windows 8.1 debut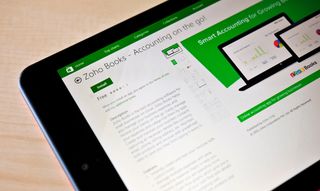 After releasing a version for Windows Phone devices in January, Zoho has now launched its Zoho Books accounting software app for Windows 8.1 and Windows RT.
In a chat with ZDNet, Zoho President Raj Sabhlok stated that Microsoft approached the company less than a year ago with a request to create apps for Windows 8. While Zoho's software and services could be considered as rivals to Microsoft's own Office suite, Sabhlok states that their customers are big users of Windows-based devices and that they wanted to service those businesses. He added that Microsoft offered up their own development resources to help create the Zoho Books app, which took about four months to develop.
The app itself allows business users to quickly create and mail out invoices, view their revenues and expenses, attach receipts for future reference, view all business contacts and much more.
You can download the Zoho Books app for Windows 8.1 and RT right now in the Windows Store (opens in new tab) in addition to the Windows Phone version. While the app itself is free, it does require a paid subscription to Zoho's cloud services in order for it to work. The company does plan to release more of its apps to Windows devices in the near future but specifcs have not been revealed.
What do you think of companies like Zoho expanding their services to cover Windows 8.1 and RT in addition to Windows Phone?
Via ZDNet
YAAAAYYY I DONT USE IT :D

Don't get me wrong, but actually nothing can rival Microsoft's Office Suite lol

Good to see that MSFT offers a sandbox that all competitors can play in, and they will help them bring their business to Windows.

Another great release ! What can I say "Windows Phone is on a roll this year" ! Good work Microsoft and Zoho

I'ne never heard of this Zoho before. Would love to have Apple's iWork pack for Windows+WP though.

More support with quality apps is always better.

These kinds of integrations and apps can be deciding factors between one company and another. Anybody remember when QuickBooks decided to stop support of Windows Phone? Well, Zoho Books is looking to benefit from that mistake...
Windows Central Newsletter
Get the best of Windows Central in in your inbox, every day!
Thank you for signing up to Windows Central. You will receive a verification email shortly.
There was a problem. Please refresh the page and try again.