ZOTAC's GTX 1070 AMP! Extreme GPU benchmarks on popular games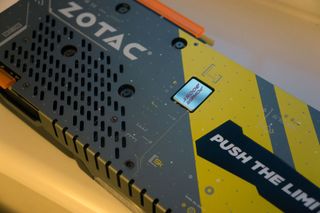 The GTX 10 series of GPUs are the latest and greatest from NVIDIA. The GTX 1070 is considered to be an absolute beast for 1080p and 1440p gaming, so we thought we'd test ZOTAC's GTX 1070 AMP! Extreme (opens in new tab) GPU and see how it fared. Taking a number of PC titles for a spin, we wanted to see how the graphics card performed under intense loads at both resolutions.
Our test bench consists of the following:
CPU - Intel Core i5-6400 (2.7GHz).
RAM - 16GB Corsair Vengeance LPX (2,133MHz).
Motherboard - MSI H110M PRO-D.
SSD - Kingston SSD Now UV400 120GB.
Grand Theft Auto 5
Grand Theft Auto 5 is an intensive title when there's a lot of carnage currently ongoing on screen. The GTX 1070 AMP! Extreme managed to maintain solid frame-per-second (FPS) levels, only dipping below 60FPS a few times at 1440p, and that's with all settings configured for best quality.
Total War: Attila
This game by Creative Assembly will give even the most powerful enthusiast machines a run for their money. Cranking all settings to their limit, we ran the benchmark suite and saw some interesting results. These numbers aren't too bad (averages of 39FPS and 32FPS aren't ideal but are playable), especially when one considers turning down AA and some other options that offer negligible differences at higher resolutions.
Rise of the Tomb Raider
Lara Croft played smoothly at both resolutions, only falling below the 60FPS baseline a handful of times. The drop was more considerable and noticeable at 1440p, however.
The Witcher 3
The Witcher 3 certainly made it difficult for the GTX 1070 at both resolutions on maximum settings, even with NVIDIA Hairworks disabled. That said, we only found the game to stutter slightly below 60FPS in odd situations that were definitely noticeable but only lasted for a few seconds.
DOOM
DOOM is so well optimized (shocker for Bethesda) that it will practically run on your smart fridge or automobile infotainment system. Being matched with Zotac's GTX 1070 AMP! Extreme meant we were able to enjoy some great FPS levels, depending on the game level and the number of enemies on screen. Even at 1440p with all settings configured to the max, we never dipped below 77FPS.
Conclusion
The GTX 1070 is ideal for 1440p gaming and 4K in some titles with toned down settings. Some games like Total War: Attila require a more realistic graphics configuration, even at 1080p where the GPU struggled to hit 50FPS. If you're planning to buy a 1440p monitor in the near future, the GTX 1070 AMP! Extreme GPU by Zotac is a great investment. Those planning to stick to 1080p should go for a GTX 1060, and 4K display owners should really consider purchasing the GTX 1080, even though it's expensive. For more options, have a look at our best graphics card picks.
See at Amazon (opens in new tab)
Rich Edmonds is Senior Editor of PC hardware at Windows Central, covering everything related to PC components and NAS. He's been involved in technology for more than a decade and knows a thing or two about the magic inside a PC chassis. You can follow him over on Twitter at @RichEdmonds.
I like the review but... where are the comparisons? I expected at least a comparison to a normal 1070 to see what zotac has done to theirs to make it interesting. These figures have no context.

I am a little disappointed with the performance of my 1070 in VR. I suppose come May when AMD releases their Vega cards I could justify an upgrade I would have had it for 6 months.. Hopefully AMD delivers in VR!

koenshaku, before you run out to buy the best latest greatest gpu you might want to check whether the problem lie with the rest of your PC component setup. http://www.resplendence.com/latencymon Use the above tool to check for latency, VR PC need super low latency similar to professional audio recording setup. You might also want to check your memory bandwidth make sure its within acceptable standard speed. My DDR3 could do an average 16000MBytes/sec. I did made a mistake in my CPU clock multipler before resulting in getting only half the memory bandwidth performance resulting in low fps in all 3D games. http://www.maxxpi.net/pages/downloads/maxxmemsup2---preview.php Good Luck with your VR setup.

I don't have this exact card, but have a very comparable one which should post virtually identical benches: Asus ROG Strix 1070 OC edition. The rig was only built this past Saturday, though, so I haven't had too much time to play with it. But hooked up to a 43" 4K HDR TV, here's what I've experienced: Gears of War 4: Max everything, 4K resolution - runs in the high 40s to low 50s. DOOM: Max everything (including the two settings that support the "better-than-ultra" "Nightmare" setting) using the Open GL API, running in 4K - dips into the mid 50s, but stays pretty close to 60. Recore: Doesn't have a frame counter, but I eyeball it to be in the high 50s fps with max everything on 4K. Fallout 4: Also no frame counter, but this one is a little stuttery in max everything at 4K. I was considering turning this one down to 1440p, but had heard that it's just a poorly optimized game that will stutter at pretty much any setting. Forza 6 Apex Also full 4K and max everything. This game is very poorly optimized though, so all I could manage was 30fps. Still, it was a smooth 30, not all jumpy. The rest of my rig is not toooo different from the test rig here: Kaby Lake i5 6700K, Asus Strix Z270E mobo, Corsair Vengeance LED DDR PC3200, and a Kingston 120GB boot SSD / WD Black 2TB 7200rmp data HDD tag team. I guess my point is that in the games that I've tried out so far, unless you're seriously, unwaveringly committed to solid 60, then I'm finding that the 1070 is not only a rockstar for 1080p and 1440p - as advertised.....but is also a perfectly acceptable card for 4K gaming as well - even with all the settings cranked!.....that's not to say that I don't still hope to get a second card for SLI by next tax time. ;-) Cheers!

Run the GeForce Experience program, there's a setting to overlay the FPS on all games then.
Windows Central Newsletter
Thank you for signing up to Windows Central. You will receive a verification email shortly.