The 10 best Destiny 2 weapons you need to farm in Season of the Chosen
By Brendan Lowry last updated
Fill your inventory with these superb tools of destruction.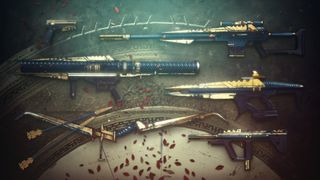 (Image credit: Bungie)
Getting top-notch weapons is a huge part of what makes the Destiny 2 grind feel so satisfying and rewarding, especially since you can weave these guns into the best Destiny 2 builds. In Season of the Chosen, there are plenty for players to chase across the game's various game modes and activities. Here's a breakdown of 10 Season of the Chosen weapons that you should be farming for, as well as how to get them and what perk rolls are the best for each one.
Extraordinary Rendition
This SMG is arguably the best one ever added to the game, as it has an incredible perk pool and solid all-around stats. In the first column I'd target Smallbore for a nice bump to range and stability, and in the second column you should look for Tactical Mag. Overflow or Outlaw are ideal for the third column. Finally, go with One For All, Rampage, or Frenzy in the fourth column.
For a chance at getting the Extraordinary Rendition, you'll need to play the Battlegrounds activity and smash a chest at the end with your Hammer of Proving. You can also focus Umbral Engrams back at the H.E.L.M. to target the Extraordinary Rendition more closely, though this will take a lot of time since you have to use Hammer of Proving charges.
God Roll: Smallbore, Tactical Mag, Overflow/Outlaw, One For All/Rampage/Frenzy
Code Duello
Rocket launchers got a big 30 percent damage buff when Season of the Chosen launched, and along with the buff came Code Duello, one of the best boss DPS rocket launchers ever added to the game.
Code Duello is best equipped with Quick Launch, Impact Casing, the new Impulse Amplifier perk that increases projectile velocity and reload speed, and Cluster Bomb in the perk columns. These perks maximize the amount of damage that you can inflict on a target in a short period of time.
Like the Extraordinary Rendition, you can get the Code Duello by smashing chests at the end of Battlegrounds runs or by focusing Umbral Engrams for Season of the Chosen weapons.
God Roll: Quick Launch, Impact Casing, Impulse Amplifier, Cluster Bomb
Threaded Needle
Linear fusion rifles aren't very popular at the moment as a whole (and never really have been), but that doesn't change the fact that the Threaded Needle's excellent PvE perk pool and stats make it a very viable Champion-killer in Nightfall Strikes and a strong DPS option in Raid encounters.
The best perks for it are Arrowhead Brake and Enhanced Battery in the first two columns for strong recoil control and a healthy magazine size. You should aim for Rapid Hit and Vorpal Weapon in the last two columns for maximum reload speed and damage against Champions and bosses. You could replace Rapid Hit with Clown Cartridge if you want, though the perk's activation is RNG-dependent.
Like the other Battlegrounds weapons, you can get the Threaded Needle by smashing open Battlegrounds chests or focusing Umbral Engrams.
God Roll: Arrowhead Brake, Enhanced Battery, Rapid Hit, Vorpal Weapon
Brass Attacks
I'm not the biggest fan of sidearms in Destiny 2, but if you are, you'll love Brass Attacks and its absurdly wide pool of superb perks. Shoot for Hammer-Forged Rifling and Appended Mag in the first two columns for improved range and magazine size. In the third column, Feeding Frenzy and Rapid Hit are both awesome for boosted reload speeds, while One For All, Rampage, and Frenzy in the fourth column are all excellent options for damage-boosting.
You can get Brass Attacks by smashing open Battlegrounds chests and by focusing Umbral Engrams so that they drop Season of the Chosen Battlegrounds weapons.
God Roll: Hammer-Forged Rifling, Appended Mag, Feeding Frenzy/Rapid Hit, One For All/Rampage/Frenzy
Imperial Needle
The Imperial Needle bow may be the last Battlegrounds weapon to feature on this list, but it certainly isn't less effective than the others. It has base stats that are higher than most other bows, and its perk selection is great as well.
I recommend Elastic String for good bumps to handling, charge time, and draw time, while your best bet in the second column is Straight Fletching — a perk that cancels out the small accuracy loss you get with Elastic String. Archer's Tempo and Impulse Amplifier are great options in the third column for improving your firing rate. Finally, you should opt for Swashbuckler in column four if you want boosted damage output, while you should go with Wellspring or Thresh if you want faster ability/Super regeneration.
Like the other Battlegrounds weapons, you can get the Imperial Needle by smashing open Battlegrounds chests or focusing Umbral Engrams.
God Roll: Elastic String, Straight Fletching, Archer's Tempo/Impulse Amplifier, Swashbuckler/Wellspring/Thresh
Shadow Price
The beloved Shadow Price auto rifle from the original Destiny has returned in Destiny 2, and it has some truly excellent perk options. Extended Barrel is an excellent pick in the first column for more range and recoil control, while Tactical Mag in the second column boosts reload speed and adds slightly more rounds to the magazine. Feeding Frenzy is the best perk in the third column (Overflow and Fourth Time's The Charm aren't bad, either), while Swashbuckler and One For All in the final column are perfect for raw damage boosts.
You should also consider Dragonfly and Disruption Break in this column. The former is superb for ad clear, while the latter is an excellent choice in Nightfalls where there are lots of Arc-shielded enemies since the Shadow Price does Arc damage.
You'll need to play and complete Nightfall Strikes to have a chance at getting the Shadow Price. Completing Nightfalls on higher difficulties improves your chances of getting the weapon. Keep in mind that the weapon on offer rotates weekly, so make sure the weapon of the week is the Shadow Price before trying to farm for it.
God Roll: Extended Barrel, Tactical Mag, Feeding Frenzy, Swashbuckler/One For All/Dragonfly/Disruption Break
The Palindrome
Returning alongside the Shadow Price is The Palindrome, and it's possibly the most satisfying-to-use hand cannon ever added to Destiny 2. Aside from having great stats, the gun also has a nice collection of sweet PvE perks. Go for Fluted Barrel and Appended Mag in the first two perk columns for improved handling, stability, and magazine size, and shoot for Outlaw in column three for a huge boost to reload speed on every headshot kill.
In the final column, go for One For All or Rampage if you want damage buffs, or alternatively go with Thresh if you want improved Super energy generation.
Like with the Shadow Price, you'll have to play Nightfall Strikes during the weeks that the Palindrome is available to have a chance at getting the weapon.
God Roll: Fluted Barrel, Appended Mag, Outlaw, One For All/Rampage/Thresh
Bottom Dollar
This 120 RPM hand cannon has quickly become a player favorite due to the strength of the archetype and the sheer number of perks available on the gun (seriously, there are 40 perks that can roll on this thing). It's going to be a staple in both PvE and PvP for a long time. I recommend Smallbore in column one and Tactical Mag in column two. For column three, Outlaw and Rapid Hit are both prime choices, though some Crucible fans may prefer Rangefinder for increase to range.
There are lots of interesting options in the final column — Rampage, Multikill Clip, and Wellspring are all excellent for PvE, while Opening Shot and Eye of the Storm reign supreme in PvP.
You have a chance to get the Bottom Dollar when completing Gambit matches or when earning faction rank-up packages from The Drifter.
God Roll: Smallbore, Tactical Mag, Outlaw/Rapid Hit, Rampage/Multikill Clip/Wellspring (PvE) OR Opening Shot/Eye of the Storm (PvP)
The Third Axiom
Like the Bottom Dollar, The Third Axiom pulse rifle has a ton of different possible perk rolls. Also like the Bottom Dollar, this is a strong weapon in both PvE and PvP. For the first and second column, Arrowhead Brake and Appended Mag are your best bets for improved recoil control and magazine size, respectively.
If you're mostly a PvE player, shoot for Feeding Frenzy and One For All, Rampage, or Multikill Clip in columns three and four. If you prefer the Crucible, go with Moving Target or Zen Moment in column three and Unrelenting in column four.
The Third Axiom can be obtained randomly when completing Strikes of any kind. You also have a chance to get it from Zavala when you turn in Vanguard Tokens.
God Roll: Arrowhead Brake, Appended Mag, Feeding Frenzy (PvE) OR Moving Target/Zen Moment (PvP), One For All/Rampage/Multikill Clip (PvE) OR Unrelenting (PvP)
Frozen Orbit
The final weapon on the list is the Frozen Orbit sniper rifle, which has good stats and nice perks for both PvE and PvP. I recommend Fluted Barrel and Tactical Mag in columns one and two, and if you're a PvE player, Triple Tap and Vorpal Weapon in the third and fourth column. PvP players will want to swap out Triple Tap and Vorpal Weapon for Moving Target and Snapshot Sights.
Frozen Orbit is a Crucible reward, so the best way to try and get your hands on one is to go play PvP matches. You also have a chance at one every time you rank up in the Crucible and earn loot drops from Lord Shaxx.
God Roll: Fluted Barrel, Tactical Mag, Triple Tap (PvE) OR Moving Target (PvP), Vorpal Weapon (PvE) OR Snapshot Sights (PvP)
What are your favorites?
Do you agree with our list? Do you have other new favorite weapons from Season of the Chosen? Let us know. For more on pieces of powerful Destiny 2 loot, check out our roundup of all the best Destiny 2 Exotic weapons and armor.
Destiny 2's latest expansion, Destiny 2: Beyond Light, is available now on Xbox Series X, Xbox Series S, Xbox One consoles, and Windows 10 PCs for $40. The base game is free on all platforms, so if you haven't tried it out yet, I highly recommend doing so since it's one of the best Xbox One shooters available.
If you do end up giving it a shot, don't miss my guide on how to get into Destiny 2 in 2021 for some tips, tricks, and pieces of important information.
Wield the Darkness
(opens in new tab)
Europa awaits

Beyond Light is the next big expansion for Destiny 2, introducing a new element for Guardians to wield, a new area on the Jupiter moon Europa, a new story, and plenty of loot to go around.
Brendan Lowry is a Windows Central writer and Oakland University graduate with a burning passion for video games, of which he's been an avid fan since childhood. You'll find him doing reviews, editorials, and general coverage on everything Xbox and PC. Follow him on Twitter.
Try finding an extraordinary rendition with Chambered Compensator, Flared Magwell, Overflow, and Tap the Trigger, and stability masterwork. You will thank me later. Also, Code Duello is a beast, but I highly recommend Chain Reaction over cluster bomb. Also, do not overlook field prep because it gives you 9 rockets.

Eh, I'd rather have chain reaction on a RL with more options for ad clearing
Windows Central Newsletter
Get the best of Windows Central in in your inbox, every day!
Thank you for signing up to Windows Central. You will receive a verification email shortly.
There was a problem. Please refresh the page and try again.