12 Days of Giveaways includes the HTC Radar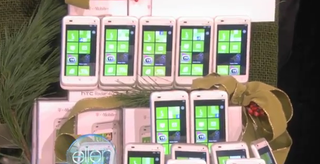 T-Mobile is offering the HTC Radar 4G for free today but that's not the only place the Windows Phone was being given away. The Ellen Degeneres Show is having a 12 Days of Giveaways event where audience members get a free gift or gifts. Twenty-five viewers are also selected from on-line registrations and will also receive the gifts.
Day one and two appeared to be dominated by gift cards but Day Three was heavily sponsored by Microsoft. The giveaway landed an Xbox Live with Kinect, an Acer laptop, a Beats headset, a Go Pro video camera, an HTC Radar and six months of service through T-Mobile (check around the 2:38 mark).
All in all the gift package was valued over $2,700 and made a lot of studio audience members happy. It is also pretty good exposure for Microsoft. No clue as to what the remaining nine days of giveaways will bring but if you're feeling lucky you can register here at the show's website (opens in new tab).
Windows Central Newsletter
Get the best of Windows Central in in your inbox, every day!
George is the Reviews Editor at Windows Central, concentrating on Windows 10 PC and Mobile apps. He's been a supporter of the platform since the days of Windows CE and uses his current Windows 10 Mobile phone daily to keep up with life and enjoy a game during down time.
umadbro?
Like her or not, if they get Ellen, who is admittedly not tech-savvy, to switch from iPhone to Windows Phone, they'll reach a lot of other people who I think would be happy with Windows Phone.

Just stating a fact. I can't say if I like her not since I don't watch the show. She was an OK comic and her sitcom made me laugh, but 12 days of advertising makes her a shill. I thought I was being nice by not calling her a whore. I guess this is a way to reach soccer moms, but yuck. All I can say is I'm glad I don't have a Radar.

Dont you think thats a little harsh? Microsoft is behind this whole marketing effort so why does 12 days of advirtising make her a "shill"?

Any publicity is good publicity, especially in this case because it advertises to the non-techies.

Seriously, it reaches to many people.

While she may or may not get more money from 12 Days, I believe she genuinely likes making her fans happy as well as helping a lot of causes and charities and people. That hardly makes her a shill.

Giveaways are the best marketing strategy anywhere. Where there is something free people always gather, so with a few trade show giveaways your business will see much more success.

why is it that whenever this site reports on something good about WP, some fucking idiot has to come along and talk shit?

Well said, and to the point.

I don't think it's good. I think it's lame and I think Ellen is lame. The Nokia stuff was good. That big phone in NYC was good and the 500 phones to make one big phone was good. Those are just my opinions. Sheesh.

lippidp
Jesus! This is something positive for windows phone. This is great publicity! She mentions windows phone and an audience full of normal everyday people cheer! This is awsome! And why in the hell are you saying such horrible things about Ellen? She's actually pretty cool. She does a lot of good things for a lot of people. What the fuck is wrong with you?

OK, fine. I didn't think I would upset so many people. In my crowd it is universally accepted that Ellen has gotten lame throughout the years. It's just an opinion and I will keep it to myself next time.

Calling her lame didn't upset anyone. Cause it's true. Just looking at those fake emotions of that phony audience is nauseating.
But calling her a whore? Why? Because she makes more money than you?
Promoting stuff on TV is her fraking job. You jealous twat.


Yeah, I'm jealous of Ellen because she makes more money than me. Whoa, you are a psychological genius! I hope someday your brilliance is noticed by someone other than your mom, who, coincidentally, is a whore. Hahahahaha. Ok, over and out.

That 360 on the right is upside down, blashphamey!

I have to suspect sad little droid or iPhone trolls are spending time on WP websites again. Who else would complain about some give-away marketing for a Windows Phone model? WP fans are the ones who complain about a LACK of marketing for our favorite device. And attacking the host? That's just juvenile.

some comments here are sooo immature... I know msft needs to push windowsphone aggressively, but you all forgetting, they dont only sell windows phone... As you can see by the give aways there's a lot of msft products.... The radar is a nice gave away, most of the people in the audience will probably love it with free 6 months of service?? What more can ask??? I say 1week is enough to love the phone...!!! Good job msft... So how will I know I won the gave aways???

Your site is good Actually, i have seen your post and That was very informative and very entertaining for me. Thanks for posting Really Such Things. I should recommend your site to my friends. Cheers.
70-680 // 70-642 // 70-536 // 70-646 // 70-432 // 70-515 // 70-643 // 70-662 //

Congratulations on having one of the most sophisticated blogs I've came across in some time! Its just incredible how much you can take away from something simply because of how visually beautiful it is.
running shoes for flat feet
Windows Central Newsletter
Thank you for signing up to Windows Central. You will receive a verification email shortly.
There was a problem. Please refresh the page and try again.