12-person Xbox party chat comes to everyone as new features roll out to preview program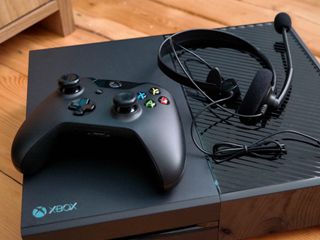 Xbox's Larry "Major Nelson" Hryb took to a blog post this evening to announce that party chat is expanding to accommodate 12 people for all Xbox users. This means whether you're using the Xbox One or the Xbox app on Windows 10, you'll be able to take advantage of 12-person party chat. Do note that this is a server-side change, and you won't have to download an update to enable the larger party chat size.
In addition, people testing the "New Xbox One Experience Preview" will receive an update this evening that adds the following features:
Party text chat adds more communication options. In the New Xbox One Experience, text chat joins voice chat as a way to communicate with your friends. At the bottom of the 'Your Party' page, you will see a button to 'Show text chat.' This will let you participate in the conversation. Party text chat will also come to the Beta Xbox App for Windows 10.
A streamlined Game DVR experience. We have combined the functionality of the Game DVR snap app and the former Upload app into one easy-to-use app called Game DVR. In full screen mode, you can use this app to view your game clips and screenshot captures. When snapped, you can use Game DVR to start or stop recordings.
New animated avatars. They are back and better than ever. You showed us that you are passionate about Avatars with many requests on Xbox Feedback. The new avatars will be animated on your profile and will start showing up in other new places in the new experience. If you prefer a gamevpic, you can easily switch your image.
Updated menu for quick access to common actions. The menu button on your controller lets you pin an app or game to Home, launch a recently played game, or quit an app or game with just the touch of a button.
Access new settings in the Guide. Adding to settings already included in the guide, like adjusting the headset volume, you can now turn your console off or restart your console directly from the Guide.
Are you excited for the latest changes across the Xbox platform? Let us know what you think in the comments.
Source: Major Nelson Blog
Dan Thorp-Lancaster is the former Editor-in-Chief of Windows Central. He began working with Windows Central, Android Central, and iMore as a news writer in 2014 and is obsessed with tech of all sorts. You can follow Dan on Twitter @DthorpL and Instagram @heyitsdtl.
I consider my self a fan boy But I do not understand folks obsession with avatars

I love them, there should be more games featuring them like Doritos Crash Course. Makes my Xbox feel more personal, too.

I liked just how many 360 games would let you integrate your avatar into a game. I recall sinking a ton of time into that motorbike game we had on 360. And a pretty decent little Smash Bros clone.

...and on that note, I'm a bit shocked we haven't seen an avatar-based MMO chat client.

I think there could be a lot of ppl interested in that, I'll post some feedback and request that feature...preview insiders should follow suit, even if they don't really care for it. =D

I don't know Where do you guys gather all these information from? Everytime I see a different source. How is this possible that you keep your eyes on so many resources! Amazing job!
Btw.... I'd love to try that on my XBOX ;)

Google alerts helps with knowing about things as they happen.

A combination of RSS feeds, Twitter lists, and email tips! The trick is keeping up with it all ;)

Clearly done in time for 12 man halo 5 war zone mode ;)

Why can't they bring party chat to mobile?

Why can't they make exploding bananas?

Because red is on the popcorn knuckle cluck.

Apple owns the patent for exploding bananas.

That would be great. Especially, if you could use a headset or the phone's speaker to party chat too.

Can't believe my Xbox is still pending after two weeks since the notification that I could be on the NXE\W10 train.... I'm already running preview builds. Hope my console will update overnight.

The Windows 10 based New Experience is being rolled out SLOWLY, and, to start with, a very small install base, even to those of us that have opted in for it, they'll slowly push out the update to those that have been using the preview feedback a lot to start with, then more and more of us as it gets more and more stable. I'd like to see it soon, but it has to be more stable than the current Windows Phone preview, so I'm happy to wait for a couple of those early (ALPHA) updates to bypass me.

Lol still waiting on 1809 RTM so I can trade towards elite

I'm in the same boat and I'm sick of waiting to get the frigging new dashboard. Posted via the Windows Central App for Android

Party chat to mobile wont be a far stretch soon, as windows becomes more and more unified across all device types it should be seamless.
Cross platform gaming is where I want it to get to.

All I'm asking for is OneGuide notifications.... Make it happen Xbox team.

That snap business is tripe. Drives me potty that when I play games but want to check controls or achievements, it brings up the snap menu, which takes a long while to load.

The New Xbox Experience has reduced the wait on snapping apps and made them more uniform. You'll see soon enough.

It's actually so much quicker using your voice

The wait can be a little annoying but I rather like that it doesn't just kick you out of game, but I would prefer if it didn't auto switch controls to the snapped app. I don't want to die in game just to quickly check something =[

Someone in the beta let me know if that text party thing requires an active party. I've been asking Microsoft for ages for some sort of group messaging (so I could share a game clip with all my brothers, and instead of sending 4 individual messges of that clip, and unfortunately 4 separate conversions, just having one message and one conversation for the five of us). This looks like it might be a step closer to that.

What's the point, if in about 1 month it's changing to win10?

The change was made server side, so the 12 person chat goes out to everybody. The other changes are specific to the Windows 10 Experience on Xbox One. Is it definitely getting a general release in a month? Sounds like there's still numerous bugs to work out for the Windows 10 Xbox One Preview users, so it may not be ready in exactly one month? As long as it's fast when it hits GA then that's fine with me. In the meantime I'm waiting to get into the Windows 10 Preview. I'm really hoping for a lightning fast OneGuide experience so I can pair that with a decent media remote and have a TV experience that's easy for everybody to use, not just people comfortable navigating with an Xbox controller.

12 man party chat is arrving in time for Halo 5, with 12 player per side warzone. Regarding other features, they are probably rolling them out so that the Windows 10 download time is as small as possible, by offloading small parts.
Windows Central Newsletter
Thank you for signing up to Windows Central. You will receive a verification email shortly.
There was a problem. Please refresh the page and try again.