Accessory Review: 180s Headphone Ear Warmers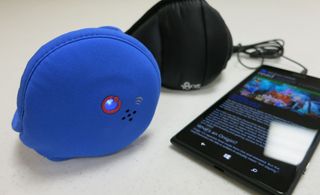 It's that time of year again, when the warmth fades from the air and the landscape turns to a barren white wasteland. Okay, we don't get so much snow in Texas. But even here you can walk around without fear of spontaneous combustion, so we're all in the holiday mood.
When you're out and about in the cold, your normal headphones likely won't do much to protect your ears from the elements. Lucky for tech enthusiasts, a company called 180s has products that will keep your ears both warm and entertained. 180s makes Bluetooth ear warmers (ear muffs) and several styles of wired ear warmers. Having used a couple of pairs over the last few weeks, it has become tough to brave the falling temperatures without them.
Wired Ear Warmers
180s makes numerous styles of wired ear warmer headphones, including down, fleece, urban, exolite (ultrathin), and numerous styles aimed specifically at women.
For this review, I picked up the down headphones. The down type only comes in black. They have a down-filled and water-resistant nylon outer shell and an extremely soft and fuzzy faux sherpa interior liner. That liner is so soft and warm, it's like wearing a fur-lined coat over your ears.
Like all of 180s's ear warmers, the down headphones are worn behind the head instead of over the top. This keeps the neck warm as well as the ears, and makes it easier to wear the ear warmers with a hat or glasses. In fact, I wore all three at once quite comfortably.
You can tell how the ear warmer's headphones are meant to be oriented by checking the 180s logo on their interior. Keep the logo right-side up when you put them on and you'll end up with the left and right speakers over the intended ears.
The wired headphones connect to your phone or other device by a 3.5mm cable that extended from the interior of the left ear warmer. The cord can be removed for those times you need ear warmth but don't want to listen to the headphones. The downside is the earphone's male connector will be exposed when you remove the cable. You shouldn't feel it much though, certainly no more than you'll feel the cable when it's actually plugged in.
As for the cable, it has a microphone for phone calls. A button on the mic piece will allow you to answer or hang up on calls, but it doesn't have in-line volume control. Gotta use your phone for that.
Bluetooth Ear Warmers
180's second generation Bluetooth ear warmers (referred to as Bluetooth II or Gen 2) come in three colors: blue, white, or black. The body has a soft outer lining, while the black interior is lined with fleece in a grid pattern. Compared to the down ear warmers, the inside feels more cushioned than the relatively sturdy exterior.
The Bluetooth ear warmers have a built-in microphone for calls on the outside of the right ear cup, next to their single LED and button. To pair them with your device, press and hold the button for 8 seconds. The light will blink rapidly until you choose to pair from the phone or tablet. Once the ear warmers are paired, you hold the button for six seconds to turn them on our off (which makes a beep and causes the light to flash). Yes, it's a little too easy to accidentally go into pairing mode. A second button would be nice.
The Bluetooth ear warmers have a built-in rechargeable battery. They get nine hours of talk time, eight of music time, or up to 100 hours in standby (on but no sound). The actual charging takes 3.5 hours.
To charge these headphones, connect the included micro-USB cable to the female input found in the interior of the right earcup. Charging is my least favorite aspect of the design here. The micro-USB port is tucked away behind the fleece liner, so you can barely see or find it. The ear warmers are designed to constantly squeeze closed (so as to fit on a head), making it tough to keep them open enough to locate the port and insert the cable. It's a tiring process, and you'll want a good light source while attempting it.
Here's my design solution to the micro-USB port issue. Put the port on the outside of the ear cup instead of the interior. You can't leave it exposed to the elements, so add a Velcro flap to protect it when not in use. Do that with the third generation Bluetooth ear warmers and they'll be just about perfect.
Warmth, comfort, and clean sound
Whichever style of 180s ear warmers you choose, you can expect a good-great fit thanks to their adjustable click-frames. Basically, pulling out on the frame causes it to extend slightly, and vice versa. 180s describes these as "one size fits most." If your head is particularly small or large, you might find the ear warmers slipping backward instead of gripping tightly. My noggin's a fair size and they stay on quite well.
All styles compact nicely and can easily fit in a pocket (with bulge) or bag. The closed ear warmers take up less space than a beanie.
The decision between wired and wireless comes down to budget and preference, really. People who lives in colder climates where it snows a lot can probably justify spending more on the Bluetooth ear warmers. Places where it doesn't snow and/or only gets cold a small portion of the year might better warrant the affordable wired ear warmers.
The cordless Bluetooth variety is naturally a bit more comfortable and freeing. But then again, you have more choice of styles and textures if you go wired. You can't go wrong either way, as both of the ear warmers I tried kept me extremely warm. The speakers sound great too, despite the insulation of the ear warmers. If you've got things to listen to while you're out in the cold, 180s ear warmer headphones are a perfect choice.
Note that Amazon incorrectly lists the down ear warmers as a women's product, but the packaging and 180s's own website refer to them as a men's product.
Get the Windows Central Newsletter
All the latest news, reviews, and guides for Windows and Xbox diehards.
Paul Acevedo is the Games Editor at Windows Central. A lifelong gamer, he has written about videogames for over 15 years and reviewed over 350 games for our site. Follow him on Twitter @PaulRAcevedo. Don't hate. Appreciate!