1Password Alpha Windows 10 app updated with Teams support, ditches Windows 8.1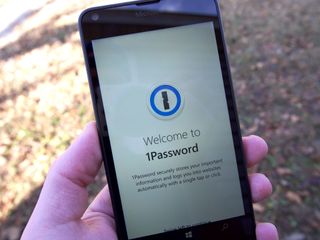 After a few months of waiting, developer AgileBits has released a new alpha release of its password storage and management 1Password as a universal app for Windows 10. With this release of this new version, it is officially ditching support for Windows 8.1 devices.
Here's the rather long change log for the new update, which has the version number of 1.1511.22.
Password for Teams (https://teams.1password.com/) support
bugs, many bugs are squashed and removed. And yet, we believe there are many things we can (should and will) improve in the coming updates. Please have backups of your critical data when you play with edit and don't hesitate to write to support or ask in forums https://discussions.agilebits.com/categories/windows-modern-beta for help or to let us know that something isn't working well (even when it's obvious).
Lots of changes done and more on the way, we are coming back to "release often" life style
items can be edited and saved in .opvault format (not synced yet, we are working on it)
items can be edited in .agilekeychanin format, but save disabled until we finish all tests
vaults selector is also the place to manage your connections to OneDrive, Dropbox, Folders and Teams
all open connections and vaults information is encrypted and stored in roaming profile. That's right, you just connect on one device and other Windows 10 devices, using the same Microsoft account, will have your connections shortly. Roaming speed depends on multiple factors and managed by Windows 10 itself. If you do not see connections appearing right away, give it a little time or try to force roaming profile sync by locking Windows user.
master key protected is stored in Password Vault protected by master password (hit Windows key and type "Web Credentials" to find it, look for op:// resource). Every 1Password for Windows Modern app is reacting to change of master password by locking itself as soon as changes are detected in Password Vault.
long awaited search of vaults everywhere in OneDrive, just like we did it with Dropbox. No more app folder requirement ;)
settings button is now using a flyout menu instead of inline UI
"Scan control code" command in Settings menu to use your device's camera to control 1Password (our support may send you some QR codes to get the job done) or you can use it to scan Emergency Kit from * * * * 1Password for Teams to quickly regain access to your team!
current activities renamed to live log
you can now copy, save to file or send email with live log
you can now send email with crashes or open folder with crash reports. We hope you don't need that, but we know there will be bugs and crashes and we want to get them fixed as soon as possible.
vault title and icon are part of nav button now
removed duplicate username/password fields from login items
advanced options are gone, they are replaced with special links and QR codes
use op://reset in your browser or in Run dialog (Windows+R key) or type "start op://reset" in command line to initiate total wipe of application roaming and local settings and folders. You master password will not be erased, this can be done manually only at Windows Credential Manager. Note, that data on Teams, OneDrive, Dropbox or user folders is not erased or affected, to access it again you will have to open connections and vaults again. (and please, dont try to spam your friends with op://reset links - we do ask Master Password and seek cofirmation from user before we bring destruction ;)
recognize database item type from .agilekeychain
startup speed and speed of vaults opening are improved
vaults refresh progress indicators are added
Thanks to MikeSo for the tip!
Download 1Passworld Alpha for Windows 10/Windows 10 Mobile (opens in new tab)
Source: AgileBits
Windows Central Newsletter
Get the best of Windows Central in in your inbox, every day!
Careful. Don't store too many passwords. That would be abusive. / obligatory OneDrive complaint

Having paid for and used 1password and Enpass, I would choose the latter. Enpass is already solidly cross platform.

Holy crap! The comments in this site are useless now with so many butthurt people comenting about irrelevant (to the article) crap.

Technically it is relevant as 1password can store your passwords on OneDrive.

Well, I learned today that "technically relevant" is even more useless than "technically correct". Let me know when your password files even get close to 100MB. I'll be waiting.

Still nothing on the one drive news?

Hopefully Microsoft is perfecting a response

Shit costs money, Deal with it.

I myself don't need the unlimited storage. BUT many angry users are posting all over the web about this. Reddit, fan sites, Facebook, Twitter and more. If potential users or less loyal users see these alleged fans so angry at Microsoft, and Microsoft doesn't respond properly, this will be a massive problem. This is about brand perception.

Most of the complaints are about the decrease in free storage, not in the removal of the unlimited plan. 5GB is little when you take lots of high-res pictures and save your music to sync with Groove and this is especially critical now with the Lumia 950 (XL) close to being launched. I don't NEED more than 5GB personally though I was considering syncing my music library with OneDrive and Groove, this is out of the questio now unfortunately.

I remember when my parents took my allowance away. I got a job and started paying for things instead of whining. I recommend that to you all.

Still nothing on the onedrive news?

What exactly are you waiting for?

I'm not sure what everyone is crying about. But then I have a 365 subscription.

1Password, 1Drive.. just kidding :D

Not supporting apps that force upgrades.

Lol, seriously? You must not support most apps then.

Better get used to it. A lot of apps doesn't support old version of Android or iOS either, now with a free upgrade and free updates, the same will start to happen with Win10.

That actually good coz whole things going universal. Windows 10 mobile is making base for windows phone users, its literally 4th time windows phone rebooted fully now its looking mature and now its going to update over it i guess. So upgrade to Windows 10 mobile is the real solution here for everyone.

I'm not supporting apps that support Windows 8 still.

Hey people more of you need to try this out so they see there's interest! It works OK for an alpha version - it allows you to at least have access to the passwords when you're out of tje house... Says in the log that they'll update more frequently from now on, I hope that's correct. A lot of it is still mostly geared towards Windows 10 it seems, so maybe the W10M usability is mostly incidental. Nice spillover effect though.

I'm not sure if I'm overlooking something but I can't seem to create a new vault from within the app? I can just import existing ones, which I don't have. :P

Same here, I noticed the same thing.

Yeah, I think (though I'm not sure!) you have to do it on the desktop. The desktop program is NOT free to use, it costs $49.99 (sometimes on sale or with coupon you can get it for less). I do believe they have a trial version. https://agilebits.com/onepassword Guess we'll see what the pricing will be for the Windows 10 Store version once it's out of alpha.

Well then. I may come back to 1Password from LastPass. I had to switch exclusively to LastPass because 1Password didn't support WP...interesting, especially since LastPass' app is horribly outdated and basic.

The bigger potential problem in my opinion is the purchase of LastPass by LogMeIn. We'll see how long they keep providing the same service as they currently do. (And I agree that their Windows 8 and WP apps are pretty basic as well, but it's never been an issue for me so far).

Interesting, now they have a Windows 10 app and then cut all support for 8.1 I wonder if this will be what happens now going forward... =[

Yeah, at least until Micrsoft decides to reboot Windows 10 and then it will start all over again with their next platform. Posted via the Windows Central App for Android
Windows Central Newsletter
Thank you for signing up to Windows Central. You will receive a verification email shortly.
There was a problem. Please refresh the page and try again.