1Password app for Windows 10 can now work on Microsoft HoloLens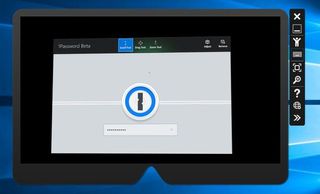 If you own a Microsoft HoloLens Developer Edition, and want to keep your passwords safe, there's a new option for you. AgileBits, the developers of the password management and storage app 1Password, have updated the beta version of the Windows 10 app to support the HoloLens augmented reality headset.
AgileBits showed off how the 1Password app looks in the HoloLens headset on Twitter:
In the meantime, the recently launched Windows 10 UWP app for PC and Mobile continues to be updated and has recently graduated to open beta after being released first with an alpha label. Here's the change log for the latest update that was posted today:
[IMPROVED] automatic reconnect to 1Password Account when session is expired
[IMPROVED] search also checks for tags (only search that runs after ENTER for now, suggestions do not include tags yet)
[IMPROVED] Settings menu provides simpler and yet powerful user experience
View user's guide (op://guide in browser or /guide in search box)
Ask in the forum (op://forum in browser or /forum in search box)
Email us (op://email in browser or /email in search box) to email us logs and crash reports
Feedback (op://feedback in browser or /feedback in search box) to open system's Feedback Hub
[IMPROVED] Advanced options can be accessed by either /iddqd or /log commands
[IMPROVED] Log is opened in a separate window
[FIXED] some of the crashes should not happen anymore, thank for your feedback!
Download 1Passworld Beta for Windows 10/Windows 10 Mobile (opens in new tab)
Windows Central Newsletter
Get the best of Windows Central in in your inbox, every day!
That's a nice 1st lol, Windows Hello might be a bit more practical though, does HoloLens support it?

Yea, I got an email today that my app is automagically going to be available for HoloLens. I have a feeling that we're going to see a lot of these articles.

What app should I look for, Rich?

Good to see even the developer edition of Hololens is attracting UWP apps.

That is great, but is not that whole idea was that any UWP could run on HoloLens in 2D mode without any additional changes (considering that live tiles, toasts notificatoins and a few other rather minor things that are not exists in the HoloLens world yet)?

Have anyone seen a unboxing video of hololens? Pls share. Posted via the Windows Central App for Android

I think this would show the power of UWP - just a simple modification (I think it would only be one line in a single file) and the UWP will be available and run on HoloLens

Not even that, it just runs (I got an email yesterday that my app is available on Hololens too without making any changes).

Where is the article of newly launched world's thinnest laptop hp Spectre guys?

You mean the spectre that windows central reported on yesterday? Try scrolling down a bit before making stupid off topic comments.
Windows Central Newsletter
Thank you for signing up to Windows Central. You will receive a verification email shortly.
There was a problem. Please refresh the page and try again.