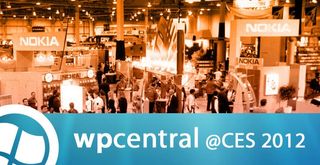 There's little doubt that day one of the 2012 International Consumer Electronics Show was big for Windows Phones. I think we all were took by surprise by AT&T's announcement during their Developer's Summit and while Nokia's afternoon press event was expected, we were still very impressed with what was presented. The day ended with Microsoft giving their last CES Keynote address that reflected on the past and gave us a glimpse into the future. Here's the down and dirty highlights from day one of the 2012 CES.
AT&T 4G LTE: AT&T announced they will be offering the first 4G LTE Windows Phones in the coming months. Often described throughout the presentation as "blazingly fast", AT&T's CEO Ralph de la Vega stated that the new network will "take AT&T's Windows Phones to a new level."
HTC Titan II: Riding on the heels of AT&T's 4G LTE announcement, HTC's CEO Peter Chou introduced the world to the HTC Titan II. The Titan II will be one of AT&T's first 4G LTE Windows Phones and sport a 4.7" Super LCD screen, 16mp camera rear camera, 1.3mp front facing camera, and 1.5Ghz Snapdragon S2 processor.
Nokia Lumia 900: What might have been the best known secret of the day, Nokia officially announced the Lumia 900. The 4.3" AMOLED screened device will join the Titan II on AT&T's 4G LTE Windows Phone lineup. It will be initially offered in black and cyan with additional colors becoming available on down the line.
Steve Ballmer: Steve Ballmer likely had a pair of roller skates handy for day one of the 2012 CES. He made appearances during the AT&T Developer Summit that morning, dropped in on Nokia's afternoon presentation and delivered Microsoft's Keynote that evening. While some may have seen Microsoft's keynote as "lack luster" it did give us a glimpse at what's coming down the road, Metro. From the XBox console to the PC to our Windows Phone, Metro will be the Windows interface of choice.
All in all, day one of the 2012 CES was very promising for Windows Phones. Two very impressive devices, a promise of a faster network, and our Metro interface overtaking Microsoft's other platforms. It will be interesting to see what Day Two adds to the mix.
We'll be hitting the show floor seeking out all that is Windows Phone over the next few days and for all our 2012 CES coverage, just hit this link.
George is the Reviews Editor at Windows Central, concentrating on Windows 10 PC and Mobile apps. He's been a supporter of the platform since the days of Windows CE and uses his current Windows 10 Mobile phone daily to keep up with life and enjoy a game during down time.
Forgot to mention the Tweet Choir, which was definitely a rickroll of sorts.

Actually it's Day Zero lol. The best part IMO is the reveal of Nokia Lumia 900, I need upgrading my current 1st-gen Trophy.

Sucks only the good windows phones are going to Att.
$50 more a month than TMO for worse coverage and terrible customer service.



not to mention also slower speeds. but once the roaming agreement kicks in then we can use these phones on our beloved magenta

So T-mobile gets nothing...

Fantastic first day. From the Lumia 900 to the HTC Godzilla all on ATT 2012 looks to be a good year for WP7 on ATT. Glad that's where I am. I would love to see these two phones run the HTML5 speed reading test, or fish bowl for that matter, to see how the spec bump affects performance.

I'll be very disappointed if no new physical keyboard phones are announced. I love my Arrive, and the physical keyboard is essential for using it as a work phone.
C'mon Nokia, slap some WP love on an E7!

I really, really hope Nokia comes through this year and delivers a WP7 with a physical keyboard. Didn't they say they'll have at least 12 devices on 2012? I'm drooling at a Nokia with a physical keyboard. Luckily I can't upgrade my phone until later in the year, so by then I might be able to choose which Nokia to get.

The only good thing about day one was that the press will now publish some stuff about windows phone.
The Microsoft keynote didn't reveal anything new, the Nokia phone was exactly what the rumors were, no positive surprises, only the negative of only having it on AT&T.
The only new device announced that I didn't know about was the TITAN II. (so soon after the Titan?) and the real interesting point there was missed by most (HTC CEO said it's his full time phone suggesting he sees windows phones as better devices)
Overall underwhelming.
The worst part, was seeing the Lumia 900 video posted here on wpcentral where the woman hired by Nokia to work their booth was clueless about the phone. how can you expect AT&T employees to do a better job than people hired by Nokia?

the article has "1.5mhz Snapdragon S2 processor" for HTC Titan II, should be 1.5Ghz :)

eh... it was early... fixing... thanks.

I'm trying not to get my hopes up when it comes to a new WP announcement for VZW. I want to think that they'll give us SOMETHING, but I don't want to disappoint myself.
Windows Central Newsletter
Get the best of Windows Central in in your inbox, every day!
Thank you for signing up to Windows Central. You will receive a verification email shortly.
There was a problem. Please refresh the page and try again.