2019 was a great year for AMD's CPU and GPU divisions
AMD is killing it in the CPU biz and Intel doesn't know what to do right now.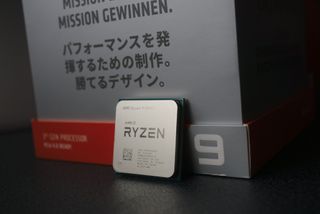 (Image credit: Windows Central)
AMD had quite the year in 2019 with the rollout of Ryzen 3000 processors and new graphics processing cards. While we're still waiting for GPUs that compete against NVIDIA in the high-end to enthusiast range, the RX 5700, RX 5600, and RX 5500 series look to dominate the more budget-friendly PC builds.
The company managed to close out 2019 with a four percent gain in marketshare. AMD sits comfortably at 31 percent, which is remarkable considering nothing has really blown the GPU market away in recent years from team red.
When it comes to processors, however, AMD is going all out, offering ample SKUs for budget builds, mid-range gaming PCs and enthusiast workstations. As touched on in our Decade in Review — looking at how the competition between AMD and Intel progressed through the 2010s — Intel was caught off guard somewhat by the original release of Ryzen in 2017.
The competition was stale before Ryzen, which Intel took full advantage of with its tick-tock approach to processor upgrades. This needed to change once Ryzen hit the market, but the company struggled to get its bearings. Rushed rollouts of processors that clearly weren't ready, as well as bizarre pricing, continued to hurt its image.
What really makes matters worse for Intel is just how far behind the company is compared to AMD. Nobody expected such a drastic turnaround, not even Intel. Intel's CFO, George Davis, recently shared at the Morgan Stanley conference that Intel process tech likely won't catch up to AMD until the end of 2021. That's astonishing. Intel is stuck on 14nm for the next two years.
What this means is while Intel is unable to make it down to 10nm from 14nm, AMD is able to make full use of the 7nm manufacturing process with manufacturing partner TSMC, which is expected to bring 5nm to bear in the near future. Reducing the size of the transistors is important for CPU production since it allows for more of them to be crammed onto a single chip, as well as reducing overall heat generation.
In short, small transistors and a more compact process make for faster, more efficient processors. The advancement between sizes has slowed down in the past decade and Intel has been at 14nm since 2014, but we've seen considerable progress made in the mobile space — just look at how powerful your smartphone is today. But it's not exactly clear by simply looking at how small the transistors are to determine speeds, especially given Intel's upcoming 10nm is expected to be as good as 7nm from TSMC.
Where this does impact Intel is in marketing and public perception. Intel hasn't done well with either lately and in order to halt AMD from taking more shares of the market, it needs to return to the drawing board. It's not only the desktop where Intel feels threatened. Ryzen mobile made off to a terrible start with the Surface Laptop 3, but the 4000 series looks to be something worth picking over Intel.
For the time being, it'll be business as usual with a price war between the two and Ryzen being adopted for more PC builds. We'll have to see how Intel can hold out for the 10nm drop.
Rich Edmonds is Senior Editor of PC hardware at Windows Central, covering everything related to PC components and NAS. He's been involved in technology for more than a decade and knows a thing or two about the magic inside a PC chassis. You can follow him over on Twitter at @RichEdmonds.
Can you point me to your review of a surface book 3, I have been looking to upgrade my aging surface book 2 :-)

Yeah Rich, might want to fix that Surface Book 3 typo.

"It's not only the desktop where Intel feels threatened. Ryzen mobile made off to a terrible start with the Surface Book 3, but the 4000 series looks to be something worth picking over Intel." You either don't know what you are talking about, or you this is a typo, and if a typo, have no proof of what that terrible start is.
But, if you have details nobody else have or know about Surface Book 3, by all means share it. If you meant SL3 share what makes a terrible post deployed firmware that even WC have written about that the AMD versions have benefitted from.

he meant Surface Laptop 3, not Surface Book 3. let's not get pedantic. focus on the argument, not the grammar. I love AMD on the desktop. In the past year, I've built 8 AMD desktops for myself and clients (as a hobby). The AMD chip in the Surface Laptop 3 is okay but still behind Ice Lake. The main problem with AMD mobile is that the manufacturers don't spend the time and effort to build around the AMD SOC like they do with Intel's. Most manufacturers just buy AMD because it's cheap and cram them into $300 laptops with minimal design toward things like battery life. That said, Intel hasn't been perfect either. My Surface Pro 7 has had little problems here and there that are related to Intel. It's gotten better over time but it's still not there.
Windows Central Newsletter
Thank you for signing up to Windows Central. You will receive a verification email shortly.
There was a problem. Please refresh the page and try again.