iStunt 2 and more Miniclip Xbox games for Windows 8 and RT free right now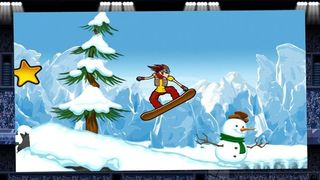 Windows 8 and RT gamers recently survived a dangerous outbreak of gaming deals thanks to the Microsoft Studios Sale, which only just ended. But now, another rash of Xbox Windows 8 deals threatens players' well being – if not their wallets. Miniclip has made three of its games free for a limited time only: iStunt 2, Monster Island, and Gravity Guy. Can your Windows 8 or RT device handle so many free games at once time? There's only one way to find out…
These games all have In-App Purchases, so Miniclip stands to profit even when giving their titles away. But you can enjoy and complete most of them without spending a cent, except perhaps for the ultra-tough Gravity Guy.
Update: All three games plus Fragger are also free on Windows Phone this week!
Head past the break for download links and our game descriptions!
iStunt 2
In iStunt 2, players steer a snowboarder around 2D courses, collecting stars and trying to earn high scores. Your border will have to survive crazy loops, buzzsaws, gravity portals, and other hazards in order to reach the finish line. Steering on a tablet is as simple as tilting the device to adjust the board's position, while swiping down on the screen crouches and swiping up jumps. On a PC, you'd use the arrow keys for all functions, which is even easier.
iStunt 2 has four sets of levels containing more than 80 levels in total. The coins earned from completing levels can be spent in the game's shop to unlock new rides, boards, and level skips. You can even unlock Gravity Guy and the protagonist from Fragger.
Windows 8 Store Link (opens in new tab)
Monster Island
On Windows Phone, we probably have way too many physics puzzle games. But for Windows 8, they are still a rare and mysterious breed. Monster Island is basically a monster-themed version of Fragger, both of which play quite similarly to Angry Birds. Instead of a grenadier of bird slingshotter, in this one you play as a kindly monster that must defeat less kindly invading monsters. Aim and throw five different kinds of monster grenades to destroy your stationary enemies.
With more than 200 levels, Monster Island offers plenty of bomb-throwing fun. It features a robust in-game shop in which players can purchase new characters, level unlocks, level skips, and level solutions using in-game currency.
Windows 8 Store Link (opens in new tab)
Gravity Guy
Gravity Guy (here's our review) is a super tough endless runner/platformer that mixes things up with the hero's gravity-defying powers. Instead of directly jumping, players reverse the hero's gravity, sending him flying up to the ceiling or down to the ground. Left mouse clicks and the space bar flip on PC, while tapping the screen accomplishes the same thing on touch screens.
The graphics are lovely and the core gameplay proves addictive, but the game is definitely designed to make you want to buy PDLC. Even with the paid time-slowing powers, it'll kill you over and over again without mercy. By all accounts, the recent Windows Phone 8 sequel Gravity Guy 2 is a much better game, but you can't beat free.
Windows 8 Store Link (opens in new tab)
Thanks to qwe123878 and TNT Judbud for the tip!
Paul Acevedo is the Games Editor at Windows Central. A lifelong gamer, he has written about videogames for over 15 years and reviewed over 350 games for our site. Follow him on Twitter @PaulRAcevedo. Don't hate. Appreciate!
Shit. I got excited for a moment thinking it said windows phone 8......

Same, thought we gonna get 8ball pool...

Yaa thought so to sigh :'(

http://www.wpcentral.com/miniclip-windows-phone-games-free-limited-time

THESE ARE FREE ON WINDOWS PHONE...I Just got them!

Great news. Now make it free for Windows Phone lol

Please Miniclip, make them free for Windows Phone 8 too.
and EA, DChoc, Rovio, Halfbrick....learn from them!!

Hey you - why dont you simply buy stuff that costs just a dollar - cmon.. a dollar - just ask someone on the street for it if you dont have one

@Adrian I agree with you bro. Free games are cool, but paid ones going for free won't help the developers. They deserve to get paid,

They seem to don't mind "not getting paid" for these same games on other platforms. Why should we be any different?

Considering the WP7 version of MI contained achievements that originally required you to buy PDLC, I consider Miniclip as greedy bastards. I don't understand why you sell a game for $2.99 and then allow players to spend more money to unlock more coins. I buy every xbl release on WP, but the Freemium and such is whack.

i would be glad to buy them, but i don't have any payment method :( and they don't support operator billing.

You can link your bank account to PayPal and if you don't have that then you're out of luck trying to by mobile games. You could get a prepaid credit card

Don't worry dude I know how you feel:/ Microsoft please add mobile billing support ya facks -_-

I am on the same position as the above. At least Microsoft should allow debit cards.

Dude .. Debit cards do work .. I am using HDFC , while my bro is using ICICI bank's debit card

Eh? How's that possible? In the payment account in xbox there is only credit card. No option for a debit card. I called up Microsoft. They said only credit card will work.

Did you try to put your debit card info in for the credit option? Works fine for everyone I know

You simply enter you debit card as a creditcard and it works. As long as your card supports internet payments.
There's no disctinction between a debit card and a credit card in http://billing.microsoft.com's payment methods.

Go to http://commerce.microsoft.com .. Click on Add payment .. Add your debit card info (even though credit card is written) .. MS support has no idea about debit card .. According to them there are only two types of cards - Prepaid cards and credit cards

Are you guys sure you're not talking about check cards, i.e. debit cards with the Visa or Mastercard logo? Because those are the same as credit cards as far as business transactions go. There is no point in even calling them debit cards.

If i'm not mistaken, those Miniclip games are actually free for Windows Phone! Suprised he didn't say anything about it.

I would love to have these games on my windows phone, but I really don't want to pay for them again having purchased them all on another platform.

I totally agree with you. The developers and Microsoft should work something out where if you bought the game on one platform you get a discount on all others with in the Microsoft ecosystem. I bought ilomilo for my phone,Surface and Xbox at full price. Istunt for my Surface and windows phone.

Do you want achievements too?

I don't play games for achievements.

Then freaking play the game on the internet on your computer. Miniclip.com

Wish I had W8 right now..

Going to get iStunt (although that iThing) is a bit douchey.

I have istunt 2 for both my 920 and Surface. One of the best mobile game I've played on window 8,wp8.

I hope they still are free tonight... I will boot up my windows 8 partition and load them up...

I just ordered a i5 based tablet for Windows 8, it will be great to have these on it. As this is like Windows phone, if get an app for Windows 8, you can install the apps on any device that your on.... awsome

U can install them on 5 devices

One thin i don't understand is that when e.g like games that have more than one series like gravity guy or asphalt,then why can't we get,the older game for free? I am talking about Asphalt 5 and Gravity guy 1. Someone please answer.

Because people still buy them. Nothing should be free. There is a new CALL of duty every year, do you want last years for free too?

Don't understand why should we ? They're different titles, just because they share the name doesn't mean it should be free. You get a free copy of X Men the movie if you watch the 2nd one ?

Sorry. How is steering as simple as tilting my phone? And other members are often told off for not reading the article..

A small copy and paste mistake. And I never said I don't make mistakes! ;)

Too late, you already made me cry.

It is tragedies like these that lead to personal growth.

These are the kinds of games that I find enjoyable on a non-touch desktop, but can see how they'd really shine with a tablet or something with an orientation sensor.
Even if you personally don't think you'd like these games, I'd say "buy" them now and uninstall / unpin them. When a little relative/kid comes along, you can pull up these games for free and keep them occupied.

Damn, I wish I had an Windows 8 device so I could check these games out. I do need a new laptop, but I'm cheap so I'm gonna let my old one die before I upgrade.

Life is short....can't wait for items to die. They may never die, like my Inspiron 1705, still works after 8 years. Now running Windows 8.

W8 is relatively cheap to upgrade to, and if you buy online.. You can upgrade without wiping your system. Takes a couple of hours tops.

I was just browsing the marketplace and initially saw that Fragger was free. So I grabbed it and also Gravity Guy.
I already have the other two.
I'm still on WP7, my phone is a Lumia 800.

Yeah, all Miniclip games (except Bling for some reason) are free as well on the WP Store.

Actually they are. Try resetting your phone.

They are... I just saw them all.
Gravity Guy 2 is also not free.

Hey people! I just downloaded those games for free on windows phone 8, i'm playing Monster Island right now, maybe they put them for a while so go to the marketplace now.

They've been available since the weekend. I sent you guys two tips about this, I figured I had missed the post where they had been reported. Guess not. Jejeje. Anyways, glad you guys finally saw it and reported it.

Got them installed on Windows 8....Yea ! Free achivements !
Windows Central Newsletter
Get the best of Windows Central in in your inbox, every day!
Thank you for signing up to Windows Central. You will receive a verification email shortly.
There was a problem. Please refresh the page and try again.