MiniClip adds Windows Phone versions to free gaming offer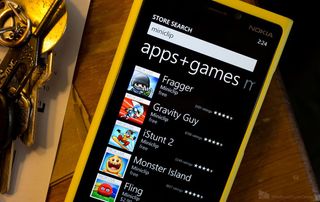 Earlier today Miniclip dropped the price of their Windows 8 and RT versions of iStunt 2, Gravity Guy and Monster Island to free titles.
Miniclip has now added the Windows Phone 7.x/8 versions of these games to their free offer. The free offer on the Xbox Windows Phone titles is only for a limited time only. As an added bonus, the Xbox Live game Fragger is also a freebie.
So if you've been on the fence or just want to build up your Xbox Windows Phone gaming library, now's the time to act. Head past the break for all the links and QR Codes.
Windows Phone Store Links
iStunt2 (opens in new tab)
Gravity Guy (opens in new tab)
Monster Island (opens in new tab)
Fragger (opens in new tab)
Source: windows-smartphones.de (opens in new tab); Thanks, Marcel, for the tip!
George is the Reviews Editor at Windows Central, concentrating on Windows 10 PC and Mobile apps. He's been a supporter of the platform since the days of Windows CE and uses his current Windows 10 Mobile phone daily to keep up with life and enjoy a game during down time.
I appreciate the heads up, I love MiniClip.

And silly me payed for istunt2.

Same, when it was on sale that is. Oh well.

I hope they add Gravity Guy 2 to the list.

Seriously doubt it with how new it is. Go ahead and buy it though it is fantastic.

They have launched Gravity guy 2 first on Windows phone, its still not available on ios and google play store, so support the developers and buy it :)

I was just about to buy half of these aswell haha, lovely, thank you miniclip

istunt 2 is worth 5 euros, i love it so much, and now its free an must download game

They are still showing as $2.99 for me. I've tried the US and Canadian store. Any suggestions?

Nevermind, right after that I searched manually and they came up as free.

Go on your computer and follow the link from WPCentral and it brings up the page where you get it free and it sends it to the phone right away. Just did it this way as it wasnt free on my 920 either.

I searched Fragger in the Canadian store but it is still $2.99.

Follow the link in the report

Is today a secret Wednesday i don't know about? Ohwel ignorance is bliss. Thanks Miniclip.

Still coming up as $3 apiece in the US. I'll check back in a few.

I love MiniClip, great campany!

Ya it says its not available in my region for any and I'm from the U.S.

I had the same problem on my Lumia 920. If you click on the links in this article in a desktop web browser you can dowload each app from the windows phone store website. Each app will be wirelessly pushed to your device.

FREE Xbox Live games! Woo hoo!

Wow this is freakin awesome I wanted these games forever, good thing I waited! Monster island and Fragger are not shown as free games just yet

Fragger is really great. A lot of puzzling.

the only game that I haven't bought already is monster island.. fuu. nice move by miniclip though :)

None free for me in the Canadian store.

Just downloaded all for free (bought Gravity guy earlier)! Swedish store/region.

Gravity Guy isn't showing free for me .. Let's wait

The QR codes and manually searching didn't show as free for me either. The links that were posted to the store though above the QR codes worked for me.

Good things come to those who wait!

I bought iStunt 2 and Gravity Guy on Windows 8 before, now I got Monster Island on both Windows 8 and Windows Phone 8, as well as 3 other great games for free! Thank you, Miniclip, you have my lispect. (Like & Respect)

Like another poster said, use the hyperlinks above the QR codes. Those will take you to the page in the desktop browser version of windowsphone app store with the free games for whatever reason. MS really needs to figure out their store so that the various ways that you can find a page all show the same infor...this isn't the first time there have been problems.

Not showing free for me. UK marketplace, but currently in India

Is this sale not available for Windows Phone 7.5?
HTC Trophy on VZ and all games still have their original prices.

Says gravity guy isnt avaliable in my region (US here) the others i downloaded. ill give it some time

Excellent! Gonna grab them all. My L620 won't be able to handle them all but at better to download them now while they're free. That way when my L920 returns from the factory I'll be able to redownload the games for free.

These games came out for wp7, why wouldn't your 620 handle it?

I meant can't handle because it's 4 games and the L620 has a limited storage capacity ;) (and I have other games installed)
Even though I've placed a 32GB micro-SD in it, Apps don't seem to install in the SD card so....

The sale is not working for me (ATT in US) - everything still costs $$$$

Still 2.99 in Florida. Will be checking constantly to get all of these. Edit: going through links on PC worked brilliantly. Now have new games to play.

Ffs i bought 3 of these games and now every tom dick and harry getting them for free?? now i feel robbed. Not cool miniclip... Not cool :-(

You feel robbed.....!? Actually you know what, I'm not gonna waste my time, you're a moron.

Perfect.. Just perfect..! I just sent my Lumia 920 for repair yesterday..!
But nice work, Miniclip ;)

Why not go to the windows phone website and get them today....

I just found that out yesterday :p

AT&T US Lumia 920 couldn't find for free on phone, but clicked the links on my computer and installed remotely for free from store!

Not available for download in south Africa, grrrrrrr

Gravity guy now free. Nice.

I just download them all...thanks MiniClip

It's free in Australia. Search the game from store.

Thanks, must have changed, links in app weren't free, now they are. All downloaded.

Damn bought istunt 2 today

Loving it too,Free is good, thx

It just forced me to buy it! I hate when Wp does that, if it's free then change it!

Nothing forces anyone to pay. You know that as well as everyone else.

I almost bought Fragger just yesterday too! Glad I didn't...I already had snagged Monster Island for a buck when it was DOTW and iStunt2 at launch but it's nice I got two free games from it :)

Cannot download Fragger!! Anyone else seeing this issue?

You have to use wifi to download it, it's too big for cellular data

Its was my proxy that was causing the issue..I now have it!

Grabbed 4 freebies thanks for the info George.

Cool! Downloading them all!

Today is my birthday and I feel like this is a special present for me, I'm so happy. Thank you Miniclip for theese awesome games you gave us for free! Now lets gain some XBOX live achievements :)

Thanks for the heads up. Why isn't fling free?

Awesome!! Thanks miniclip!

Hey when I go to the store its not free why?

Had to go to windowsphone.com, but works. Good heads up!

Got fragger for free! thanks for the heads up. Had the others already but got them at decent enough prices, so not a big loss. Anyway, it seems like the deals on the marketplace have really started to mature and become more like those on other platforms. Hope the trend continues.

Free Xbox lice games are good. Anyway, snagged Fragger and iStunt 2 for free, since I already bought Monster Island and Gravity Guy three months earlier.

Sweet! I had already purchased iStunt 2 a long time back but ot was worth it. Thanks MiniClip!!

And I just bought gravity guy yesterday :|...... Lol. But thank you miniclip :D.. I have more xboxlive games now.

Free in India. Just downloaded. Awesome. Thanks Miniclip :)

Thanks Miniclip. Told everyone I know.

That's great! I got the freebies on Windows 8, but would much rather play these on my phone as opposed to my laptop. I'm definitely more prone to "repay" them on future releases now :)

LOS AMOOOOOOOOOOOOOOOOOOOOOOOOOOOOOOOOOOOOOO!

I got iStunt 2. Very entertaining. Downloaded Fragger too, but it was boring, as the other games seem to be.

All are free in my Lumia 800!
I am a proud owner of Lumia 800 :D
And Thanks to miniclip.

Wow...stupid me...cant believe I didn't see this earlier

Downloaded them all just now to my HD7 7.8 device!
Windows Central Newsletter
Thank you for signing up to Windows Central. You will receive a verification email shortly.
There was a problem. Please refresh the page and try again.