The 3D features of Story Remix won't be launching with the Windows 10 Fall Creators Update
Microsoft's Story Remix feature will be launching half baked with the Fall Creators Update as its 3D capabilities will be missing in action.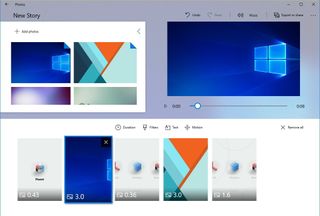 If you've been trying out the Story Remix preview on the latest Windows 10 Insider Preview builds, you'll notice a rather large chunk of its feature-set that was demoed at Build earlier this year is missing. Features such as being able to import 3D effects and objects are missing in action, and my sources tell me that's because those features won't be ready in time for the Fall Creators Update.
My contacts say that Story Remix itself will be ready with the Fall Creators Update, but being able to insert 3D objects and effects into your video; arguably Story Remix's blockbuster feature, still needs work and as such will not be showing up alongside the launch of the Fall Creators Update. I'm told Insiders can expect to see that functionality show up in the months after the Fall Creators Update launches, likely during the Redstone 4 development cycle.
This will undoubtedly be disappointing news for those who were interested in the 3D capabilities of Story Remix. Microsoft showcased being able to add effects and characters to scenes, lock them in place, and have the 3D object track itself in the video as if it was there all along. You can check out our hands on video above to see the feature in action.
Update: A Microsoft employee has also confirmed this on Twitter.
Insiders can test out what Story Remix has to offer right now in the latest Insider Preview builds by heading to the Photos app. There, you will be able to create quick video clips from your library, and add transitions, text and music easily.
Delaying features appears to be an ongoing narrative with Windows 10 as of late. Microsoft demoed several features earlier this year, but two features that were planned for the Fall Creators Update; Timeline and Cloud Clipboard, have been pushed back to Redstone 4. Now Story Remix's 3D capabilities can be added to that list.
Windows Central Newsletter
Get the best of Windows Central in your inbox, every day!
Zac Bowden is a Senior Editor at Windows Central. Bringing you exclusive coverage into the world of Windows on PCs, tablets, phones, and more. Also an avid collector of rare Microsoft prototype devices! Keep in touch on Twitter: @zacbowden.
The technology version of expectations vs reality memes

I wonder how the current Microsoft's executives run the company, it must be hilarious.

MS strategy:
overpromise
underdeliver
?
profit
this pattern is all over microsofts products

SUPRISE SUPRISE! MS pulling back features...NAH...NEVER.....WHADDYAMEAN? I would be gone from MS if OSX was not such a clusterfuck of garbage.

Believe it when I see it at this point. MS has a long history of dropping awesome features even when they say its coming!

On the bright side, yeah. At least. Like the My People which will come with Fall Creators update, even the UI is garbage atm, which is worst since its part of the shell and won't get updated until next feature update. Story Remix is an app anyway, thus the delayed isn't that too bad. The problem here is Microsoft just roll with over-hyping and announcing great things with their finished concepts and releasing them half-baked, delayed or not.

Ok then I'm moving to android

I am on the absolutely latest build of W10 available and I still see the same old Photos app.

Me too . I had story remix a few months ago then they pulled it.

Are you on RS3_RELEASE branch? If so, that's normal. I can't generate the link for the announcement, but you can find it on Feedback Hub, created on 3rd August. ...it is critical that Insiders are experiencing the same versions of the inbox apps that will be released as the default for all Windows customers when we release the Windows 10 Fall Creators Update, we are releasing updates to the inbox apps that restores them to what they were previously. This means that Insiders may notice some new features and capabilities disappear again temporarily until we officially resume flighting app updates to the Fast and Slow rings.

LIkewise, I went to fastest ring to get remix, and it never appeared...and caused my computer to do all sorts of crap....So back to production and screw the insider (sucker) builds!

Oh well, that's disappointing but nothing new really. My People even in Fall Creators Update is still completely half-baked, UX is simply the worst but at least basic functionality-wise works, okay, but still, it's nowhere near the concept even its been delayed already. Not to mention People app still looks garbage and functionally crippled, and the new Acrylic material didn't really make it any better, but unnecessary facelift. It seems that internally they have a problem with poor planning that they tend to show concepts that actually isn't anywhere ready for actual code. Feels like My People when it was first introduced for example was just approved not too long, and the development resources were not that big. What's always annoying here is that they seem fine releasing half-baked, unpolished and obvious features oddly missing. Whether it's UI/UX or functionality. It is a never ending incompleteness plaguing Windows 10 and other few Microsoft apps. The mantra "never is done" isn't really about the constant evolution for the better, but constant release of unpolished and half-baked implementations that will be completed later, if ever.

Isn't it wierd how MS never gets close to finishing stuff but seems to think they finished with features. I think the fact that they think they've finished stuff is the biggest problem at MS.

That seems the problem too. For example, Task View hasn't improved at all since it was first introduced. You can't rearrange desktops, no ability to rename desktops, and there is even no animation when you click the desktop or hover the thumbnail, all static. Task View is really limited to use that it's not all efficient to use for the multitasker. I still like it but it is really limited and unpolished. Microsoft thinks this is all good and never touched it. Well, they are going to with new Timeline UI, but I am afraid of the change they will do, not because I am afraid of change, but I'm afraid that they will redesign things and make it worse and unfinished. They love releasing half-baked things, which ruins it.

I guess that using Story Remix would need to have photos with the right date/time and location metadata (at least, it would be better). The photos taken with my smartphone have all the right date/time, but not always de right geolocation. The photos taken with my Canon never have geolocation (since my Canon has no GPS). So, it would be nice if Microsoft could add the possibility to add/edit metadata of the photos in My Collection. Just like Picasa for Desktop. Can anyone tell me if this is already possible ? Thanks !

Microsoft. Guys. You really need to put your **** together. In all departments. Last update My People was delayed. Now Story Remix. Every time big things, which leaves the updates pretty shallow and uninspiring. Phones - you lost that battle. You could have kept what you had alive, it was still thriving, it still had relevant apps and it got more new apps than disappeared. AR - you probably lost that area as well (especially consumers). We are at the beginning of a new era, but I fear HoloLens is going the same way as Windows Phones. I bet you within a few years Apple will show of their own version of glasses, all driven wireless (Airplay?) by the iPhone doing all the processing. That way they can make the AR device pretty compact instead of the bigger visor. They probably already have more apps now than HL, so Microsoft better release something cool and something ready for mass market in 2018. Xbox - Crackdown just got delayed, games have been canceled, a quite poor 2017 and now you are launching the X with no bright looking future. Sure Forza 7, and a big catalog of current titles will be optimised and look great on the new console. But really.. Anthem.. that or something like that was what you should have shown comming to the Xbox as an Xbox exclusive game. I'll preorder the Xbox One X as soon as it's possible, but you better have more great games planned for RELEASE in 2018/2019 before next console generation. Phil have done a great job with BC, Xbox Game Pass, EA Access, Elite and custom game controllers, a fine Xbox One successor (S), and now a more powerful (X). Now invest even MORE FFS! In games and more Xbox features. Saying this as a Windows 10 user, and Xbox One and Lumia 950 owner. Next year to be an Android phone owner though as one of my most important apps will be discontinued by then.
Panos, you better have some great pocket PC device in development. Something that you will once back up and give developers a reason to program for.

I am betting apple is going to be showing off a new AR solution tied to their phone next month...wireless glasses to go with ARKIT...they are not 2 years out. They probably have it done...but unlike MS, they keep their mouth shut until IT'S READY!

I'm actually quite impressed with the attention to detail they put into the UI for the app. It's very polished, which I can't really say for most other UWP apps (*cough* Outlook *cough*).

I'm beginning to not care to even watch anymore. The devs seem so disjointed and rudderless that you cannot trust anything they release to work as the media wing says it does or should. I think the CEO has good intentions but his focus is where his background is, the cloud. Its doing great. But we don't seem to have leadership on the consumer side of the house. Just a bunch of people getting paychecks and putting out pacifier press releases who don't believe in the product, and it shows.

Agreed. Microsoft is so disjointed its laughable. "hey look at this cool feature that is coming to the next version of windows"...."oh Wait. That will be the next after the next version of windows, and it will only be a half baked version then!".....just BRUTAL Microsoft. Stop with the annoucing of new features and actually release the **** you annouced years ago!

While I have very little interest in Story remix, I thought that was going to be one of the big things in the next update, if that is not going to be ready, then what is the point of the next update?

Coming Soon (tm) forever !!!

Actually Story Remix only was sent out to certain preview users. I am using the latest and do not see the partial feature at all.

I see the iDroid drama queens are out in full force. "I'll scweam and scweam and scweam..." Off you go then, you shan't be missed.

You'll be the only one left here if we go by this article comments then.

TYPING ON MY WINDOWS 10 COMPUTER to BONZEUK. Why announce awesome features only to drop them and give half baked versions of said features that may never come to the OS? why do it? what is the rationale? Please enlightend one! give us some eternal thought on this very backasswards way of marketing....oh great one! oh....should I say fangirl extrordiare!

Oh...just one MORE thing...People can be a fan of a certian product/company/etc and still be critical of what said company etc are doing. that's called being SMART....not being a FANBOY

I've seen software companies run like this before. Always talking about features, always missing deadlines. Usually gives a competitor, if one exists, just enough opportunity to capitalize and steal some of that cash flow.

PC World has a different story that says the 3d stuff will be ready

An earlier version of this story noted that one of the best features of Story Remix—adding 3D objects to an existing video or image—had been delayed. But Chris Pratley, the corporate vice-president in charge of Windows 10's Photos, Videos, and Story Remix, confirmed that that feature will ship at the same time as the Windows 10 Fall Creators Update as an updated app. "Story Remix update will be in the Store when RS3 is public. You'll be able to do the tracking fireballs etc that we promised," Pratley tweeted.

http://www.pcworld.com/article/3196464/windows/hands-on-with-microsofts-...

https://twitter.com/chrispr/status/898227190793248768

This is why companies have communications folks and why it's important for Journalists to go ASK the copany it's official position on a given subject rather than go off a report of a report by a guy who read something on twitter without understandign the context of the question or answer. She specifically says on her twitter 'don't quote me'

*this is not an official Microsoft twitter. None of the statements made are official, quotable statements. Marketing @ Microsoft #StoryRemix

the official statement is that you will be able to do the effects seen on stage at RS3 launch with the update coming from the store.

Chris Pratley (MS) I run the Studio that makes Story Remix. Story Remix (an update to Photos) will be in the Store when RS3 goes to public. You'll be able to do the tracking fireballs etc that we promised. We ship regularly to the Store - not tied to OS releases. Announced app features always target "RS3 timeframe" (i.e. launch thru before RS4). New features are always coming! @theasherrr was responding to a specific Remix3D integration question - not about all special effects. BTW, if you have a better way to talk about continuous delivery than "RS3 timeframe" when people ask "exactly when will that feature appear?" I am all ears!

His response on Ars Technica who also didnt bother to ask before reporting

UWP is a disaster. How long has it been out and it's not nearly as powerful as win32 programs? Microsoft is struggling to make a decent app on their own operating system. The simplest features take a long time to get implemented. While on other platforms, Microsoft makes fully featured amazing apps. Microsoft is too busy focusing on other platforms.

Very short versus win32 which is how old now? Do the math, significant changes don't happen overnight

Ok, IS it or IS IT NOT coming fully baked? i'm so confused!

It will come with Fall Creators Update they said, but it will be half-baked. Means some features promised won't be available and may take months.

Update: A Microsoft employee has also confirmed this on Twitter.

But you still are only reporting HALF the story and are quoting a person who says their account should not be considered quotable instead of reporting the statement from an MS Corporate VP. Why do you refuse to tell the whole story? As Chris Pratley stated, in the post I quoted above, the special effects of pinning digital things to real objects in a video(like the demo fireball to soccer ball) will be live as an update in the store when RS3 goes public

So it is coming fully worked out!

fanpanzy downvote? I am asking serious question little baby! waaaahhhhhh!

So IS IT OR IS IT NOT Fully featured on release day? There are 2 contradicting reports going on here!

So, again, no one REALLY knows whats going on with this?