40 years have passed for mobile phones and Nokia dominates bestsellers list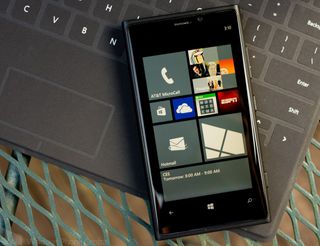 The Daily Telegraph has produced a list of bestselling mobile phones over the last 40 years. While we celebrate the 40th Birthday of the mobile phone, what's interesting to note is how Nokia dominates the list with 13 of the spots taken by hardware produced by the Finnish manufacturer. Unfortunately no Windows Phones are present, but this illustrates just how strong the Nokia brand is.
Here's the full list:
20. Nokia 2850. One of the few clamshell designs from Nokia. Came out in 2004 and went on to sell 35 million.
19. iPhone 3GS. Sold around 35 million.
17 & 18. Samsung Galaxy SII and SIII – each of these has sold around 40 million units.
16. Nokia 6230 – announced in 2003, sold 50 million, and still one of the loudest phones we've produced.
15. Nokia 3100 – released in 2003; sold over 50 million. Pink and blue were the best.
14. Motorola StarTAC – 60 million sold.
13. Motorola C200 - 60 million sold.
12. iPhone 4S – launched in 2011. Estimated at just over 60 million sales.
11. Nokia 5130 – one of the phones to debut XpressMusic; 65 million sold.
10. Nokia 6010 - selling 75 million and coming with a colour screen!
9. Nokia 1208 – tough and affordable; 100 million sold.
8. Nokia 1600 – Do you recall playing Soccer League on one of these? 130 million people do.
7. Motorola Razr V3 – last non-Nokia on the list; sold more than 130 million.
6. Nokia 2600 – very nicely designed keyboard on this one; sold 135 million.
5. Nokia 3310 – the popular device sold 136 million.
4. Nokia 5230 – one of the youngsters on the list; launched in 2010 and went on to sell 150 million.
3. Nokia 1200 – born 2007; sold 150 million.
2. Nokia 3210 – The chunky gem, selling 160 million.
1. Nokia 1110 – sold an astonishing 250 million after it went on sale in 2005.
Sure, we'd like to see Windows Phones in the above chart (like the Lumia 920 - pictured above), but there's still some way to go before Nokia's now smartphones can compete for the 250 million sales position. The Nokia 3210 certainly brings back some memories. Do you remember owning one of the older mobile phones by Nokia?
Source: Telegraph, via: Nokia Conversations
Rich Edmonds is Senior Editor of PC hardware at Windows Central, covering everything related to PC components and NAS. He's been involved in technology for more than a decade and knows a thing or two about the magic inside a PC chassis. You can follow him over on Twitter at @RichEdmonds.
Nokia 3100 reminds me of my college days.At that time v had incomingcharges in india.

Well we still do in America lol

Nokia has always made solid phones and I would lime a smart phone that's loud as well as pretty.

Ask the young ones, "What's a faceplate?"

"Unfortunately no Windows Phones are present, but this illustrates just how strong the Nokia brand is ==> was."
Fixed.

"Is". Fixed for you. Some of these devices aren't old.

When somebody sets world record in any sport you can't say he was good until somebody beats him, same here

The Nokia brand would be even stronger if they floated an Android device or three.

I hope they never do. Android doesn't deserve the quality of Nokia's hardware.

But they'd eat Samsungs lunch and pocket their milk money. Right now, it's the other way around. For Nokia's sake - and their stock price, this.. this would be awesome.

If Nokia had gone Android, they would eat Samsung for lunch but we have enough Androids. This is now about differentiation.

I cringed thinking about that.

I had a 3210 back in 2000, my first mobile phone

I remember owned a 5230, with the red back, and that's my first touchscreen phone, and the first Nokia I bought with my own money. Now, Lumia 620 is on my hand, the fifth Nokia I am using now along with affordable Nokia 1800 as my daily call n SMS phone. Proud to be a Nokia user. :)

suprised not to see 5110 on that list. owned a 3310 for years, truly unbreakable.

3310 -> 6600 -> N70 -> N95 (x2) -> N97 -> N8 & E7 -> Lumia 900 -> Lumia 920

Dude, you've lived my dream up until the the Lumia 920, lol.

:) I still think that the N95 was one the best handsets I ever owned. Music and NGage gaming!!

Lucky for you have two. My first smartphone Nokia was the E72. I still love the little sucker.
I'll be following Nokia to the grave, lol.

My first Nokia was a N81 8GB. Next was a 5230, C7-00, Lumia 710 and yet Lumia 620.

I used to have a nokia 6102. That was my first cellphone personally. It was quite the little beast.

Nokia, one of the most legendary companys in history.

I'm shocked not to see my first cellphone on the list. No 2160?

Why is that shocking? Please, tell us why?

My first job was running a few cellphone stores at the time. Our best seller was the 2160 followed by the cheaper Ericsson so I figured it would be up there.

2110 -> 6110 -> 6210 -> 6310i -> 7110 -> 6630 -> N73 -> N8 -> Lumia 920

I had 3310 > 7250 > 6630 > e72 > Lumia 920

I remeber when you could set Custom SMS alerts so you didnt miss them

My first Nokia phone is 8310. One of the best first in the early 2000s

My mobile Nokia mobile phone and only Nokia till now starting from 2100,2600,3100,7610,6110 Navigator ,N73,N86,N900,Lumia 710,Now Nokia lumia 620

You look at that list and you see Nokia now and it's just a sad story of how the mighty have fallen.

IN 2015 the window phone at 1st position and the Nokia market share is 73% all over the world

Ammarmalik2011, I fully agree with you. Once upon a time Nokia ruled the market, now they barely survive off what the current giants leave behind. I hope every day that they recover their former glory, no matter how long it takes, I will always support Nokia. Unfortunately my first phone was a Sagem, ever since then its always been Nokia for me. If Nokia were to go under so will my smartphone usage, I will only use Nokia phones no matter what.

Where's 3110? I always thought that was the unbreakable phone.

Those were days, I have used Nokia 6210, 6310i, 7650, 6600, 6260, 6630, and finally E-50. I still keep my E-50 as my backup phone. It may not be as smart as my One X, but its battery life, 5+ days, rocks :)

My first phone was the Nokia 2110 in about 1997. It cost GBP 40 a month on a 30 minutes a month contract! No texts included -- they were an additional 10p each.

3210,3310,7650,6260,6288,5230,l710

had couple of series 5 & 6 and scirroco but for shortperiod of time so im not counting them :D

All my phones till date have been Nokia: Nokia 2100, Nokia 6610, Nokia 6020, Nokia 6030, Nokia 5070, Nokia 3110c, Nokia 5800, Nokia C2-03, Nokia Lumia 710(Now) .... And planning on getting the Nokia Lumia 720

3210, 3310, 1100 and 6230 here! +N70, N82, 9500 communicator, 5800XM, Lumia 800, Lumia 920 not from the list above.
6230 was a heck of a phone.. and 1100 too with its flashlight and ultra durable design

wierd..Lumia 920 is my first Nokia. I think i've been missing something my whole life until now.

My first phone was a 5110 red, 3210, 8210, 6210, 6310, 8310, 3510i, 6230, 7610, 3250 xpressmusic, N73, E65, E71, E75, back to E71, Lumia 800, 808 pureview & Lumia 920 in red.
I have always been a Nokia whore!

My first celly in the 90's was a Nokia and that is where the the product branding began for me.

I remember switching the color of my 5125 a few times, also writing out my own ringtones in rtttl. Wow, those were the days!

Nokia 3315, 1100, 5800.....and few others i cant even remember.......Nokia is the synonym for cellphone 2 me....

I had the 3100! It was the coolest ish back in the day. That was my first mobile phone. I miss it. I lost it somewhere I don't know.

Nokia 6310---Nokia 7650---Nokia E51----Nokia E71----N8----Lumia 900
That 6310 was rock solid.

Yes, the good old Nokia days, back when their phones were near-indestructible. Nowadays, Nokia's smartphone line, great as it is, suffers from the effects of mass-production, leading to hardware defects, manufacturing oversights, etc.

Umm, I'm sorry, but how is a phone that sells a quarter billion units not mass-produced? Also, the 920 is pretty damn near indestructible for an era when phones require a massive glass front.

1600 ->n73 ->nokia 500 -> lumia 620
n73 is a gem it had fallen like 1000 times still working fine. back in collegedays everyone in hostel used my phone for listening music,taking pics, internet browsing(mine was the first nseries there).even after 2years of graduation college friends still ask about it everytime they see me or when chat. :)
nokia for life.....

Nokia 5110 blue, rock solid that was, literally speaking

The first call was 1971 in Finland by mobile ARP!
"ARP (Autoradiopuhelin, "car radio phone") was the first commercially operated public mobile phone network in Finland. The technology is zero-generation (0G), since although it had cells, moving between them was not seamless. The network was proposed in 1968 and building began in 1969. It was launched in 1971, and reached 100% geographic coverage in 1978 with 140 base stations. The ARP network was closed at the end of 2000 along with NMT-900." -- Wikipedia

History is History it'z only can Our NOKIA & It'z not Nokia 2850 It'z Nokia's 2650
A rare foray into the clamshell market, Nokia's 2650, launched in 2004, sold 35 million units.

I didn't need a mobile phone until a saw a red 8210. I didn't want a phone, I wanted that phone. It's like in a commercial. ;-) I still have two of them and they are still working… sort of.

History repeated itself last year. i didn't need a smartphone until I saw and began to "need" the Lumia 800. And I'm really an Apple fanboy, mind you.

reading history nokia was the first phone to send text message. I am a bit sad that copycat companies somehow outsells nokia now without innovating. Many people are turning their backs on nokia whic gave them a lot of good memories, I don't want nokia to go down, If I am only rich billionaire I will buy millions of Lumia phones just to help them. I can't withstand thiefs getting glorified as the hero falls down.
Windows Central Newsletter
Get the best of Windows Central in in your inbox, every day!
Thank you for signing up to Windows Central. You will receive a verification email shortly.
There was a problem. Please refresh the page and try again.