Five tips you may not know about Facebook for Windows Phone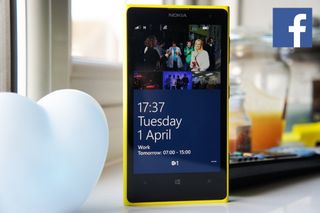 The official Facebook app for Windows Phone, developed by Microsoft, is a sweet client for those who simply cannot live without being notified about when friends are playing Farmville. Should you be new to Windows Phone and/or the Facebook app, we have you covered with five tips you may not know about the app.
Can't see some messages? Check the "other" folder
Facebook splits your inbox into two areas – inbox and an 'other' folder. The primary inbox stores all messages received from your friends and family. What this folder does not contain are messages from Facebook users who you have not yet connected with. This is where the other folder comes into play.
It's essentially a junk/filer system designed to prevent your main inbox from being flooded with messages, should you be a popular soul of course. If you happen to find yourself searching for a message and cannot locate it, check the other folder by hitting the Switch icon in the messages view (the icon with arrows pointing in opposite directions).
Enable lockscreen support
One awesome feature of the Facebook Windows Phone app is the integration with the lockscreen. This enables users to customize their lockscreens with their Facebook albums, depending on which ones are selected in the settings. Either a full image can populate the entire screen or users can opt for a number of photos to be displayed. Here's how to reach the desired settings area:
Hit menu
Select Settings
Choose Lockscreen
Configure which folders you wish to be used and how the screen should look.
And there you have it, your lockscreen will now periodically update with random images from the selected folder. Sweet! You can take this further by heading into the Lockscreen settings area on your Windows Phone to set Facebook as the app to provide a detailed status on the lockscreen (see main article photo).
Shake to refresh lists & views
There are numerous components to your Windows Phone and the accelerometer is one that detects movement. Utilizing this feature, shake your Windows Phone when wanting to refresh lists and views. And by shaking your handset, we don't mean vigorously. Just enough to register the gesture – we don't take any responsibility for damage caused to your device.
Make sure this feature is active in the settings area before shaking your device to Timbuktu.
Turn location on/off in settings
There are some Windows Phone owners who simply do not enjoy their locations being tracked, recorded and/or shared with the world. Thankfully, Facebook for Windows Phone comes with a neat little toggle button to activate (or deactivate) the feature. This will turn off all location-based functionality in the app, mind you.
Check-in
As well as popular third-party services and apps, Facebook too has its own check-in system, perfect for those who stalk you. When visiting locations (be it places you've already visited or not), it's possible to sign in and alert everyone that you've ventured out the front door.
To get your location and check-in, hit the third post icon at the top, next to photos. It's worth noting that you need location services turned on to effectively use this feature, so don't go turning the services off before checking in.
So those are our tips for you guys to find out some cool new ways to use Facebook on Windows Phone. Sound off in the comments with your own pointers.
Windows Central Newsletter
Get the best of Windows Central in your inbox, every day!
Rich Edmonds was formerly a Senior Editor of PC hardware at Windows Central, covering everything related to PC components and NAS. He's been involved in technology for more than a decade and knows a thing or two about the magic inside a PC chassis. You can follow him on Twitter at @RichEdmonds.
Longest article 'preview' ever. :P

THERE'S NOTHING TO PREVIEW DAMMIT :-)

Okay so definitely not checked the other folder overall I know...

A few months ago I checked my Other folder. Turned out my ex had attempted to make up with me way back when. Woops!

Via facebook? You can be Lucky you got rid of her :)

You're both right. I'm not one to speak ill of people, but she was about as stable as Android.

Sloooooow day, huh? Can't wait for Build and the extreme news flow

More like slow hours. Just to be clear: This Article was written for Newbies. So No, no slow day. ;)

Does the article include the group of people that this is written for? In no way I'm trying to be a smart ass, just to clear that out. This is my favorite place to hang out and the fact that Rich and his colleagues react and interact with us so nicely and so much is amazing. I do believe it is a slow day and not just for WPC.

Logically it is beneficial to write articles for newbies today considering that many of them will visit the site later today for the first time.

This article will get burried after all the buiild articles. It should've been posted on a weekend after build and maybe even WP8.1 devices are out. We all know the Facebook app relatively sucks and they don't maintain it as frequently. So, it wouldn't have hurt to release this article later. "enjoy,blah blah Facebook with your never wp8.1 device"
---
THAT seems logical to ME. "sound off in comments" if you disagree. Hehe

New WP users are visting this site every day. They may or may not have an account for commenting purposes, but are still glad those helpful articles are being written ;). Yep indeed, its a slow day for the whole Microsoft community. *excited*

I don't use FB a lot and not a newbie, but did not know about that other folder. So WP Central thank you for this article. Sure I'm not the only one who benefitted.

Agree.
Even though I am not a heavy Facebook user, I knew about the last four tips. But the "other" folder, I didn't know about.

What would actually make sense is if all these "articles for newbies" were tagged so they could actually be found later by said newbies. Even a month from now most of these articles will be buried so rather than just post these randomly there should be a WP 101 or similar section where all these posts go or can be categorized for easy searching.

People don't dig through blog sites for articles in order they were printed, at least I don't. You just search for a topic on your fav search engine and go from there. At that point ordering of articles doesn't matter much. Newbie or old timer argument goes out of picture too. A few months later you may need some info or send it to a friend, would it matter if article was done before or after build? (That's my opinion though.)

Instagram lock screen > Facebook lock screen

Readit > Amazing Weather HD > *

Lockscreen Changer is the best app xd

Meanwhile, we breathlessly await Windows Phone 8.1

hmm, hope it will support screen rotation.

It already does? Just not the start screen and apps list, but everything else supports rotation and lock

Music+Videos doesn't support it either. Luckily!

No my friend, nothing like that. Check- call history, photos, people hub, music+videos, games etc.. This defeats the purpose only if i have to use in portrait mode half the time, when i want to use in landscape!!

After Windows Phone 8.1 this app will be history anyway. (Hoping for a great build-in FB experience)

no built in fb.....but there is rumor of new fb app that will have more features and much better than now....

As far as I heard from rumors, Facebook will be integrated somehow in the OS.

umm integrated or not....i hope it would be a lot better than now....just 6 hours to go can't wait for BUILD to start....and also can't wait to get wp8.1 in my L620 :D

I think it is on the Windows Phone 8.1 rumor page, but yes it doesn't matter if the experience gets better :) Gettin' ready the popcorn for todays event!

On Windows 8.1, fb is integrated if you have linked your fb with ms account. It should work similarly on WP8.1

Link for the live stream please

http://www.buildwindows.com/
Time should be PST


It would be, but just like the music and video will be, an app with special access, more like a friend app ;-) if you know what I mean.

Haha used to be funny but now Its most awkard comment all of time...cut off hand everyone who write it

How clever...and trailblazing

Jules Winnfield can solve this issue in 5 minutes... Remember Pulp Fiction? "Say what again!" after a Big Kahuna Burger!

Does Rich gets a chance to visit any conference in US?

On Facebook beta it says it supports customs tones, how?

Current alpha version now also support that, its just a different notification sound.

Ok I thought it could be changed, thank you.

Facebook app is totally useless. All people I know including me, have the mobile website pinned on startscreen. WHY? Because you can't see half of all the posts!!!!! Worthless app!!!

Agree, Hard to see friends posts and updates. IE fb version does my job better

True, mine just keeps me showing random posts from pages i have never liked/visited or matches my profile type.

That's a Facebook feature. They're called sponsored posts.

If you change the news feed settings to "most recent" vs "most popular" you will see better posts. I just learned about this when I was whining to an Android friend. He told me about it. Now I see better posts. But I agree, the webapp is better. Either way, I don't care. Don't use fb as much as I used to.

I'm sorry but this is not a solution. It just changes the order. You still can't see tags, many shares, instagram posts, profile picture changes and many more posts. At most I, and all people I know see 60% of the posts that can bee seen on the website. So it's worthless using this app.

App works fine for me. The only time I have to use the web version is when I need to edit a post.

Let me tell you, you are not aware that the app doesn't work fine for you. Compare your feed with the feed on the website on your desktop. You should notice that not all post are shown in the app.

it is possible that it might have something to do with your friends list. Perhaps it only shows those who are starred as friends (family too maybe) and not show acquaintences. If I remember correctly that was a key feature added some time ago, i'll give it a try later today to see if that is possibly why.

I have not made any groups or anything.

Facebook does it by default. Check to see if the friends post you see are marked as friends, and check those who do not show up as aquaintences. You would have to go to their profile to view this.

I'm sorry but this is not the case. Facebook has not grouped anything, or assigned anything to whatever. In fact, on any other Facebook app in iOS or Android, all posts do show up in their apps. So it has nothing to do with all this. Are you telling me that you see tags in the app?

+1 Regardless how you sort posts, the app doesn't show them all.

Still bad to me, wish Facebook inc. Will be in charge for future app versions and not MS.
We need the quality of Facebook messenger.

We dont need the quality of Facbook messenger - we need the integration of the Microsoft team. Who enjoys reading adds all day long?

This +925
Fingers crossed for an official FB app

Since the last updates both regular and beta apps crash for me on startup, after about 3 seconds. Same is happening to many others according to the newer store reviews. Have tried all the usual reset, uninstall etc.
How about you report on that?

Seems fas.....(Gun goes of) sorry couldn't let myself do it, tell my wife learn how to cook.

And here's a tip. Dont put line feeds (press enter) in posts with photos.
They will not upload.
Just go with one huge block of hard to read text with no new paragraphs and they will upload.
Bug has been there for a year now.

Check-in in Singapore is almost gone lol!

Sometimes some article too long , there show "see more " but it just transfer me to IE10 instead of showing the full article .

Slow day indeed :|
Not due to Rich though, but has the flu for the forth day, time is soon 11.30 PM and Build seems to take forever to get started...
I'm tuned in and ready to go...
http://channel9.msdn.com/?wt.mc_id=build_hp

Guys, its about time you shut down your website. You're clearly out of shit to review and news to share. WP is dead.

WP continues to grow. Fact. Nice try though.

Beat me to the punch, @Live2Deliver. ;)

A sweet client? Wow have you even opened the client at least once and use it for a few minutes?

Aryan Angel, if you think WP dead why are you even here? Let go, leave and let the rest of us enjoy the platform we like.

Shouldn't this have been posted some time ago? Like a long time ago?

But I digress as I know this is just the calm before the storm of big news later.

This is one of the worst UX ever. Stupid that you can only cycle through the 3 center tabs when you end up in one of them (notifications, friends requests, messages). Touch points are the size of the icons in many cases which make them tough to click (notifications). I'm convinced MS doesn't have good designers on all of their projects and they certainly don't listen to feedback. I understand they (facebook) want all the apps across platforms to look the same, but at least fix the UX. I only use it because I have to. I could probably build a very simple 3rd party app for doing the things I care about which is only viewing the news feed except I lack time for personal projects.

Still can't see Instagram posts shared on Facebook when using these apps. Until that is fixed I'll continue to use the Facebook mobile site.

Is there any way to edit my profile from the Facebook app?and also upload cover pic or profile picture?

How is enabling lockscreen support an unknown tip? It is one of the first questions you are asked when installing the app.

Will we have Facebook Blue by end of today?

The opening sentence is one of the main reasons I never use Facebook anymore. That and photos of people's kids and lunches, it's ad-selling stance and potential privacy invasion via Whatsapp. It's a dying place. Researchers reckon 80% of peak users will have left by 2017.

Still can't access pokes!!..... Have to use ie... Stupid!

Just go to the profile from the one that poked you, and poke him/her back

Ms fb is worst...use booklet beta for Facebook...it's worth it...but you have to set it to classic mode...

More updates required like official fb on droid Posted via the WPC App for Android!

Biggest find for me was discovering that photo albums can be pinned.

If only one of these 5 tips involved making autocorrect actually work when posting comments and statuses through the app. That has been broken for waaaaay too long.

Anyone else notice that the Facebook app doesn't show all the post. The web version does. What's up with that?

That it sucks? Already knew that.

It doesn't allow unsubscribing from post, which means when I posted or replied on something, my Notification will be flooded everytime someone also replied on that post. Mobile website version for me until that is fixed. But seeing Facebook made it default, they probably prefer flooding the notification to keep pulling users to waste time in their website.

It's a lame product at best. It's too slow to react and it doesn't show updates when they arrive, I have to literately wait a while before I can see what someone updated their status with. I see others that are speedy. I have the Nokia Lumia 1520, too, so it is a shame for this app. Yet, it is the only one with the features I want, so I have to live with it.

This is like saying "you can now post status updates from your fb app" well duhh There are more important issues here, like the fact that this app is laging in comparison to iOS and Android, but whatever, We can now send pictures via messages (finally). Pinning the pages is prettu nice...but best of all, the live tiles are awesome and very detalied.

Been facebook free for a month now, Pray for me.

Prayers sent your way lol

I Just saw a friend of mine with the old Facebook app for WP 7.5 ( the one with the flat métro design ) and believe me , this old version still looks better than the latest version

Would be a 5 star app for me if it would hide all the game posts I've previously blocked. Blocked on the PC, visible on the phone with no way to block in the app...

This app still sucks. Hope we get a new one today!

Still the app is sluggish on my lumia520. Even on WiFi. The Facebook messenger also, while works well on WiFi is nearly dead on 2G speeds, something that is not there on the android version of fb messenger.

Still needs a lot of work apps and games that I have blocked, and friends that I don't follow still show up on this app.

I guess it is time to use it huh? meh. the ONE thing I loved about WP was the hubs. But MSFT inability to design an OS in which the hubs were apps which also provided an API for any other app to integrate with the OS and people hub meant you had to get apps anyway. Hopefully maybe google will take on the challenge with a more talented engineering team which can realize the idea MSFT had.

My accelerometer must be broken after all those crashes, I haven't been able to refresh-to-update for quite a while now.
PS.: I've checked the settings and it is on, if anyone starts to worry.

How about everytime I post something from my phone it automatically sets it only for me to view, so nobody sees it unless I login to the desktop version through http and change the post for others to view. If I post on any other device or PC it lets my friends see posts, just not in the app.

Wpcentral can you please add the option to use SMILEYS...
BTW..i don't like my Facebook as mu lock screen.. Thanks for the 5 tips

This app is slower than the web version. It's slow to update group folders and has trouble picking photos from my phone. Wish they fix these problems.

I really wish they'd update this app to respect the block/filtering of posts that the website and other platforms allow for. I've got a few older relatives that can't pass up a "Share if you agree" picture and it just floods my newsfeed.

How in the world can I disconnect FB from my main hotmail account? My hotmail has been spamming and my FB friends are getting hit. I've changed my main email address in FB setup to no avail. Disconnect me Scotty!!!

Messages inside the Facebook app? Maybe I have the wrong app, because for me it says I need Messenger to see messages... Am I missing something?