5 intriguing apps for Windows 10: TED, TV, Books, and Bots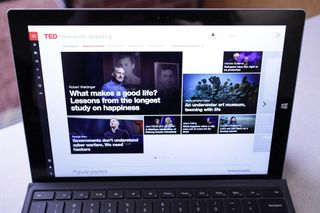 With the ever-growing number of apps and games in the Windows Store, it is becoming increasingly difficult to keep up with what's out there.
For that reason, every Friday we showcase some apps that have piqued our interest. They may have been in the news recently, they may be new to the Windows Store, or they could simply be old apps that we just stumbled upon.
They are the 5 Intriguing Apps of the Week.
Deals Hub
Microsoft's Deals Hub app gathers the best deals from the Windows Store together into one place.
Whether it's the latest movies, TV shows, music, apps, or games, Deals Hub had you covered. You can sort by the top featured offers, or by category. There's even a section dedicated to Microsoft's Red Stripe Deals.
If you're someone who is always on the hunt for a bargain, you can set the app to give you notifications whenever new deals are available.
Deals Hub is currently only available for PC, but I can easily see this going universal and including phone apps as well.
You can download Deals Hub for free.
Animal Planet
The official Animal Planet app gives you look at all of the crazy, creepy, and cuddly critters that their network has to offer.
Watch some full episodes of your favorite shows, from Monsters Inside Me to Pit Bulls & Parolees. Looking for a new favorite? Check out the huge library of video clips to see if a show tickles your fancy. The program schedule ensures that you will never miss an episode.
You can also mark videos as favorites for quick access.
The Animal Planet app won't be able to replace the channel on your TV, but it is a great way to keep up to date on the shows you love.
Kobo eBooks
Kobo eBooks recently optimized their app for Windows 10 PC and Mobile. The eBook reader and online store now leverages Windows 10 features, like Continuum. The newest version of Kobo is also integrated with Cortana, so you can now open up the book you are reading or search for a new one in the store just by using your voice.
As a reading app, Kobo eBooks lets you tailor settings, like text size, and offers Night Mode to make reading in the dark less of a strain on your eyes.
You can bookmark pages for easy access. These bookmarks sync across all of your devices, so you never have to remember where you left off.
The Kobo eBook store offers over 4 million titles for people of all ages, including fiction, nonfiction, and even comic books.
Many titles are free and thousands of them let you download the first chapter to try before you buy.
Kobo eBooks is available for free for PC and smartphone.
TED
TED's official app for Windows 10 PC and Mobile is your portal to some of the best and brightest minds around the world. From technology, to business, to art and entertainment, TEDTalks are famous for their insights and perspective.
The official TED app gives you access to over 1700 TedTalks in audio and video form. More are added to the media library every week.
This well-designed app gives you a homepage filled with the latest and greatest talks, popular playlists, and more. You can also sort by different categories or view the entire library. Once in the library view, the enhanced search feature will help you narrow down what you're looking for by topic, language, duration, and key word.
Rate the talks you watch or listen to and mark your favorites so you can revisit to them quickly. Create a watch list and even download talks so you can consume them offline. Looking to stimulate your synapsis? TED is the app for you.
Lightbot
Lightbot is an inventive game that is designed to teach children the fundamental principles of coding.
The object is to get the adorable little robot to light up different tiles by using different commands. Each command invokes one of the core concepts of programming, like procedures, loops, and conditionals.
Though it was created for kids, people of just about any age will appreciate the puzzle-solving aspect of the game.
Lightbot has 60 different levels, as well as other challenges where you can earn up to 20 stars. It's also available in 16 different languages.
Lightbot normally sells for $4.99 flat, with no additional in-app purchases.
Be sure to check out our other selections from previous weeks. Have a great weekend!
Do you have an app you want us to highlight? Drop us an email at tips@windowscentral.com with "5 Intriguing Apps" in the subject line.
Shoot, just missed the sale on Lightbot. I started using Kobo for books a publisher offered for less than on Amazon, since Amazon offers no way to import into the Windows/Phone/Mobile Kindle app unless you have a Kindle device.

On Android I can Use a file manager and put the book into the kindle folder. Sometimes emailing it to your Kindle works depending on the format. Sorry I don't currently have a windows phone to try it on.

Lol deals hub advertising deals hub

I heard that Microsoft wrote the Windows 10 Uber app. If that's the case, than nothing has changed in the 'app gap'.

App gap is about number of apps not about who make those apps. Posted via the Windows Central App for Android

Does anyone know if it's possible to hide the menu bar while watching video in the TED app? I find it really distracting.

2 out of these 5 are not available in the UK

Deals Hub​ is currently not available (for me in the Netherlands)...

The deals hub is already built into the phone version of the store. Its really useful

Seth, These weekly articles continue to be some of the best on WC. You expose us busy folks to other apps/programs for our Windows devices, and I really appreciate them!

It is time for the Kindle app to get an epic update.

Guys you should definitely review Onefootball, It is one of the first Windows 10 apps in the store
Windows Central Newsletter
Thank you for signing up to Windows Central. You will receive a verification email shortly.
There was a problem. Please refresh the page and try again.