5 intriguing apps for Windows 10: Home automation, photo manipulation, and balloon confrontation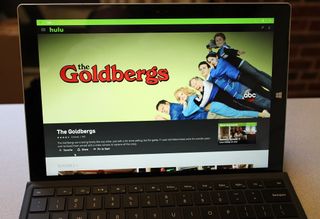 With the ever-growing number of apps and games in the Windows Store, it is becoming increasingly difficult to keep up with what's out there.
For that reason, every Friday we showcase some apps that have piqued our interest. They may have been in the news recently, they may be new to the Windows Store, or they could simply be old apps that we just stumbled upon.
They are the 5 Intriguing Apps of the Week.
SuperPhoto
SuperPhoto is a huge depository of tools and effects that you can use to jazz up your photos, whether you are using your PC, tablet, or smartphone. Take any picture from your Libraries, camera, or Facebook and transform them into countless creations.
There are frames and filters to use for social media, 3D effects, textured overlays, and premade scenes to incorporate your photos into. Overall, there are over 1500 options to choose from.
There are two versions of SuperPhoto, the free one, and the full one. The free trial is ad-supported, includes 200 or so effects, and has some limitations. The whole SuperPhoto app not only removes ads but also unlocks every tool lets you save photos in HD.
Hulu
Rumors of a new universal Hulu app for Windows 10 for PC and Mobile came to fruition on Valentines Day. The video streaming service completely revamped their app with a new design and added features.
Hulu users will now experience a split view in a beautiful new user interface, complete with personalized homepage and watchlist. The new app also supports Hulu's add-on features, namely their Commercial-free plan and SHOWTIME subscription. And under the hood, the app has improved playback performance for streaming video.
As for Windows 10 features, you'll find that Hulu now works alongside everyone's favorite personal assistant, Cortana. Additionally, you can now pin Live Tiles for individual shows to your Start screen that will update series information and display the latest episodes.
All in all, Hulu has done a really nice job with their new universal app. You can download it for free from the Store, though you must have a Hulu subscription to use it.
Life Tile
Hey Legend of Zelda fans, here's one for you. Life Tile is a battery meter for your Windows 10 computer or phone that displays how much charge you have remaining as a Zelda heart containers. As the power on your device diminishes, so does the life meter.
You can pin a Live Tile to your Start screen that will display the meter and update every fifteen minutes or so. Different size tiles will show varying numbers of hearts.
What's really cool about Life Tile is that you can change the theme to reflect your favorite of the Zelda games. Each theme uses the same design for the meter that was used in that particular game.
At the moment, you can choose from the classic Legend of Zelda, A Link to the Past, Ocarina of Time, and Ocarina of Time with Enhanced Defense. The developer has noted that more themes and features are on the way.
If you're Zelda enthusiast, or are just looking for a cool retro battery meter for your computer or phone, check out the free trial of Life Tile, or just buy it for $0.99.
N10
Google may have sworn off creating an official Nest app for Windows computers and phones, but that hasn't stopped innovative developers from creating their own great apps. Case in point, N10's new Windows 10 app for PCs and phones.
Originally called NestWP, N10 gives you everything you want in a Nest app and more. Set up multiple locations, like home and work, and remotely control the temperature, fan timer, and away mode. You can pin Live Tiles and set your temperature as a lock screen notification.
N10 also leverages some of the best features of Windows 10, incorporating Cortana commands and Windows Hello. There's even a tile for your Microsoft Band.
But N10 isn't just for your thermostat. You can use it to monitor your smart smoke/CO alarms, Nest Camera (beta), Philips Hue lights, and Insteon products.
While N10 does have some room for improvement, it is one of the best and most comprehensive home automation apps out there for Windows 10. The app is free to download for your PC and phone, though there are optional donations set up as in-app purchases, in case you want to support the developer.
Bloons TD Battles
Bloons TD Battles is the latest installment of the popular tower defense series of games. Just like its sibling games, TD Battles has you setting up monkey-based defenses in order to keep your base from getting overrun by balloons. What sets this game apart from the others is that it pits you head-to-head against other online players.
Bloons TD Battles features eighteen different maps where you can pit your monkeys against the competition and three different modes to play. You can outlast your opponent in Defense Mode, bombard them with balloons in Assault Mode, or bet your medallions against theirs in Battle Arena Mode.
There are twenty tower troops to choose from, each able to be upgraded eight times as you earn in-game funds.
Players who have mastered the other Bloons games will find this to be a different kind of challenge, while newcomers can hit the ground running without any disadvantage.
Be sure to check out our other selections from previous weeks. Have a great weekend!
Do you have an app you want us to highlight? Drop us an email at tips@windowscentral.com with "5 Intriguing Apps" in the subject line.
Get the Windows Central Newsletter
All the latest news, reviews, and guides for Windows and Xbox diehards.