5 intriguing apps for Windows 8.1: June 26, 2015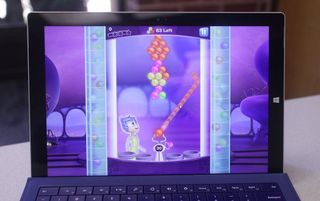 With the ever-growing number of apps and games in the Windows Store, it is becoming increasingly difficult to keep up with what's out there.
For that reason, every Friday we showcase some apps that have piqued our interest. They may have been in the news recently, they may be new to the Windows Store, or they could simply be old apps that we just stumbled upon.
They are the 5 Intriguing Apps of the Week.
QuizUp
Windows 8.1 scored a big win last week when the popular social trivia game QuizUp landed in the Windows Store. Previously, it was available as a Windows Phone app that just graduated from beta.
Based on your QuizUp profile, you can search for other people, near you or around the world, and then challenge them to a friendly trivia showdown. But this is far from just an ordinary quiz game.
QuizUp also hosts a large number of different communities based on various topics. Users can explore those communities, chat with other members, and face them in a battle of wits. It has been a huge hit globally across different platforms, and now Windows users can join in the fun.
QuizUp is free to play, though it does require you to create an account or log in using Facebook.
Bizview
Bizview is a Google slick-looking Google Analytics client for Windows and Windows Phone. Just log in using your Google credentials and Bizview will automatically import any Analytics info that is associated to your account.
The interface leverages the Modern UI, outputting your data into a crisp, easy to read layout. Charts and graphs pop off the screen, giving you a clear readout of your website's analytics.
Bizview is free to download.
Inside Out Thought Bubbles
Disney is at it again with another game to complement one of their hit movies. This time around, it's Inside Out Thought Bubbles, a bubble shooter game featuring characters from the new Pixar flick.
The object is to release chains of thoughts by shooting them with like-colored memory bubbles. Along the way, you will unlock power-ups, face tougher challenges, and meet new friends.
In true Disney fashion, Inside Out Thought Bubbles is beautifully animated and perfect for kids.
Downloadable for Windows and Windows Phone, the game is free, though in-app purchasing of power-ups, etc. is available.
Atlantas
Atlantas is a Windows app that lets you turn your photos into custom collages. With the built-in photo editor you can get your pictures looking exactly how you want them to before plugging them into one of the over 100 custom templates.
Then you can resize, reshape, and rearrange them onto your canvas. Atlantas gives you granular control over the background, borders, opacity, and zoom levels.
It's as simple or complex as you want it or need it to be. If the basic tools aren't enough, there are plenty more available to purchase.
And when you finish, your collages can be saved or shared. Atlantas is free, with ad support.
Xerox Print Portal
This app allows customers of Xerox Mobile Print Solutions to print over a network from their tablet or PC. The Modern UI lets you navigate to images, PDFs, Microsoft Office files, and more, then send it to a printer on your local network.
You can add a printer just by scanning a QR code, or use the GPS feature that helps you find printers and copiers based on your location. It isn't just Xerox printers either. Xerox Print Portal supports nearly all major printer brands.
Choose the print options you want, like 1-Sided/ 2-Sided, color/ black-white, stapled, paper-size, and page range. It also supports uploading print jobs for secure printing at a later time.
Xerox Print Portal is a convenient way to get from file to hard copy fast.
Be sure to check out our other selections from previous weeks. Have a great weekend!
Do you have an app you want us to highlight? Drop us an email at tips@windowscentral.com with "5 Intriguing Apps" in the subject line.
Windows Central Newsletter
Get the best of Windows Central in your inbox, every day!
QuizUp is the best. Only more topics on Windows Phone version.

Bizview is a nice addition. Helps me keep track on my google blogs.