Xbox 'Project Scarlett:' 5 things we want to see in Microsoft's next-gen console
The next-generation Xbox has been officially announced, meaning it's time to start thinking about the things we really want to see make an appearance.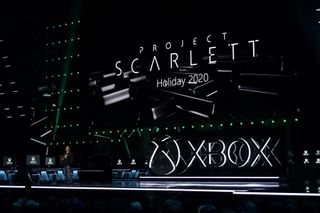 (Image credit: Windows Central)
Microsoft has officially announced "Project Scarlett", the codename for the next-generation Xbox expected to launch next fall. Not much was revealed about the console other than the fact that it'll be the most powerful Xbox yet, targeting 4K 60 frames per second (FPS) across the board and capable of 8K in the future. Just like the Project Scorpio teaser for the Xbox One X, Microsoft didn't even show us what the console looks like or give it an official name.
With that in mind, here are five things I'm hoping to see with the next Xbox. This list doesn't include the obvious, such as high-framerate and high-resolution gaming, more exclusives, and all that jazz. We're looking at the lesser-thought-about features and ideas that could make the next-gen Xbox stand out more than the competition.
Biometric authentication on Xbox
One of the best things the Xbox One can do is automatically log you into your Xbox account using the Kinect sensor. This is a great bio-authentication feature if you're someone who uses a shared Xbox in the living room. Instead of typing a password or passkey every time you want to log in, you just walk or sit in front of your TV. The Xbox sees you, and you're logged in. While it's unlikely the Kinect will be supported on the next-generation Xbox, it'd be a real shame to lose out on being able to login with your body.
In fact, if the next generation Xbox doesn't support bio-authentication of some kind, I'd call it a step backward. So with Project Scarlett, I'm hoping Microsoft introduces the ability to log in to your account via a fingerprint sensor on the controller, just like on your smartphone or laptop. Fingerprint sensors these days are relatively cheap, and you could embed it into the Xbox Guide button for a seamless experience.
I've raised this idea before and gamers have refuted it, stating that it'd make the console too expensive. Even if that were true, that doesn't mean it shouldn't be supported. To keep prices low, Microsoft could bundle a standard controller in the box, with the fingerprint enabled controller sold separately.
Either way, if there isn't a way to sign into Xbox with your body on the next-generation Xbox, I'll be disappointed.
Don't forget about TV
The Xbox One was marketed as the one box for everything in your living room, and that's precisely what I use it for in 2019. If the next-generation Xbox doesn't continue that trend of supporting everything from TV to gaming, my entire living room experience is about to fall apart. My Xbox One is the hub of all content goes through my TV.
If I'm watching TV, I'm using OneGuide and the passthrough feature on the Xbox One. I'd hate to have to go back to doing things the old-fashion way, turning things off and on individually when you want to watch TV or play a game.
Voice controls!
It'd be such a shame to lose the ability to shout "Xbox on" or "Watch TV" in the next generation Xbox. These days, you can use Xbox commands via Alexa or Cortana on your PC or phone, so the console itself doesn't need a microphone built-in. But it would be a shame if Microsoft removed the ability to control the console with your voice. Let's hope that doesn't happen.
A "PC mode"
This is an interesting idea that I think would please many gamers. Microsoft has already started supporting keyboard and mice in games on Xbox One, and I don't see why the company can't take it a step further by supporting those peripherals throughout the console experience itself with Project Scarlett. Just imagine being able to set up the next generation Xbox on your desk just like a mini PC.
When a keyboard and mouse is connected, the Xbox Dashboard experience could change to be more accommodating of those peripherals, essentially removing the need to have an Xbox controller altogether. You could launch games, and just like on a real PC, the games would just work with your mouse and keyboard. This is technically possible with the new universal shell Microsoft has been building for its new Core OS, which will also run on Project Scarlett.
Upgradable internal storage
This is a pet peeve more than anything, but I've never been satisfied with the internal storage options on the Xbox One. I know you can plug in external drives, but as someone who prides themselves on a clean living room setup, I don't want external drives sitting all over my console. So, with the next generation Xbox, just like the PlayStation 4, I'd love to see the ability to upgrade the internal drive to whatever you want.
What do you want to see?
So that's five things I want to see in the next-generation Xbox. What are you hoping to see? Let us know in the comments.
Excellent and affordable Xbox accessories
Up your Xbox experience with one (or all) of these budget accessories, all of which are approved by the gamers of Windows Central.
PowerA Play & Charge Kit for Xbox One ($15 at Amazon)
This charging kit keeps your Xbox One wireless controllers juiced up, and it offers batteries for two controllers. At just $15, this is hands-down our favorite budget charging companion.
ElecGear 4 Port USB Xbox One S Hub ($19 at Amazon)
This brilliant little USB splitter hub attaches perfectly to the side of your Xbox One S console. It's ideal for use with chargers, controllers, headsets, and more.
Controller Gear stand ($13 at Amazon)
Proudly display your Xbox gamepads with this stylish and functional stand. The licensed design is minimalist and black, and it has a hidden storage compartment, making the price of $13 a real steal.
Get the Windows Central Newsletter
All the latest news, reviews, and guides for Windows and Xbox diehards.