Here are 5 things you need to know about the Surface 3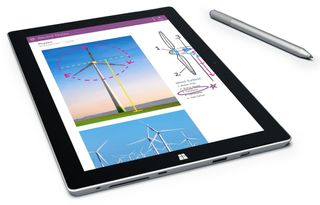 The newly announced Surface 3 tablet is very different than the first two versions with that brand name, and it also has some differences compared to the current Surface Pro 3. Comparisons aside there's a lot to get excited about, but there are also a few little details that might have slipped by unnoticed.
So without further ado, here are five things that you need to know about the Surface 3.
1. New way to charge
This new charger is a huge change from previous Surface models, which used a proprietary magnetic cable to power the tablets. The Surface 3 comes with a standard microUSB port to charge the device, which means any microUSB charger can now be used for this purpose.
This is potentially bigger news than some would credit it for. There are power outputs to consider, but it could mean one less power adaptor to put in your bag when you travel.
2. Limited kickstand
Unlike the Surface Pro 3, which allows its users to adjust its kickstand in a ton of different positions, there are just three fixed positions for the kickstand for the Surface 3. Microsoft revealed more about those positions in its announcement.
While this is a step down from the Surface Pro 3, it's actually a modest increase from the the 2-position stand of the Surface 2.
3. 'Windows 10 Ready'
Unlike the first two Surface tablets, which used Windows RT, The Surface 3 uses a full 64-bit version of Windows 8.1, and business customers can have the Windows 8.1 Pro version installed on the tablet. As with every Windows 7 and 8.1 PC, Microsoft is promising that the Surface 3 can be upgraded for free to Windows 10 when it is officially launched later this summer.
We still don't know what, if any future the Surface RT and Surface 2 have. Not an issue with the Surface 3.
Side note: The Surface 3 will be sold with a free one-year subscription to Office 365 Personal, a $69.99 value. In addition to access to the full versions of Word, PowerPoint, Excel, Outlook, and OneNote, it comes with 1TB of OneDrive cloud storage.
4. Killer display
The first two Surface models had a 10.6-inch display and an aspect ratio of 16:9. The Surface 3 has a slightly larger 10.8-inch 1920x1280 resolution display. More importantly, the screen has a 3:2 aspect ratio, which makes the display look and operate more like a standard tablet while still allowing it to be used in laptop mode.
Along with this the Surface 3 enjoys the same overall design language as the larger, more expensive Surface Pro 3.
5. Newest Intel Atom CPU
While the Surface Pro 3 can be bought with Intel's high-end Core i3, i5 or i7 processors, the Surface 3 only has one chip inside. The Intel Atom x7-z8700 processor, which just launched this quarter, is a low-powered chip using the Cherry Trail architecture. It's a quad-core processor with a clock speed of 1.6GHz, with burst speeds up to 2.4GHz. You can learn more about the chip at Intel's website.
While the real world performance of this chip is as yet unknown there's no reason to expect anything less than a good experience with it right now in the Surface 3.
Source: Microsoft
I really want to see a performance comparison between Surface Pro 3 and Surface 3.

Yeh, what's the difference other than the Surface 3 supporting 4G on carriers?

A lot, CPU, Display, Resolution, Stand, ...

I asked this before they posted the article about the comparison my friend. I am now aware of the differences.

Didn't anyone else notice that it has the Microsoft logo on the back--not Windows, not Surface.

Yes and actually its better because people will recognize all Microsoft product by this logo.

I would be satisfied with a comparison between the Surface 2 and 3, if this processor is really any good as they promise...I don't like Atom =/

The previous atom processor did have impressive performance benchmarks as well as battery life. I do hope it's a fanless design as well. That would be a win win as you would get amazing battery and no noise from the fans like the Surface Pro 3.

It is a fanless design. Technically the Surface Pro 3 rarely if ever makes noise, so I'm not sure you'd get a huge noise reduction benefit, but there you have it.

This 'Atom' is faster than the new Intel Core M processors in the new Macbooks... Quick CPU Bench comparison: (Higher is better) Surface 3 - 3600
Atom X7-Z8700 Macbook - 3100
Core M 5Y71 Asus M81C - 1120
Atom Z3745
The Atom name has more do with 'mobile' features like the LTE options than the performance category.

The Atom x7 chip is impressive. Any confirmation on whether the onboard 64GB / 128GB storage is a high-speed SSD? Or did they go with a slower option (MMC) to keep costs in check?

That would be a pointless endeavor. The Surface 2 ran on an ARM chip, where as this x86 offering lets you run legacy software and work in a more-traditional PC sense. The two devices have different guts and instruction sets, so they wouldn't really have a good reason to be compared for power. They do different things, and the Surface 3 is much more flexible for it. The Bay Trail stuff from this past generation of Atom chips was pretty good, though. It wasn't quite on-par with ARM's GPU, from what I read, but you were getting legacy software support, comaprable battery life, and paying basically the same price for the Tegra and Atom stuff.

Agreed, would be very useful information. Both CPU power and how the integrated graphics compete with Tegra 4.

Look up the GeekBench results and compare to the i3 version of the Surface Pro 3. The Atom x7 has four cores vs. two cores in the i3, which helps it reach i3 performance in multicore tests. It lags in single core tests. Floating point perf is well below the i3. Memory performance is especially poor (don't know if that was a testbed problem or an actual limitation in the memory access hardware). I haven't seen any GPU benchmarks. For a tablet, it'll have excellent CPU performance (ARM CPUs are *really* slow compared to Intel Core CPUs). My guess is that it'll be no better than most ARM systems on graphics performance.

Yes thats what I think, but for a normal daily usage I think Surface 3 is perfect

Memory performance is actually difficult and illogical IMO. This is because this processor is using LPDDR RAMs while SP3 I believe uses the ones used in normal laptops(couldn't find a reference which says it uses LP RAM, hence my belief) LP RAMs as the name suggests, use low power compared to regular RAMs but also compromise on power. The technology is essentially for mobile devices to improve battery life with somewhat minor compromise in the performance compared to laptops/notebooks. So, according to me, comparing these 2 devices might look similar but in essence, is an apple-to-orangeish comparison. The devices are being sold for different use cases. They might both claim to replace your laptop, but what kind of laptop, is a big deal that's not covered. Just the HW numbers don't really make sense here.

Thats right, I know SP3 is much more powerful than this device, but it would be nice to see how much is the difference between them

SP3 is Haswell based, these CPUs use the low power modules - DDR3L.

Anyone think that the pro 4 will be out this holiday?

It should be announced with Windows 10 nad the new mobile flagships this summer. I have a hard time believing it wouldn't be ready for the back-to-school rush.

And along those lines, what kind of PC games would I be able to play without it straining the system?

Let's see if that atom 7X is strong enough... It's not a core i3... but I'm hoping it was near to it...

"in addition.... It comes with 1TB of OneDrive cloud storage"
It's unlimited

Unless Microsoft got rid of unlimited OneDrive storage, it's still unlimited.

Unlimited storage is not rolled out yet.


No it's not. 1TB is 1TB. You have to sign up for unlimited storage if you're a 365 subscriber. I wish people would stop spreading false information.

Actually, the sign up sheet is to be one of the first to get unlimited storage. Microsoft, afaik, intends to roll out unlimited storage to <b>all</b> Office 365 users. However, they are rolling it out in small batches slowly over time. If an office 365 user would like to obtain unlimited storage as quick as possible, they can apply through the sign up page to receive unlimited storage in the next available spot in the soonest batch possible of updates. I'd you don't sign up you'll still get it, it just may not be any time soon. I actually signed up though and got mine a few months later.

Technically unlimited, but Microsoft seems to always advertise it as 1TB. In fairness: A terabyte is still more than what I see anyone else offering at that price, and I think the Unlimited storage is still experimental, seeing as you must email a special address to manually receive more storage in 10TB increments. But yeah, they still always advertise it as "only" a terabyte, whatever their reason may be.

How the hell can 1TB be technically unlimited? That makes no sense. It's doesn't matter if it's more than enough to make it feel that way. And like you said, you don't get unlimited unless you sign up for it. 1TB ≠ unlimited no matter how you look at it.

Except for the fact that, y'know, they don't advertise it as unlimited, they advertise it as 1TB. And you still can request more and more storage as you need it, in 10TB increments. So not sure what point you're trying to make? They don't advertise it as unlimited, and unlimited storage is theoretically available, even if it's not widely advertised.

The point I'm making is that two commenters (you and Jas00555) says it's unlimited which it isn't. MS clearly advertises a free one-year subscription of Office 365 that comes with 1TB of storage. You also agree with what I and the source says in your first sentence. You can make baseless arguments and talk about things that aren't readily known and don't advertise to the average consumer. Any other disputes about the way you feel about it should be taking to MS. I'm not the one to argue facts. Have a nice day.

Ok, I'm extremely confused as to what the argument is? There's no false advertising... They advertise it as 1TB of storage, they give you a TB...
If you want the theoretical "unlimited" storage, you can request more storage as your OneDrive fills up, and the OneDrive team enables another 10TB of storage for you to use. They don't limit this activity. They don't let consumers know about it, but it's an option nonetheless (y'know, seeing as I'm rocking 10.1TB of OneDrive storage at the moment).
So again: I'm confused, where's the conflict? We're all in agreement, aren't we? They advertise a terabyte, they give you a terabyte. There's a lesser known unlimited option, they deliver on that... What's the issue? EDIT: Apparently I'm making a "baseless" argument, so in addition to the fact that I personally have 10TB from Office 365, I'm just gonna leave this here: http://m.windowscentral.com/unlimited-onedrive-storage-starts-rolling-ou...

I'm going by what MS advertises against what commenters are saying. Jas00555 says "It's unlimited" - false SwimSwim says "Technically unlimited..." - false Is something wrong with your comprehension? I also said don't advertise to the average consumer. If the average consumer wants a subscription they won't see or have any idea about an unlimited option. What they see is what they're offered. They don't come to Windows Central or go to an MS blog and learn about these things like we do. This is something you and chipeast and fail to realize. You guys are smarter than that.

Ok, and again: They advertise to the masses as 1TB, they deliver that 1TB. But it's still technically unlimited because they never cut you off from requesting more and more storage. What's the conflict? They deliver what they promise on, the average consumer sees 1TB, they get 1TB, and perhaps even more if they discover how to request more storage down the road. What is the issue? These are indeed all facts, what exactly are we arguing? I keep presenting the same points because, honestly, I don't see where the argument lies...

Coming soon, Office 365 customers will get unlimited OneDrive storage at no additional cost. The roll out of the service started with Office 365 Home, Personal, and University customers on the 27th of October 2014. For OneDrive for Business customers, unlimited storage will be listed on the Office 365 roadmap soon and Microsoft will begin updating the First Release customers in 2015. https://blog.onedrive.com/office-365-onedrive-unlimited-storage/

chipeast, isn't it great when you make a comment that basically ends conversation... Good job quoting and linking to that posting.

Thanks! I'm just trying to clear things up. I learn from and appreciate these forums every day. =)

Honestly, until ISP's stop implementing a cap, it doesn't matter if it is 1TB or Unlimited. Can't really use cloud storage until caps get removed. All those without caps should feel lucky!

While I agree with your overall point, it is technically possible to use the 1TB even with data caps. An example would be writing all your system backups to OneDrive and just letting them accumulate for months or years. They won't be using bandwidth, but they still occupy the storage space.

I'm confused by this. How would the system backups NOT be using bandwidth? Setting them to not go over a certain limit is one thing, but here is the problem. - 200GB cap for the month which I nearly hit or exceed every month (I have to monitor this very closely and they will charge for the next 50GB by just going 1kb over) - 12TB on my server needs backed up. - If I used no other internet for each month it would take me 60 months (5 years) to backup everything that I CURRENTLY have if I didn't want to go over my cap. If you have a solution for this I would be most appreciative! In the meantime, screw ISPs and the lack of competition.

It's not that system backups wouldn't use bandwidth. They would of course. However, if your backups add up to say 100GB per month, you would be using 100GB per month of bandwidth which does not exceed the 200GB limit of your ISP. However, if you want to keep one years worth of backups on OneDrive that would be 1.2 TB worth of stored data which does make the difference between 1TB and "Unlimited" come into play. Anyway, In your situation I agree that you are limited by your ISP (although 12TB for a residential connection is a bit extreme). I'm just saying that there are some scenarios in which 1TB of cloud storage could be used.

WHY WOULD SOMEONE NOT WANT CAPS?

Is it good enough for daily tasks ?

Even the Surface 2 is good enough for daily tasks. I have no doubt that will be more than adequate for web browsing, e-mail, Office, etc.

Depending on your daily tasks, probably yes. It is likely capable of some professional use to, but not as your only PC

For anyone who uses an iPad and/or a sub-$1000 laptop in their daily life and gets by just fine: This is an incredibly ultralight and super portable machine that will get the job done.. It's good for Office, Chrome (I know that's profane on this site... But I know lots of people who bought a Surface RT/2 and were very disappointed when they couldn't install Chrome), Facebook, even some /light/ PhotoShoping. And it should be able to run any Windows/Universal Apps no problem. However, once you get up to heavy PhotoShop, start dealing with 3D graphics, moderate video editing, light to moderate gaming (Nothing crazy intense, mind you): Then the Surface Pro 3 or really any core i5 or i7 is your speed. Then if you need even /more/ power, start looking at desktops (maybe consider building your own) or gaming laptops. But obviously, this category is a pretty niche one, reserved for those who need powerful professional programs, and/or gamers who want nothing less than the best performance.

Pen input like the SP3? If it has this I'm gunna be kicking myself for buying a Pro 3 lol.

Don't, you have an infinitely better processor... They just need to adjust the power/heat. =[

The intel site states the x7-8700 is a 2 watt chip. the i3-5020 is a 10 watt chip.

This is all I care about too. The PEN.
All other goodies are bonuses to me. Is the pen as good as the SP3?

It's the exact same Pen as the Pro 3, and one would assume the digitizer is calibrated just as meticulously. You can also buy the new colored Pens for use on the Surface 3 or the Pro 3.

It has pen support, but you have to buy the pen for another $50.

sweet really need to get one

They should probably allow S2 users to "upgrade" to this by paying a discounted price. Just saying.

There is a high chance of it.

They had a pretty good trade-in program at Best Buy for original Surface owners to upgrade to the Surface 2. I hope to see something similar, would be even better if it was directly through the Microsoft Store.

I'm still on Surface RT lol. Just can't afford what I want in the Surface Pro 3 or this.

SP2 to upgrade to this? Why? For the aspect ratio?

For full Windows? Windows 10 upgradeability? Better compatibility?

SP2 has full Windows and W10 upgradeability (and a much better processor), perhaps you meant the Surface 2?

Yeah, I meant that. Sorry, my bad.

The SP2 has all of those options. Perhaps you meant Surface 2?

Microsoft is doing unexpected things XL series, Surface 3, Hyper lapse etc.

want to know if cherry trail packs enough punch for an atom and here's the 6th thing you need to know: it has bad graphics(from intel website)- has only intel HD graphics with a base freq of 200MHz with burst speed upto 600MHz.

From what I understand core CPU performance is not much, if at all improved from the previous generation of Atom CPU's. The big difference in this generation is with the integrated graphics, which should be much better than before.

Actually it is much faster... The X7 is considerably different than the previous generation, scoring over 3 times faster than the current generation of Atom processors. Being a true Quad core, it is also faster than many of the previous generation mobile i3 and i5 processors and most of the current i3 mobile processors. Here is a nifty context - this CPU is faster than the Intel Core M in the new Macbooks.

Here is the info I had seen on Cherry Trail performance: http://vr-zone.com/articles/intel-atom-cherry-trail-chipsets-could-disap...

What source are you using to conclude that this Atom processor is faster than i3 and i5 processors?

Me too. The previous Bay Trail processors showed really good benchmark numbers. Those numbers were equivalent to Intel's 2nd Gen i3 or better. I also hope this is a fanless design (no noise).

It is a fanless design, for what it's worth.

No one is going to game on this.

The new baytrails are very solid performers! Forget about the older atoms.
Try to get some cheap tablet running the new quad core baytrail atoms just to have a feel for its performance on windows. It is surprisingly good. Almost comparable to the Core i3 IMHO.

I wonder what the reason is for not using a totally adjustable kickstand like the Surface Pro 3.

I mean, really, how much more expensive is the Surface Pro 3 kickstand hinge than the Surface 3 one? Pennies per unit? And I'd think the one that didn't have locked positions would be more reliable, as those are more prone to break.

Apple is right about MS sometimes, need to jump ahead, where is usbC, 3.0? Three positions got stand only? Hmmmmm... I'll take a peak...

And Apple is wrong about MS sometimes. Who cares? They even make a laptop with just one port ROFL.

While Apple flopped with the new MacBook only using one port that is virtually unused at this point, Microsoft also blundered by not future proofing it by not using Type-C rather than micro-USB.

this has a micro port and a full size usb 3.0. things people already use and will continue to use for years

I agree with SwimSwim. The omission of USB Type-C is the biggest mistake Microsoft made with this device. It absolutely should be there, and the excuse that not many others devices has it is just silly. By this time next year, it will be the mainstream connector and those who buy this device will be stuck in the past, while the rest of the tech world has moved on.

Could have put two or more C ports, then also included one adapter. Boom future proof, with accommodation. The band has many sensors that aren't used, hololens... Surface should be cutting edge.

I'd say one USB Type-C is all that's necessary basically at the moment. It could be used exactly like the charge port on the Pro 3: The Type-C port would've been used for charging and connecting to the docking station. The full size USB 3.0 port and minidisplay port would then provide nice connection options on the go. And don't forget about the SD card slot. So not a huge mistake, and the Surface 3 looks to be a fantastic device, but I still think that was Microsoft's biggest mistake on this device (Which, if anything, says how much they got right if that's the most glaring thing they got wrong).

Does the x7 8700 support USB type C? Intel website states it supports up to 3 USB 3.0 ports.

Not natively, not even the upcoming 100-series chipsets for SkyLake processors do. But quite a few motherboard manufacturers are adding 3rd party controllers. That is what Apple is doing with the new MacBook for example.

One port is stupid, should be two, or like the pro surface have another port built into the charger.

It has dedicated 'full' ports... So unlike Apple, a $70 dongle is not required. (It is also faster than the new Macbooks, which is fairly impressive considering it is almost 1/3 the cost and has more hardware features.)

Very true, but Microsoft had the chance to right Apple's wrong by allowing connections via USB-C and legacy full USB 3.0, but alas... It's not the biggest mistake ever, since the 3 still connects with far more ubiquitous ports, but still would've been nice for this device to be on the cutting edge.

Keep in mind that USB-C, while cool and cutting edge, is more of a disadvantage for a device like this. If a device requires a high current draw and a proprietary charger in order to charge then USB-C is great because it replaces the bulky proprietary charger with a standardized solution. However, if a device has a low enough power draw that it can charge from a micro USB cable then that is by far the most easy to find connector in the world at this point (and for the next couple of years most likely). It doesn't make a lot of sense to burden your customers with additional cables at this point. SP4 should definitely be rocking USB-C though. Also, where does Apple get off telling MS that they need to "jump ahead." Apple is the most conservative of the 3 big tech companies. It's especially funny in the context of this product. Where is Apple's iPad pro?

Don't worry: Apple will be "inventing" the hybrid tablet/laptop combo soon.

The SP2 is upgradeable to W10.

they should stop doing tablets that want to be laptops replacements while sporting an atom processor. I don't know y they even suggest that.

It's still first and foremost a tablet. And don't take the Atom processor for granted. The previous Bay Trail Atom processors showed impressive results both for performance and battery life. It actually surpassed Intel's expectations which is a good thing.These aren't the horrible netbook Atom processors. They are 100 times better in every way.

I have Yoga from Lenovo I know how Atom works. It still not a laptop replacement by far even if this new generation steps up the game.

I say they are doing tablets that can replace laptops because of the anti-trust thing Microsoft went through not letting them make PCs and laptops.

No they shouldn't. Ever tried a new Atom based machine? Probably not.

Okay you buy it then complain afterwards. I can't wait for the reviews. Just ask Daniel how long it took him to do Windows updates on a previous Atom..

You need to go look up this 'Atom' processor... It is 3 times faster than the current generation of Atom processors and is even faster than the new Intel Core M that ships in the Macbook. The 'Atom' naming is something Intel is doing based on its mobile features and interfaces. (Notice all the mobile sensors - LTE, GPS, etc.)

What are the other markets which are getting this?

2GB with 64GB SSD
4GB with 128GB SSD

I'm not sure it's SSD. The Atom x7 cpu lists eMMC as the supported storage type. So unless MS/Intel did something custom, the best we can hope for is a faster-the-average MMC implementation... [looking for confirmation]