5 Windows 10 apps you should try: Reading, writing, rolling, and Redditing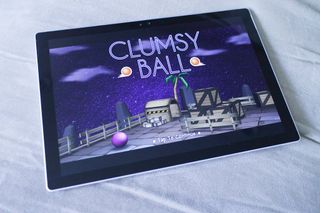 With the ever-growing number of apps and games in the Windows Store, it is becoming increasingly difficult to keep up with what's out there.
For that reason, every Friday we showcase some apps that have piqued our interest. They may have been in the news recently, they may be new to the Windows Store, or they could simply be old apps that we just stumbled upon.
They are the 5 Intriguing Apps of the Week.
Nebo
Nebo is handwriting and drawing app for Windows 10 PCs and tablets.
Just pick up your stylus and start writing on your screen and Nebo will instantly begin recognizes the words that you write down. Double-tap and Nebo will instantly convert them to text.
Nebo also incorporates gestures to help you with editing and formatting. For instance, you can scribble over your mistakes to erase them, draw a line between words or letters to make a space between them, or create a new paragraph by swiping down. The app also recognizes bullet points and numbering and will automatically format them.
Nebo is capable of much more than writing, too. You can draw diagrams, like org charts, which the app will turn into graphics, or write equations and watch them turn into text. You can also import pictures to annotate, or just sketch freehand.
All of your writing and drawing is neatly organized into individual color-coded notebooks within the app. And anything you create in Nebo can be exported to Microsoft Word, shared, or viewed in your browser.
Nebo is a powerful tool for anyone who wants to take notes, jot down ideas, plan out ideas, or just plain doodle.
Available for Windows 10 PC.
Download Nebo from the Windows Store
Share Across Devices
Share Across Devices is an innovative app for any device running the Windows 10 Anniversary Update.
Whether it's your computer, phone, tablet, Xbox One, or even HoloLens, Share Across Devices lets you copy text or hyperlinks from one to the other.
Copy what you want to share and paste it into the app. You will see a list of your other devices that you also have it installed on. Choose your target device, and there you go.
When sending plain text, Share Across Devices will load your selection into the other devices clipboard. But with links, the app will automatically open the target's web browser, even if its locked. Since the app's release, the developer has also added the ability to choose target apps instead, like TubeCast for YouTube links.
Share Across Devices is still in its early stages, but it's an exciting glimpse into just what is possible with the future of Windows 10 and developers' ingenuity.
Available for Windows 10 PC and Mobile.
Download Share Across Devices from the Windows Store
Reddunt
If you are a fan of Baconit, the open source Reddit client for Windows 10, then you may be interested in taking a look at Reddunt. Reddunt uses Baconit's solid open source foundation and adds to it with its own cool features.
Since it's based on the same source code, you'll find many similarities to Baconit, like a user-friendly design, easy browsing, and just about any functionality you could want in a Reddit app. You can cruise subreddits with or without an account, see comments, etc.
The developer of Reddunt's focus is on optimization and leveraging Windows 10's native features. There's a full screen mode to make the most of your browsing and Feedback Hub integration to mainline your input directly to the dev.
For those of you on Anniversary Update builds of Windows 10, Reddunt has enhanced battery efficiency. The app is optimized for HoloLens and an Xbox One support is in the pipeline. And this is really just the start.
Whether you're a serious Redditor or a casual lurker, Reddunt is great way to optimize your experience.
Available for Windows 10 PC and Mobile.
Download Reddunt for Windows 10
Wattpad: Free Books and Stories
Wattpad is an online community where users can submit original books and stories and read the works of others. Their official app for Windows 10 brings all that the community has to offer to your computer, tablet or phone.
Search by genres like fantasy, science fiction, romance, and mystery. Or check out fan fiction based on your favorite series of books.
You can follow writers to get new installments as they are published and offer your feedback. Save your library, make recommendations, and share your selections with friends. Reading lists and book club picks will keep you busy with recommended reads.
Think you have what it takes to write the next best seller? Post up your manuscript and see what your fellow Wattpad members think. It's also a great resource for burgeoning authors to get tips on process, style, and form.
Whether you're trying to become the next J.K. Rowling or just looking for a good read, Wattpad's community has got you covered.
Available for Windows 10 PC and Mobile.
Download Wattpad: Free Books and Stories from the Windows Store
Clumsy Ball
Clumsy Ball is a physics-based marble game where you must navigate around each level to perform certain tasks. However, rather than controlling the sphere, like most games of its ilk, in this game, you control the entire board, which tilts in every direction.
You must tilt the table enough to gain momentum, but not so much that you will go rolling off into the abyss. Each level has crystals that you must collect before you can exit and two achievements that can be earned. In order to pass to the next section, a certain number of achievements has to be reached.
Standing in your way is a multitude of obstacles, flamethrowers, traps, and of course, a serious lack of guard rails. Don't let your health get knocked down to zero, and don't go careening over the edge.
Clumsy Ball is a game of skill that pits you against your own steady handedness. It's easy to play, but tough to succeed at.
What's more is that there are numerous ways to play it. Since it is available on PC, tablet, phone, and HoloLens, you can choose from various controls, including accelerometer, gamepad, keyboard, and the HoloLens rig.
Buy it once and you'll get a challenging little ditty that you can play several times over, if it doesn't drive you crazy first.
Available for Windows 10 PC and Mobile.
Download Clumsy Ball from the Windows Store
Be sure to check out our other selections from previous weeks. Have a great weekend!
Do you have an app you want us to highlight? Drop us an email at tips@windowscentral.com with "5 Intriguing Apps" in the subject line.
Get the Windows Central Newsletter
All the latest news, reviews, and guides for Windows and Xbox diehards.