5 Windows 10 apps you should try: Balance budgets, hard drives, and armies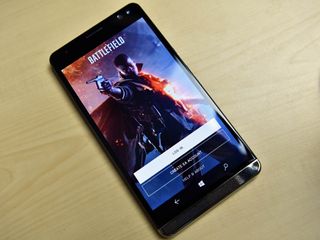 With the ever-growing number of apps and games in the Windows Store, it is becoming increasingly difficult to keep up with what's out there.
For that reason, every Friday we showcase some apps that have piqued our interest. They may have been in the news recently, they may be new to the Windows Store, or they could simply be old apps that we just stumbled upon.
They are the 5 Intriguing Apps of the Week.
News Grid
News Grid is an aptly-named news reader for Windows 10 PC and Mobile. The app pulls the latest stories from around the internet and lays them out neatly in a grid of tiles so you can see the headlines.
When you click on a tile, the link will open in your default web browser. Unfortunately, there isn't a way to expand and read the story within the app, but hopefully that feature will come along later.
Nonetheless, News Grid is still a convenient way to keep up on the latest headlines. While it does come pre-loaded with some assorted news feeds, the list can be completely customized. Simply type in the name of a website that you want to add and select from the results.
You can set how many headlines from each site appear on your grid to three, five, or ten, depending on how crowded you want it to be. Another helpful feature is that you can set the refresh rate, making the app automatically check for new stories at certain intervals.
New Grids is a few bells and whistles away from being an all-in-one news reader, but it is fast and well-designed, not to mention free. Available for Windows 10 PC and Mobile.
Download News Grid from the Windows Store (opens in new tab)
FourBudget
FourBudget is a personal finance tracking app for computers, tablets, and phones running Windows 10.
The intuitive point-and-click interface makes it easy to list all of your accounts and assign them names and specific icons. You can also color code your accounts for organizational purposes.
Each transaction can be logged, complete with the amount, date, category, and a description. You can also create transactions between multiple accounts for money transfers, etc. There is a built-in reporting feature that can show you income and spending over a day, month, year, or any custom date range.
FourBudget is designed for Windows 10 with native support for Cortana voice commands, as well as Windows Hello support using both iris and fingerprint scanners. Plus all of your data can be synced between devices and backed up for safe keeping.
FourBudget is a great tool for keeping a handle on your spending, tracking your budget, or even teaching kids about being responsible with money. And since it's free, it won't affect your financial wellbeing.
Available for Windows 10 PC and Mobile.
Download FourBudget from the Windows Store (opens in new tab)
CrystalDiskMark 5
CrystalDiskMark 5 is a popular hard drive benchmarking utility that was previously available as a Win32 program for PCs.
It has recently found its way into the Windows Store as a product of Microsoft's Project Centennial which helps developers convert their "classic" desktop applications into Windows 10 apps.
CrystalDiskMark5 works on mechanical hard drives, solid state drives, and even removable media, like microSD cards. It runs a series of tests to determine the read and write speeds of the drive in question.
You can customize the benchmarks in a number of different ways by changing which tests are run, the intervals, etc. Test results can be saved as text files for sharing or for your own records.
CrystalDiskMark 5 also has multiple themes to choose from and support for a slew of different languages.
Available for Windows 10 PC.
Download CrystalDiskMark 5 for Windows 10 (opens in new tab)
Battlefield Companion
This week, EA released an updated Battlefield Companion app to compliment the latest addition to the franchise, Battlefield 1.
Made to work with both Battlefield 1 and Battlefield 4, the app gives you all of the same functionality of the website, letting you track your stats and achievements, and see how you stack up to your friends' progress.
You can check out your character's loadout and make changes right from your phone. There's also a built-in emblem gallery, along with an editor to design a custom symbol for your soldier.
And Battlefield Companion helps you keep in touch with your brothers and sisters in arms, sending you a daily summary of their activity and even notifying you when they are playing.
If you're a Battlefield fanatic, then this app should be standard issue.
Available for Windows 10 Mobile.
Download Battlefield Companion from the Windows Store (opens in new tab)
Tin Heart
Tin Heart is a minimalist survival game for Windows 10 computers and tablets.
The goal is to maneuver your heart around the board to avoid creatures, projectiles, and obstacles. This is done simply by using your mouse, touchpad, or touch screen the same way you would move a cursor.
Each time you are hit by something, you lose a life, and the game ends when you run out. The world in which you travel is an ever-changing landscape of trippy colors, abstract shapes, and strange creatures, all (very) loosely based on The Wizard of Oz.
Tin Heart is a very simple game, as really all you do is meander around the screen, but it can get seriously challenging. Though the gameplay may not be enough to keep your attention for an extended period of time, the visuals are stunning.
The objects and adversaries that you must steer clear of look hand drawn and sport a stylistic panache. The soundtrack, made up of alluring piano music, will also help keep you engaged for a while.
Tin Heart may or may not be a game that you continue play over time, but its design alone makes it one to try. It's free to play, with occasion ads that pop up between rounds.
Available for Windows 10 PC.
Download Tin Heart from the Windows Store (opens in new tab)
Be sure to check out our other selections from previous weeks. Have a great weekend!
Do you have an app you want us to highlight? Drop us an email at tips@windowscentral.com with "5 Intriguing Apps" in the subject line.
Only windows central and Microsoft can start something with the line "with apps growing in Windows store". Posted via the Windows Central App for Android

wheres paypal, myfitnessapp, vodaphone app uk, santander app? oh and a working wireless payment option? Hes got a point. I love windows mobile by far the best but to many of the importana apps are now missing for me. Hell even netflix on windows mobiel and desktop still cant cast lol.

Wallet works wirelessly with a Bank of America debit card, but they need to add other banks soon.

True! But not just these apps, Microsoft's their own apps, I was shocked to see are by far so better in rival platforms than their own. Posted via the Windows Central App for Android

And now Facetune is missing...

You missed his point. He's saying that the apps aren't increasing in number.

But they are growing, whether they are big name or not, they are growing. You just focus on the occassional "So and so left windows" article. Yet fifa mobile got latest update for the game before android/ios.

The number of apps and the obsolete existing apps at the present state doesn't allow or convince any plain user to switch to windows phone. You and I as windows fan boys, can boast about how number of apps are growing (when windows store gets 3 good apps in 3months) while rival platforms have better quality apps of our own MS. :) Talking about growing apps, most of them are for purchase and not free, including your own windows central app that is to be purchased in Windows store and I m commenting here after downloading it for free. Posted via the Windows Central App for Android

Emjey, 100% agreed and here's an upvote.

I don't recall having to pay for the 8.1 WC app, or the win10M app. Your information sources seem to be... A little off. Also all of us who care about "Look at the growing apps on the store", don't care about "This has to bring more customers to windows". We care because its apps we can use.
Why does everyone need to bring market share, or store comparisons, to every small glimpse of light they can see

i payed for the windows central app in 2015

Why would I say I have paid when I haven't. It was a paid app for 8.1 too. I am not sure about the Universal app though. Posted via the Windows Central App for Android

You clearly haven't even used the office apps on windows 10 if you think they are better on your android thing.

Giddora, Office apps and other Microsoft apps in general on iOS (though the same could be said for Android) have not only more features and are much more stable than the Windows 10 versions (except perhaps the PC versions), but they are also updated on weekly basis without fail. There rarely are bugs but if found they are immediately fixed with the next update and comes with a changelog. This is now an established fact that cannot be denied.

Never found the Office apps to be 'unstable'. Not sure where you are getting your facts from ;-)

Using them on both platforms and they are mostly on par with the anrdoid versions that look a bit faster, maybe it's because of the faster OS/phone and not because of the apps themselves.

This is Entirely possible too Posted via the Windows Central App for Android

I have loads of office apps here. Not just Microsoft's and also, back in 8.1 office apps were ****. I am daily using office apps over Android, if Microsoft can't do something in their office app, I have tons of other apps for free. It is not a monopoly thing back at the stores of rival platform, so apps in their own interest have to be better and are better Posted via the Windows Central App for Android

And besides.. These are apps for the windows 10 ecosystem, not limited to windows mobile.

Windows 10 ecosystem is not important as long as it provides developers an ecosystem to build apps and not make even the developer tools a paid one. Posted via the Windows Central App for Android

Purchasing apps let's the developers earn and keep up the quality of the apps, also adding features. It all costs money. But, take for example Subway Surfers: It serves ads on Android, and though it's free for us, the user experience is so much better. Also, keeping an app free also comprises our user experience, like in Asphalt 8 where you have limited gameplay, have to wait after lives get over. Not to mention the two different currencies, unrealistically expensive cars and upgrades (while earning isn't that high). And they serve ads between gameplay. Then there are apps for which the developers know that they probably won't ever really get money, so they are forced to lock features or place ugly ads on the screen. I'd have preferred doing an outright expensive purchase of an app with quality and updates like windows central and Asphalt 8, rather than subscribing/paying as I go/having ads - it's more expensive. Not everything free is good. Windows 10 is seeing good quality apps coming up

lol subway surfers and the 1000 games identicaly the same are really cheap ass and dont even deserve a place in thought. they suck badly on any platform.

I see myself back in 2013 in your comment when I used to boast.
Microsoft will do this, Microsoft will do that, apps will come, bots will do this.... But what I got is apps getting deprecated, unstable OS, delayed updates, inconsistent UI, lack of day to day productive apps, third party apps for purchase. Posted via the Windows Central App for Android

i agree that windows apps are leaving like paypal and as such i moved to androdi, i now own a s7 edge but miss live tiles and cortana, not hamburger(android) menu. But soz ive used outlook on android and itsd not close to as good as windows phone one, ive used it on ipad too and its not even as close as good on windows mobile, ive used groove, which is great on my android but not as good as my windows version on mobile. On my iphone its ok but its none existant on my ipad as micrsoft have not made a ipad version and the mobile version is unusable on ipad. Cortana sucks on my androdi cause she doesnt suport the uk so doesnt even work properly, again much better on windows mobile. Hell cortana is by far better than google and im talking about the whole personal feeling thing too. ASlso i have no microsft calender or photo app option on either iphone, s7 edge or ipad, no option at all unless i use the built into outlook one, so now im forced to use googlecal. one drive is a app that is great on all the devices as its prety identical mostly. Honestly i heard people say that microsft apps were better on androdi and ios and after using them on all platforms, its simply a load of bull poo. Still none of that maters as windwos mobile might be the best os to me, its still become unussable due to the apps i need and use and the apps it lacks. When a app as big as paypal leaves the windows store you know the platforms in trouble. What i dont understand is id prefer the app on my desktop tiles so why cant we have one there and on phone, i dont get why the droped suport.. Anyway paypal is not as good as it was under ebay so id happily move to a alternative, there just isnt one. Here maps was awsoem shame thats gone too. Microsft could at least suport their own platform by suporting their own software, after all microsft is suposed to be a software company but 2 years in and still windows 10 does NOT suport gestures. Hell mute function in touch but they forget the speakerphonne option along with the failure of producing a skype that can do all the old things is kinda very embarrising for a company thats suposed to be software first.

I don't see it bad on Android. Skype is way far better when I switched for win8.1, yammar cudnt even let me login while Android yammar is wonderful with design and features, lync was a shame in Windows phone does nothing but crash randomly guaranteed, Microsoft released no OWA apps for Android, I agree with Cortana! Its off no use to me in Android, Google assistant is more powerful and personalized. When you see my android phone now it's all loaded with more Microsoft apps than Google, than when it was in Windows phone. Posted via the Windows Central App for Android

Everything Microsoft is in android without exception and works as well if not better in many cases, it beggers belief!
If you want windows tiles etc set up an app called 'Square home', plus the key. It'll take you an hour at least to set it up, the customisation is endless, then put on glance screen, it's the best I've seen, I can assure you when you set it all up then look at a windows phone you'll say that this is much better. Microsoft have made a concerted effort to make their apps work better than in their own system, they've even developed a launcher! I just don't get it at all, while they leave their own platform to flounder with poor work? .

Microsoft garage makes better apps, I have never seen Microsoft garage as active in Windows platform as it is on Android. Posted via the Windows Central App for Android

FourBudget isn't free and costs 2,99$/€ but it has a free trial.

I think I'm still going to try it anyway though, sounds good.

How does it compare to Money Tracker Pro?

This is the Money Tracker Pro I'm referring to: https://www.microsoft.com/en-au/store/p/money-tracker-pro/9wzdncrdklck There's some apps in the Store with the same name (diff. publisher) that are nowhere near as good. How does FourBudget compare to it, IYHO?

You can try it. It lacks a few features about planning but it's quite simple and beatiful.

There are more than enough windows apps in the store.

not for most mobile users, other wise windows mobile would have taken off in alot biger way. For example the apps i need and use that arent on windows are, santander bank, vodaphone app, paypal, myfitnesspal, here maps or here go(microsft maps is geting better its just not anywhere as good yet) Gestures beta(even though on the store it claims to work on windows 10 and it never has) my netflix aloows casting on android it never has on windows phone and i use that function a awful lot. The last few months on windows mobile metro tube my prefered you tube app crashed alot and well now i use you tube oficial app its something id need also now, by the way the official you tube app on s7 edge has never crashed and i use it daily for 1-3 hours. Windows 8.1 with metro used to be that reliable but it never has with windows 10 mobile.. More features like alerts for new content lol. Some of the apps id like but not essential flick nfl, home kits would be nice. kodi a proper ebay app and many many games that the windows store just doesnt even come close to competeing with, its like mac desktop v pc desktop in gameing, its that big a gulf. So you see for me there simply isnt enough apps on the app store. Judging by windows mobile sales i think thers close to 2 billion people that would agree, or at least half of that figure. Windows 10 does not have enough apps and it continuews to be a issue wioth what is otherwise a great platform. or will be a great p[latform. It just is not right now and being that im a older person i dont think im gona live long enough to see windows become sucessful in the consumer marcket in my life time and im not waiting anymore to get the all in one conectivity accross devices. if it wasnt for pc desktop gaming id have left windows comepletely the moment they said they no longer are going after the consummer market. I need that mobile, tablet, desktop interaction, i want calls and textes accroww all my platforms, its 2016 not 2005

News Grid looks like it will be my new favourite news app! It reminds me of Converge, an app I still use. If News Grid and Pull articles and make then readable within the app then I would pay for it!

Wow finally back on Windows Phone after abandoning the platform about 15 months ago. Some how I still feel at home. I wish this article included a password Manager app

Agree, check out Enpass. UWP and Hello support. No subscription.

wheres paypal, here maps or here go, myfitnesspal and gestures beta? paypal is a very importanat app i need and it was the final straw for my windows mobile experience, yes i love live tiles and cortana but its one to many apps missing. Santander bank app, vodaphone app uk and many popular gaming apps like flick nfl are still missing. Hell even my ipad doesnt have microsft groove app.. Ill return if the app gap is closed but id now need to add google apps to that list of missing apps. Funny how in 2014 there was more than enough apps for me and now in 2016 there isnt. Oh and wireless ayment options needs to already exist before i cross back.
Windows Central Newsletter
Get the best of Windows Central in in your inbox, every day!
Thank you for signing up to Windows Central. You will receive a verification email shortly.
There was a problem. Please refresh the page and try again.