5 Windows 10 apps you should try: Balance budgets, hard drives, and armies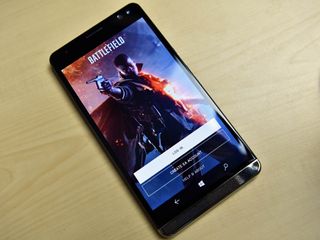 With the ever-growing number of apps and games in the Windows Store, it is becoming increasingly difficult to keep up with what's out there.
For that reason, every Friday we showcase some apps that have piqued our interest. They may have been in the news recently, they may be new to the Windows Store, or they could simply be old apps that we just stumbled upon.
They are the 5 Intriguing Apps of the Week.
News Grid
News Grid is an aptly-named news reader for Windows 10 PC and Mobile. The app pulls the latest stories from around the internet and lays them out neatly in a grid of tiles so you can see the headlines.
When you click on a tile, the link will open in your default web browser. Unfortunately, there isn't a way to expand and read the story within the app, but hopefully that feature will come along later.
Nonetheless, News Grid is still a convenient way to keep up on the latest headlines. While it does come pre-loaded with some assorted news feeds, the list can be completely customized. Simply type in the name of a website that you want to add and select from the results.
You can set how many headlines from each site appear on your grid to three, five, or ten, depending on how crowded you want it to be. Another helpful feature is that you can set the refresh rate, making the app automatically check for new stories at certain intervals.
New Grids is a few bells and whistles away from being an all-in-one news reader, but it is fast and well-designed, not to mention free. Available for Windows 10 PC and Mobile.
Download News Grid from the Windows Store
FourBudget
FourBudget is a personal finance tracking app for computers, tablets, and phones running Windows 10.
The intuitive point-and-click interface makes it easy to list all of your accounts and assign them names and specific icons. You can also color code your accounts for organizational purposes.
Each transaction can be logged, complete with the amount, date, category, and a description. You can also create transactions between multiple accounts for money transfers, etc. There is a built-in reporting feature that can show you income and spending over a day, month, year, or any custom date range.
FourBudget is designed for Windows 10 with native support for Cortana voice commands, as well as Windows Hello support using both iris and fingerprint scanners. Plus all of your data can be synced between devices and backed up for safe keeping.
FourBudget is a great tool for keeping a handle on your spending, tracking your budget, or even teaching kids about being responsible with money. And since it's free, it won't affect your financial wellbeing.
Available for Windows 10 PC and Mobile.
Download FourBudget from the Windows Store
CrystalDiskMark 5
CrystalDiskMark 5 is a popular hard drive benchmarking utility that was previously available as a Win32 program for PCs.
It has recently found its way into the Windows Store as a product of Microsoft's Project Centennial which helps developers convert their "classic" desktop applications into Windows 10 apps.
CrystalDiskMark5 works on mechanical hard drives, solid state drives, and even removable media, like microSD cards. It runs a series of tests to determine the read and write speeds of the drive in question.
You can customize the benchmarks in a number of different ways by changing which tests are run, the intervals, etc. Test results can be saved as text files for sharing or for your own records.
CrystalDiskMark 5 also has multiple themes to choose from and support for a slew of different languages.
Available for Windows 10 PC.
Download CrystalDiskMark 5 for Windows 10
Battlefield Companion
This week, EA released an updated Battlefield Companion app to compliment the latest addition to the franchise, Battlefield 1.
Made to work with both Battlefield 1 and Battlefield 4, the app gives you all of the same functionality of the website, letting you track your stats and achievements, and see how you stack up to your friends' progress.
You can check out your character's loadout and make changes right from your phone. There's also a built-in emblem gallery, along with an editor to design a custom symbol for your soldier.
And Battlefield Companion helps you keep in touch with your brothers and sisters in arms, sending you a daily summary of their activity and even notifying you when they are playing.
If you're a Battlefield fanatic, then this app should be standard issue.
Available for Windows 10 Mobile.
Download Battlefield Companion from the Windows Store
Tin Heart
Tin Heart is a minimalist survival game for Windows 10 computers and tablets.
The goal is to maneuver your heart around the board to avoid creatures, projectiles, and obstacles. This is done simply by using your mouse, touchpad, or touch screen the same way you would move a cursor.
Each time you are hit by something, you lose a life, and the game ends when you run out. The world in which you travel is an ever-changing landscape of trippy colors, abstract shapes, and strange creatures, all (very) loosely based on The Wizard of Oz.
Tin Heart is a very simple game, as really all you do is meander around the screen, but it can get seriously challenging. Though the gameplay may not be enough to keep your attention for an extended period of time, the visuals are stunning.
The objects and adversaries that you must steer clear of look hand drawn and sport a stylistic panache. The soundtrack, made up of alluring piano music, will also help keep you engaged for a while.
Tin Heart may or may not be a game that you continue play over time, but its design alone makes it one to try. It's free to play, with occasion ads that pop up between rounds.
Available for Windows 10 PC.
Download Tin Heart from the Windows Store
Be sure to check out our other selections from previous weeks. Have a great weekend!
Do you have an app you want us to highlight? Drop us an email at tips@windowscentral.com with "5 Intriguing Apps" in the subject line.
Get the Windows Central Newsletter
All the latest news, reviews, and guides for Windows and Xbox diehards.