5.8 million Lumia smartphones sold this last quarter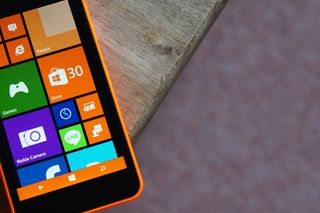 Microsoft has just shared their latest quarterly financial report. This is for the previous three months that ended on June 30, 2014. Microsoft reported revenue of $23.38 billion with a net income of $4.61 billion. In the report, you'll find a ton of information about the various divisions within Microsoft. One interesting statistic: 5.8 million Lumia smartphones were sold during that period.
Microsoft completed the acquisition of Nokia's handset division during this quarter and also reports a few stats on phone hardware.
Phone hardware revenue was $1.99 billion (Lumia and non-Lumia devices post acquisition)
5.8 million Lumia smartphones sold
30.3 million non-Lumia smartphones sold
Note: This isn't technically the full quarter, just the time frame after the deal between Microsoft and Nokia.
We'll have more analysis coming soon. In the meantime, settle into your favorite analyst chair and sound off with your thoughts.
Source: Microsoft (opens in new tab)
Get the Windows Central Newsletter
All the latest news, reviews, and guides for Windows and Xbox diehards.
Not sure if these are good or bad#s yet. I have not been following the smartphone market from a statistical point of view recently. Hopefully someone else can shed some light.

It's bad, very bad!! They sold 7.4 million in Q2 2013, 8.8 million in Q3 2013, 8.2 million in Q4 2013, and 8 million in Q1 2014. Sales are falling!

Note: this is for two months of sales and NOT a whole quarter. Interpolate the data from there.

Are you sure? In the press release they only say this: We sold 5.8 million Lumia Smartphones, and 30.3 million non-Lumia phones following the completion of the NDS acquisition. Doubt lies in the word "Following". This word mean they are only counting 65 days instead of the full quarter? I'm not entirely sure about that.

In the EC Satya said that the Lumia sales increased yoy. In q2-2013 sales were 7.4 million.

They state in the artikel that there were 5.8 lumia sales and 30.3 non lumia smartphone sales (shocked to hear, thought Nokia X sold so good) But after checking Microsoft's own press release, I saw they said 30.3 million non Lumia devices, so they ment feature phones and the ashia lijn. Just wondering what Nokia Lumia did the first month before Microsoft/Nokia finelizing the merger :-) Posted via Windows Phone Central App

you are so right blackprince seeking alpha (an investors site) just corrected their article "The post previously stated 5.8M Lumia phones were sold in the June quarter. However, that figure only covers sales following the closing of the Nokia phone acquisition on April 25." for those interested here is the link http://seekingalpha.com/news/1858635-microsoft-offers-conservative-outlook-unearned-revenue-plus-13-percent?uprof=45

It's three months man! Deal completed on April 25th

Its only 3 weeks short.. sales are pretty bad overall.

Well for almost the whole quarter there where NO new Lumia's. So its not to bad, 930 is only comming now (globally) and the 630 and 635 are just out a couple of weeks, they need to pick up some steam this summer :)

You have to consider that there were no new Lumia phones released in the last quarter. People are waiting for the new WP8.1 phones which have been delayed until recently. It was an uncertain transition period for the Nokia-MS merger and with no new products to sell. The current quarter should be improving with the newly released L630 and L930 phones.

'Bye, Nokia, it was nice knowing you.' Some of you might find this article interesting, it's from CITEworld & it's about Nokia, Microsoft & Nokia devices. http://www.cio.com/category/consumer-technology

Shows how much they know. Nokia is still a company. It is just the phone hardware division that has been incorporated into MS. Good thing too. Without MS, the WHOLE of Nokia would have disappeared and ceased to exist!!! 'Hack journalism' articles are full of it, like their authours!!!

It's written by Steven J. Vaughan-Nichols, a long-time Windows hater (Apple is also not his cup of tea), one of the biggest Linux fan I've seen on the internet. He has always spoken very harshly against Microsoft, and just about anything that's not Linux related. In his opinion, Linux should rightfully be the dominant desktop OS choice since years ago, so I would only take in at most 50% of what he says on any occasion.

Vaughan-Nichols, the biggest joke on the Internet. Tosser of the highest order. Remarkably, he gets paid for putting out his hate sh*t about MS.

SJVN is indeed a total joke. And, yes, I do think he publishes all that crap just to create discord through polarized posts in order to generate traffic and therefore make money even if that means warping reality. Indeed, what he posts goes from oriented nonsense to total bullshit.
On occasion, he gets spanked hard with facts by Ed Bott at ZDNet (and its always a pleasure to read when it happens!). Anyway, read the latter (i.e., Ed Bott) and do not believe anything from the former.

50%, are you nuts I would even consider 5% generous for the garbage he writes.

Well I give him credit for writing complete sentences and correct grammar...

Thank you for your comments, I'm not making a judgement about the situation, I simply don't know enough, I thought his comments regarding Elop were interesting though. Now, this http://www.cio.com/category/consumer-technology is from the same site, which has nothing to do with me, I found it through the Zite app. The article is about the Microsoft lay offs. It's by Mary Branscombe who I know nothing about...

What's more interesting is the fact that the article says 30.3 million Non-Lumia smart phones sold. What? Who's selling them?

I think that's referring to Asha devices.

yeah, Asha and Nokia X. When I saw that stat I almost started crying. How absurd is it that the sell 5 times as many of those shitty devices than their awesome Windows Phones. I understand they are dirt cheap, but wow...

I think it's all the phones that have WP8 that are not Lumia's

I hope you are joking or at the very least, making an attempt at irony. The old Nokia that is now Microsoft Mobile still sells dumbphones. Asha is one of those devices but there are waaay more, mostly sold in less developed countries in Eastern Europe, Asia, South America and Afrika. Microsoft will most likely keep that market going just for the sake of it and push Windows Phones down to that price point as much as possible.

Eastern Europe has better internet connection than US. Asha is not selling at all, also the market quite small anyway and is dominated by Android.

Average internet speed means nothing, but you are right about Asha. I always look at people's phones and I've never seen one in the wild. There are some windows phones though (mostly 520s).

NO. They are dumb-phones like Nokia 108

That means 5.8 million less android phones on the market....good news!

Lol dont forget about iOS

With about 30million iPhone a quarter they don't feel it lol

They usually sell like 10 million within the first week of launch. You have to admit, it is impressive.

Apple claims to have sold 35.2 million last quarter.

Is Apple the only company that can get away with selling a phone with 1GB RAM and less than 720p display for $650 in 2014?

Yes, because the UX is still better than anything else out there..

And they get all the apps. Also their framework is pretty lightweight. WP framework eats around 6MB of RAM for every black page with just a couple of textblocks, for example. No idea about the iOS framework, but I'm guessing it eats up a lot less.

IOS is not a problem,it's millions of miles ahead of anyone.the important thing is to KILL Android,the shittiest os on the market,a real thing for dummies'

I don't like Android or iOS, but to say that Android is the bad one is to miss the point. iOS promotes mediocre hardware at a premium price, a locked-down software experience where developers and consumers are limited in personalizing their products, and it plain sucks. I mean, this upcoming iPhone will be the first to have an HD display, and it's 2014.

I have a Lumia 820,and an Iphone 5,I really enjoy both of them,I don't miss HD display,they work fine without it,if i sell the Iphone i still get 70% of its value,if i sell the 820 i get 20% of its value,that means i lost 30%on the iPhone in two years and 80%on the 820 in one year,this is one of the reasons why i prefer Apple. I will not be considering Android,for me its JUNK .

I dont know where u buy, where u sell - im losing 30-40% value per year when selling most phones, but iphone loses only 20% per year because of ios fanatics and good apple support

It's because Apple doesn't do fire sales like most others. Galaxy S4 can be found about 40% now than when it launched, same with all the Lumias. Apple drops the price of previous models only 100$/€ per year.

While I agree with all your points, I don't like being the product, which describes Google's entire business model. Apple is at least selling a product, not your data, and people who value the iOS experience (well, lets say boring but stable) over hardware specs aren't crazy to prefer it. Alone the fact that iOS is far and away the most satisfying/advanced mobile gaming platform, typically the discipling that requires the most computing muscle, shows that the spec list on Android devices doesn't get you what you think you paid for. Based on that, and their current dominance, I'd much rather see Android taken down a notch.

Nah, Android it's not the worst. Neither IOS is the better. They are merely subjective statements, and because of that it's important not to take fanboy fiction at face value.

It lags, hangs, dials at random, drops calls and is full of bloatware even on premium phones. People buy it just because their friends buy it.

Wow, I think the Android phone you saw might have been possessed by Satan. Posted via Windows Phone Central App

Not true.I used a lumia 920 for almost an year then I had to switch to android.Why?apps and I am not talking about missing apps,every app I use exists on WP but they do not work the same as on android they are worse.I use now a SG S4 and it works just fine

Then you're a rare breed. I had an android and it lagged. It still does with my brother's S5 who's now wishing he got a Lumia 930.

The way I look at it each platform has its strengths and weaknesses and we all have preferences. To say one is better than the other is simply an opinion at this point because they do have various things in common as well as their unique features/differences that set them apart from the competition. We can go on all day about this but I think each platform has something to offer and we the consumer get to choose what we want.....

I like Android. It's fun. But nothing feels as cozy as WP. Posted via Windows Phone Central App

Please explain how it's better than Android and Windows phone. The apps argument doesn't really apply to Android. Honestly, I don't even like that argument because the number of apps mostly has to do with the number of users, not the hardware or software. Are you saying that missing basic and useful features such as swipe keyboard and manual camera settings makes it "better," not to mention copying tons of features from Android? Also, is it really justifiable to make people pay $650+ because the OS is "better?"

No, the reality is they are falling.

That wuz up MS..... keep it up

Within that period WP8.1 was announced but no phone running it was on sale till late June/early July. Not surprised with the numbers

This is the main reason sales will always be low

Hey Sam, are there any news coming from HTC about their 8.1 update? Nokia almost finished their Cyan update roll and HTC didn't even start their thing..

The rollout of cyan to Lumia phones is far from finished, you still got the 1020, 920, 820, 720, 620. Long way to go yet.

What matters the most, is that they have started it :D

Also not to mention they won't even update the poor 810 that they simply abandoned. :/

That is down to T Mobile as it is a carrier exclusive phone.

What's the 30.3 million non Lumia phones?

I would guess. non Lumia would mean Asha phones, and the X series of android phones.

also, the feature phones (old-school candy-bar phones).

Most likely most of them are the old school feature phones like Nokia N86 and those kind of phones, others in lesser amounts Asha and X

Soo cool windows phone is picking pace

Picking up pace? Lol. This is their worst Lumia quarter for over a year!!!

So 30.3 million Nokia X and Asha phones sold!??

And S40 feature phones...

Who's buying all these phone? Nigerian princes?

Mostly Indians who are still using their phones just for calling and listening to music.

Nigerian princes have upgraded

They're trying to upgrade but their accounts are locked and they need us to send the carriers 800 dollars. But, in return, they will send us a check for 2 million...

Test the article those asked figures weren't even for a full quarter.

Nope. Nokia feature phones like the n86 and n95 and phones like those

Didn't they sell 7 million in 2013 Q4... This is quite disappointing, I blame lack of new phones but I guess the acquisition is to blame for that, hopefully they can turn that around.

I think it was somewhere around 9 million... I think.

I mean Microsoft's Q4, their Q4 is April-June. I think they sold 7million then and from October-December was 9million

If 9 million was the October-December number than that is not a good comparison as the October-December period is the biggest selling season for electronics. A more accurate comparison would be last years Q4 numbers.

I remember them peaking around 8.8M one quarter, but that could be off a bit.

I have read elsewhere that the 5.8 number is only for two months since the deal closed in April. If that is accurate, the actual number for the quarter is over 7m. Still somewhat disappointing.

5.8 for two months would be 8.7 million for three months.

Still a bit of a let down -_- Until we break that 10M marker for EVERY quarter of the year, WP will not be taken serious. And somewhat thinking of the phones released since January 2014 and their availability, im surprised the numbers aren't lower man.

How does that compare to any previous quarter???

Its actually down from last quarter, as was last quarter compared to the quarter before last, so Lumia sales look something like this.......8.7 million> 7.8 million> 5.8 million this quarter. im using ballpark numbers but I think im very close with those, to lazy to open the past financial reports from Nokia.

Thanks. If true not good.

Imagine if they actually released some phones during that period. They can't afford another quarter like that. Get some phones out to market and get some marketing out for those phones.

It sounds like its gonna get worse before it gets better but supposedly alot OEMs to deliver WP in the fall. Oh those rumors, they come and go!

Still not enough growth.. But I keep on buy Lumia's. My whole family now has one. Yeahhh..

Considering it was only for a two month period I think the number is a positive one. I just hope they have 3 or 4 new phones up their sleeves before the years out! Love my Icon!

Also note that if Nokia Asha & non smart are omitted from this count in future then what would be the numbers.

30.3 million non-Lumia smartphones sold - So essentially now that these are being phased out, they will need to offer comparable smartphones running WP and hope the same customers will upgrade to these instead of choosing an Android handset.

Yes, exactly. Kinda dumbfounded on why they are doing that, I mean they plan to cut 12,500 jobs out of 23,000 from Nokia acquisition, you would think that leaves enough room to still produce those feature and Asha phones and actually make a profit, not to mention being able to keep the Nokia brand tied to those particular phones for quite some time.

30 million other phones is nothing to ignore , why stop making them.

Don't look at the pure sales number.
If the 30 million phones have so little profit margin - say only a few dollars per phone - or even negative proft, then it most definitely isn't worth keeping the 10k staff to support it. Just because you sell a lot of something doesn't mean you make money or that part of the business is worth keeping. If I start selling iPhones at 20 bucks a pop I'm sure I would sell a crap load of them too, but it doesn't do much good if it cost me 100 dollars to make one now does it?

Most of these cheap phones cost like $10-$20 to make and they sellem for like $20-$40 so I wld think there's still good profit out of them.

5.8mil sounds like a nice number, but without context, it doesn't really mean much - 5.8 million as opposed to what from previous quarters?

Oooh, internet "analysts"... they always know wussup.

5.8m is TERRIBLE. Nokia sold 17m Lumias in the final two quarters of 2013. This is disappointing news. Going backwards.

Such is the result of having no mass market flagship out internationally (920 just lauched) and having such a device on just one US carrier (Icon on Verizon). The fact of the matter is that a 6" device is too large for probably 95% of females and most of the population in general. When you consider that many would be coming from a 4" iPhone, it makes the change even more-daunting for customers, so the 1520 lacked a true market.

920 has bean out for a long time,they just launched the 930 ! And it can be considered a mini 1520 .!

That's not fair. We're looking at roughly 8.5 mil (rounded) sales per quarter in Q3/Q4 2013, traditionally strong holiday quarters. In addition, these Microsoft earnings only cover 2 of the 3 months in the quarter - the 2 months after the acquisition was complete. 5.8 is 2/3rds of Lumia total sales, meaning by napkin math 7.7 million Lumias were sold in the last quarter. Not bad for a quarter when sales dip in anticipation of new models, back-to-school, and holiday gifts.

7.7M is what I calculated too. Sam needs to verify and update this article.

Yeah sadly I don't know if Nokia will be releasing quarterly earnings related to Lumia so I don't know if Sam will be able to verify - but rough math shows that considering the 920 was released late and there's no 520 successor released. . .they're not doing too shabby.

I'll be honest, that never occured to me. The bit about what this total is actually calculating. If there was indeed close to 8m Lumias sold in the quarter, that's not a bad number, and will retract my statement. Thanks for that. :)

For years WP owners have called on Microsoft to promote the OS more, improve the OS faster, get updates out quicker, support unique features like Xbox Live better, release new phones quicker, but its fallen on deaf ears. Its really no surprise the numbers are so poor, the last year has been a tale of no new devices, no promotion, no new features and the typical agonizingly slow updates. And this is after spending $7b to buy Nokia's devices and services division. What kind of stupid company does that? In the end, Nutella might just can WP like many have been predicting and with these numbers it probably should.

The OS is not ready for prime time yet.. there is still another big change to come with Threshold.

You all are counting the chickens before they hatch this ain't Full Quarter numbers Microsoft is making billions of the mobile market they ain't losing any money yall don't see the big picture but I bet Microsoft does there in this for the long haul everybody always thinks Google's so great but who made it possible for there rise Microsoft did without Microsoft there wouldn't be a google because Microsoft got a computer in every house not apple so I think Microsoft knows what its doing and will continue to be in the mobile market for the next 30 years like it has been on PC the past thirty years and in the end will prove the naysayers wrong just like when the first Xbox came out and it didn't do that good everyone was saying Microsoft was failing that they need to get out of the console business but did Microsoft listen nope and the next gen came and guess what after the smoke cleared there Xbox console was a big hit and the Xbox one while it had a rocky start is doing just fine plus considering that Microsoft gets royalties from every Android sold pretty much tells you how much of a pimp Microsoft really is I mean they didn't even make the android os but are making money on it

While your post sounds a bit FanBoy-ist i see the bigger picture like you do. By that i mean stepping back and looking at History itself. Many people don't consider history when being arm chair analysts lol. I remember watching a video back when windows 8 was first shown and this manager was explaining to people why the huge change and departure from a well known start menu, you wanna know what he said? Because Microsoft is ALWAYS in for the long haul. They know what is necessary to stay relevant. But people have rebelled against the new Windows UI? THEY DONT CARE. Those people aren't going to guarantee Microsoft is relevant in 15 years. Windows 8 is the beginning of the next 15 years for Microsoft. This manager used so many great examples and even companies that have died out. I wish i could share that video with you man. But yes i see your views. and i agree 100%.

Only 5.8 million?? Hmmm those are not very good numbers plus there are leaks of 530 which I don't understand how is the successor to Lumia 520 so again sales wil get hit by that.

Isn't this a huge drop? 50% less than other quarters?

And one of them is my first Windows Phone :D

Not bad considering practically no new phones released.

WOW.. THATS A LOT OF MONEY IN A QUARTER.. STILL LAGGING IN MOBILE THOUGH.. BUT KEEP FIGHTING...

It's 5.8 million Lumias between April 25th and June 30th according to the the verge....

No new devices to market is a huge problem. When was the 1520 released on at&t? What was the last phone that they had the opportunity to market on att? 635 is nothing to be excited about. The most bug phone for at to promote was the 1020. The 1520 is just a niche device.

Those are worldwide numbers. Your weird American at&t exclusivity BS doesn't make as much of a difference as you might think.

This is why its even worse. If this were US only numbers it might be good but this isn't the case.

lmao yeah that guy just shot himself in the foot. btw, the Verge was able to confirm that it was 5.8M from April 25 to June 30.

30 million x because all ADS here"Middle east" are about it

This is unfortunately a downward trend. 2013 Q3: 8.8M 2013 Q4: 8.2M 2014 Q1: 7-8M (no hard numbers) 2014 Q2: 5.8M WP needs a hero phone now more than ever.

There may be a downward trend, but remember the 5.8M is supposed to be post acquisition so you would need to add the sales for April 1 through April 24 for a proper comparison.

If they sold the phones at a constant rate, then you can extrapolate that to be around 7.9M phones sold from April 1st to June 30th. That's not as drastic, but it still needs to turn around soon.

While the sales are not terrible anymore, the phone division did still lose about $700M, no wonder they are cutting, the 520 isn't replacing the lost feature phone sales as fast as it needs to.

Man these Lumia sold between 25th April - 30th June , that means half of the quarter , that what the verge said !! Good actually its improving that means 10+ Million units per quarter , goooooood

Not even close. 5.8M is for more than two-thirds of the quarter, not half.

Half? A quarter has 3 months and April 25 to June 30 is over 2 months. Extrapolating these sales backwards should get you approximately 7.9 million Lumia sold for the quarter, which is still a drop but much less significant.

Actually, you are wrong. This Q2/2014 consists of TWO months, not three months - just the time since they own Nokia's Devices Services division. So the numbers are actually surprisingly good.

See my reply to the first guy above.

I think this is for 2 months, so quarterly it's not that off.

No it's one month only, April 25th till June 30th, that's when Microsoft's quarter ended! (see http://m.microsoft.com/investor/pressrelease.aspx)

Doesn't matter if its a hero phone ,it needs to be released asap after announcement

The broad synopsis what I make is they are not able to beat there own model 520 in perspective of cost and performance,plus not many older flagships like 920,1020 have got new successors

For some perspective, Apple just announced they sold 35.2M iPhones in the last quarter. Microsoft has some work to do!

CORRECT...MSFT KNOWS WHAT THE PROBLEM IS, BUT YET THEY CHOSE TO DO NOTHING, THE WONT ADVERTISED,THEY KEEP SHARING WHAT IS EXCLUSIVE WITH WINDOWSPHONE, THEY UPDATE LATE, THEY JUST TOO BIG..HOPEFULLT WITH THE NEW CEO THINGS WILL FINALLY TURN AROUND.. I HAVE A USER SINCE 2010 although market share is improved its still lacking..

Nobody read your comment. WHY ARE YOU SHOUTING!

Unless you add the ASP that doesn't give much of a perspective. The ASP is likely double (if not triple) for Apple than it is for MS. edit: so it would be closer to 2-2.5M vs 35M

5 millions of those lumias are 520's definitely since the 520 has the biggest share of the windows phones

Goof numbers. , hope to increase !

@jailman maybe not 5 million but yes a lot of 520 ;-)

These lumias were sold between 25th April to 30th June according to the verge , that what. @fluidman8 said !

"We sold 5.8 million Lumia Smartphones, and 30.3 million non-Lumia phones following the completion of the NDS acquisition. Low price point devices drove a majority of the Lumia Smartphone volumes. Non-Lumia phone volumes performed in line with the market for this category of devices." - We sold 30 million non-Lumia devices...LETS KILL THEM! Because those 30 millions will certainly switch to Windows Phone...right, guys? RIGHT? - said a lunatic within Microsoft. And as expected, sales of Lumia phones started to decrease the moment Nokia announced the deal and that they would leave the phone business for now. I expect numbers of Q3 2014 to be equaly or even worse.

Sales of Lumia phones didn't start decreasing, actually they are (surprisingly) increasing. And we don't know the profit from non-Lumia phones, it's probably not much. What MS wants is to convert these customers to use extremely low budget Windows Phones instead of Ashas. That is a good move in my opinion. That's why they want to develop extremely cheap Windows phones. Imagine how the market share of WP would be if those 30mio would be cheap Windows phones.

Except those 30 million will NOT all move to WP. If 15 million move, that alone will be a victory. Don't forget there are TONS of people who DON'T want smartphones of any kind. If they are forced into buying one, they'll go for the popular cheap ones: aka Android. In theory it would be a good idea to imediately kill feature phones etc. In the long term, not so much.

I don't think all the Asha's would be able to run WP8 or even 8.1... If so, they should even consider installing WP7.8 on them (or even a lighter version of it) just so that market shares increase.

one of these days you will take the time to open past Nokia ERs to find the average selling price of those 30 million mobile phones is 27EUR and they are making a loss on them.

And so Microsoft kills them to try and sell people "cheap" WPs that will cost way more than the average 27€ and still make a loss...

Well it's high time they killed off that part of the business.

I believe the idea is to focus on WP and only WP and MS not necessarily interested in Asha series or other feature phones which Nokia used to sell in big numbers. Obviously there is nothing wrong in hoping that those 30 million end up switching to WP. Not saying they all will do. But the focus is towards that. So there might be few more low end WPs coming to replace those feature phones.

And people say Windows Phone is failing....well we got news for ya: A third contender is in town for the long-haul, and it still rocks!!

Sure the numbers are lower...but yep, a device is needed for the holidays. Something.....to drive the numbers up.

If anyone is interested, Lumia 920 (refurb) is selling for $139.99 at ebay currently.

it's not 58 mil. One single iPhone has millions of sales and they are planning to sale 70-80 million of iPhone 6. How many low-mid-high Lumia or let say WPs are in the market? Dozens! and overall sales are not even close

Total WP sold should be around 6.5M (going by 90% Lumia WPs and 10% other WPs) for this last quarter. Either way its less than what it was last year same quarter. Last years same quarter 7.4 M lumia phones ( 8.2 M total WPs approx). If its going to continue like this then WP share will get even lower.

And i am happy to be one of those that bought one

I'm kinda surprised. I thought the 1520 would do well for them. Everyone is so into phablets these days. It does seem like they've reduced their tv ads though, which could account for some of the drop off.

The high end Lumias haven't ever really sold well. Based on ASP & sales figures, they saw their peak at the launch of WP8 and, after lowering a bit, have been pretty steady since, while total WP sold has risen some thanks to the lower cost phones.

More phones available=more sales to people... Let's hope this fall there is a flagship device to replace my 920

No new phones, lame phones like the NL630 and 530, I just hope Samsung, LG, Sony bring some action to the table or WP will be forever lagging.

ms needs to release something amazing soon. Maybe step away from the Lumia line Posted via Windows Phone Central App

I think they just need to release phones at least 3 weeks after announcement,it's not easy having to wait so long for phone to launch after showcasing it to the world

And so the Microsoft answer to dwindling mobile phone sales, is to discontinue the Nokia Asha feature phones, which sell more than five times more than Lumias. Somehow I do not think Microsoft understand the mobile phone market. since there is no,way Windows Phone 8.1 will run on $15 featur phone hardware, why didn't Microsoft sell off the Asha business, instead of sacking all those staff. Rather immoral to,lay off staff, when there is still a strong market for feature phones in third world markets.

Again, the feature phone business has been struggling for years now. Both volumes and average selling price have decreased to about 50% of what they were 5 years ago and they were losing money on it. Dumb phones will remain with cheap Chinese OEMs, no one else is building them now.

Today in its fiscal fourth quarter, Microsoft reported that it sold 5.8 million Windows Phone-based Lumia handsets. Last year, in the second calendar quarter — Microsoft's then fiscal fourth quarter, welcome to the world of finance — Nokia sold 7.4 million Lumia handsets. However, Lumia sales didn't fall 22 percent as those figures appear to indicate. Microsoft's fiscal fourth-quarter sales figure is based on a partial-quarter sales period. The company only sold Lumia handsets starting April 25, after its deal with Nokia closed, meaning that it lost 24 days of sales in the period. Twenty-four days of a 90-day period — a quarter, in other words — is around 26 percent. So sales fell 22 percent compared to a full-quarter time period during a 26 percent-smaller timeframe. If you correct for the smaller timing, you can calculate that (extrapolating from a per-day sales basis using implied figures from the 5.8 million unit figure) Microsoft would have sold 7.9 million handsets in the quarter had it had the full time period to do so. http://techcrunch.com/2014/07/22/microsoft-sold-5-8m-lumia-handsets-in-its-fq4-but-thats-a-partial-quarter-sales-figure/

This number may drop if there won't or isn't newer mid hi end phones coming out. I mean the news on the 1020. The 1520 isn't for everyone. And the icon/930 hasn't made enough dent on the 920/928/925 people. At least that I've seen.

Fail. Before being acquired by MS, Nokia could sell 8.8M phone with >60M in total and sit on 2nd position behind Samsesung in term of volume. And now, with ONLY 5.8M Lumias and MS stop producing Asha, S40 and X, yes, Nokia will be no more in 2nd place or even Top 10.

It's 5.8 mio in 1 month.. Their quarter ended on june 30th!!!!

Wut? This is almost 1 quarter. "this isn't the full quarterly report. Just the time frame after MS acquire Nokia" and it happend in April. So?

Carrier Exclusives are throttling WP sales, MS need to put an end to it.

MS can't put an end to it.

They have the financial muscle to do it, Nokia on the other hand didnot.

What are you talking about?
Microsoft can't force a carrier to sell any particular model of phone.
Microsoft can offer them one and pitch it to a carrier, and then the carrier will decide, based on projections, if they can either shift units or compel a customer to sign a service contract.

Yes they can, they can just release the phone in every carrier.

The carrier decides what phones they sell, not Microsoft. They are not going to waste space in their store on a device that doesn't sell.

What I meant was build one device with one name (like the 930), have tech variants for the different radio bands, but don't make any other changes (like taking Qi out for AT&T), offer the devices to all carriers worldwide, and make the carriers aware that all carriers are being offered it.

Yup, and the carrier says "no thank you". They have limited shelf space and don't wanna waste it on something that doesn't sell. If the 1020 or 920 was a success on AT&T, then they would carry the 930. Obviously they are not.

Yes, they could buy ATT or Verizon

@quieterhue well the two most advertised functions of phablets lke split screen and usb otg are missing on 1520 in comparison to other droid phabs,especially Usb OTG.

Nokia sold 7.4 million Lumias in Q2 2013. Now if, indeed we are missing almost 1/3 of the quarter from this 5.8 million figure for Q2 2014, that actually means sales may have been picking up a little, but MS should have been more clear about this. Regardless, the current low/mid range Lumia lineup is so old, a decrease would even make sense. The 630/635 must have only started global volume sales in June, while the 520/720/820 are really past their prime. In fact I wouldn't even count any signifcant volumes for the 720/820 and maybe even the 920/925 has started clearing stock in this timeframe (preparing for the 930), so alltogether this was always to be a pretty bad quarter. The 530/730/830 can't come soon enough.

Try buying a new 820 or 920 in a store. You can't. The remaining stocks now seem to be in the hands of stack high, sell cheap websites (like that rainforest place). The 720 is still selling like gangbusters in Brazil, it was totally passed over by most European stores. I agree there needs to be one decent midrange model between 635 and 930. It's in testing, it's shown up in the AdDuplex logs. Something with a 720p screen. So expect software back/Win/search.

If Nokia introduces dual sim for al models of Lumia here in Brazil, they will gain more place in market. For now, Windows Phone is the second OS mobile.And if confirmed about the specs of Lumia 530, Windows Phone will aproach of Android.

@jules MS will kill of every evidence of Nokia phones and this is for future so that Nokia don't rise back,they will remove every last drop of Nokia,this is what happens when procurement is done

Headline looks great until you read that Apple expects to sell 70-80 million new iPhones this fall.

" 30.3 million non lumia " these should have been Lumia numbers im glad microsoft droping non lumia phones and im hoping this move will increase lumia sales in the future

I need to repeat myself again: It's 5.8 mio in 1 month.. From April 25th til June 30th. Their quarter ended on june 30th!!!! So those numbers aren't to bad and up from previous quarters.....

Doesn't May exist in your calendar?

I think this is what they call an "epic fail"

@fluid see the comparison of Lumia vs non Lumia in respect to that the figures are low

All platforms have thier benefits stock android moto x 64 gig love it iPhone 5 64 gig love it Lumia 1520 a beast of the best for me never leave home with out it.

Given the lack of any real new hardware I am not surprised. People keep throwing out Apple and Samsung numbers but these numbers aren't that far off from a lot of Android OEM.

Most being low end but still good

Guys, don't be sad, this refers to 3 months (25 april-30 june), considering this proportion they should be at something like 8.7 considering the missing month.

8.7m would also be horrible.

WP can't afford another 'wait for...' this time being Threshold in 2015.
The platform desperately needs a couple of new flagship hero devices, otherwise the low share is going to get even lower.

This is for three months, I'd say the numbes are good. Windows Phone is better then iPhone IMO, the only competition WP faces is Andriod. Microsoft needs to market WP !

Horrible results, and not going to get any better with no flagship coming out in Q4. MS off to a great start, as usual...

I've actualy today upgrade from l520 to l820
I know it's old
but since wp run smooth on moderate specs I still get the latest and greatest services I wont come back to iphone
wp been very good platform for me and I will continue supporte it the last monthes been huge improvement in the eco system also keep one micro and nokia

Yeyyy...So am not the only crazy buyer out there..there are many....this is a global disease now :p Used L800, L510, L520, L620, L920, L1320 and now L1520....gosh!

What else to expect. Sales will obviously go down. Look at the market. Asus for eg. Is offering phones for less then ₹10000 (zenfone5) that has features which can give any device a run for its money. While the Lumias are stuck with not even basic front camera and rear camera flash at the same price(lumia630). And then there are Lumias for ₹15000 and more that are termed in the community as low memory devices(lumia625). How can one expect the sales to rise???? Why should they rise? With no new phones, no new features, shortage of apps and games sales will go down further. Bitter truth. We have a Lumia for 7k 10k then 15k 18k then 28k then 38k. See the price points. Lol. Till 15k the devices are low memory. Lol. And we expect the sales to rise.

Easy peasy, In Mexico sold the Nokia lumia 520,620, 720 a 1000 pesos mexicanos, the 820 in 1800 pesos and 2900 the 920, and the 1020 in 5500!

I wonder if a cheap lumia @$50-80 to replace asha would ever come out. Thing like 3" screen, 4gb storage, 512 mb ram and 1200mah

No it's not. Lumia 530 is a clueless phone. Zen is alot better for the same money. Ms needs a super cheap wp hero phone to replace featured phones to grow the store marketplace and consumer base.

Does it seem like such a brilliant idea to can the Asha line when it's selling almost six times as many units?

they forgot to give us the figures or ratios of those sold in US vs the rest of the world, since MS mostly favours the US market.

Well, I don't know the figures, but I know that almost 2 years ago I was the only person among my friends to have a Lumia 920. Now almost every second friend of mine has a WP. So I think we still see a larger market growth in Europe. So US might be holding us back :D

That's sweet. Still a lot of room for improvement. Hopefully windows phone 8.1 will double the sales

Damn! The smartphones were outsold 6-1. That sucks. I'll be happy when Microsoft can sell 30 million Lumias in a quarter.

I don't know what the debate's about. It's simple. 90/65 x 5.8 = 8 million. Not bad, but not great either.

iPhones sell because of their marketing. Never was an Apple person, never will be, as for Andriod, well not particular of the OS nor the phones. From what I know, most Andriod phones are sub-par with only a few that are good. Apple never did have to give you power under the hood, they could give you half, sell for more, market the crap out of it knowing it would sell. Wait for iPhone 6, the Apple Store will have line ups. I used Macs in school and didn't like them as a kid, in the 90's and Windows grew up with me so, if that is biased or a fanboy, the same can be said for someone who only uses Apple products.