The 5GHz desktop CPU is official: This is the Intel Core i7-8086K
The Core i7-8086K is going up for sale from June 8.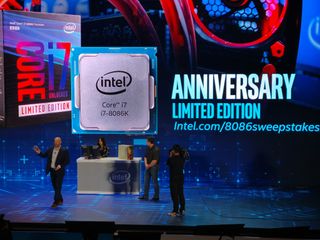 Intel launched the iconic 8086 processor 40 years ago, with its debut marking a watershed moment in computing history. To commemorate the 40th anniversary of the 8086, Intel is launching the Core i7-8086K.
The 8086 had a 5MHz frequency, and as an homage to the chipset the Core i7-8086K goes all the way up to 5GHz, becoming the first CPU from the company to do so.
The i7-8086K has a 5.0GHz boost clock with a base clock of 4.0GHz. The hexa-core CPU is built on the same platform as the Core i7-8700K, which goes up to 4.7GHz, but with increased frequencies. The 8086K slots into a 300-series motherboard, and being an unlocked SKU, you'll be able to overclock it beyond 5GHz.
The Core i7-8086K will go on sale starting June 8 — which is the same day the 8086 launched 40 years ago — and Intel has announced that it will give away 8,086 units of the CPU as a way of thanking its community.
You'll be able to enter the contest by heading to Intel's sweepstakes site, which will go live shortly.
Intel web site is not working

Works OK here - although sweepstake not yet open

Well... that's cool and all, homage to history, what's making this cpu so speciall if it's based on the 8700k. I mean you can clock any cpu to any freq, the main problem is how you're going to cool that thing down. There've been 5Ghz overclocking vids for quite a while, though they mostly included liquid nitrogen or some other pretty incoventional techniques. So if Intel's not shipping those with the CPU, idk how they're gonna keep that thing from melting.

Price I saw was $480 which is a $100 premium over the i-7-8700K processor. Not sure it is worth 25% more for a 300 MHz increase. I would still love to win one in the sweepstakes though.

Was 12 when the 8086 was released. Blessed to have been a witness to the innovation of personal computing that has taken place. Wow. Just wow.

Are 2GHz used for protection against Spectre and Meltdown out of those 5GHz?

Why isn't this called an i9? 😁

How much was the 8086 sold for at launch?

Taking a stab that it was around 300 dollars*, being that the 8080 cost 360 dollars at its launch in April 1974. (Source: https://en.wikipedia.org/wiki/MOS_Technology_6502#cite_note-Intel_$360-20). It didn't sell well, partly because it was a 16-bit chip in an 8-bit world, so Intel created the less expensive 8088, which was 16-bits internally and 8-bits externally. * I have to write out dollars instead of using the symbol, because WC thinks my comment is spam.
Windows Central Newsletter
Thank you for signing up to Windows Central. You will receive a verification email shortly.
There was a problem. Please refresh the page and try again.