Hands-on with 6discover for Windows Phone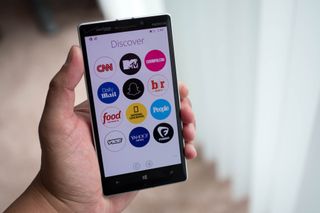 Windows Phone users do not have an official Snapchat application, but 6discover, the latest app from Rudy Huyn, offers one of the major features. You won't be able to create, view, or share snaps with friends. You also won't be able to use 6discover to chat or create stories. You use 6discover for Snapchat's Discover section, which was introduced by the company earlier this year. It lets you see articles, photos and videos from different publications such as CNN, Food Network, Vice, Bleacher Report, and National Geographic.
Check out our hands-on video to see 6discover in action.
When you open 6discover, you see thumbnails of the different channels available. Tap to open a channel, swipe left to skim through Snaps and swipe up on a Snap to learn more. Each Snap can be an animated photo or a shorter clip of a video. When you swipe up, you'll see an article or the longer video for more details. You can expect new content for each channel every day.
The swipe actions on 6discover are very similar to the actions found in the official Snapchat app for Android and iOS. What makes 6discover unique from the official app is that it lets you change your region. You can select the United States, United Kingdom, Canada, Australia, and International. Since the social aspect of Snapchat is missing from 6discover, you don't need an account to use the app.
6discover is a free download from the Windows Phone Store. It is ad-supported, so you'll notice ads at the bottom of the screen when viewing Snap details. There is currently no in-app purchase available to remove the ads.
It's worth mentioning that Snapchat's legal team has sent developer Rudy Huyn a letter accusing him of "violation of federal and state law" for reproducing the Snapchat "Discover" content. We don't know if the app will be removed or where things will go from here.
We're disappointed that Snapchat is not officially available on Windows Phone, but 6discover at least lets you experience the Discover aspect of the popular app. What do you think of Rudy Huyn's latest creation? Sound off in the comments!
Get the Windows Central Newsletter
All the latest news, reviews, and guides for Windows and Xbox diehards.