Hands-on with 6discover for Windows Phone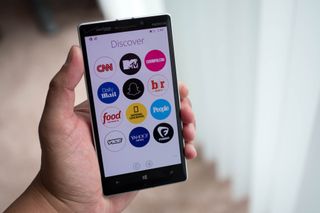 Windows Phone users do not have an official Snapchat application, but 6discover, the latest app from Rudy Huyn, offers one of the major features. You won't be able to create, view, or share snaps with friends. You also won't be able to use 6discover to chat or create stories. You use 6discover for Snapchat's Discover section, which was introduced by the company earlier this year. It lets you see articles, photos and videos from different publications such as CNN, Food Network, Vice, Bleacher Report, and National Geographic.
Check out our hands-on video to see 6discover in action.
When you open 6discover, you see thumbnails of the different channels available. Tap to open a channel, swipe left to skim through Snaps and swipe up on a Snap to learn more. Each Snap can be an animated photo or a shorter clip of a video. When you swipe up, you'll see an article or the longer video for more details. You can expect new content for each channel every day.
The swipe actions on 6discover are very similar to the actions found in the official Snapchat app for Android and iOS. What makes 6discover unique from the official app is that it lets you change your region. You can select the United States, United Kingdom, Canada, Australia, and International. Since the social aspect of Snapchat is missing from 6discover, you don't need an account to use the app.
6discover is a free download from the Windows Phone Store. It is ad-supported, so you'll notice ads at the bottom of the screen when viewing Snap details. There is currently no in-app purchase available to remove the ads.
It's worth mentioning that Snapchat's legal team has sent developer Rudy Huyn a letter accusing him of "violation of federal and state law" for reproducing the Snapchat "Discover" content. We don't know if the app will be removed or where things will go from here.
We're disappointed that Snapchat is not officially available on Windows Phone, but 6discover at least lets you experience the Discover aspect of the popular app. What do you think of Rudy Huyn's latest creation? Sound off in the comments!
Windows Central Newsletter
Get the best of Windows Central in in your inbox, every day!
The most pointless app I have came across.

Really? Cuz I like it alot!! Probably the best app I have used for reading news stuff

Despite of Rudy Huyns effort in making such app the app is useless . Using flip board and msn apps are better for news.

I'm thankful to Rudy for making lots of great apps, but hopefully without too much offense, I think this was a trial from him to see how Snapchat would bite, as the app isn't that useful - the information is far too limited compared to the web/other apps. This isn't an issue with the app, but rather the entire Snapchat concept. App is great, service is not. I can't believe that companies pay Snapchat to put their content online - I'm sure CNN etc. would pay much less to directly pay Rudy to put their content in his app... :)

They can't write checks small enough for the WP user base.

Mark waste of time reviewing ... he got a notice for making this app

You mean the thing we directly mention in this article? Yes, we are aware.

Could be, but I downloaded it just to piss off Snapchat.

They are now telling Rudy to pull the app from the Store.

The people at snapchat are dicks

And they like to send self-terminating selfies (aka dick pics).

LOL! I thought that's app people use snapchat for.

Let them pull the app. We should tell Rudy to make twitter client. We don't want apps snap chat apps.

One day I'll understand why snapchat doesn't want us using their app

I can do without an app that's used by teenagers to send nudes.

Yeah, but unfortunately those useless teen apps are the ones who attract people to the platform

Correct. Porn was the driver behind these two dorm room buddies had coming up with this app.

I think there waiting on MS to pay them to make an app for WP. I do wonder if everyone could side load the app wouldn't it still be an issue?

They're whining because some guy made an app for them for free and gave them full use to the code? Snapchat I don't understand you.

I'm guessing you are publishing the article because work had already been done on it but I honestly don't see the point when they want the app pulled.

People can still use it...

You've written "able to able to" in the second sentence

Snapchat ?! Whats dat?........... :)

I think it's some app children use to show their pee pees to each other

Windows Phone??? What's dat?

Thanks for this, Mark. I did not realize you could swipe left to go between snaps. I thought each source was limited to one Snap/Story at a time.

This is from #developer #développeur

The app doesn't work anymore! For me, says see U tomorrow.

App is beautiful, and quite nice to operate. I'm not entirely sure if this is something I'll actually use on a daily basis. I was expecting something more information/news heavy.

Beautiful app, but not any Content I am interested inn. Not going to use it.

Anonymize and distribute the xaps of the banned apps on the net, so wp users can sideload them without they can just block anything ;)

Reach him on Twitter he may respond there

I like the way you think ;) Posted via the Windows Central App for Android

I didn't understand that... :\

Incredible how one dev can get so much attention with such a shitty app which wasnt even his own idea...

Shitty app? I'm in love with it!

He gets so much attention because he is a major supporter and team player to the Windows Phone community. He delivers good quality apps that are popular amongst users such as 6Snap (when it wasn't pulled), 6Tag, 6Tin, etc, and are updated fairly regularly. He tries his best to work with other well known third party devs to bringing their apps to Windows Phone, and its up to them whether or not they want to participate. The Discover app may not have been his idea, and he is well aware of that. He was trying to provide a service to us Windows Phone users that the other developers refuse to give to us, and that's why a lot of us Windows Phone users praise Rudy. He looks out for us small guys when no one else will. He's all for the user, and not for the money like Snapchat is.

I downloaded this app only to piss snapchat off

Me to enjoy news reading-viewing

It's just not gonna last, lets just face it, snapchat's CEO is just a complete f*ing moron who will never release an app for WP, and there isn't anything to do then, I don't use it and I'm afraid WP users will have to live without snapchat

What is snapcat? Lololol!

Isn't it an app where teens flash their junk to each other?

This kinda giving lollypop to a crying kid.
I don't use snapchat but appreciate efforts of Rudy.

Rudy should create his own service. Making him richer Than rich

I like this idea. But he would need to create the app for IOS and Android to make it worth anything. I'm pretty sure that all the WP users arent just sending (were sending) snaps to other WP users. Unless your just talking about the 6discover app exclusively, then i'll just eat this bagel and stfu.

With all the snap chat saga going on ... I would like Rudy to work with Whatsapp and improve that app instead of new apps. Something that we already use should be improved and only Rudy can do it.

I wonder why he hasn't already done original stuff instead of what he does regularly.

May not be so creative (no offence to rudy's technical knowledge which has impressed us all )

You only see 1/5 of my work, 4/5 of my time is on official Apps (buy I can't communicate about it)

As a developer myself, I rarely have the time to work on my own projects. Respect the late nights you put in to develop for the WP platform!!

I am sorry if I offended you ... I really love ur work ... I understand all the privacy that you have to maintain for you work .... But I really want you to work with WhatsApp team to provide us with a better experience

Kudos for the correction fella. And thanks for continuing to support Windows Phone. Have Snapchat patented self destructive messages? Can't someone do a decent alternative, and add it to Skype or something?

Cyberdust is another good one and its supported very well on WP

App is very nice and enjoyable to use

Lol snapchat is so quick to email Rudy but can't respond to us users why we wont get an app or will ever.

Just a ridiculous fanboy boss.

Because all he cares about is money. He thinks he's made so much money now that he can do whatever he wants and tell whoever he wants to piss off, which in this case are WP users. He's nothing but a rookie CEO if you ask me. Sometimes I think he doesn't even deserve the title CEO. Real CEOs take chances and try to listen to all their potential customers, not alienate the ones that they don't want. That's like me being a masseuse who only gives massages to hot petite girls and not fat eldery guys with loads of money and backs hairier than my ass cheeks. I wouldn't enjoy it, but its about getting a good reputation. So far, Snapchat doesn't have too good of a rep with Windows Phone users. It can all change, but that's all up to them.

I barely or if at all use the Discover option. It's just a bloated mess honestly to the official Snapchat application. Posted via the Windows Central App for Android

I like Rudy's apps, but i hope snapchat burn

Rudy, beautiful app! Could you please fix the screen lock issue? When watching a video, the screen locks. Thanks, keep it up!

I'm surprised no one has said Wai for windows 10 then we can import android apps bla bla bla lol

It's Sa I have no connection running tp.

Snapchat will rather die soon is not that big deal

Not sure about that. But his boss yeah.

Snapchat wont die anytime soon.

why are snapchat closely following a platform they apparently have no interest in? it seems more like they've got some vendetta against microsoft than anything.

Ikr? Like of jealous fanboys or sth...

Tin-foil hats at the ready, people... http://9to5mac.com/2015/04/16/scott-fostall-snapchat/

Snapchat recently said that it wont let 3 rd partys to take advantage for their API's ! Beatuiful app Hope it stays in store(I'm not sure).

It's just news reading...

Kind of nonsense without Snapchat! What I really don't understand is why there is NO OFFICIAL SNAPCHAT APP for windows phone yet!?

Because it's boss is a fan boy that hates Microsoft and it's products and innovations, that's why.

I'm pretty impressed by this app! I'm loving it. This will be part of my daily app-reading routine : Windows Central, Converge, CNET, NBC News then 6Discover. #SupportAppDevelopers

The best entertainment app so far on my Lumia!! F*ck snapsh*t and its fanbot boss!

Daniel Rubino, did you read this? http://www.neowin.net/news/snapchats-lawyers-threaten-existence-of-6discover-app-on-windows-phone Oh, I told you :) I don't think you replied to my comment, i never checked back xD but I told you, they are a stupid close minded company and they don't deserve any respect. you told someone that nothing would happen, now you see, it's not about security or anything, their attitude towards Windows Phone is because they just don't care about the platform and wants you to use Android, iOS. or they are funding by google or something. something dark is hidden in this stupid ass bullshicrap attitude they have.

So is it okay for us to use this app or Snapchat's lawyers are going to come to us next?

I wish Facebook bought Snapchat... They would at least make a Windows app (I know FB was intrested in buying SC)

Love Rudy, but Snapchat-Evan is a dick...

I can live without snapchat.

The general assumpion aboutSnapat is that only kids use it. Very wrong! In my circle of 29 - 39 year old London Media types it has replaced texting and has become a fun way of communicating ('stuck at work' with a picture of a desk, or 'where are you??' with a picture of a pint of beer). We've been using it since the very start communicating with friends all round the world. I switched to Windows Phone about a year ago and was pleased to find 6snap and continued using the service seamlessly until the lockdown. Great contribution to this thread - I just needed to redress the balance of people commenting that they don't use it or think it's stupid. Yes, it is a younguns app, but then, couldn't you say that about most of these social media tools? A shame guess kids don't interact with this type of news website to put their side across! Also very interesting points raised about marketshare (IE lower end of the price scale growing - IE kids getting phones who will obviously use Snapchat) which makes it a no brainer for Snapchat to swallow their pride and reinstate 6snapor similar. The truth is, people generally dont stick to one type of phone (I'm not alone in having had over the years iPhone, WP and Android) - what the developers need to realise is that it's all promotion for the app, people sharing the fun and message of the app. It isn't WP that looks bad, it's sorry to say it's Snapchat.

At this stage if snapchat made an app for WP i don't think Il use it . On the other hand Rudy has being doing a great job bringing apps to WP and i will continue to use his! I might reconsider using a WP version of shapchat if Rudy is directly involved.
Windows Central Newsletter
Thank you for signing up to Windows Central. You will receive a verification email shortly.
There was a problem. Please refresh the page and try again.