6tin will now notify you when you've been blocked on Tinder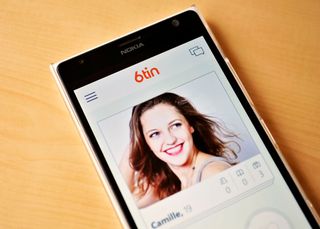 Someday we might have have an official Tinder app available on Windows Phone. In the meantime, we've got a few unofficial apps from third-party developers. One them, 6tin, has had a turbulent time in the Windows Phone Store so far. It's been disappeared and reappeared a handful of times. As of now, it looks like it might stick around a bit. Today it just picked up an update that adds a feature you won't find in the official Tinder apps on iOS or Android.
Head into the Windows Phone Store and you'll find version 1.6.0.1. All it does is add one new trick to the app, but it is a noteworthy feature. Here's the feature:
Be alerted when someone blocks you
It's not a major, earth shattering feature. But it's something you won't get in the official apps. Chatting up a new potential connection? 6tin will notify you if they block you. At least you'll know why they aren't responding to all your questions. This is another feature you'll only find on Windows Phone. 6tin also allows you to manually select your location, save photos of matches and more.
How's 6tin/Tinder working out for you? Sound off below with your Tinder experiences.
Thanks for the tip everyone!
Will it notify us when its blocked from the app store :P?

You Sir, just won the Internet!

Someone I using it due to the demand for apps

Maybe it wasn't a rhetorical question?

It's more likely a smartass question claiming superiority because they don't use Tinder. People do it on every app thread. "People still use Facebook?" blah, blah, blah

People still use facebook?

what ever happened to ruffies?

It says in the description what it is

How about deleting conversations?

At first, I read it as it'll notify when it's been pulled from the store, then I realized what it meant.

You guys don't want official Tinder for WP. Believe me. This 6tin is much more cooler. Tested with L920 and Nexus 5. Posted via Windows Phone Central App

6book and 6tube for God's sake...

i can handle rejection in a club..but not online

I always feel like adding features like this that provide information that the official apps dont is a good way to get your unofficial app pulled. Privacy is key to a lot of these social apps and services, why test their patience?

All of Rudy's apps have extras. Haven't been pulled yet.

Dunno, but I'm pretty sure the official tinder app doesn't let you go back and review people you've "noped".

Everyone just keep swiping right when you're watching tv. Or keep clicking that like button. Matches galore. And block the ditch pigs.

Love it. Innnovation from the 3rd party.

What does Tinder do exactly? Does it give away all my Facebook photos to "strangers"? Is it a flirt engine or someting like it?

Basically if two people click like on each other you can message and talk. Most people mainly use it for quick hookups if you're lame enough to need sex that way :)

Just walking back from a brilliant Tinder match that I met whilst cycle touring in Scotland. We've arranged to meet again in a few weeks time....and then, who knows!
I love the Tinder concept - no stupid messages from people you don't 'like'...just a simple connection to people whom you find attractive - and not just in the physical sense.
People who dislike Tinder have either never tried it, or are the sort that believe a topless selfie is the way to a woman's heart!

Have you actually used the app?

Yeah. Unlike you who clearly picks up casual hookups on the daily left right and centre cos you are NOT Lame. Stupid comment is stupid comment.

I was tired of my lady
We'd been together too long
Like a worn-out recording
Of a favorite song
So while she lay there sleeping
I cruised 6tin in bed
And in the personal columns
There was this letter I read "If you like Pina Coladas...

Getting caught in the rain.

If you're not into yoga..

And guess what......you found out that your lady had already a profile there ;)

I think this decision has unintended, negative security consequences. There are way too many stalkers and crazy types out there who will become violent or obsessive if they find out they've been blocked. Common sense tells you that if a person isn't responding to your messages, it's because they don't want to.

Nevermind that hooking up with random strangers has unintended, negative permanent consequences. But it's not PC to point that out to anyone, especially kids who have even less self control than horny adults with disposable income, so I won't.

I feel like that's worst case scenario for any kind of situation that involves courting someone with rejection as a likely possibility

Timber sold more than 30,000 copies.

2 'have' in the 1st line.

6tin is at least equal if not better than the official app. My only complain is that it seem pretty aggressive in terms of battery drain..though since I'm on WP8.1 without cyan it may be due to firmware not so optimized etc

I just discovered the new 'block' feature the hard way *cries into his pillow*
Windows Central Newsletter
Get the best of Windows Central in in your inbox, every day!
Thank you for signing up to Windows Central. You will receive a verification email shortly.
There was a problem. Please refresh the page and try again.