Complete a quick workout with the simple and beautiful #7 WorkOut app for Windows Phone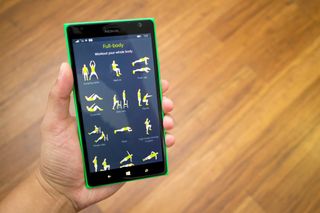 Need a quick workout without any equipment? The #7 WorkOut app for Windows Phone can help. Based on the 7-minute workout featured in the NY Times, this app features several exercises with a simple, yet very appealing user interface. We've installed it on the Lumia 1520. Take a look at our hands-on video for a demo.
When you open the #7 WorkOut app, there's a stopwatch front and center to start a workout. Before you start, you can change a couple of things like the type of workout and the number of circuits. The default workout is full-body, which includes 12 exercises:
Jumping jacks
Wall sit
Push-ups
Crunches
Step-ups
Squats
Triceps dips
Plank
High knees running in place
Lunges
Push-ups with rotation
Side plank
After tapping the start button, you can preview the exercises on top. Tap the Ready button to get started. By default, each exercise lasts 30 seconds with 10 seconds of rest in between. You can change the durations in the settings page.
Each exercise has an animation to help with your form. There's also a woman's voice that motivates you. She says things like "getting fit with every rep," and "looking good, feeling better!" We don't see any option to change voices. There's a mute button if you don't want to hear anything.
There are achievements in #7 WorkOut that help motivate you to keep using the app. After each workout, you earn a coin. Working out in consecutive days or doing more than one circuit also earns you coins. You can use the coins to unlock more workouts. There are 9 in total.
The #7 WorkOut is a free download from the Windows Phone Store. There are no in-app purchases either. If you need a quick workout, this simple app on your smartphone can help. Try it out and let us know what you think in the comments.
Get the Windows Central Newsletter
All the latest news, reviews, and guides for Windows and Xbox diehards.