Complete a quick workout with the simple and beautiful #7 WorkOut app for Windows Phone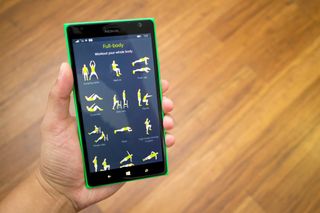 Need a quick workout without any equipment? The #7 WorkOut app for Windows Phone can help. Based on the 7-minute workout featured in the NY Times, this app features several exercises with a simple, yet very appealing user interface. We've installed it on the Lumia 1520. Take a look at our hands-on video for a demo.
When you open the #7 WorkOut app, there's a stopwatch front and center to start a workout. Before you start, you can change a couple of things like the type of workout and the number of circuits. The default workout is full-body, which includes 12 exercises:
Jumping jacks
Wall sit
Push-ups
Crunches
Step-ups
Squats
Triceps dips
Plank
High knees running in place
Lunges
Push-ups with rotation
Side plank
After tapping the start button, you can preview the exercises on top. Tap the Ready button to get started. By default, each exercise lasts 30 seconds with 10 seconds of rest in between. You can change the durations in the settings page.
Each exercise has an animation to help with your form. There's also a woman's voice that motivates you. She says things like "getting fit with every rep," and "looking good, feeling better!" We don't see any option to change voices. There's a mute button if you don't want to hear anything.
There are achievements in #7 WorkOut that help motivate you to keep using the app. After each workout, you earn a coin. Working out in consecutive days or doing more than one circuit also earns you coins. You can use the coins to unlock more workouts. There are 9 in total.
The #7 WorkOut is a free download from the Windows Phone Store. There are no in-app purchases either. If you need a quick workout, this simple app on your smartphone can help. Try it out and let us know what you think in the comments.
Windows Central Newsletter
Get the best of Windows Central in in your inbox, every day!
No!! Because I am lazy. Nice app though. I have a few of these apps now. Ahhhhhh best intentions

This might be better than Daily workouts....worth a try.

Talk about timing! I was literally just about to take a lunch break and do my 7 minute home workout (Thanksgiving in Canada and my gym was closed for me to go to this morning). Guess I'd better download the app and do it up on my Lumia 1520. Seriously. FREAKY TIMING.

I used similar app few months ago and tried the fast workout. And believe me it is not as easy as it seems. I like running and do it 3-4 times a week for 30-45 minutes and still I cannot finish one whole workout cycle at first trial.

Just a heads up, download link not working in the app

Great up. Great design. Only issue is it doesn't work under lock screen.(

I believe that the dev made it like this in purpose to limit cheating xD

Dowloaded. Thanks for the tip. Are you recommending Cup of Noodles to be consumed after the workout?

lol i'm no expert, but probably a bad idea.

Hey fatty.. do some exercise... :P (jst kidding)

Put some ragout on them and you have the perfect mix of proteins and fibre

Hey guys, I am a new use of this app. Can I ask: You unlock modes only with coins? And you get only one coin per workout? Isn't that a bit difficult? it's like that, right?

Hey guys, I am a new use of this app. Can I ask: You unlock modes only with coins? And you get only one coin per workout? Isn't that a bit difficult? it's like that, right?

You only get coins from the achievements. And it isn't really that hard.

For me it is. Because I workout for real. You think I should fake workout to gather coins and buy all the modes?

Should've tipped this the other day when I opened the torch from their tools app where popped up.

Are people so helpless these days that you need an app to help you exercise? I walk/run up a nice tall hill 12 times several times a week. I go sans phone & music. It bugs to heck out of me to watch all the people with heart rate monitors, phones running fitness app's, and music cranked. I swear some people have their phone out looking at it the entire time they're on the hill not watching where they're going or what they're doing. Unplug, enjoy the out sides! Sorry for the rant, its a rainy Monday and I'm cranky :)

I need my music. It motivates me. Why you so mad tho?

Not mad, cranky! The hill I walk/run has a narrow path that must be shared by people going up and down the hill. If your looking at your phone and can't hear someone coming up behind you because your music is too loud its just plan rude because I have to go off trail to pass or avoid being walked into... Must just be me, but I'd rather be enjoying the outsides and talking to the other people than have everyone ignoring each other and being rude.

Hear that, Microsoft? A clear cry for a Lumia health watch.

Thing is, a run is great for general fitness but it doesn't work everything out. An app like this takes you through exercising and building on most of the muscles in your body. A lot of people don't actually know how to do it this comprehensively. I agree, a lot of people go overboard. Like rich people who want to take up biking and buy all the racing gear and outfits before they even know if they want to do it. But app like this is not in that league. It's just helpful is all. And free!

It's a good app. I did one circuit cause I had an injured back but was a good work out. I do boot camp already but wanted to try it out.

One circuit? Newbie here, what if you choose two circuits? You make the exercises double one after another? (double workout?)

I'm all for home workouts. Tried the gym a few times but paid a lot of money for something I never used. So much easier to workout at home.

I can't agree with you more.

I don't always have time /motivation to do the P90X/Insanity workouts, but that doesn't mean that I should do NOTHING on those days. Installing.

I'm so exhausted just reading this article, no wonder I'm a hot potato

I've been using it two days ago, is the best.
Needs some improvements for the voice

They should have omitted the animated character. Looks a tad on the cheesy side with that clean UI.

To the poster above: you can disable the silhouette animations via app settings, if you prefer. :-) All in all, this app - and its companion "#1 Toolkit" built the same developers - are IMHO one of the best examples of Modern UI's "delight with motion" mantra...

Only problem is the voice. Needs a fix and more voices additions

Installing now while watching the quick preview. Love the UI and workout animation. And it's the only one I know that rewards you for trying. Great recommendation Mark!

Damn, Guim is crushing the apps. Keep 'em coming Guim. Keep 'em coming. This one is a stellar find. Hats off to the developer. The motivational idea with the unlock coins is brilliant.

Beast of all Workout apps. This really works for me, Thanks Mark!

Nothing found on the link. I need this app.

is there anybody have this app in .xap file? I can't not download it

What happened with the app? Developer add stuff?

I downloaded this recently and it only has one available workout. I don't know where to go to try to unlock other workouts (as shown in screenshots) or to view achievements i've already completed (again, shown in screenshots). What am I missing?

FYI - This app is no longer available for download.

Another workout app that has been pulled from the app store!!!!! I just want a workout app that can step me through a quick workout over the holidays.

I liked the idea of the app, but what a pity it still features when they have discontinued it!
Windows Central Newsletter
Thank you for signing up to Windows Central. You will receive a verification email shortly.
There was a problem. Please refresh the page and try again.