9 PC games we're looking forward to in 2018
Here are some games you should keep in mind as we pass through 2018.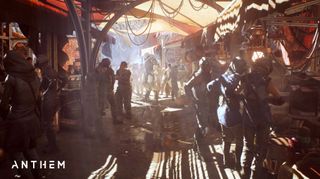 2017 was an interesting year for gaming, especially the PC market. We had to endure the wrath of the Star Wars Battlefront community after EA utterly trashed the sequel to the 2015 title, laugh at the death counter in Cuphead, and regain consciousness after witnessing headlines of Intel and AMD working together on mobile processors.
2018 is set to be a solid year with some killer releases scheduled. Here are nine of our most anticipated.
A Way Out
Director Jose Fares has made some waves of his own at The Game Awards, but he's also responsible for A Way Out. It's an upcoming EA Originals co-op game that puts two players in control of Leo and Vincent, convicted prisoners who have to break out of prison.
The story of both protagonists is told on-screen in interesting and unique ways — one player may be watching a cutscene while the other has control of their character. Absolute co-operation is required to make progress, which also covers running from the authorities and attempting to keep low.
It sounds like anything I've yet to play — and something I'd enjoy with a friend.
Anthem
BioWare's newest property, Anthem, is a mysterious new game that features loot, co-op play, a live service model similar to that of Destiny and a whole new universe to explore. Will it be good? It looks like it might be... but after what happened with Mass Effect Andromeda and Battlefront 2, we're hesitant of what EA may bring to the table. That said, one must keep an open mind.
Anthem is a futuristic open-world game requiring players to traverse and interact with special exo-suits called Javelins. There are several to discover, each with weakness and strengths. Set for release in fall 2018, we've some way to go until we can see what the studio has in the works, but we're interested.
Pillars of Eternity 2: Deadfire
Obsidian Entertainment is returning to the classic RPG genre with a sequel to the highly successful Kickstarter campaign, which resulted in the launch of Pillars of Eternity. This second title in the series was also funded in a similar fashion and is slated for release in 2018.
For those unfamiliar with the original, Pillars of Eternity 2: Deadfire will be an isometric RPG with classic features, like dynamic weather and a living, breathing world with a close connection to Dungeon & Dragon-esque rules and combat. The sequel will focus on the player commandeering vessels to act as mobile bases, which can be upgraded or replaced with captured ships.
It's a direct sequel and takes place in the world of Eora, requiring players assume the role of a Watcher, who has the ability to look into the souls of others and read their memories.
Skull & Bones
Have you ever played through Assassin's Creed Black Flag and thought to yourself "I'd love a game focused solely on the naval action"? Then Skull & Bones is for you. This upcoming Ubisoft game allows players to take charge of a ship and sail the seas in search of loot and glory.
There's still plenty of time for more details to be released on gameplay, but what we've seen so far indicates that it's taking Black Flag's sailing mechanics and adding a ton of fun to the mix — or so we hope.
Monster Hunter: World
Forget Pokemon, Monster Hunter: World is coming to PC in 2018. It's an action RPG, developed by Capcom, that will see players build characters, slay monsters and taking on challenging quests. Sure, you won't be raising levels of six friendly animals, but you will be taking down some incredible beasts and we're okay with that.
If you seek an adventure that will see you return hundreds of hours of entertainment for the price of a triple-AAA game, this should be it.
Vampyr
Assassin's Creed, while flawed, holds a special place in my heart. Vampyr is set to take the formula of Ubisoft's highly successful open-world adventure series and add a dark twist. Players will take control of Jonathan E. Reid, a doctor who has been turned into a vampire and thirsts for blood.
Whether the player wishes to kill innocent individuals is a choice one must come to terms with and the fictional representation of London makes for a mysterious experience. Each civilian will have a personality, a life, and a consequence should you kill them or even turn them into a vampire. We're a big fan of games that hold consequences for player actions and Vampyr looks to offer something unique in 2018.
Beyond Good & Evil 2
After first debuting in 2003, we've waited patiently to get a sequel to Beyond Good & Evil. Ubisoft is now working on the said game, and it should launch sometime in 2018. Details are a little sparse, but we do know it's rather different from the first game — and is actually a prequel.
BGAE2 will be an action-come-adventure game sporting more tradition RPG elements like character creation and development, completing quests, improve attributes, and move up the ranks in the competitive social system.
Death Stranding
Hideo Kojima still has us wondering whether or not we're doing drugs with his studio trailers but Death Stranding is something on our calendar. The latest video doesn't really reveal much but we're holing out for an immersive story. Let us know what you make of it all in the comments.
Surviving Mars
Being tasked with landing and establishing a colony on the hostile planet that is Mars is no easy feat. From the same publisher that brought the world the rather difficult Offworld Trading Company, Paradox Interactive is working with Haemimont Games to bring a whole new city management-type survival game.
Your task: to ensure everyone lives in the harsh environment. There are a bunch of features to help you both succeed and fail so it's down to you to take control and make everything work. Our Games Editor, Jez Corden, spent some time with the game at Gamescon:
Slated for release in 2018. if you like Cities: Skylines you should keep an eye on Surviving Mars.
Your hidden gem
What are you looking forward to the most for 2018? Let us know your favorite upcoming PC games in the comments, if they didn't make the list.
Get the Windows Central Newsletter
All the latest news, reviews, and guides for Windows and Xbox diehards.
Rich Edmonds was formerly a Senior Editor of PC hardware at Windows Central, covering everything related to PC components and NAS. He's been involved in technology for more than a decade and knows a thing or two about the magic inside a PC chassis. You can follow him on Twitter at @RichEdmonds.
Surprised Far Cry 5 didn't make the list

Sorry, but not a single one of those games is interesting to me. None of them are FPS, and I only play first-person. So, if that's the "best" 2018 has to offer, it's going to be a bad year.

It's gonna be great for those of us who don't play FPSs 😀

Some might say broadening your horizons might open your mind to experiencing new wonderful games.

Translation "WAAHHHHHHH, it's not my thing so it can't be good. WAAAAHHHHHHHH"

How about Age of Empires 4?

Doesn't have a release window. And given how the remaster of AoE got a fairly significant delay I wouldn't bank on it coming next year.

Death Stranding is going to be a PC game too??

It was first announced coming to PS4 and PC, But It looks like Sony is more involved now and it's been a while since the PC was last mentioned, so it's uncertain.

How about the top mixed reality games for 2018. With a new mixed reality headset in hand this holiday season, I am left speechless by the lack of VR games and apps in the Microsoft store....just wow, its like a ghost town.... Not even bringing up the fact that the headsets have software IPD that only go up to 67mm when a good chunk of gamers are 70+..

I'd like a good running list of this too. I'm starting to upgrade my PC to be VR/MR ready next year and I still don't know what headset to buy. I'm torn between the Oculous VR and Samsung MR.

Truth is we just don't know. Things appear in the store and that's usually the first we know of it. Steam VR is probably going to be the saviour there, but it's still pretty janky right now.

Monster Hunter World and Anthem look really cool. I can't play first person games and I prefer co-op over pvp so I'm looking forward to those. I enjoyed this year's Zelda: BotW. It might even be my favorite game of all time. I'd like to see a game that borrows Zelda's open world mechanics.

Red Dead Redemption 2, if it launches next year.

Get rid of in-app purchases and gambling. When I buy a game, I want the entire game.

My nephew got $40 xbox cards and the first thing he said was "I'm getting loot boxes"!! IT IS GAMBLING! In the worst degree.... TO KIDS!!!! May not be really geared to them but that is exactly what is happening!!!!!!!!!!!!!!!! Total BS to me. If I want to gamble I play cards, slots, roulette, or wtf ever but kids ...... come on.. you all should agree!!!!!!!!

His name is not José Fares, his name is Josef Fares 👍😊

I'm really excited about A Way Out and I am optimistic about Vampyr.

The sad part is that the ones I really want to see come out (Anthem and Beyond Good and Evil 2) will not be out in 2018. BGE2 is likely a 2022 release, what was shown at E3 was just a demo trailer designed to show off a concept. Anthem looks further along but I wouldnt be surpised to see a 2019 release. Destiny seriously needs some competition to kick them in the arse. I think it is likely we will see a Metro Exodus release in 2018... Hopefully it is more like the E3 presentation and less like the VGA's. I think this year is going to be more of a year of presentations at events like E3 with a short release window similiar to what Bethesda does. Probably a fair number we dont even know are in production right now.