Accuweather for Windows Phone 8 with lockscreen support lands in the store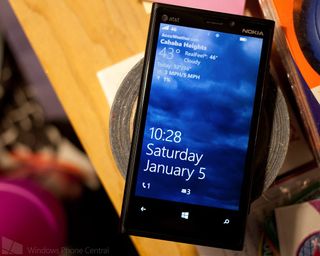 Accuweather for Windows Phone 8 is now available in the Windows Phone store. The Windows Phone 8 version adds lockscreen integration and customizable live tile sizing to the already impressive list of Accuweather features.
Lockscreen integration provides current conditions from your default location and an weather image illustrating the current conditions. While it would have been nice to have seen more options (e.g. extended forecast) it's a start.
The large live tile size for Accuweather will display current conditions and the forecast for the day.
Additional features for Accuweather include support for five locations, animated weather radar, severe weather notifications, weather videos, lifestyle forecasts as well as your weather conditions and forecasts. We have yet to see the Windows Phone 8 features come to the Accuweather version offered by Nokia for the Lumia Windows Phone.
All totaled, the Windows Phone 8 version of Accuweather improves things. We would have liked to have seen more options with live tiles and lockscreen integration but, again, it's a start.
Accuweather is a free app for your Windows Phone 8 device and you can find it here (opens in new tab) at the Windows Phone Store.
Thanks, Mark, for the tip!
Get the Windows Central Newsletter
All the latest news, reviews, and guides for Windows and Xbox diehards.
George is the Reviews Editor at Windows Central, concentrating on Windows 10 PC and Mobile apps. He's been a supporter of the platform since the days of Windows CE and uses his current Windows 10 Mobile phone daily to keep up with life and enjoy a game during down time.
I used Accuweather on my Focus, but I have switched to Amazing Weather HD for the really great double wide tile. Wish AWHD would get lockscreen support so I don't have to use Weather Flow as well.

When will AWHD include some new animation patterns for weather? Sick of seeing smae 2-3 tile icons and animations

The lock screen seems a little busy. The addition of the website address seals the deal for me: I'll pass.

Why would I have the local weather om my lock screen? You all live in caves?

I know. It doesn't make any sense. You need notification of weather change on that day and a forecast.

Why would we care about weather in a place we are not? Do you have a built in thermometer?

The app looks slick for a first version for WP8, still lacks some basic functionality like customizable update intervals and the tiles look as if its always night. Lock screen weather looks good as well, hope it doesn't suffer from sync issues as some other apps do. But for free its definitely awesome...!! I am currently using Weather Flow and it really has all the functionality one can ask for.

Am I the only one that has the problem since the update that every time I open the app it asks me if I want to 'Set as lock screen?"
I hit no, and next time I open the app it asks me the question yet again.
What gives?

The question is a valid one. Maybe it is a bug that needs to be known or maybe someone has a fix for the issue. I'm not sure that trying to shut down the question with "then don't use it" is productive.

It appears to be an annoying bug.

Yes, its seems like a bug (app should not ask again if you select 'No')

Yeah same issue here. Thought I was the only one

No - it's driving me round the twist. if it doesn't stop soon, I'll be uninstalling.


Weather channel (Nokia version) remains the weather app to beat

Have you tried Skymotion? These dudes tell you exactly when its supposed to rain. That for me is the app to beat.

Have u heard about weather flow?

Weather Flow's current conditions are ALWAYS wrong. They need to fix the weather data source.

Never experienced it, the temperatures were same as Accuweather

I have the same persistent problem. Driving me crazy!

If your losing your mind because of an app I believe there are more issues then your telling us LOL

Are third party lock screens supported in windows phone 7.8 ?

That what I want to know too. I dont understand why bing can update the lock screen and other 3rd party apps can't.

Does Accuweather's live tile use location to give me the weather where I'm at?

No it doesnt. I would recommend something like skymotion or xrain, they give you the weather for wheere u are.

Amazing Weather HD uses GPS location as well for the live tile.

I hate ads, downloaded and deleted before I even used the thing. Ads on my mobile. Get the f out.

Can't double size the tile, no option for lock screen found. Did I miss something???

Agree...Ad based = no deal. I'll gladly pay $1.99 for no ads.

I hope they learned to spell locations right this time. There language department have been needing a good spanking for awhile now.

Their* language department;) they aren't the only ones who need a good spanking haha

It has ads!! No thanks. None of these apps have by-the-minute forecasts like skymotion or xrain. Time to upgrade people, so tired of these run of the mill weather apps.

This is a BIG improvement over the Weather Channell app that was Mango/Tango & Nokia said was Apollo native which it wasnt.

Where are the lockscreen options? I don't find them in the app. But since I can switch the size of the homescreen icon I am sure I downloaded the correct, WP8, version. (I actually scanned the QR code in this article to download the app).
Any help appreciated.
Hint to all Germans: They still did not correct the translation error of their initial release. In order to ENABLE live tile, location service and alerts, you actually need to set the sliders to OFF. :-(

Quite nice, but the lock screen is pretty dull. I prefer weather flow over this.

And people wonder why devs don't want to release apps for WP, when all they get is complaints and negativity instead of constructive criticism to make the app better. Keep up the good work lads! /s

I used the lock screen but now want to disable it. How can i disable it without selecting something else to use my lockscreen.

Glad the tiles are high res now on 720/768 screens, and the app is faster as wel. Do wish there were some more forecast options and such, but beyond that, it's a solid weather app. I love accuweather's primary function, weather accuracy. Seems better to me than other sources.

Is there a weather app that lets you use your own image on the lock screen but still gives you some lock screen info rather than using their pictures

There's 2 different versions. The regular one and Nokia one. Nokia one hasn't been updated yet?

Yes, but no one is doing that. Possible not in Europe?

While im quite imressed at how "pretty" these apps are, my search still continues for one that is actually accurate! id like to see one that uses multiple weather sources and maybe averages it or something...

it is nice but hate the advertisement.. look like someone is spying my mobile.. I bought WeatherFlow..they have constant/fixed backgrounds but atleast clear, crisp and without advertisement.

When installing this version, it still shows the old 2.1.1 version without lock screen and double sized tile. I'm here in Austria, my carrier is A1. Anyone else having problems?