Acer isn't focused on toppling giants — it's running with the people
The name of the game is agility.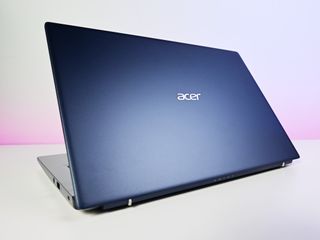 (Image credit: Daniel Rubino / Windows Central)
Acer's not afraid of challenges. Like many of its peers, it's overcome the pandemic and come out the other side better for it. But more than that, it's also gone to great lengths to get ahead of the curve and innovate so that its business is about thriving instead of surviving.
As seen at the company's 2021 Next@Acer event, it's ready to equip just about every kind of consumer with one of its machines. Be they creators, gamers, or any kind of PC-minded individual in between, all potential audiences got a preview of a device built for them.
For those who need lightweight but powerful laptops, Acer introduced the Swift X, which Windows Central got a hands-on preview of. Hardcore gamers who needed power and professionalism got two birds with one stone in the Predator Triton 500 SE. And for those who wanted a glimpse at the eco-friendly future of computing, there was the Aspire Vero. All of these devices were carefully crafted to target diverse, potentially underserved groups, therein exposing Acer's design philosophy: Win over curious users, not the competition.
I spoke with Jerry Kao, Co-COO and president of Acer's IT business products, and James K. Lin, Acer's general manager of its notebooks products business, about anything and everything Acer-related. Details about the company's latest products, post-pandemic goals, sustainability initiatives, and global market share strategies were discussed. Here were the highlights from the conversation.
What's next for Acer's sustainability initiatives
Acer recently announced its Earthion (which stands for Earth + mission) platform and joining of the RE100 initiative, with the latter representing the company's open commitment to using 100% renewable energy by 2035. But that's not all Acer revealed in terms of eco-friendly plans.
It also unveiled the Aspire Vero, a machine with recycled materials both in the laptop itself as well as the packaging. I asked Kao if he could dish any details about this product's release date or potential price point, and while he wasn't ready to share any scoops on those particulars, he did give a straight answer about the future of Acer's Earthion platform and whether the Vero was a one-off.
"Yes, there is a series coming," he said, though he mentioned it might not be another Vero. As it turns out, Vero was just an outcome of the Earthion platform rather than an excuse to launch it. This hints at future Earthion machines cropping up down the line. Can you imagine a sustainability-focused Predator Triton?
The tradeoffs that went into the Swift X
The interview shifted gears after the Earthion opener, wherein Acer's new Swift X was discussed. Windows Central's Daniel Rubino got an exclusive hands-on with it and noted a lot of its benefits — chiefly, its power relative to its size — as well as its drawbacks, such as its weak camera. Kao and Lin offered some insight as to how decisions were made around what did and didn't make it into the Swift X.
Lin made it clear that the Swift X's big advantage was the power it packed into a relatively affordable, tiny frame. However, he was straight about the fact that not everything everyone would want in a laptop made the cut. "Let me talk about Type-C because they're thinner and lighter, which [makes] the port-making design easier," he said, explaining the lack of Thunderbolt 4.
When it came to the underwhelming webcam, no IR for Windows Hello, and items of that nature, Kao stepped in to provide an upfront answer about the device's drawbacks. As Rubino cited in his preview, the explanation was simple: cost-cutting measures.
"How we target 'it,' affordability, we also have a lot of different kinds of notebooks," he said. "We want to touch different kinds of customers. So in the end, it is a — I don't want to use that word, but there's a tradeoff. But we think we are making the best decision for those trading offs."
He elaborated on the compromises, pointing out that Acer's goal is to cut things they feel affordability-minded consumers won't need. Acer's design philosophy for the Swift X and similar products is about capturing a good price point and feature versatility, even if that leaves a few higher-tier wants on the cutting room floor.
16:9 or 16:10
Though there's a lot of love going on for 16:10 right now, and it's looking more and more like the wave of the future, Acer believes there's still a place for 16:9 devices.
"16:10 actually is the golden ratio," Lin said, mentioning it's great for creators because they can see more during activities such as designing and photo editing, hence why it's in some — but not all — of the creator-focused ConceptD machines Acer recently revealed.
Lin posited that 16:9 might be preferred for other tasks and basic user viewing activities, which is why both aspect ratios will be in Acer products for the time being. So for those who agree that 16:9 has a place, know that Acer devices will remain accommodating.
HDMI 2.1: Another as-needed inclusion
If the point hasn't already been made clear that Acer's a company big on lowering costs and sacrificing certain features if it means reaching more interested customers, here's one more piece of evidence: Acer's not going all-in on HDMI 2.1.
For certain products, it'll appear, but there will be options that go the economical route and neglect to include it. "So there will be some with [2.1]," Kao said. For those people who view 2.1 as a feature that's a waste of their money (certain PC users, for example), it won't be included. That's the rationale Acer's going with.
Thankfully, Kao is well aware that consoles such as the Xbox Series X benefit greatly from HDMI 2.1, meaning at least some of Acer's future monitor lineup will include it, just like the recently announced Predator CG437K S monitor does.
Market share hardball
In discussing Acer's standing in the market, all of the company's moves started to make sense. According to Gartner, Acer makes up 5.7% of the global PC market as of Q1 2021, whereas Lenovo represents 25.1% and HP is at 21.4%. When asked for comment, Gartner Analyst Mika Kitagawa stated that the company is having a great Q1 2021 fresh off a very solid past year. Though, good or otherwise, the figures make it clear enough that Acer is not making the same kind of global dent as some of its peers.
The positive quarterly and annual results were facts Kao brought up in his conversation with me. When asked whether Acer had a strategy in place to chip away at its competitors' control of the PC market, he was frank.
"Tough question," he said. "It's a tough question." He then elaborated. "We are relatively small. Small may be a negative word, but in other words, in other aspects, we are very nimble. We are very agile."
Given the market share comparison, Kao addressed the competition. "HP, Lenovo, this kind of — we call them the giants in the PC industry," he stated. "We will not fight, I mean, head-to-head with everything they provide."
Kao pointed out that Acer's size and associated pivot capacity are what will help set it apart as the pandemic ends and the world changes. It's going to be all about fast resource allocation and integration, just like it has been. And just as Acer has had a great previous year and first quarter of 2021 relatively unfettered by COVID-19, it's hoping to keep the momentum going.
We live in a world where more people than ever are looking for affordability. Similarly, sustainability and ecological best practices have become more core to peoples' shopping philosophies. Work-from-home technologies have also spiked in popularity recently. And for all of these recent global changes and shifts in market wants, Acer wants to have a grasp on the solution before anyone else.
It might not have the power to dominate as many sectors of the market as HP or Lenovo, but that's not the battle Acer's looking to engage in. When the next big thing crops up, Acer hopes to be ahead of the pack, because it's placing its bets on having a sustainable spot in the market by targeting consumer pain points that haven't yet become obvious.
"Acer wants to be with all the end-users to provide something which they appreciate," Kao said. It's about winning over users before they find a better product elsewhere for their given niche, not about waging war on industry giants.
Get the Windows Central Newsletter
All the latest news, reviews, and guides for Windows and Xbox diehards.
Robert Carnevale is the News Editor for Windows Central. He's a big fan of Kinect (it lives on in his heart), Sonic the Hedgehog, and the legendary intersection of those two titans, Sonic Free Riders. He is the author of Cold War 2395. Have a useful tip? Send it to robert.carnevale@futurenet.com.