Acer's latest 2-in-1 device - Acer One - goes on sale in India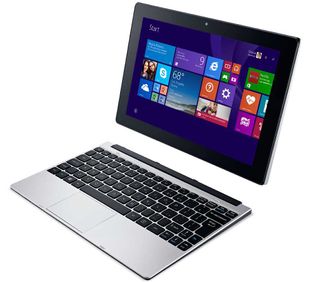 Acer One, a 2-in-1 device with four modes for touch, typing, viewing, and sharing, is now available in retail stores in India. Targeted at young consumers, the device is best suited for consumers who are looking for a compact, portable, and multi-functional device for balancing productivity and entertainment.
The Acer S1001 is a 10.1-inch Windows 8.1 device that weighs just 1.2kg. Powered by a 1.83GHz Intel Atom Z3735F quad-core processor, the device comes in two variants with 1GB and 2GB RAM and 32GB of storage integrated in tablet with a hard disk of 500 GB packed in the keyboard dock. The device packs in 2 USB 2.0 ports and one micro-HDMI port. There's also a 2MP rear camera and a VGA front camera. The Acer One boasts of a 6000 mAh battery with 10W power adapter via micro USB Port, and the company claims a battery life of over 16 hours.
The unique hinge design of the Acer One comes with a magnetic detachable and latch-less design for a smooth transition between the four modes – notebook, pad, display, and tent.
S Rajendran, Chief Marketing Officer, Acer India said,
The Acer One is now available in major retail stores in India starting at ₹19,999 (USD 320). In recent times, there have been a lot of options in mid-range Windows 2-in-1 devices that offer a great productivity and familiarity story against other tablets. Do you think a 2-in-1 device like the Acer One makes a great machine for students and business professionals on the move? Tell us in the comments!
India gets every windows device possible.
.....
Should just name the platform "Windia"

Not every device possible *cough* surface *cough* band ... Sorry for the *coughs* but it Hurts...

Zune player. Music pass. Do they have Xbox one there?

No, rockstarzz.... No they don't. Calm down.
.....
Nobody here really thinks they literally have every device made... Get a grip, and listen to yourself..
Lol... It's called sarcasm.

No we don't have Xbox music pass we don't have native music streaming service native as in from the OS vendor... But yes we so have google music or whatever it's called and iTunes too .... Nexus plus the top range "super premium" i devices as well.... ... Huh...no point in being sad allover this... :/

India still gets every WP device know to mankind... Lol
We don't feel sorry for you..

Can't believe no Surface... That's lunacy.

Windia... Short form of Wen In India??? :-P

Microdia..... Definitely not Micromerica

for more info "when in India", pls log on to www.wheninindia.com #wheninindia #SaveXboxWP #SeemsFaster #no512mbsupport

Don't you mean Windia in US❓ Lol❗

How do people feel about the price of a Surface 3 ($499 plus $129 for keyboard) in comparison to this device? You get a much better processor, better screen, cameras, more memory with the Surface 3.

Well, they are different OEMs releasing in different markets. If Acer put this out in the U.S., it probably wouldn't be $320, maybe $250-300. A straight conversion rate doesn't necessarily apply when a device is brought to another market. That said, this includes the keyboard (a $130 premium with the Surface 3), and the dock has a 500-GB HDD built into it (you'd probably be spending $50 or so on a portable external HDD of that size). The battery life on this is quoted as being 16 hours, much longer than the Surface 3's, as well. So, they're different products for different markets. They have their own benefits and inclusions. I'm not exactly from India or anything, so I don't know their tech habits, but I'd imagine that your'e comparing a secondary toy computer in the Surface 3 (for Americans) to a potential primary device for mobile users (for Indians).

So if you're in a country like mine and have both readily available for you to purchase, which one will you buy? Posted via Windows Phone Central App for Android!

That'd depend on relative pricing. I built a desktop and don't feel the need to do mobile computing, so I wouldn't get either. IfI ever get a mobile PC, it'll probably be a Surface Pro (whichever is current), as I'd want something to do more than the light tasks I can just do on my phone (like browsing the web and reading news articles from here and elsewhere).

But between the Acer One and the Surface 3? If I just have the money for the SP3 there wouldn't be any problem.

Honestly, it's just a hard question to answer. They're different classes of devices. The hardware comparison is heavily in-favor of the Surface 3, but it's AT LEAST twice the price. If you can afford the Surface 3, I would maybe recommend waiting a bit longer and trying to find a way to squeeze the extra $100-150 into the budget for a surface Pro 3, especially since the impending SP4 announcement should drive the prices down another $50 or so, if only for a limited time. You have to look at what you want your device to do. Is 64-128 GB of storage? If not, then the Acer's 500-GB HDD would be your alternative. Are you a fan of multitasking? The Acer's 1-2 GB of RAM won't play nicely with that. I don't think there's any way I'd talk myself into that Acer, unless it was in the role of niche device I use solely to carry a bunch of my media on (with the 500-GB HDD). To do any kind of meaningful work, the Surface 3's superior SoC and doubled RAM (I would HAVE to take the 4-GB model) would sit much better with me.

I got a similarly specced but much better product from a major brand at 199 !! Now go beat that ...

Microsoft, Surface in India?

I see what you did there. :P

Surface is a premium device to nudge their OEM partners in the right direction. Microsoft is perfectly fine with selling only 2-3M surfaces per quarter with a healthy 20%+ margin and have a majority buy their OEMs cheaper 2 n 1s where their margin is much higher on the software in those devices. They price the Surface line to leave room for their oems! Find the most expensive 2n1 from their partner (yoga 2 10) add $50 and that is where the surface will usually be priced.

Does the price 20k includes the keyboard also?

Yes and the keyboard has built in 500 gigs of storage. Posted via Windows Phone Central App for Android!

U can get scores of products with similar features and specs at 20 k in India. Some even have 3g at 20 k !!

It will be available in India before U.S

Mew... What? You mean India didn't get it yet? It's already sold in Indonesia since a month ago. I thought we Indonesian will always be last one who get any devices. :3

That 1GB RAM model had already started selling in India from 1 month. 2GB RAM model is coming soon

Its been 3 months and 2gb model hasnt appeared. Its unlikely they will sell 2gb model in India. Also the 2gb model will be at least 2000 more expensive !!

Great Deal, Its really good!

How does Windows 8.1 run on 1 or 2 GB of RAM on such devices? I am really curious. Even the Surface 3 has just 2GB of RAM. Aren't the system requirements higher for Windows 8.1?

I GB is more than enough for windows 8.1. Windows 10 reportedly will consume even less resources. So having a 1 GB or 2GB will not slow things down drastically. You may feel some lag while multitasking and maybe in some graphic intensive games. Other than that, you wont notice a thing

Oh thanks! So can I install Windows 8.1 on my old PC which has 2GB of RAM, currently runs XP and has a Pentium 4 processor? I will be a buying a laptop soon but just wanted to know if its possible for my old PC.. Thanks! :)

I am not sure about Pnetium 4. The bottom line is if you can install and run windows 7 smoothly, then windows 8 or 10 should work on your system. The minimum specifications for Windows 10 as given by Micorosoft are: Processor: 1 gigahertz (GHz) or faster RAM: 1 gigabyte (GB) (32-bit) or 2 GB (64-bit) Free hard disk space: 16 GB Graphics card: Microsoft DirectX 9 graphics device with WDDM driver A Microsoft account and Internet access

And in case, you are going to buy a new laptop anyway, you may try windows 10 preview for developers on your old laptop. Since it is not a finished product and may have some bugs (read more than usual), you might not want to do so on your ONLY laptop.

I won't try the Technical Preview because its my only PC but I'll definitely try out 8.1. Thanks! :)

Consider the following options : Your old PC can run Windows 8.1 very well Buy a 7 inch Win tab for about 8000 bucks on ebay and use hdmi out to your minitor, like I do Buy the (really cool) Intel Compute Stick or The microsoft Win 8.1 hdmi stick and use with any monitor ( 150 bucks each )

Ok thanks! Will try out Windows 8.1! :)

Does Acer One run Full Windows 8.1 with Win32 apps?

This is how Surface 3 should have been priced It has slightly slower processor and less memory, but it costs about two thirds of Surface 3, and has the keyboard attached to it. If you add the price of keyboard and pen to surface 3, this one is at just half the price. Maybe Acer can launch a more powerful version of this device at around 30,000 INR which would overcome the gap in processor speed, memory and camera pixels. Now I don't miss surface 3 not being available in India. I think we have got a better deal.

You call this 'now' ? We have got such devices for almost 7-8 mnths !!

Its been available on Amazon since the past two months although I'm still waiting for the 2GB RAM version

Exactly !! 2 gb version will never come to India.

Nothing Acer puts out interests me. And I don't know why really. Some of their offerings looks Ok and all but I just can't shake their shoddy build quality reputation....

Is it gonna support windows 10?
Windows Central Newsletter
Thank you for signing up to Windows Central. You will receive a verification email shortly.
There was a problem. Please refresh the page and try again.