Aces of the Luftwaffe gets new levels and plane on Windows Phone 8 and Windows 8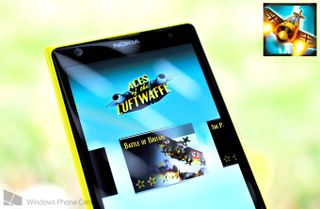 Back at Casual Connect in August, we interviewed German developer Handy Games about some of their upcoming Windows Phone and Windows 8 titles: 1941: Frozen Front and Townsmen. Those two fine-looking titles are still in development, but the game maker has something else to tide us over right now.
Handy Games has just updated both mobile Windows versions of their 2D shoot-em-up Aces of the Luftwaffe, right alongside their Android counterpart. One of our favorite shmups on Windows Phone 8, Aces of the Luftwaffe is free to play. This update adds a bunch of new content that will keep shooting game fans busy for hours.
Aces of the Luftwaffe version 1.2.2 release notes
New level package: 'Night over Europe'
New boss: Commander Meiler
New pilot: Tykers
New plane: P-59
Night Over Europe
To play the new level set, you'll need to plunk down 750 medals (the game's currency). If you're new to the game or just don't have that much scratch, you'll need to either grind for a while or make an In-App Purchase to afford the set. The cheapest IAP packs 2000 medals for $1.99, so at least you won't have to break the bank if you're dying to try the new content.
Like the three previous batches of levels, 'Night Over Europe' includes three full levels and a boss stage. These levels take place at dusk and at night, giving them a unique look compared to past stages. You'll encounter a fair number of ghost enemies – glowing planes who fill the screen with bullets and can withstand more than their share of firepower.
All of the enemies in 'Night Over Europe' put up a mean fight, in fact. Shoot-em-ups are a challenging genre in general. Shmup fans often prefer a sadistic level of challenge.
Those guys will feel right at home in 4-3 when having to navigate between mine fields while dodging enemy fire. The catch is that if you shoot a mine very much (you can't move without firing) it explodes in a hail of bullets. The dense minefield and mass of enemies can make mincemeat of even a fully upgraded plane. At least the game allows players to purchase a single extra life should they go down – for 100 medals.
'Night Over Europe' culminates in a battle against the less than friendly Commander Meiler. His plane fills the screen with bullets, though skilled players should be able to weave through most of them. Meiler also has a tendency to leave the screen and then fly at the hero from behind.
Introducing Tyker
Should the new levels or past ones prove too challenging, the new pilot might help. Tykers flies the P-59 plane, which can be unlocked for 400 medals. After purchasing him, players can use Tykers in any level of their choosing.
Tyker's essentially acts as the game's "easy" mode. His upgradable abilities make his plane smaller and harder to hit and even provide a health boost when enemy bullets almost graze the plane. It should be fun to replay levels with the P-59 and see how it performs compared to the other two planes Aces currently offers.
Take to the skies
Facing Commander Meiler on Windows 8, which uses a horizontal configuration
Free to play games are tough to get right due to their need to entice players into spending money. Aces of the Luftwaffe never puts too much pressure on the player to spend, though it does require a lot of grinding for plane upgrades. Aces' mixture of a World War II setting, strong art, a light story, and intense shooting action should appeal to even the most discerning shooting game fans.
Oh, and Handy Games tells us that another content update is already in the works!
Aces of the Luftwaffe – Windows Phone 8 – 23 MB – Free – Store Link
Aces of the Luftwaffe – Windows 8 and RT – 25 MB – Free – Store Link

(opens in new tab)
Paul Acevedo is the Games Editor at Windows Central. A lifelong gamer, he has written about videogames for over 15 years and reviewed over 350 games for our site. Follow him on Twitter @PaulRAcevedo. Don't hate. Appreciate!
Oh yeah it is. I uninstalled it a while back after losing hope that new levels would be added. Guess I'll have to reinstall.

Tempted, but I have to many Xbox enabled phone games I haven't started yet still.

Great game. Trying to beat the new level four boss. I can destroy all of his engines but can't get past that point. When you're battling him there's a point where your plane has a yellow ring around it and it says "Fly Up" anyone know what that means or is supposed to allow you to do?

I haven't beaten him yet, unfortunately. I'll ask the dev for you.

Update: Handy Games will release a strategy vdeo for the 4th boss soon.

anybody having issues with too much device heating after playing this for few minutes, the screen too heats up and i can feel burning sensation on the finger tip

That happens with a lot of games. it's some kind of defect with either the Qualcomm chip used with WP8 phones or the OS itself.

Or just poor programming.

No, it's not the programming at all. It's a problem that pops up with far too many games for that.

This game was ok. Gets a little hectic. Fun to play

I think he's commenting on how there aren't many comments left by people.

Is there any scuttlebutt about Handy Games releasing Guns-N-Glory, for WP? Had it for iPhone 4 in 2010, and made my wife put it on her iPad, since I haven't had an iPhone in over 2 years. Its the ONLY reason I will even touch an iPad.

I'll try to ask them soon.

Update won't download onto my AT&T Lumia 920, keeps crashing, doesn't install. Anyone else experiencing problems?
Windows Central Newsletter
Get the best of Windows Central in in your inbox, every day!
Thank you for signing up to Windows Central. You will receive a verification email shortly.
There was a problem. Please refresh the page and try again.