Achievement Art brings your Xbox achievements to Windows 10 as a universal app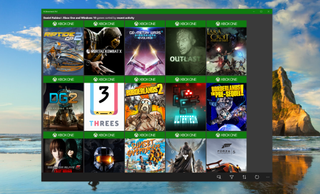 Earlier in February we reported on a new app called Achievement Art for Windows 8.1 and Windows Phone 8.1. The app is very simple: It lets you bring up all your Xbox One and Xbox 360 achievements in one place and as its name implies view and save the art associated with your triumphs. Users can then save the art to their device or use it as a wallpaper making it well worth the download.
The developer behind the app has let us know that Achievement Art is now rewritten for Windows 10 making it truly universal. Users on Windows 10 Mobile or Windows 10 for the desktop can download and use the same app anywhere.
Besides your individual achievements, you can also load up and save the game's art in PNG at HD (1920x1080), which is super cool. Instead of downloading as a separate file you can also just set it on your lock screen or wallpaper.
From the app description:
Features of Achievement Art include:
Browse achievement art you've unlocked in any Xbox-enabled game!
Download achievement art or set it as your wallpaper or lock screen from within the app.
Download game art or use it to personalize your device.
Browse your own achievements or those unlocked by your friends - all you need is their Gamertag.
Sort your achievements alphabetically or by most recently unlocked. Great for seeing your most recently unlocked achievement art at a glance.
A one-time upgrade to Premium unlocks advanced features across both Windows and Windows Phone.
Premium feature: Download all achievement art for a game in one click!
Premium feature: Browse achievement art for achievements which you have not yet unlocked, and download it!
More free and Premium features to come over time.
Achievement Art is free to use too although there is a 99 cent Premium upgrade that unlocks special features noted above. The app is exceptionally well done, great to look at and is just clever. If you are an achievement hunter, you must grab it now!
Let us know what you think in comments and don't forget to make suggestions for the developer.
Download Achievement Art for Windows 10 and Mobile (opens in new tab)
Daniel Rubino is the Editor-in-chief of Windows Central, head reviewer, podcast co-host, and analyst. He has been here covering Microsoft since 2007 when this site was called WMExperts (and later Windows Phone Central). His interests include Windows, Microsoft Surface, laptops, next-gen computing, and for some reason, watches. Before all this tech stuff, he worked on a Ph.D. in linguistics and ran the projectors at movie theaters, which has done absolutely nothing for his career.
Nice to see more and more universal apps... Hope this continues...

Agreed. I seriously hope to see some banking apps jump on. I could seriously see myself using a well designed banking app over my banks website anyday.

That's already a universal app

Achievement hunter or hoarder?

That's good start! Go Microsoft

Can we not call them trophies? Not only cause they are achievements but cause a deferent platform, that I rather not name for stealing that idea too, uses that term for achievements. Please?
Ty :)

I don't play PS, nor have I ever, so had no idea they used 'trophies' (or that people here are so thin skinned about some wordplay) but sure, fixed. I hope everyone can sleep easier, lol. Jeez.

I think it's incredibly funny everyone is having a brain aneurysm over saying "trophies". Relax, everyone. Lol.

Oh, don't get me wrong. It's that it's the actual term on another platform and using that instead of the xbox one sounded wrong.
Then again, having no idea about it explains it.
Thank you for correcting it on my behalf and listening and sorry if I came out aggressive about it or something! :) wasn't my intention. Pinky swear :P

Woah.. Just saw the heat you got about it from the posts above.. I'm sorry dude. I genuinely wasnt being an ass about it. And why the explanation of my request to change in the original post. x.x

Is the WP 8.1 version not yet updated or have I read this wrong and this update is only for the Win 10 version?

Those are not "trophies". Those are "achievements". You should step down from your position on Windows Central. But seriously, come on!

You're being pedantic. I was using 'trophies' because otherwise I'm saying 'achievements' numerous times in the headline. It's called word play.

I hope you understood it as a joke, not a serious comment :) I know a lot of people for whom it is a big deal to be precise about using term "achievement" and using "trophy" instead is the worst thing that can happen.

Why the hate is just un juego de palabras para no repetir lo mismo asi que daniel trataba de usar sinónimos so come one!! Take a brake

well it sounds like one those useless universal apps that will be released on the store. it's good it's universal but I mean, this kind of thing seems not that great to make an article for, especially if it's not fully free having some premium features. but ​anyway, good someone decided to bring another new universal app to the platform. Windows 10 is looking better everyday.

I like this app and wouldn't know about it without this article, not all apps which get an article will be relevant to every reader.

"Achievement Art brings your Xbox trophies to Windows 10 as a universal app" The name of the app that you're covering, that's written in your headline, should give away that Xbox uses Achievements, while PlayStation uses trophies. Two separate platforms by two different companies. Not sure if poor journalism, or just the writings of someone missing a few cards in their deck.

I'm trolling because I think things like this are silly. True story: never used a PS, so I had no idea those were called trophies. I guess I'm more of a diehard than you ;)

"never used a PS, so I had no idea those were called trophies." Nothing wrong with that. But you must not have ever used an Xbox 360/One either. Regardless, you've managed to change the headline to be, you know, accurate. So kudos for that, I suppose.

"But you must not have ever used an Xbox 360/One either."

Riiiight, except for all the screenshots used in this article which clearly show my achievements and games I play. But sure, I'm not one of you and your club. Clearly this is all very important. /s

How about WC stop using freaking 'tradedoubler .com' links, and instead link DIRECTLY to the page/W10 app/whatever? What right do YOU have for sending me to the content you promote via a tracking service whos ONLY purposae is to track users movements and colate them for stinking advertisers? Nice app by the way.

"How about WC stop using freaking 'tradedoubler .com' links, and instead link DIRECTLY to the page/W10 app/whatever? "What right do YOU have for sending me to the content you promote via a tracking service whos ONLY purposae is to track users movements and colate them for stinking advertisers?"

It's actually Microsoft's program for affiliates and yeah, sorry, we need revenue too. Listen, I don't like a lot about how internet commerce works, but if you want high quality coverage from us, a full-time staff, and speed, someone has to foot the bill.

Trophies or achievements, they are English words. And there's no reason why the author must not use it. I don't think Sony will make those who use the word 'trophies' pay for the right to use it. Stop being so serious, people.

Whaaaat!? Missed the news about this earlier so I have built my own desktop app upon XboxAPI just to generate collages xD with plans for Win10 xD lol

Couldn't they have built in this feature to the Xbox Games hub/app/thingy rather than release a separate app for this?
Just curious.

But you can view achievements on xbox app built into windows 10.

Hey there, I'm the dev for Achievement Art. I couldn't have built this into the Xbox app for Windows 10 because I am a hobbyist app developer and I don't work for Xbox. I'll take the fact that you mistook this for an official app as a compliment. :)

The app only supports Xbox one not Xbox 360 achievements.

Ha! Then theres still hope for my app, which supports Xbox 360 games! Hell yeah!

Age of Empires shows up as Xbox Live but no other Live games I have do.
Edit: Seems 360 games appear on the Win10 app but not the phone

Which platform are you on? The 8.1 version has not been updated to support platforms other than Xbox One and Windows 10, but the Windows 10 version of the app supports all Xbox-enabled games on Xbox and Windows platforms. Considered porting the new features back to the old version, but it would have been a lot of extra work and download numbers on 8.1 dropped considerably after 10 came out, so it didn't seem worth it.

Where is the download link in the app? Is it not available on windows 10 mobile?

I don't understand what this app is for? Windows 10 already has achievements integrated.

The Xbox app doesn't allow you to download achievement art images or set them as your device's lock screen or wallpaper. This app does! It's not just intended to let you browse your achievements, it enables you to use them to personalize your device and show them off.
Windows Central Newsletter
Thank you for signing up to Windows Central. You will receive a verification email shortly.
There was a problem. Please refresh the page and try again.