Make creative photo collages for free with Acolart for Windows Phone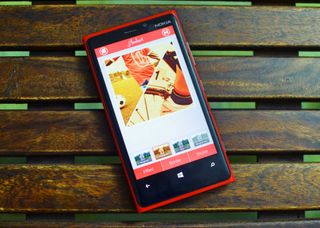 Acolart is a part photo editing and part photo enhancement app. The app allows you to create interesting collages from your photos, add effects or stickers to them, and share them with your friends.
Your first step is to choose photos from your albums, and then choose a layout you like and customize it. You can edit the grid, rearrange the photos, and rotate, move, or zoom the photos easily. Once you've finished arranging your photos, you can apply one of the many effects available. There are many image templates, frame backgrounds, different adjustable border types, and stickers for you to add.
The app offers over hundred grid layouts with more to come, and features a variety of image effects like antique, blur, brightness, and more. You can add stickers from a lot categories like love, fun, autumn, winter, and wedding and customize their size in order to fit your photo.
The only issue with the app is that you need to pick photos from your entire stream rather than albums. If you have a lot of photos, this can be a little awkward. The developers hint at upcoming features like timed camera to allow taking multiple photos with adjustable timer from within the app as well as multiple photos in fast action camera mode.
Acolart is a fine app to convert your photos into creative collages and save them to your collection or set them as your phone's wallpaper or lockscreen. You can also share the photos via social networks and other apps on your Windows phone device.
Download the Acolart app for free for Windows Phone 8 devices from the Windows Phone Store. It's a pretty good app to play around with your photos and share your creativity with your friends. The developers of Acolart promise more updates soon, so it looks like a good app to have. Give it a whirl, and let us know how you like it.
If only it didn't leave the massive watermark on every saved collage... :/

Ohh, dang and I was looking for a really good collage apl for WP. One that gives the flexibility to manually adjust the size of the images in the collage.

I use Phototastic, don't let custom size but have a lot of grids for at least 5 photos for free and like 20 through single purchase.

the updated version has moved the watermark

How is the post processing quality? like the resolution the collage will take after saving it?

In higher version, you canchange it :D

Great app. thanks developer. We most definitely know who made the app because of the watermark. Phototastic still ranks #1 so far

What's with that auto watermark??? I hope it gets fixed in the upcoming update

Sure, in higher version, you can fix it

Can someone explain me what a watermark is?

It's a logo placed somewhere in the picture. It usually is kind of transparent like the ones used by TV channels on a corner of the screen so you know what channel you're watching and no one steals their work.

It's mean "Collage Art" :D

Am I the only one that hates that picture of the kid playing soccer? I've seen it for a while already. Please replace it.

Yeah everyone MUST know who make this app by stamp the watermark onto the collage

I don't have any problem with the watermark! It's kind of cool!

They're no stickers. What the heck?

would have been nice, but there's no printable size like 3x4; 4x6, etc. theyre all 1:1 fotor is still the best

In higher version you can fix it :)

Thank developers! i love this app because it's very simple. That's all I need. Thank you :D

It's really nice app. looking forward to seeing the updated verson ;)

How do I get rid of that huge watermark...

In next version, watermark will be removed!!! :D
Windows Central Newsletter
Get the best of Windows Central in in your inbox, every day!
Thank you for signing up to Windows Central. You will receive a verification email shortly.
There was a problem. Please refresh the page and try again.