Adele's 25 lands on Spotify and Groove Music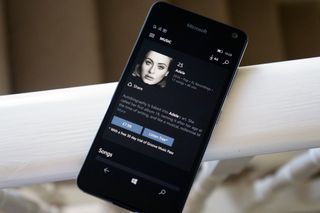 Seven months after its initial release, Adele has brought her latest album, 25, to major streaming service. The album is now available in its entirety on Spotify, Groove Music, and more for subscribers.
Released in November 2015, 25 is Adele's third studio album. Along with albums 19 and 21, the album forms a sort of trilogy about the singers young adulthood. Adele has previously stated that 25 would be her last album titled after her age.
If purchasing music is more your speed, you can of course still buy 25 from the Microsoft Store (opens in new tab).
Windows Central Newsletter
Get the best of Windows Central in in your inbox, every day!
Groove Music is slow at bringing in new songs!

This album wasn't released for Spotify either. It's just the artist's preference to not release it at certain platforms for some time. It's not Groove Music's fault.

I'm not talking about just this Album.

Well I couldn't know that :P

Album from which musician?

Dustin Lynch - Seein' Red

The Web Version of Groove actually has it

Agreed. We usually get albums or singles a couple days after the release date on iTunes, Google Play, Spotify etc. I've always wondered why there was such a delay but I don't know where to go for that answer, haha

Yah, we used to have a report button but they've taken that away!

It's still there on the website. If your search doesn't have any results it'll let you request what's missing.

Thanks. I don't use the website very much anymore since my work PC has windows 10 now.

Well I know there was a new song by twenty one pilots, and my brother got it on his iphone, I think. It wasn't on groove. But I checked the next morning and it was there

Guess it was nothing to get "Stressed Out" about. :) Posted via the Windows Central App for Android

I'll make sure to avoid it.

Huh? I've had this in my library since November?

Maybe you could buy it, I'm not sure... But streaming start today on every platform.

Landed on my torrent client last year
>_>

Yeah like, why can't I buy Metallica albums on there? They have one live album and then a bunch of tribute albums. Why can you buy tributes but not the real thing? Also, why is there no ability to choose a genre? Sometimes I want one genre of music, sorry not on Windows Mobile. It was there on Xbox music, now it's gone!

Why don't you ask Metallica that?

Is this newsworthy? I mean, is it a big album even? I'm honestly asking, I'm not into pop music.

It's actually pretty good...

She's very popular. I'm a big fan myself, but I'm also not sure this is news worthy. I've never seen an article like this for other artists.

It's newsworthy not just because she is a huge star, but also because of how music is now getting distributed amongst the services. Artists are increasingly choosing to prefer certain services, giving them first run.

I'm confused..I bought this album on groove music, why are they speaking of it as if it has just arrived to the site? Lolololol

Okay, I commented before I read the other comments. I didn't realize it wasn't available to stream. I buy everything, I don't stream lol

A Dell? They makes computers an' stuff.
Windows Central Newsletter
Thank you for signing up to Windows Central. You will receive a verification email shortly.
There was a problem. Please refresh the page and try again.