Aduro U-Grip Universal Car Mount, one of the best car mounts for our Windows Phone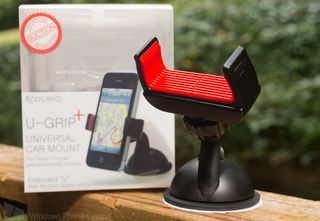 One of the challenges Windows Phone owners may face is finding a quality, practical, car mount for their phone. If you're still in search for a solution, take a gander at the Aduro U-Grip Universal Car Mount.
The U-Grip is a clamp styled mount that pivots 360 degrees to accommodate portrait and landscape viewing, which is ideal for your navigational apps. Construction is solid, it affixes to your car dash or windshield firmly and holds your Windows Phone in place with very little wiggle room. The U-Grip comes across as very appealing option and may be the best car mount out there.
The Aduro U-Grip's design is fairly elementary. The U-Grip is mounted on the base with a ball/socket connection that locks into position with a single tension screw. The grip is spring compressed and expands to handle Windows Phones with 3.5 to 5.5 screens. Which is nice if a 5.5" Windows Phone comes to market.
The U-Grip can rotate 360 degrees and with the tension screw, locks into place nicely with very little bounce. Sure, if you're running off road you may see more bounce but on paved roads, the U-Grip was very stable. The rotation allows you to pivot your Windows Phone into landscape mode which gives your navigation apps a little more real estate to display maps and directions.
While the grip's springs are solid enough to hold your Windows Phone in place, the grip is lined with a rubbery material that prevents the phone from sliding. The material also provides a little bit of cushion and protection from scratching your Windows Phone on mounts harder plastic parts.
The base of the U-Grip is a suction cup design but the rubber suction cup is made of a tacky rubbery material that forms a better seal on your window or car dash. There is a lever to compress the suction cup, locking the U-Grip in place. After a few days of use, the tackiness hasn't faded and holds solid in 95+ degree weather. The U-Grip has one of the more solid mounts I've seen both in suction and stability.
With solid construction, how does the U-Grip translate to practical use? The ball/socket joint can be locked into place and is strong enough to support the weight of the Nokia Lumia 920 with very little bounce. Also, where other clamp styled mounts cover the side buttons on our Windows Phones, the U-Grips clamp is narrow enough to keep your side buttons exposed and accessible. The U-Grip clamp fits comfortably between the camera and power button on the Lumia Windows Phones.
The grip also has a substantial depth to it that allows it to accommodate Windows Phones that have a little girth due to cases, charging covers and the what nots. The U-Grip handled a wide range of Windows Phones from the HTC 8X to the Lumia 1020 to the Samsung Focus 2 rather nicely.
All totaled, the Aduro U-Grip is a very impressive universal car mount. The only downside may be that it may require some to use two hands to place and remove the Windows Phone from the mount. I've been able to place it in the mount one handed but removing it, I typically use two hands.
The Aduro U-Grip is running $19.95 and you can find it here in the Windows Phone Central Store.
Windows Central Newsletter
Get the best of Windows Central in in your inbox, every day!
George is the Reviews Editor at Windows Central, concentrating on Windows 10 PC and Mobile apps. He's been a supporter of the platform since the days of Windows CE and uses his current Windows 10 Mobile phone daily to keep up with life and enjoy a game during down time.
Anyone who has this: have you tried to fit a non-phone GPS, like a Garmin in it? I'm wondering if it would also hold one of those, then it would be perfect for me for dual use

Works with my nuvi 3590lmt just fine. Definitely an option is you don't want to use the Garmin mounts

I wonder how well this would work on a motorcycle. Is it detachable via suction cup, or double sided tape only?

Oh, nevermind. I thought it had wireless charging built in.

Because, cool high end accessories are not available world wide, I wish I could pay and download them.

You can PayPal me $20 and I'll send you some pics of it to download. Glad I could help. JK...

u stabbed me in the hurt buddy :( what i'd give for a local amazon/ebay :( edit: and now i c this : http://www.engadget.com/2013/08/13/mytaxi-one-hour-delivery-service/ :@ :@: :@ :

I feel your pain dude..... I couldn't imagine not having Amazon or eBay. I buy 70-80% of all my stuff from them.

It maybe cheaper than Nokia's CR-200, but I doubt it's better in terms of quality, especially as the CR-200 comes with the wireless charging, NFC enabled menu and one handed release button along with a USB slot for wired phones.

+1 And one handed placing and removal of the phone.

I love the CR-200...PRICEY, but it is worth it IMHO. I have read where people are complaining about broken clamps and the suction cup not sticking to things. I can see if you over tax the clamps they will break as with anything. The suction cup is firmly attached to my windshield and is doing fine in the Miami nuclear sun. Buy it if you have the chance...$75 isn't that bad...Garmins are much more.

+1 for the cr-200. It is a quality car mount, worth every cent.

It did keep falling off for me on a frequent basis after awhile, but then I realised there's the little "switch" at the back and after I utilised that it's stopped falling off :)

My CR-200 clamps broke without overhandling within a couple days of receiving the mount (I suspect the broken piece was cracked/broken to begin with as the clamps were "very sluggish" from day one before they broke). That said, that one problem aside, the mount is otherwise perfect.
Now I just need to find myself a replacement part.

I use a kenu airframe. It looks and works fantastic. Not sure it'd be big enough for the larger windows phones but works great for my 521.

Is it funny that the headline says for our windows phones but has an iPhone on the package lol

I really prefer the ProClip solutions.

If only they released a wireless charger.

I am using the Griffin Window Mount for my 820. Looks much better than this Aduro one, and it has a cable clip so the power cable can't move freely around. Even costs the same.

http://store.griffintechnology.com/iphone/window-mount

I'd love this for my 920. The mount I have now blocks my camera so I can't really use my phone to record while I'm driving down the street. This seems like it would be a great solution for me.

The problem is finding an app to do this

How about using the camera app?

That might make too much sense ;)
Personally, I would use Timelapse Pro or the built in camera.

This looks good, though I already bought the Nokia one, Nokia Universal Car Holder CR-123.

You mention +95 What about -40

What about metric? 95+ degrees in your car and you'd be dead :P

True. But I have a similar holder, but the "sticky stuff" holds for about 35 seconds and the suction cup doesn't "suck". Waste of 25 bucks. If someone has this particular item, and has used it in extreme weather (+30°c / -30°c) please let me know and I will buy this.

I got this particular holder 2 months ago.

The suction cup with its inheirant stickiness really sticks. The spring tension on the grip is impressive and not hard to disengage the phone from.

Would you reccomend this product to your friends and family? I think I might order it...

I wonder what the difference between UNI-SPH01-CM and UNI-SPH01-CMPL (Plus) is. Any idea which one you purchased? I just picked up the UNI-SPH01-CM on Amazon for $20 inlcuding shipping. Shipping from wpcentral to Canada is very expensive.

Don't ask me the name, but on amazon I got a holder that goes in your cd slot and yes if you want you can still play cds! I love it, it was maybe $15 or $20 but has lasted forever and have had to get one for my sister and her 920, a coworker and a friend who all swear by it
this looks nicer but not a suction guy! The only downside to mine is with the 1020 I am very cause with the lens no covered so I just move the phone higher up and then clamp it! Anyone interested I can send ya the link to what I use.

If you look at the packaging, it says for smartphones and media devices. Its not specifically for Windows Phones, which is good, because some of us have a Windows Phone AND an iPhone 5.

Is there shipping and taxes charges for long term WPCentralists? :)

I have this. I bought it to use with my Droid Bionic. It now works great with my Nokia 928.

Thinking about getting this for my 928 but having the usb port on top is going to make charging it really awkward...


Actually, it might not. If you look at the pictures you will see an indent behind where the phone goes. So it looks like you could wrap the cable behind the device very easily. Why in the hell is the USB port on top? :)

Have a look at the Kenu Airframe. It's a vent mount and also doubles as a travel stand, fits my Ativ S:

http://www.kenu.com/products/airframe

I have one of these, one with a black rubber inlay, and it works great until you take it off and put it somewhere else. Once you remove it, the sticky rubber on the suction cup doesn't work as well and it comes off in about 85-90 degree weather. There may be a way to wash it and renew the stickiness of the underside, but I do not know how.

Looks similar to the exomount I have (which, btw is an awesome mount):
http://exogear.com/products-exomount-car-mount-holder.html


Looks OK, but I've been using a Scosche Stuck-Up for over two years now with my old HTC Titan, my Lumia 1020 and love it. Can be mounted on window or vents.
http://www.scosche.com/mounts/stuckup-4-in-1-universal-mounting-kit-for-iphone-mobile-devices

I just bought this two weeks ago, absolutely love it!

Has anyone tried this mount on a Lumia 620?

George Ponder, who wrote this review, was kind enough to measure the grip on the Aduro U-Grip+. It measures slightly less than 3/4 inch. The gap between the power and camera buttons on a Lumia 620 is slightly less than 1 1/4 inch. So the Aduro should have plenty of space to attach to an L620. Thanks, George! I'm going to buy one now and post again next week when I get the car mount in the mail.

I can now verify the Aduro U-Grip+ does work with the Lumia 620. Nice! Seems to be a pretty nice little car mount.

Looks ok , but serious is there anything better then the MONTAR from WinnerGear ?? http://www.amazon.co.uk/Universal-Smartphones-Windshield-Dashboard-Black...

There are plenty more better mounts that this. Personally, I don't like the window sucker mounts after mine fell off going over a bumpy road and it cracked my screen. From then, I used airvent mounts and have been using the Breffo Spiderpodium for the past year and I have to say, I wish I found this sooner! www.breffo.com/pages/spiderpodium
Windows Central Newsletter
Thank you for signing up to Windows Central. You will receive a verification email shortly.
There was a problem. Please refresh the page and try again.